Just a little clarification. As my storyteller series continues to unfold, I'm going to be taking a new job in APL with Virgin America. As Virgin America was acquired by Alaska Airlines and fully merged in 2018, for the sake of this continuing story line…I'm going to continue to fly for Alaska. But be based in San Francisco. APL will think of me employed by Virgin America…but I'll follow the real world situation and consider myself still employed by Alaska. Confused? Hopefully not….
Present Day
Upon returning from the Las Vegas trip, I had a few days off and needed to give serious thought to my future plans. The way I saw it, I had three possible doors to open and walk through. Thankfully I knew what was behind each door. The hard part was deciding. Would it be door #1, door #2 or door #3?
I also suppose there could have been a 4th option, but I just don't have the brain power to think about that option right now.
Door #1 is basically stay with Alaska and stay in Seattle. I could continue flying mostly the same routes I've been flying.
Door #2 would have me accept the transfer down to San Francisco and operate the old Virgin America routes. Most likely I would stay in the Boeing 73x aircraft. But could certainly work through the process of getting type rated on the Airbus A320. This option would certainly better assist me down the road.
Door #3 is to look at the list of offers I have available. I really didn't want to take a step back in pay and my ultimate goal is to eventually get hired on by a 5 star airline. As far as I'm concerned, this can wait until I reach the rank of captain. I'm really in no rush.
A part of me feels that Alaska needs/wants me to go to San Fran. After all, if they didn't…they wouldn't have offered it. So I must be doing something right. Again…decisions, decisions.
OK….
Done! We're moving to the Bay Area. Might as well.
Flight Details
All my belongings are packed and being moved down to the San Francisco area. My car is also being shipped down and while I'm still in Seattle, I managed to get assigned to a flight down. Might as well earn some money and XP in the process right? Right!
Today I'll be serving as Sr. First Officer on Alaska flight 1740 with non-stop service to San Francisco. Our flight today is in the Boeing 737-800 with a total block fuel of 17,141 lbs. and a take-off weight of 159,232 lbs. Our block time is 2 hours and 10 minutes and our cruising altitude is 35,000.
Route: HAROB6 FEPOT Q3 FOWND MLBEC BDEGA3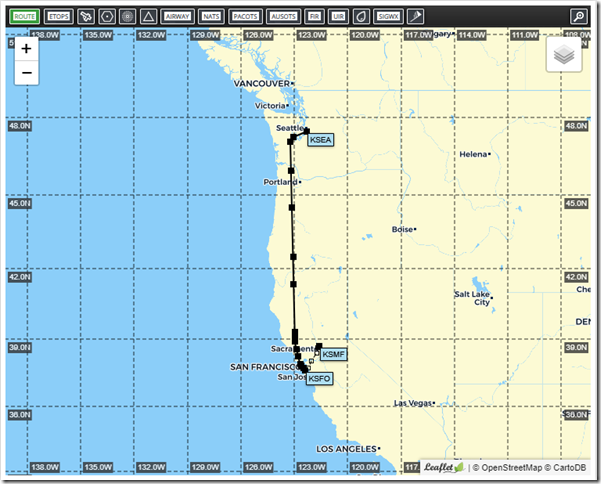 Time To Go
The feeling is somewhat bitter sweet. While I know this won't be the last time I fly into Sea-Tac, I've truly enjoyed calling this airport home. I've enjoyed living in the Seattle area, but looking forward to finding out what life is like in San Fran. While I know this isn't permanent, SFO will be my new home for the foreseeable future.
For my big send off, Alaska has matched me up with one of the old black/white liveries. She's a classic for sure and I'm honored to have one last opportunity to fly this livery before they are all repainted. Obviously, Alaska has been most concerned with getting all the Virgin America Airbus aircraft updated first. After all, branding means everything.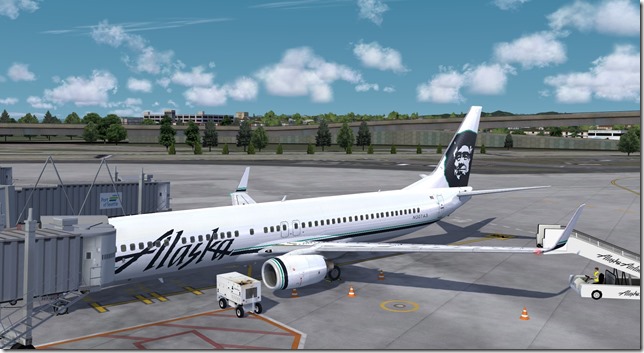 We're all buttoned up and ready to push back.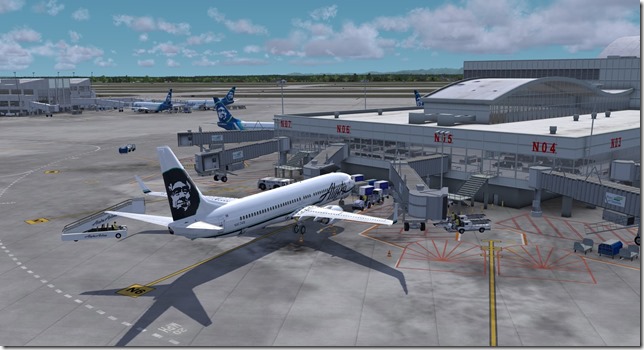 Push back the Boeing 737-900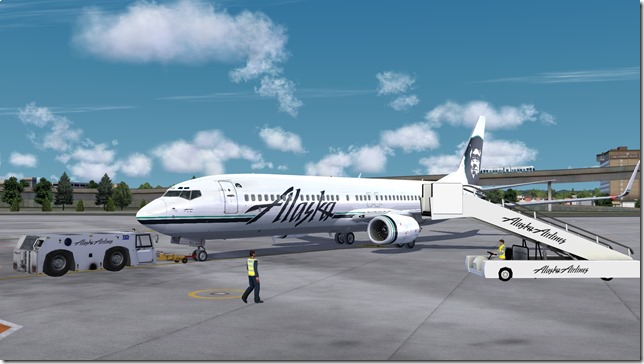 Holding short runway 16L. We all bow to the Queen. A Boeing 747-400 landing 16L.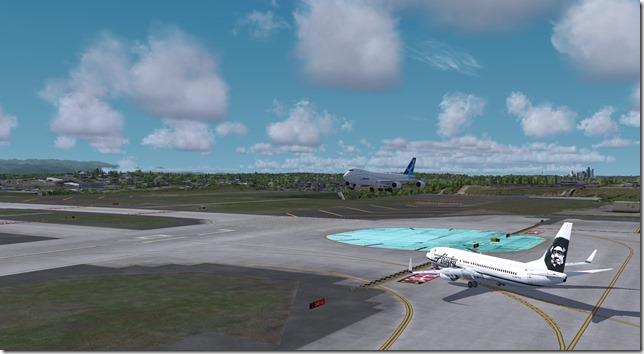 Once the Queen vacated the runway, it was our time to blast off for SFO. Bye Bye Sea-Tac. See you sometime soon.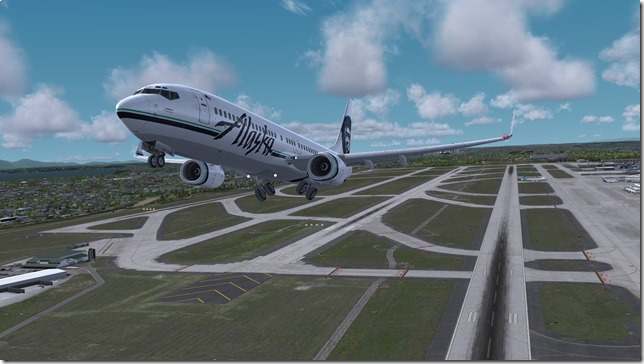 Turning to join our departure course.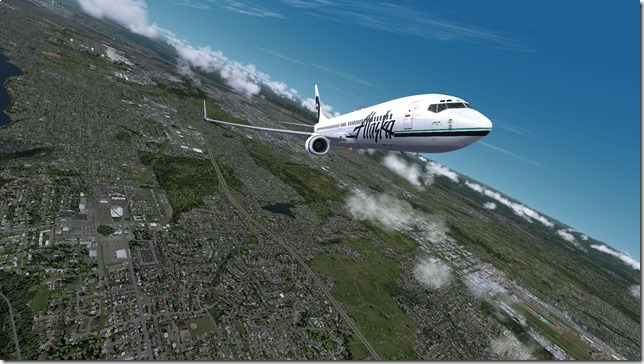 Climbing out above the clouds.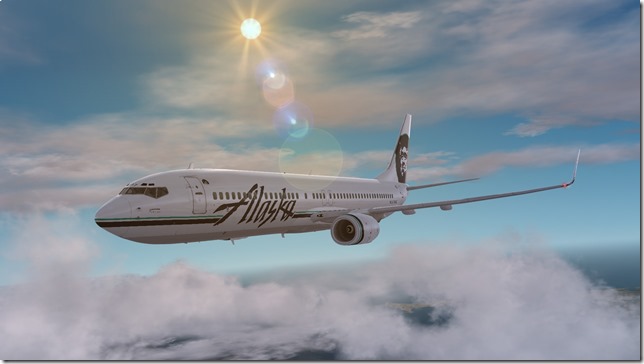 Descending into what will be my new home for a while. Alcatraz and the Bay Bridge just out of the Captains window.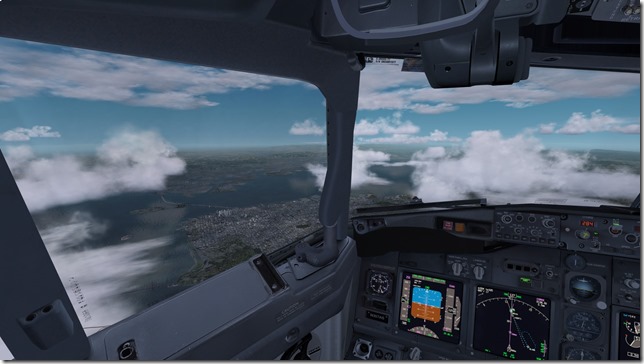 Silicon Valley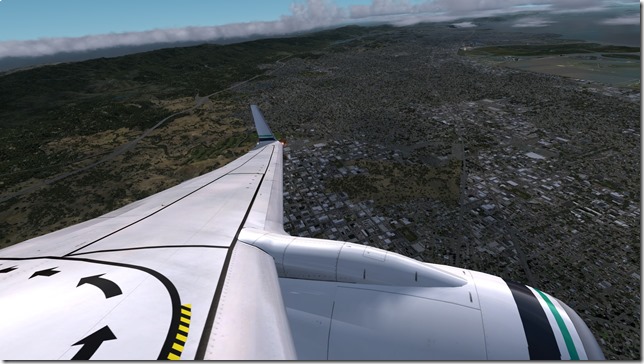 Clear to land, runway 25L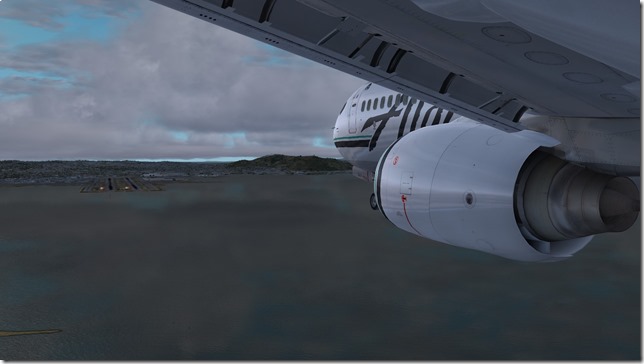 Almost there….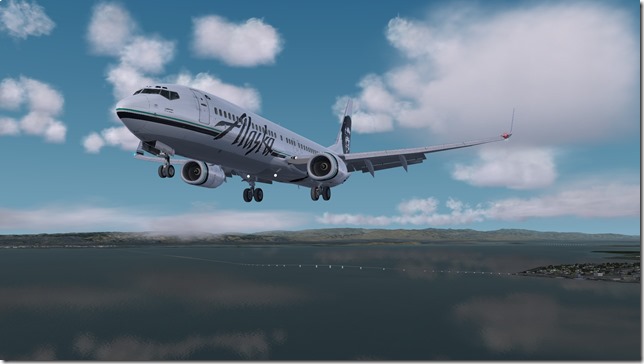 Short final for 25L.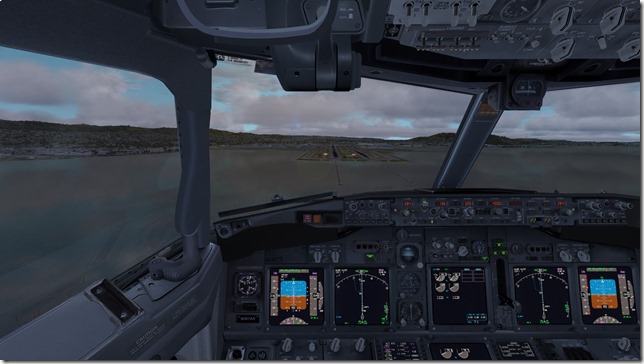 At the gate, SFO.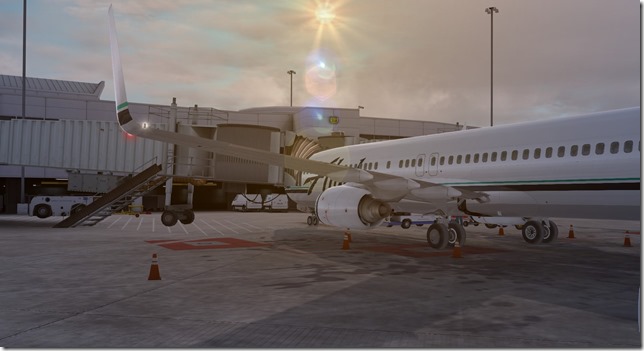 The sign above the door says it all. Or at least tells us we landed at the correct airport. This day and age, that fact is not always a given.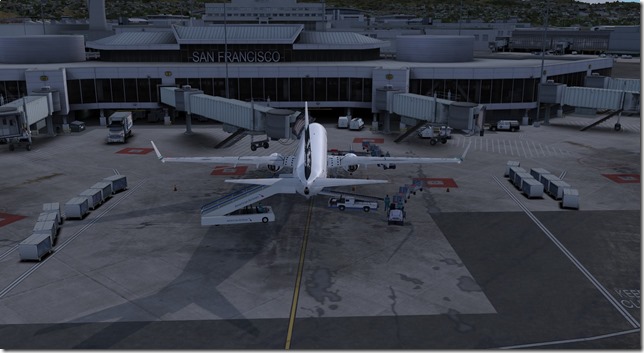 I'm here and a new adventure begins at SFO. We have a busy schedule of flights which start almost immediately. For me, A Pilot's Life has really helped to give purpose to my virtual flying. APL makes you think, it makes you plan and it makes you work hard to gain both experience as well as money.
I truly hope you are enjoying this storyteller series and I hope you'll tune back in for the next episode next week.
Thanks again and happy flying!
Jerry
Credits
If you are interested in experiencing your own "A Pilot's Life", I highly recommend the A Pilot's Life, by SimBitWorld add-on for Prepar3D, FSX and X-Plane. You can learn more about the A Pilot's Life by visiting the SimBitWorld website and/or purchase APL at SimMarket. Also, please read my full review of A Pilot's LIfe here.
Flight Simulator: Prepar3D v4.5 (hotfix 1)
Aircraft: PMDG 737-900
Airline: Alaska Airlines (ASA)
ATC: VATSIM
Airport Scenery: KSEA Drzewiecki Design, KSFO Flightbeam
Terrain Scenery: Orbx Global Base, Orbx Vector, Orbx openLC North America, Orbx NA Pacific Northwest, Orbx Northern California, Orbx Southern California
Sky/Cloud Textures: REX 5 SkyForce and REX 5 Environment Force
Weather Generation: ActiveSky (ASP4)
Flight Planning: SimBrief, Navigraph, FlightAware, FlightRadar24
Note: If you are interested in any of the above mentioned add-ons. Visit my P3D Add-ons directory for links.