After a four day business trip and visit from my parents, it's great to get back into the sim and resume our WorldFlight tour around the world.  I had to spend just a bit of time reading the past trip reports to bring myself up to speed on where we left off and what leg was next up.
The magenta dots are slowly but surely starting to take numbers on our world map.  But we still have a lot of ground (and water) to cover before this tour is complete.  So let's stop talking, and start flying.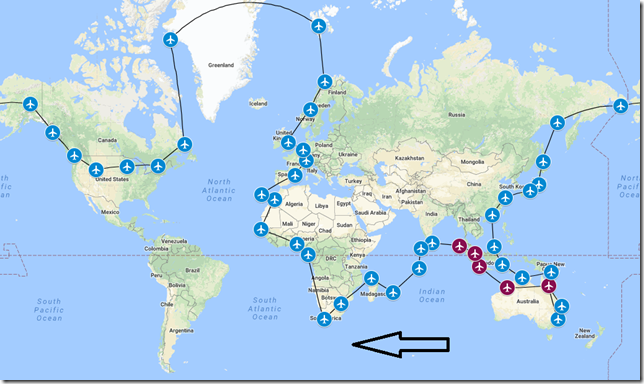 An updated version of our tour map showing the five previous stops.
History of City
Colombo is the commercial capital and largest city in Sri Lanka. Known for its natural harbor, Indian, Greek, Persian, Roman, Arab and Chinese traders have been visiting this area for over 2000 years. The metro area of Colombo has a population of over 5.6 million with 752,993 in the city proper.
History of Country
The pre-history of Sri Lanka goes back 125,000 years and possibly even as far back as 500,000 years. Today the island is home to many cultures, languages and ethnicities. The majority of the population is from the Sinhalese ethnicity, while a large minority of Tamils have also played an influential role in the island's history.
History of Airport
The Bandaranaike International Airport (also known as Colombo International Airport) is the main international airport serving Sri Lanka. It is named after former Prime Minister SWRD Bandaranaike and is located 20 miles from the commercial capital of Colombo. The airport began as a Royal Air Force airfield in 1944. Today the airport is more than capable of handling the world's largest passenger jets including the Boeing 747 and the Airbus A380.
History of Airline
Garuda Indonesia is the national airline of Indonesia. Named after the holy bird Garuda of Hinduism from the national emblem of Indonesia, the airline is headquartered in Jakarta which we visited a few legs ago. The airline was founded in 1947 as KLM Interinsulair and commenced operations as Garuda Indonesian Airways in 1949. They have a fleet size of 142 aircraft consisting of 73 Boeing 737-800, 10 Boeing 777-300ER and 13 Airbus A330 to name just a few.
Flight Briefing
GIA1066
WITT – VCBI
Planned Fuel – 21,500 lbs
Planned Altitude – 34,000
Distance – 933nm
Flight Time – 3hrs
Route: ANSA1B ANSAX P574 DUBTA L645 SADRI N563 ADKIT T3 BEBOK A465 DABAR DABA1A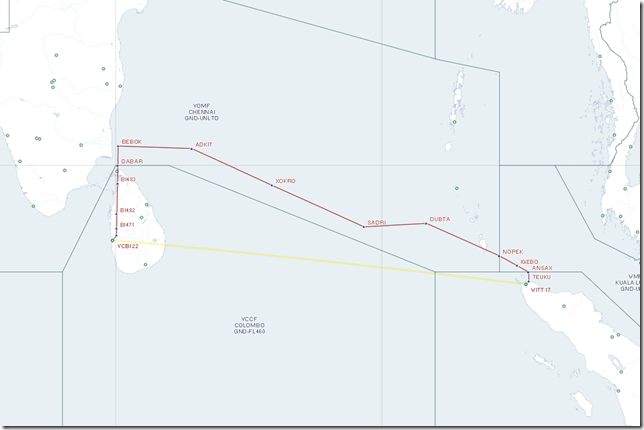 Flight Journal
We begin our flight today in the late afternoon.  We'll be serving light snacks and should reach Sri Lanka in the early evening with enough time for our travelers to have a nice dinner before heading to their hotel.  We wasted no time in getting boarded and all loaded up for the flight.  As the WITT airport is rather basic, I thought I would just cut to the chase and get us airborne.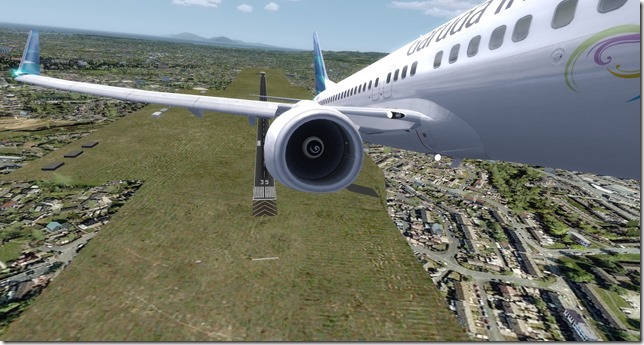 Hopefully you're not getting bored with the 737. The fact of the matter is the Boeing 737 is a workhorse aircraft for so many airlines around the world, that it shouldn't be uncommon for it to get a lot of rotations on our tour.  Until the Aerosoft Airbus A319, A320 and A321 releases for Prepar3D v4, the B737 is our best option for short field operations.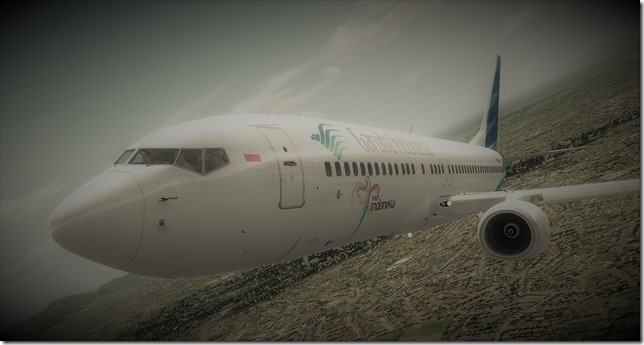 Climbing out of WITT for FL340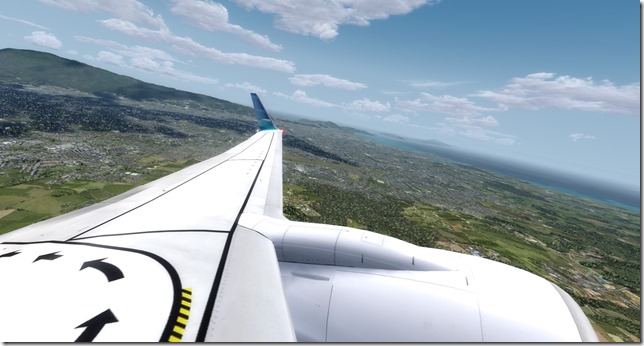 Spiral contrails from our Boeing 738 with the crescent moon visible.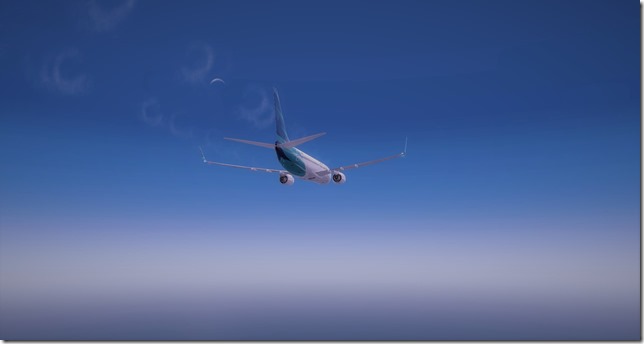 Another well done livery scheme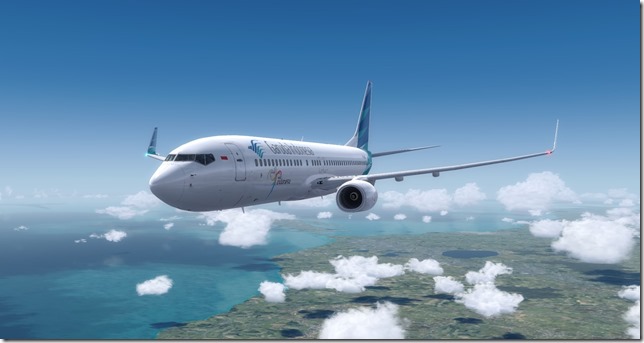 Our Garuda Indonesia Boeing 737-800 fully configured for landing at VCBI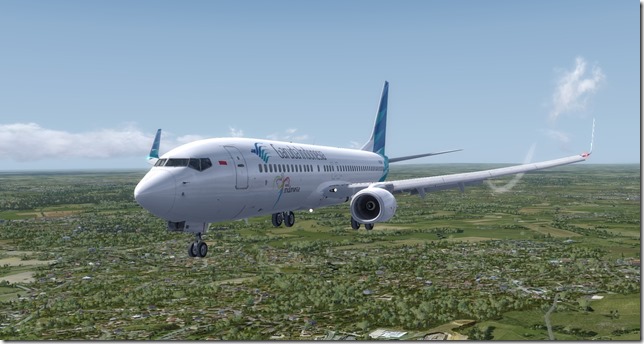 Another fairly basic default airport.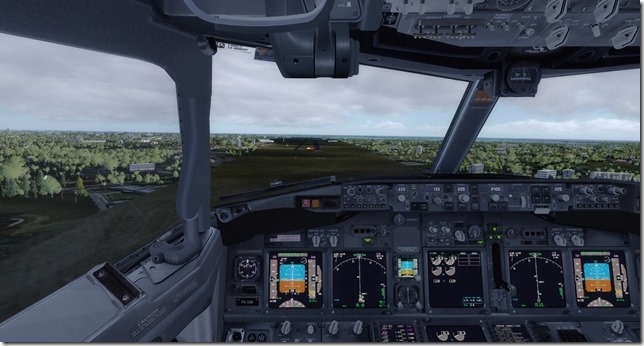 Down on the ground just before the afternoon thunderstorm rolls in.  We're fortunate to have the ground power and most importantly the ground AC unit.  It'll be another hot and sticky visit.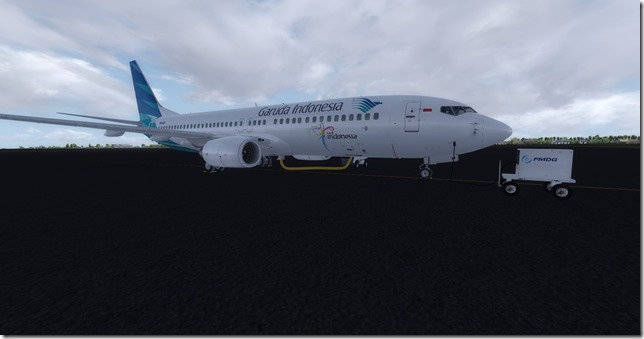 Simulator Specifics
Prepar3d v4.2
ActiveSky Weather Engine
ActiveSky Cloud Art
Envtex & Envshade
PMDG 737-800 (Tiger Airways livery)
Orbx Global Texture
Orbx Australia
Orbx Cairns Airport
Orbx Broome Airport
VATSIM
Route Planning Tools
AivlaSoft PFPX
Navigraph Charts Desktop
FlightAware
FlightRadar24
SkyVector
Google Maps
As always, I truly appreciate you reading this trip report.  I hope you are enjoying the tour and learning a little something along the way.  I know I have.
Until next time…
Happy Flying!
Jerry