WorldFlight 2018 GBS Tour – Leg 4
The WorldFlight 2018 tour is progressing along nicely and from all accounts our wealthy travelers are having the time of their lives.  Not sure what they enjoy most, the variation in cultural differences or the cuisine.  Perhaps both.  I suppose if I were able to participate in something like this I would certainly make an effort to try the food (pending I actually knew exactly what it was).  YOLO right?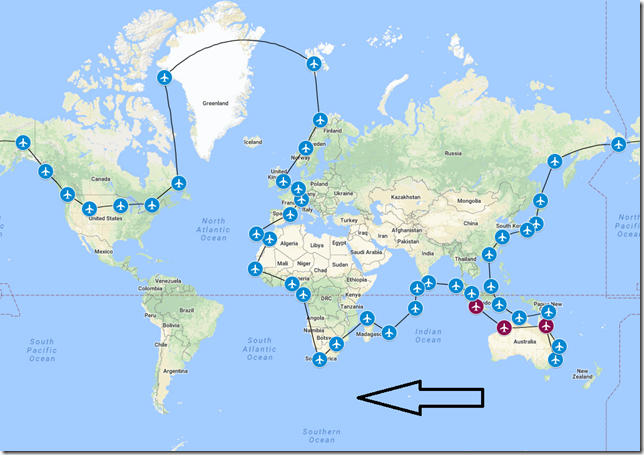 An updated version of our tour map showing Jakarta as visited.
History of City
Early Changi was mostly a malaria mosquito infested swampland and jungle that had several villages spread across the area. The area was first redeveloped by the British as a summer house and getaway location from the city center of Singapore in the 1890's. During World War II, the area saw mass mobilization of allied troops in anticipation of a Japanese invasion. Today, Changi is an aviation hub and is the current location of both the Changi airport and Changi Air Base. Also, located within Changi is Singapore's largest prison, Changi Prison. It became infamous as a Japanese prisoner-of-war camp during the occupation of Singapore during WWII. Changi Prison continues to be Singapore's oldest operating internment facility.
History of Country
Singapore, officially the Republic of Singapore, is a sovereign city-state and island country in Southeast Asia. Singapore lies just 85 miles north of the equator. Singapore's territory consists of one main island and some 62 other small islands.
Singapore was founded by Stamford Raffles as a trading post for the British East India Company in 1819. During WWII Singapore was occupied by Japan. It gained independence from the UK in 1963. Today, Singapore is a global commerce, finance and transportation hub and is known as the "World's smartest City" and "Safest Country in the World".
History of Airport
Singapore Changi Airport (WSSS) is the major civilian airport for Singapore and one of the largest transportation hubs in Southeast Asia. Skytrax (a UK based airline/airport review/ranking site) ranked Changi as the World's Best Airport for the sixth consecutive year since 2013. Changi is one of the world's busiest airports by international passenger and cargo traffic. Changi Airport serves as the home base of Singapore Airlines, Singapore Airlines Cargo, SilkAir, Scoot, Jetstar Asia Airways and BOC Aviation. Changi Airport serves more than 100 airlines flying to 400 cities in approx. 100 countries and territories. Each week, about 7,200 flights land and depart from Changi or about one every 80 seconds.
History of Airline
Singapore Airlines is the flag carrier of Singapore and is based at Changi Airport. Singapore Airlines was founded in 1947 as Malayan Airways, and commenced operations as Singapore Airlines in 1972. Singapore Airlines was the launch customer for both the Airbus A380 and Boeing 787-10. It serves 62 destinations in 32 different countries on 5 continents from its primary hub in Singapore. Singapore Airlines once held the distinction of operating two of the longest flights in the world, both direct flights from Singapore to Los Angeles and Newark with the Airbus A350-500. Singapore Airlines has a fleet size of 115 wide-body aircraft from five aircraft families including the Boeing 787, Boeing 777, Airbus A380, Airbus A350 and Airbus A330.
Flight Briefing
SIA1066
WIII – WSSS
Planned Fuel – 32,000 lbs
Planned Altitude – 38,000
Distance – 475nm
Flight Time – 1hrs, 45min
Route: DOLT1B DOLTA A585 PLB G579 REPOV REPO1A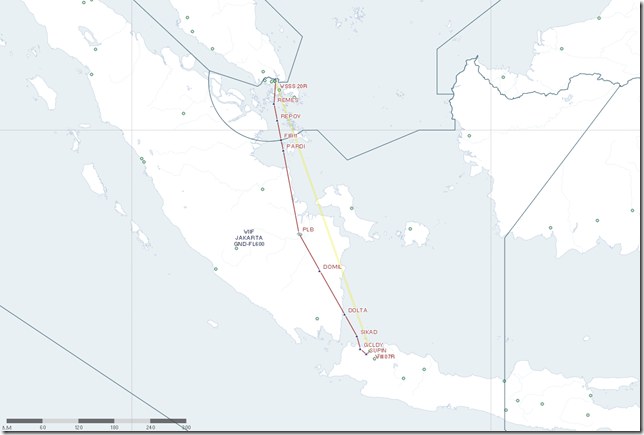 Flight Journal
The stay in Jakarta was brief, but very entertaining for our travelers.  Our travelers are eager to reach Singapore as something very historic could take place in the coming days.  Finally, this leg will feature an aircraft which is NOT the Boeing 737 variety.  For this leg we're assisting Singapore Airline by moving one of their Boeing 777-300 from Jakarta to Singapore.  Our travelers are super excited to have the change of aircraft, it's a bit unfortunate the distance between Jakarta and Singapore isn't longer.  The Boeing 773 is certainly used to much, much longer flights than the measly 475 we're flying today.  In the real world, the Boeing 777-300 is connecting cities together which are routinely more than 7,000nm  apart like Doha to Sao Paulo, Abu Dhabi to Los Angeles, Hong Kong to Dallas/Ft. Worth.  But we'll enjoy each and every mile of our 475 nm journey in this beautiful aircraft.
While our passenger numbers barely occupy half of what this B773 can carry, we're making up for it in cargo.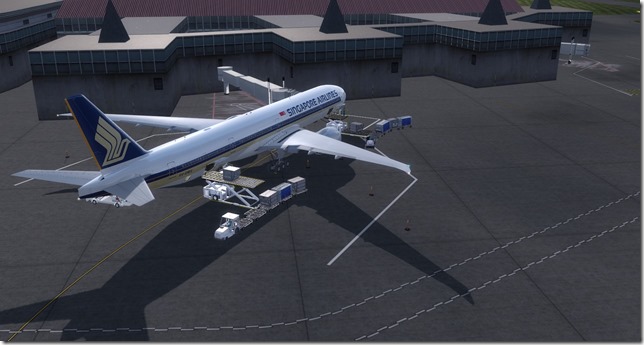 The Boeing 773 is one of the largest aircraft we'll fly during this tour.  Of course, for those who truly love the Queen of the Sky, (Boeing 747-400)…you can expect to see her at least once before we complete our long tour.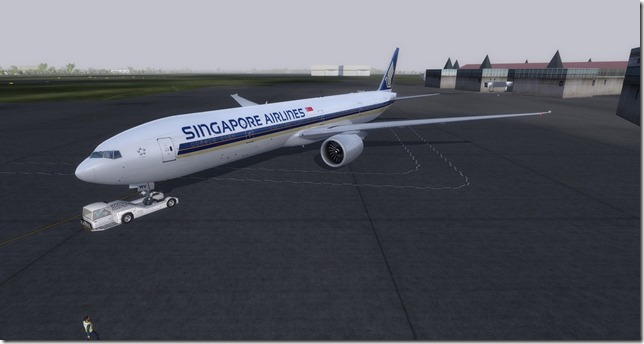 We've been given an expedited departure and are ready to go on 07R.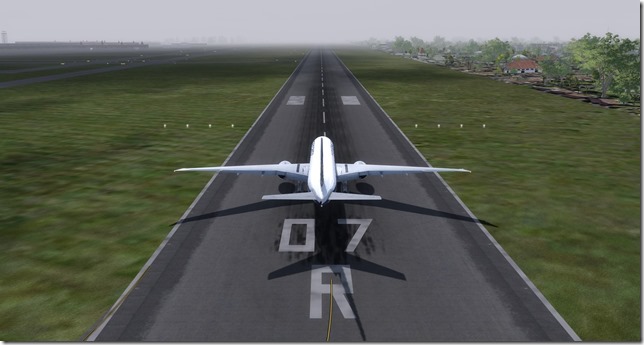 I just love the engine condensation effects produced by the FSFX Packages 777 immersion add-on.  Certainly lots of condensation here in hot, humid Jakarta.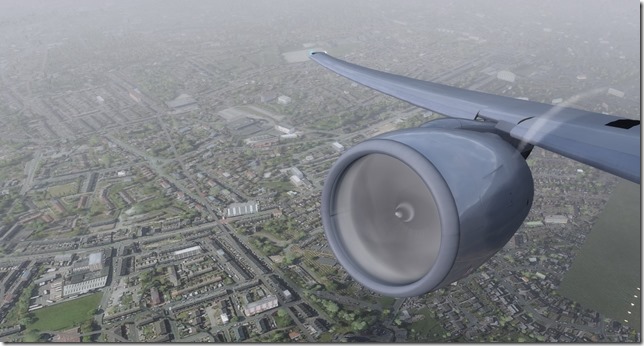 The same add-on adds the condensation effects over the wing as well.  And wow…that's a big wing.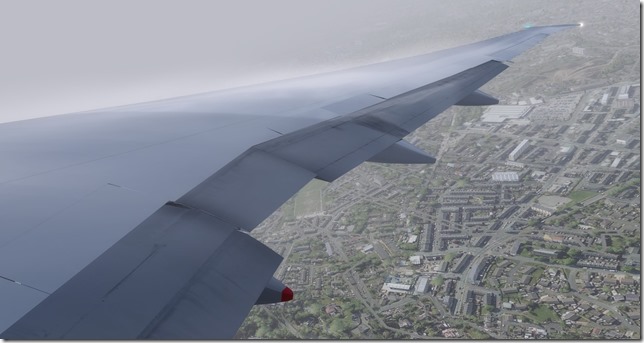 Above the clouds, the humidity and smog…..the GE90-115B engines thrust us to our cruising altitude.  For those who may not be as familiar with aircraft statistics.  The diameter of one 777 engine is almost the same diameter as the fuselage of the Boeing 737.  Pretty impressive if you ask me.  And by the way, the replacement cost of just one 777 engine will set you back a cool $24 million dollars.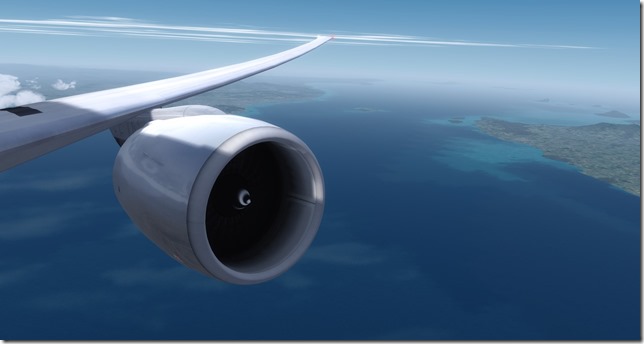 Simple, yet elegant livery for the Singapore Airlines Boeing 773.  PMDG has modeled the wing-flex of this beautiful aircraft very well.  The total length of the B773 is 242 feet, the wingspan is 200'.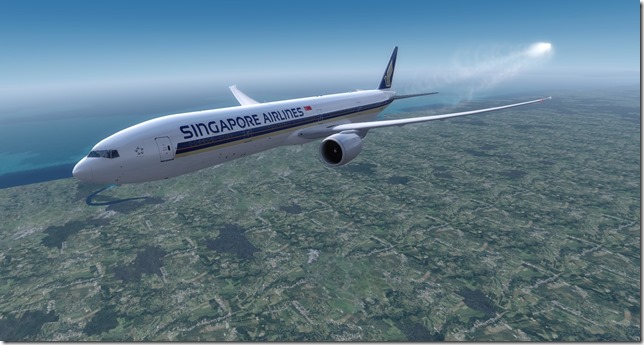 A little cloud cover as we approach our destination.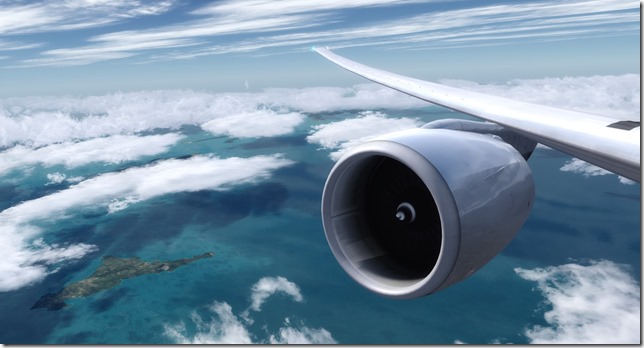 More of that condensation immersion.  Singapore is just as hot, humid and sticky as Jakarta.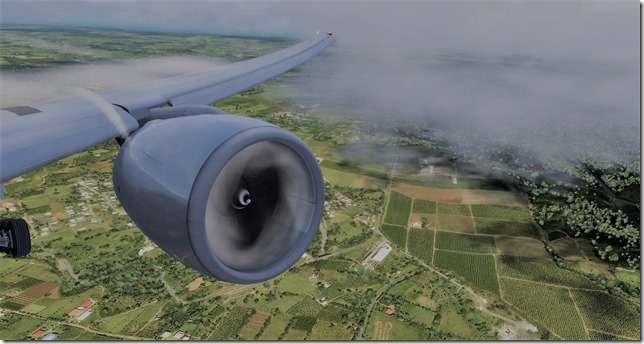 Flaps full.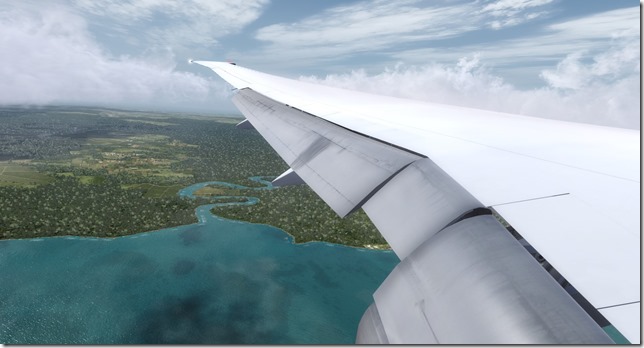 On Final approach into WSSS.  We're a few hours ahead of the other VIP's who are flying in for the historic event I mentioned earlier.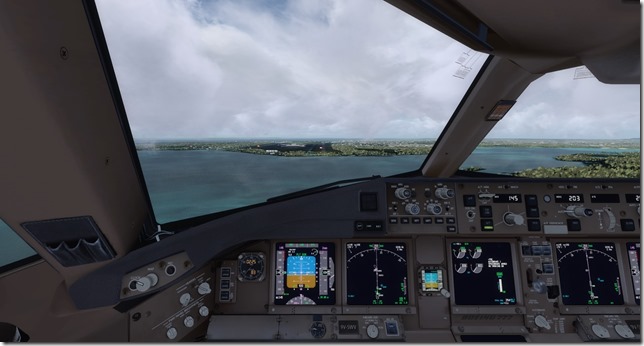 Parked safely at the gate before the rain and afternoon storms begin.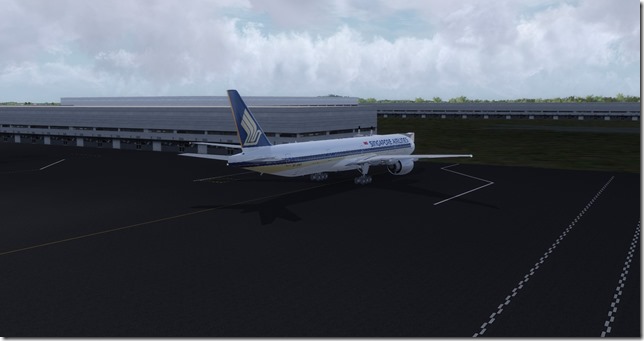 Simulator Specifics
Prepar3d v4.2
ActiveSky Weather Engine
ActiveSky Cloud Art
Envtex & Envshade
PMDG 777-300 Expansion (Singapore Airlines livery)
Orbx Global Texture
VATSIM
Route Planning Tools
AivlaSoft PFPX
Navigraph Charts Desktop
FlightAware
FlightRadar24
SkyVector
Google Maps
It was a joy for me to fly the PMDG Boeing 777-300.  While I've owned the –300 expansion for the 777 for a while now, I believe this is only my second time to fly with this variant.  The –300 is 33 feet longer than the –200.  But we didn't encounter a tail strike on take-off or landing.  So all is good.  When we resume our tour for our 5th leg, we'll depart Singapore for Sultan Iskandarmuda, Indonesia in the Boeing 787 Dreamliner.
Until next time….
Happy Flying!
Jerry
---