A Pilot's Life Storyteller Series–S1, E4
My R&R break in Ketchikan has drawn to a close and it's time for me to get back to work. Perhaps not as much as I want to, but truly need to. It's quickly approaching the end of the month of May (as I'm writing this) and as we only get paid once per month, I need to rack up as many flight hours as possible. This flight back to Seattle will be the last flight of the month. As also mentioned on the S1, E2 update, this flight also completes my current schedule with Alaska. I will receive another schedule upon my return to Sea-Tac. I'm still thinking about my future and most likely will discuss that next time.
Present Day
I truly enjoyed the past few days I've spent in Ketchikan. But it's time for me to return back to work. Once again we have beautiful weather here and this will be a late afternoon departure back to Seattle. While the Ketchikan area has many endearing qualities, I think the people are what I truly like about my visits here.
Flight Details
Today we're operating Alaska flight 9248 with non-stop service from Ketchikan back to Seattle. This flight originated in Anchorage and many of our passengers were part of that flight. Our flight departs at 19:35. Our planned fuel for this trip is 15,743 lbs and our take-off weight is 149,457 lbs. with a cruising altitude of 35,000 feet. Block time is 2 hours.
Flight Plan: ANN YJQ YYJ MARNR7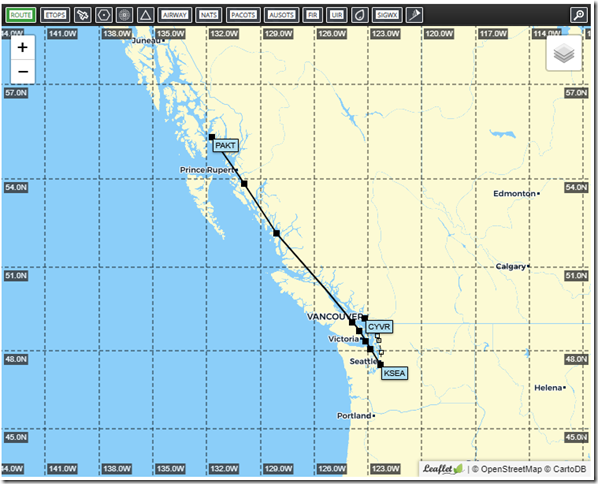 Let's get going…
We're in our standard livery today for this B738. We're ready to go and just waiting on the ground crew to disconnect ground services and get the tug connected. Time is money…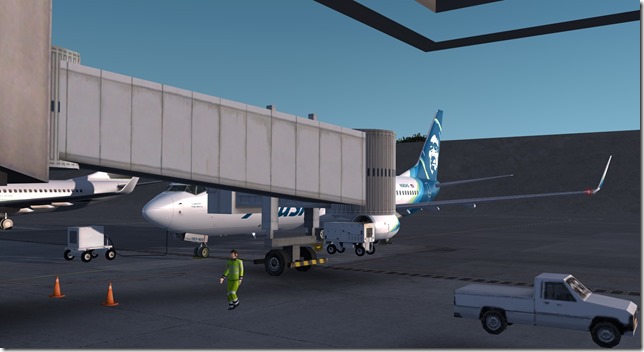 Cleared to start engines and engine #2 is spinning up.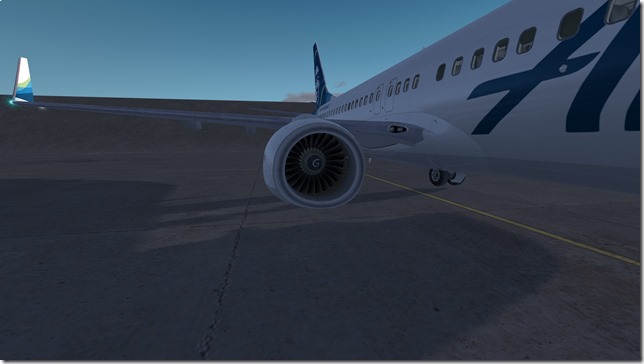 As we taxi up the hill towards runway 11, the sun is setting.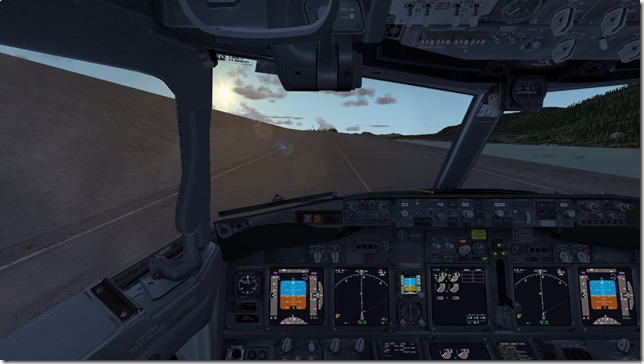 We're lined up and waiting for our take-off clearance. We had a departing Cessna in front of us. While we have no worries from his lack of wake turbulence, the last thing that pilot wants to see in his rear-view mirror is a Boeing 738.

But he's headed for Sitka, so he'll be turning and proceeding NW soon.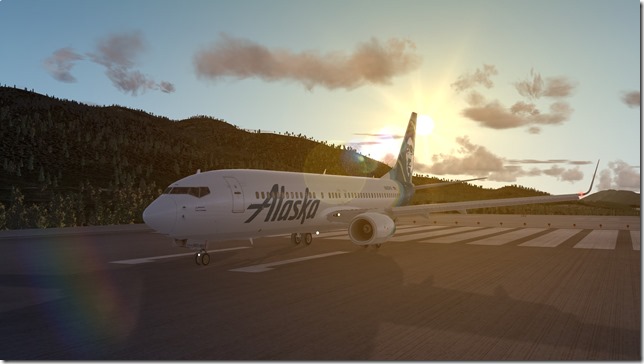 With the departing Cessna out of the way, it's wheels up for Alaska 9248.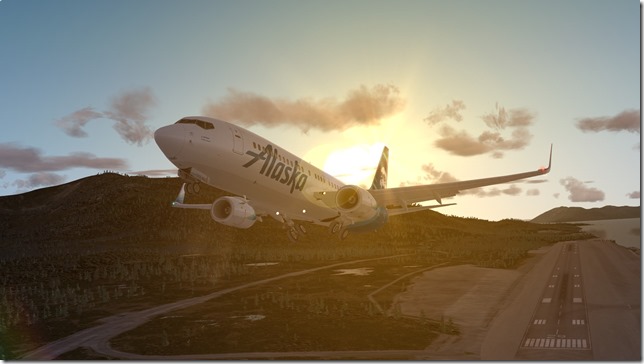 Continuing our climb up to FL350.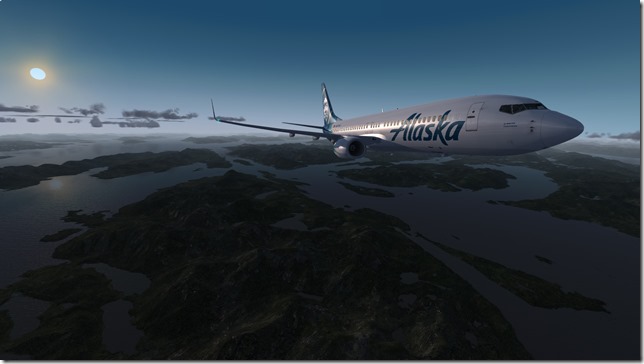 Beautiful weather for flying.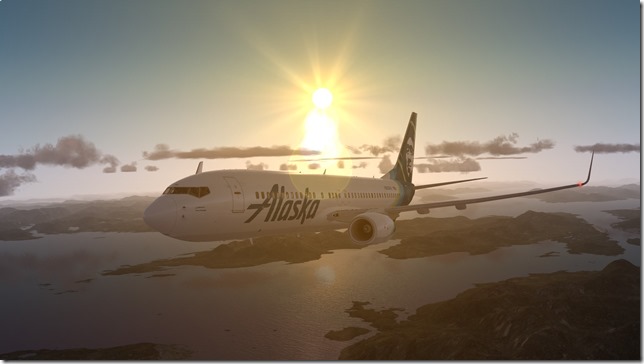 That just about does it for the sun for this day.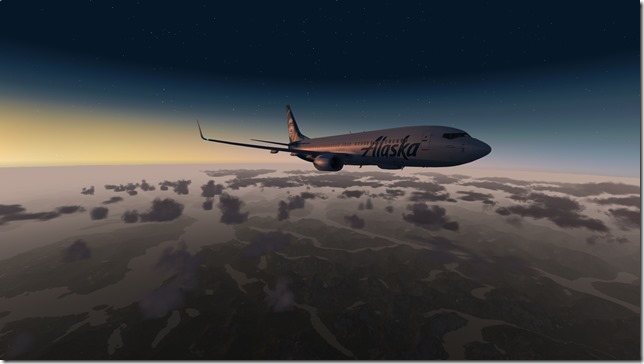 And now for the wing view.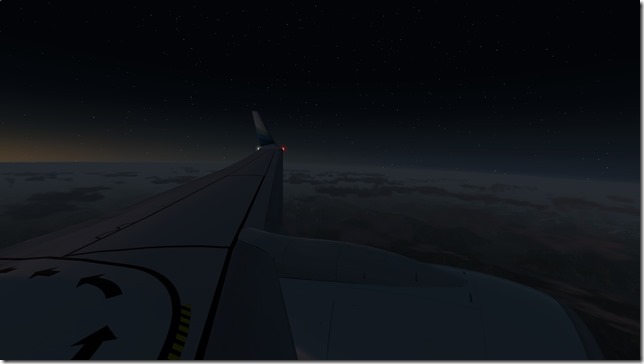 Of course the problem with flying at night is…..
Cleared to land runway 16L at Sea-Tac.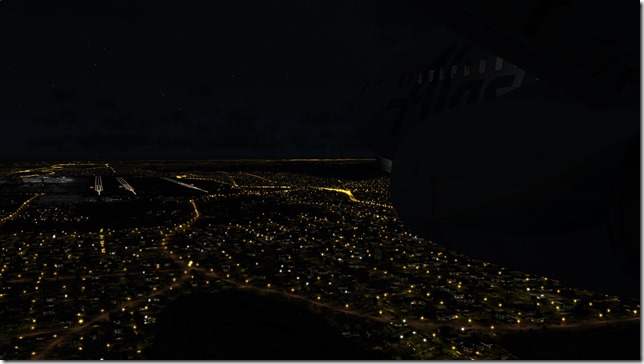 Just a few more seconds…..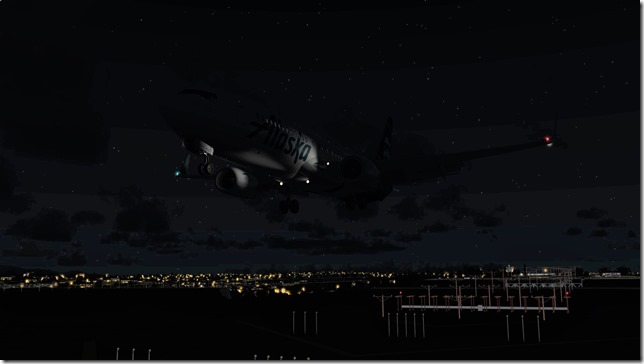 There we go…a smooth touchdown. Yea…I suppose it's also good to be back home.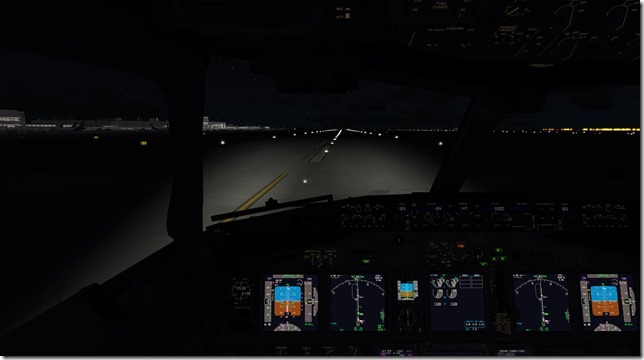 Parked at the gate and beginning our shutdown checklist.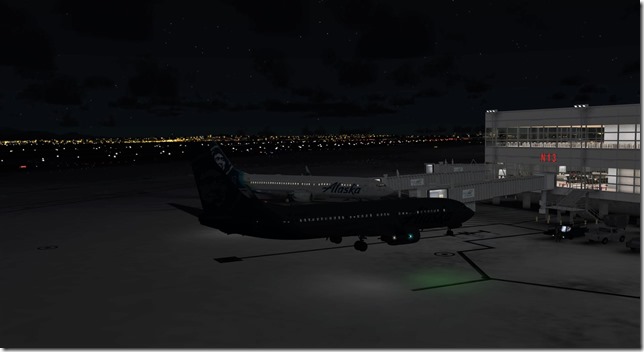 As previously stated, this flight marks the end of my schedule. We get 10 flights scheduled to us at one time. My new schedule set has me returning back to Las Vegas, Portland, San Francisco, Salt Lake City and finally back up to Juneau.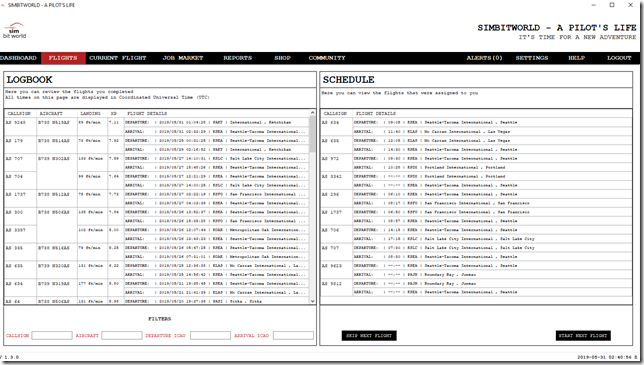 As I don't want to commit to any decisions at this time, I most likely will take the Las Vegas flights out and back. I should then be close to the end of the 7 day waiting period on my Sr. First Officer contract and will look at all my options. The deciding factors will be hourly salary and routes. As you can tell from the image below, these are the flights I've completed with Sun Country (based in KMSP) and Alaska (based in Seattle). I'd also still love to get hired by a 5 star airline like American, United etc. Time will tell.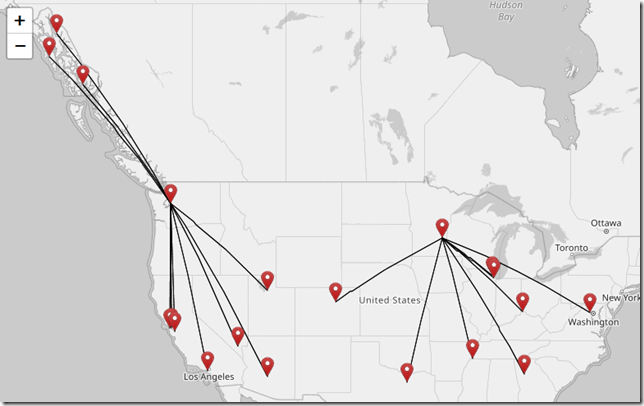 Thanks for reading. I'll keep you posted on my decisions. Talk to you once again soon.
Credits
If you are interested in experiencing your own "A Pilot's Life", I highly recommend the A Pilot's Life, by SimBitWorld add-on for Prepar3D, FSX and X-Plane. You can learn more about the A Pilot's Life by visiting the SimBitWorld website and/or purchase APL at SimMarket. Also, please read my full review of A Pilot's LIfe here.
Flight Simulator: Prepar3D v4.5 (hotfix 1)
Aircraft: PMDG 737-800
Airline: Alaska Airlines (ASA)
ATC: VATSIM
Airport Scenery: KSEA Drzewiecki Design, Orbx Ketchikan
Terrain Scenery: Orbx Global Base, Orbx Vector, Orbx openLC North America, Orbx NA Pacific Northwest, NA Pacific Fjords
Sky/Cloud Textures: REX 5 SkyForce and REX 5 Environment Force
Weather Generation: ActiveSky (ASP4)
Flight Planning: SimBrief, Navigraph, FlightAware, FlightRadar24
Note: If you are interested in any of the above mentioned add-ons. Visit my P3D Add-ons directory for links.
---