A Pilot's Life Storyteller Series–S1, E5
Good morning, good afternoon and/or good evening and thank you for returning to our 5th installment in this Storyteller series focusing on A Pilot's Life. A few things to catch you up on. In the last installment, we traveled from Ketchikan back to Seattle. This was the last flight of the month as I completed it on 31 May. As I get paid monthly, I received a nice paycheck on 1 June and have already made a few strategic purchases which will assist me in gaining more XP per flight. As you can see from the screenshot below of the main APL program screen, my bank account has had a nice $2,253.60 in it.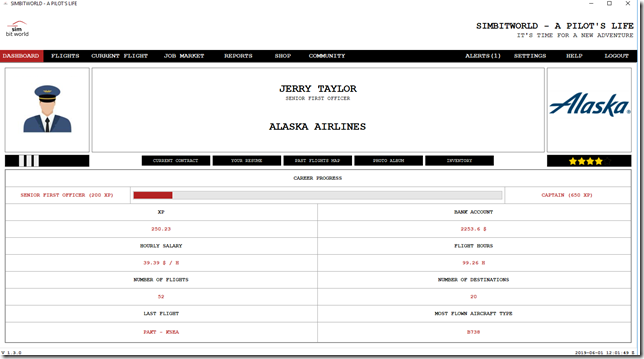 After purchasing two items in the APL Shop which consisted of a mobile phone and a flight bag, I now only have $983.60. These two purchases will earn me an additional 15% XP per each flight and help me to gain my promotion to the rank of Captain just a little quicker.
While I could have purchased the headset instead of the mobile phone and gained a total of 20% XP, I'm trying to be somewhat practical with these purchases. After all, who doesn't own a cell phone in this day and age. Next month I'll make additional purchases.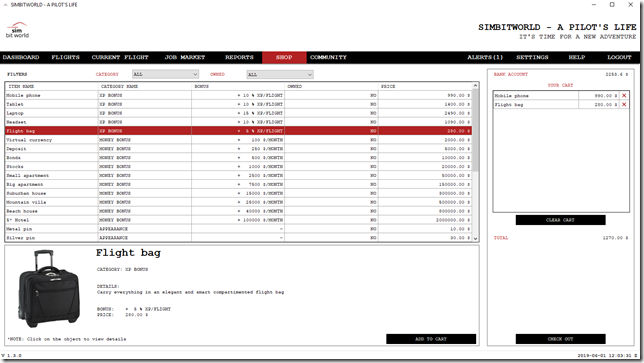 Present Day
I'm hearing about an opportunity I may soon have to transfer down to San Francisco. As a Sr. First Officer who will soon be moving up and over to the left seat as Captain, I suppose Alaska is looking to ensure I stay both motivated as well keep from burning out by flying back and forth from Sea-Tac. I must admit that I do like the idea of a change of scenery. SFO was the main hub for Virgin America and after the merger, Alaska kept SFO as a hub. I'll be sure and keep you informed if this move becomes reality.
Flight Details
Today we're operating Alaska flight 634 with service from Seattle down to Las Vegas. Our flight departs at 10:30 AM. Our planned fuel for this trip is 31,335 lbs and our take off weight is 162,046 lbs. with a cruising altitude of 35,000 feet. Our block time is 2 hours and 38 minutes.
Flight Plan: SUMMA1 LKV RYANN J92 BTY SUNST4
Let's Get Going
This will be a turnaround flight for me. While I enjoy the overnight stays in Vegas, my bank account can do without the possible gambling losses which might be incurred if I were to not have the best of luck. Let's face it, my luck in Vegas the past few trips hasn't been the best. I lost BIG TIME at the roulette table and ended up falling off the mechanical bull. But as they say….what happens in Vegas, stays in Vegas.
Today we're flying the Boeing 737-900 with the special 100th year Boeing livery. ServAir is stocking up the aircraft galley.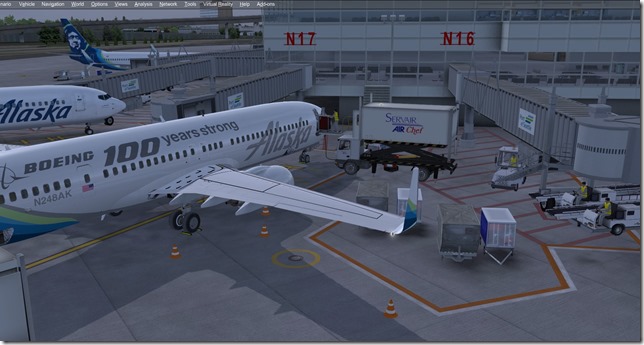 Next of course comes the bags. We're set for an on-time departure.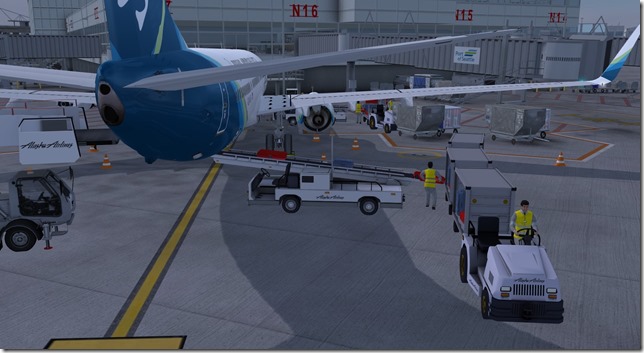 A little help from our friends…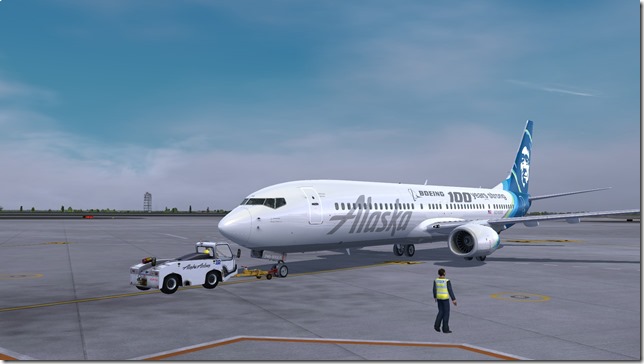 Holding short at 16L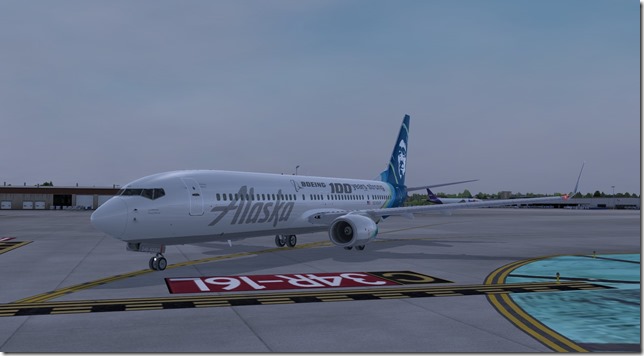 Blasting off and on the way to Vegas.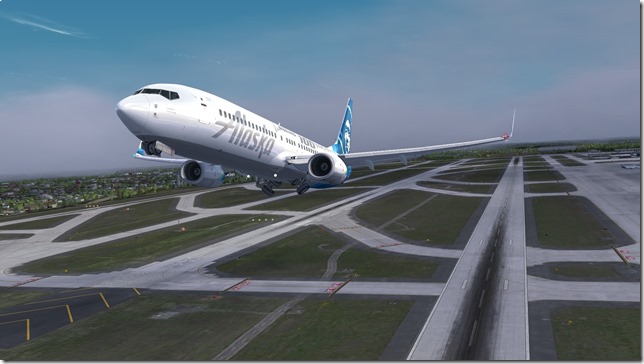 Just a little hazy this morning. We're now above the clouds of the Seattle area. Nothing but clear skies to Vegas.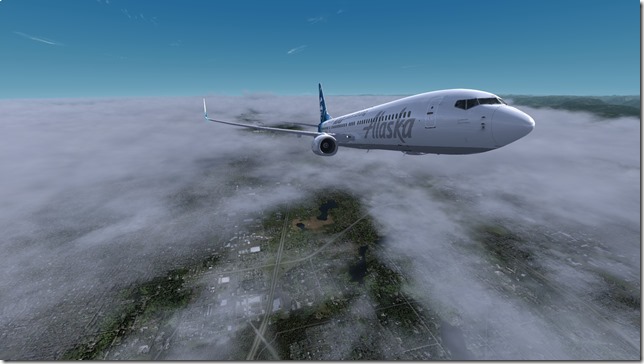 Ladies and gentlemen, if you direct your attention to the left side of the aircraft you'll see the Vegas strip where I'm sure all of your hard earned money will be left. Welcome to Vegas Baby!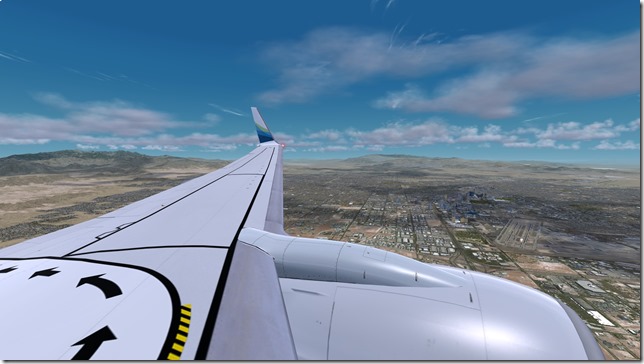 Typical Vegas weather has us landing on the 26's.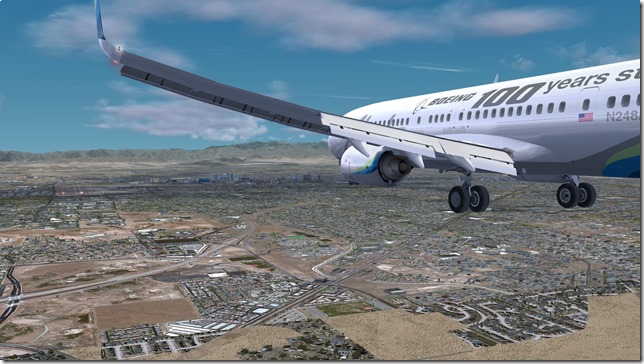 Lake Mead in the background.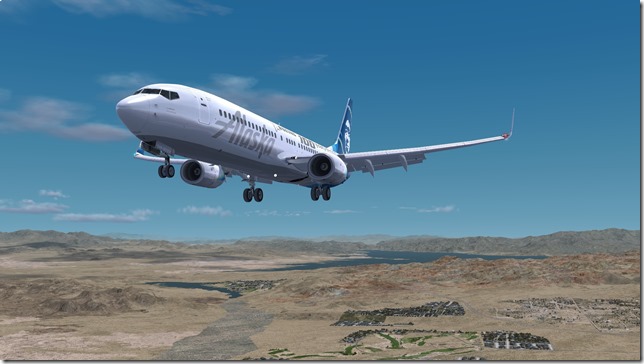 Easy does it. I personally love this photo. The sky, the shadows.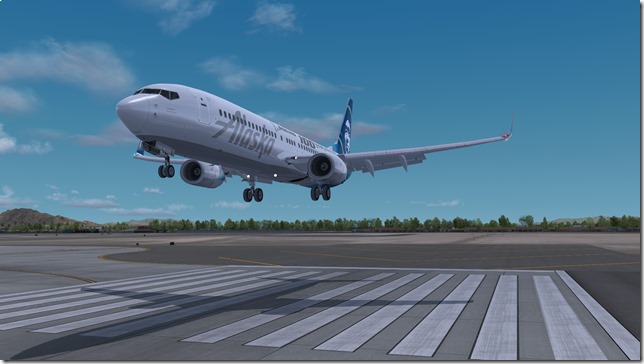 Some Southwest aircraft parked at LAS.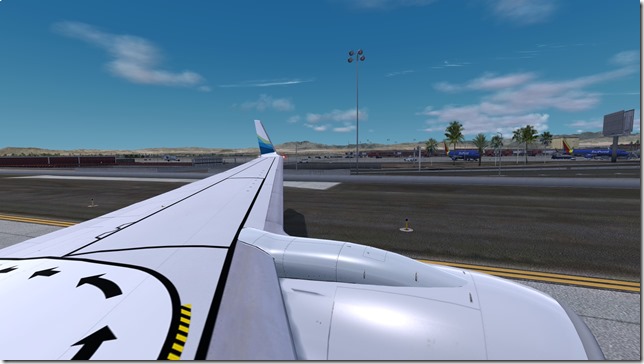 At our gate and shutting down. The ground crew needs to get us turned around in less than an hour.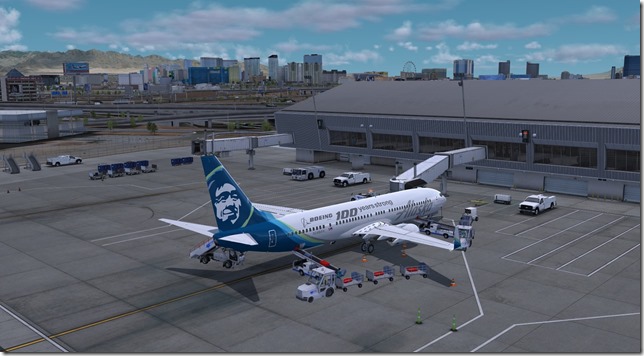 That's all for now. Tune back in next time for the flight back to Seattle.
Credits
If you are interested in experiencing your own "A Pilot's Life", I highly recommend the A Pilot's Life, by SimBitWorld add-on for Prepar3D, FSX and X-Plane. You can learn more about the A Pilot's Life by visiting the SimBitWorld website and/or purchase APL at SimMarket. Also, please read my full review of A Pilot's LIfe here.
Flight Simulator: Prepar3D v4.5 (hotfix 1)
Aircraft: PMDG 737-900
Airline: Alaska Airlines (ASA)
ATC: VATSIM
Airport Scenery: KSEA Drzewiecki Design, KLAS FlyTampa
Terrain Scenery: Orbx Global Base, Orbx Vector, Orbx openLC North America, Orbx NA Pacific Northwest, Orbx Northern California, Orbx Southern California
Sky/Cloud Textures: REX 5 SkyForce and REX 5 Environment Force
Weather Generation: ActiveSky (ASP4)
Flight Planning: SimBrief, Navigraph, FlightAware, FlightRadar24
Note: If you are interested in any of the above mentioned add-ons. Visit my P3D Add-ons directory for links.
---