A Pilot's Life Storyteller Series–S1, E2
Thank you for returning for another edition in the "A Pilot's Life" Storyteller series. I'm still trying to work out the title format I'll use. For now, I'm going with Series 1, Edition 2. In each of these updates, I'll spend a little bit of time catching you up on flights I don't cover in detail. This way you are somewhat aware of the progress I'm making as I continue my APL career.
After arriving at Sea-Tac from our flight from San Francisco (S1, E1), I had a trip out to Salt Lake City and back to Sea-Tac that same day. These two flights increased my APL XP up to 235.20. I have just over 414 XP points to accumulate until I'm eligible for my promotion to the rank of Captain. (See below)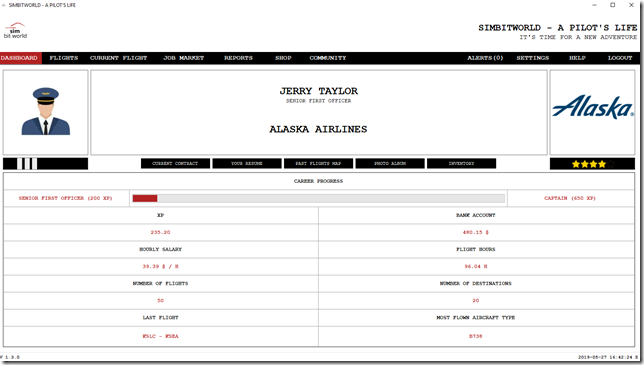 In addition, this trip up to Ketchikan and back will complete this assigned schedule set. As I can't consider options from other airlines at this time, I'll need to accept at least one more schedule with Alaska. If you are new to APL or not familiar with how it works, once you accept a position at a new airline or you receive a promotion during your employment with an airline, you can't accept a new offer until a period of 7 calendar days have passed. As I was promoted to Sr. First Officer on 26 May, I will not be eligible to accept or apply for any other jobs until 2 June.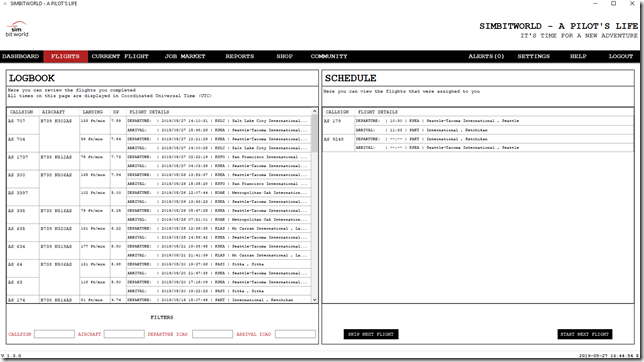 As for my plan after 2 June, well…..I really don't know. I first will take a look at the job offers I receive. If these are lucrative enough, I will certainly consider them. The challenge for me is with 3rd party add-on scenery. The add-on airport scenery I own is mostly concentrated in the USA. So accepting a job with any of the major US based carriers will certainly give me plenty of opportunities. However, accepting a job with a European (or any other region) will certainly give me some interesting route opportunities which obviously will lead to some interesting stories to tell. Again…time will tell.
Present Day
The day has come for my flight up to Ketchikan, Alaska. A number of years ago, I spent some time up in Ketchikan piloting small bush and float planes hauling paying customers to secluded hunting and fishing spots. While there isn't much money to be made (certainly compared to a commercial airline pilot), I could certainly see myself returning back to the slower life which can be found in places like Ketchikan and Juneau at some point in the future. But of course, time will tell.
The flight today is an afternoon flight out of Sea-Tac in the Boeing 737-800. We're in our special livery titled "Spirit of the Islands". You can read more about this special livery here or watch the short video below. The livery honors the Aloha State.
The weather today in Seattle is in rare form. Today is one of those days where (while it's a great day to fly) you are almost wishing you were flying so you can actually get outside and do something. But I need the work as I am still paying off the student loans. The great news is I have arranged for a few days R&R in Ketchikan. I am going to visit some friends for a few days and will catch a flight back to Seattle later in the week. Weather permitting, I might even rent a float plane and do some exploring.
Flight Details
Today we're operating Alaska flight 179 with non-stop service between Seattle to Ketchikan, Alaska. Our flight is scheduled to depart at 16:30 from gate N13. Our planned fuel for this trip is 17, 111 lbs. and our take-off weight is 148,985 lbs. Our cruising altitude today is FL340 and we have a block time of two hours, three minutes.
Flight Plan: BANGR9 PANGL QQ PR/N0338F 160 V309 ANN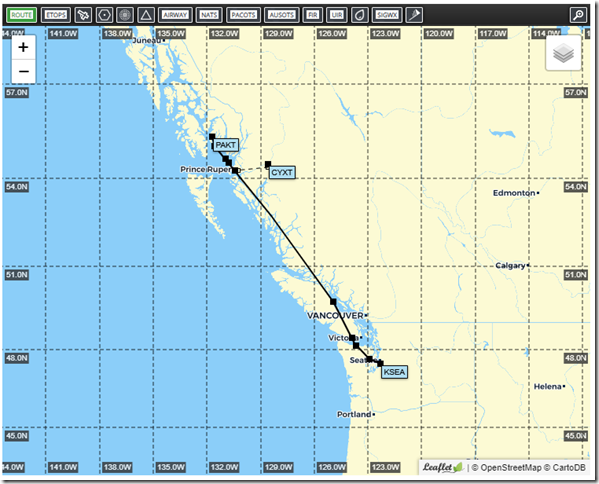 Walk Around
As the turnaround at Sea-Tac is a quick one today, I'm conducting the walk around while the bags are going in. But all looks good with our aircraft today.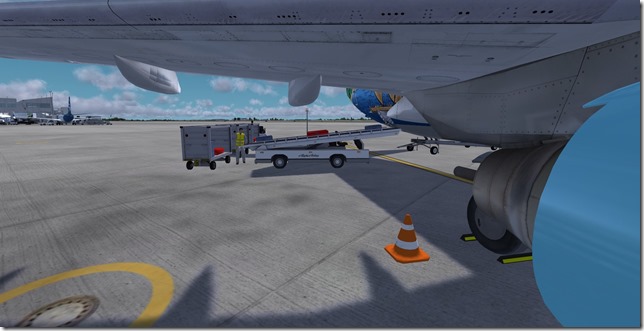 Looks like that's one heavy suitcase. I'd offer him a hand, but you know…union rules and all that. Remember, bend at the knees.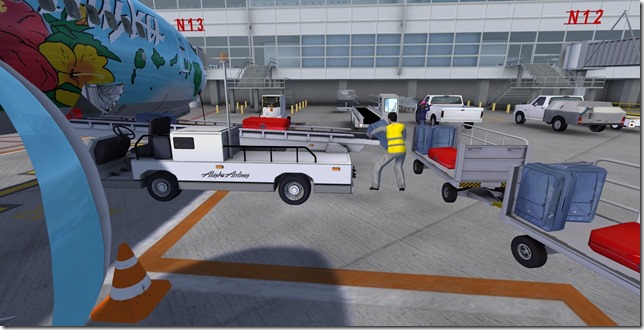 These guys are good. But of course with Sea-Tac being our main hub, you would expect nothing less. Catering, fueling and the last of the bags are going on. Time to get rolling.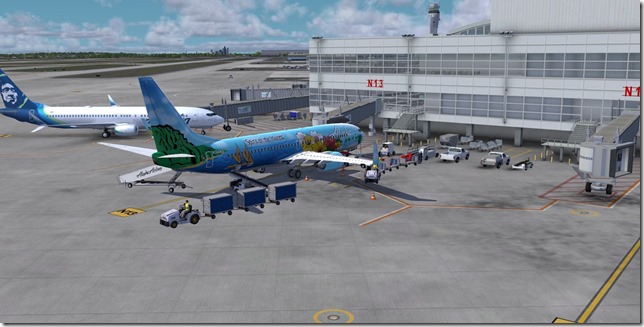 It's time to push back
It's a busy day today at Sea-Tac. We have company traffic flying in and out, plus an American and Delta are also preparing to pushback.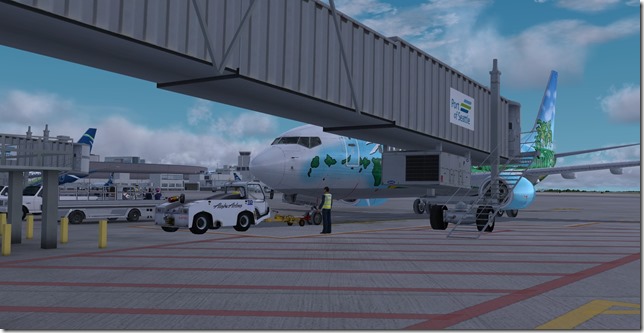 We've been cleared for engine start. Starting Engine #2.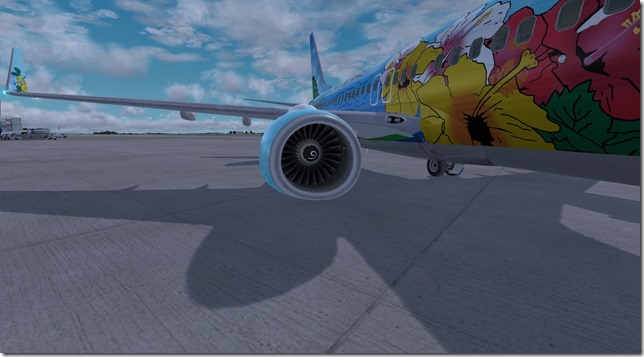 Good engine start on #2, starting engine #1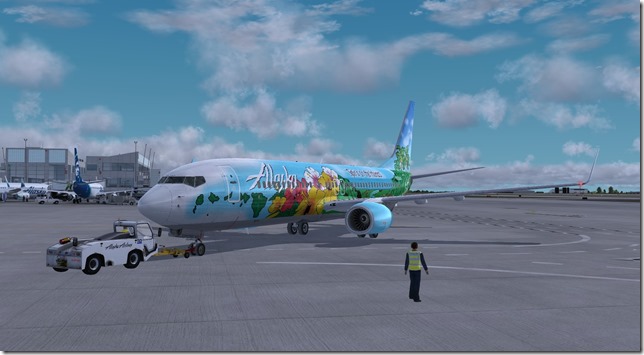 As we taxi out to 16L, a Virgin America (now of course Alaska Airlines) Airbus lands. I guess we haven't got around to painting that aircraft just yet.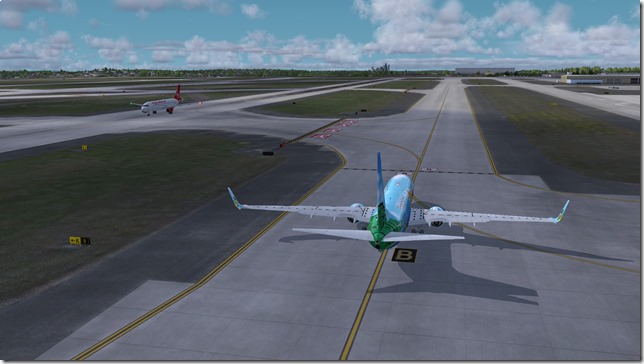 Alaska 179, Line up and Wait 16L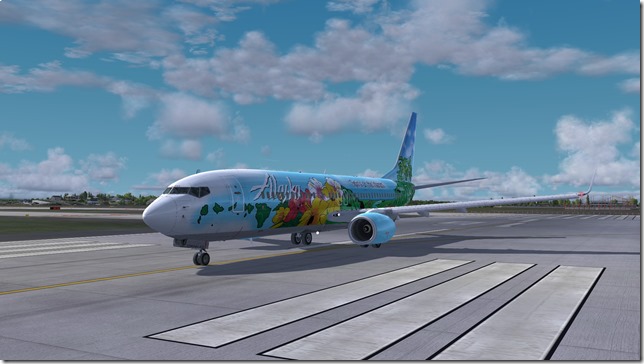 Positive Rate, Gear Up!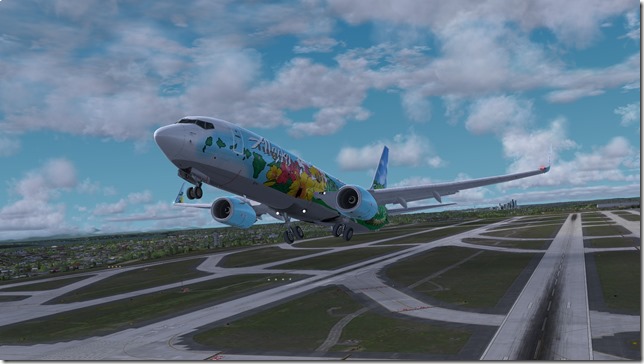 Beginning our right turn to join the SID.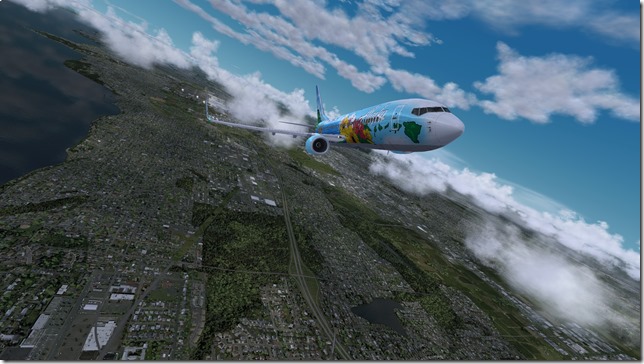 Wing shot…..Oh Yea!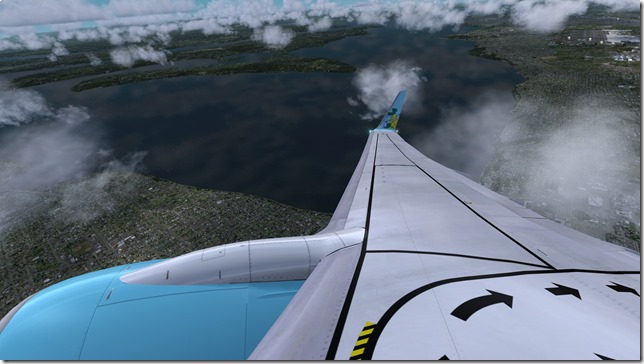 The view from the office.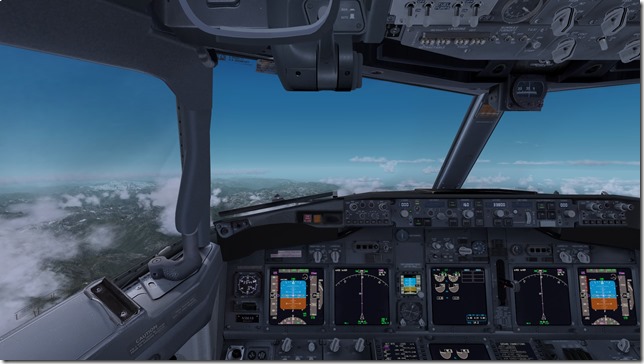 Climbing out over Vancouver Island. The views are rather impressive this afternoon.
Beginning our descent. We're about to cross over Annette Island and the Annette Island Airport (ANN) is visible through the clouds. ANN served as the major airport from the WWII era until the early 70's.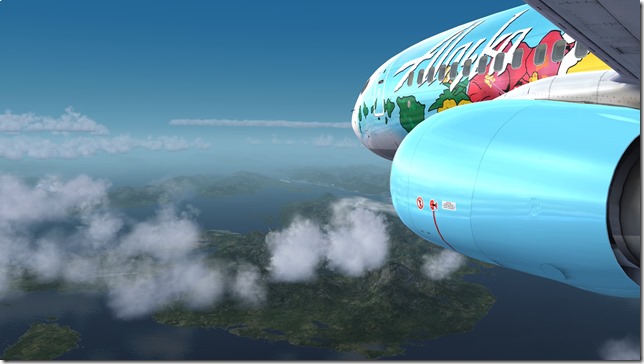 Slowing our speed as we continue to descend. The appearance of the water is very calm.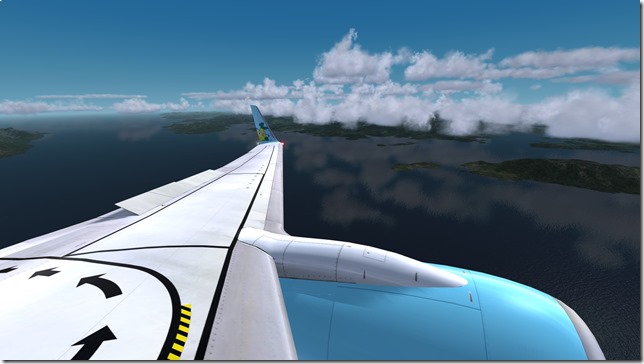 The approach into Ketchikan for runway 11 brings us in almost parallel to the airport, then fly out approx. 25 nm. Then we do a easy 180 degree turn. Starting to make our turn now.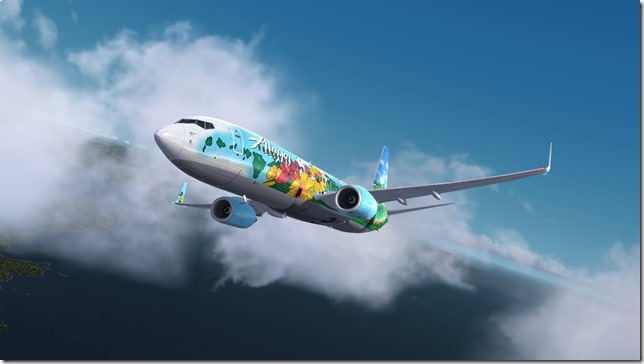 Looking forward to spending a few days flying around Ketchikan and exploring. The weather forecast is calling for excellent VFR flying conditions.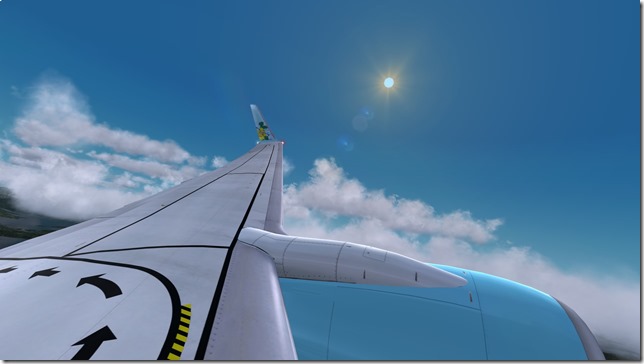 Completing our 180 degree turn. As we roll out the runway should be directly in front of us.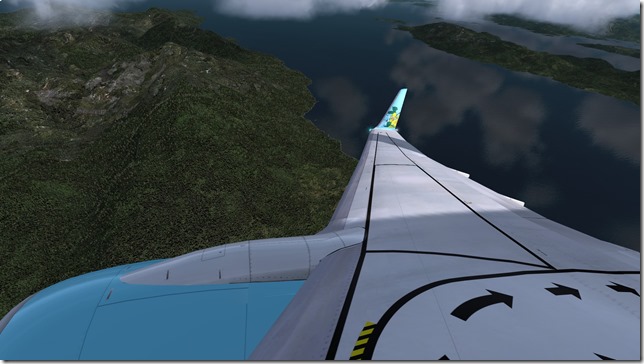 We're cleared for the approach runway 11.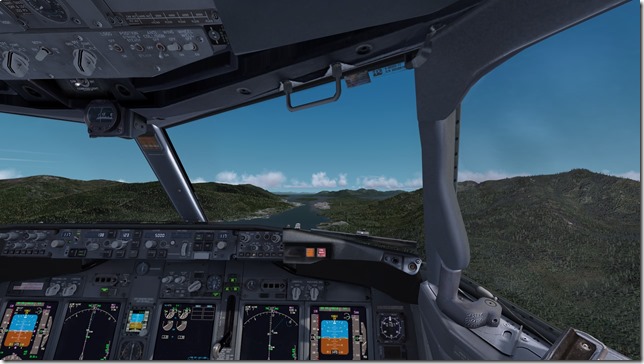 Cleared to land, runway 11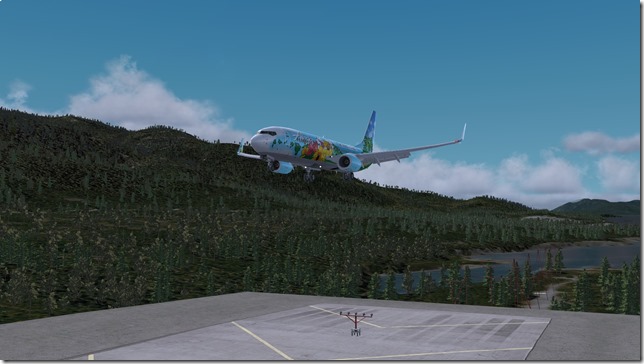 Clear of the active and beginning our downhill taxi.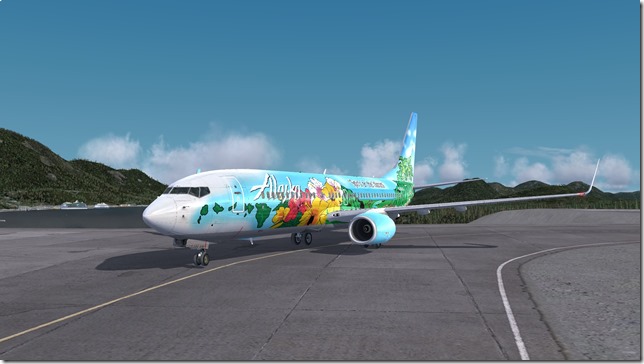 Just as we roll in, a company 737-800 is about to pushback for Anchorage.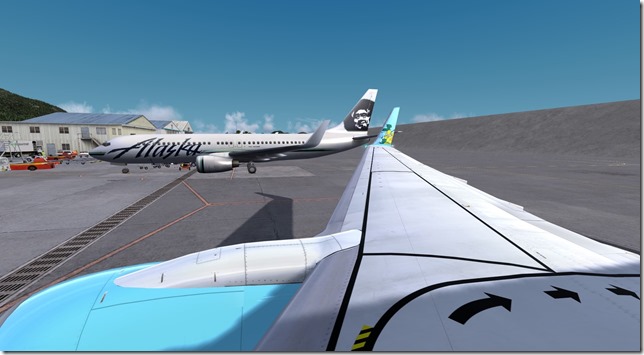 At the gate and shutting down. In just a few minutes I'll begin my short vacation break in one of my favorite places in the world. I think before I head to the hotel, I'll walk down and see if there are any aircraft to rent.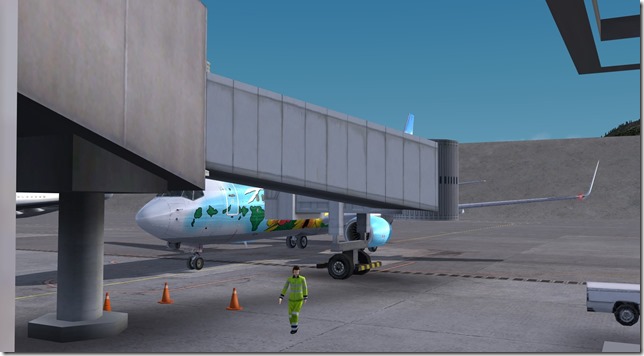 Well that just about does it for this edition. I certainly hope you are enjoying reading these as much as I'm enjoying flying and writing about my adventures. I hope you'll check back next week for another adventure. It might just be a mini-adventure as I rent an airplane and fly around Ketchikan before heading back down to Seattle. Talk to you soon.
Credits
If you are interested in experiencing your own "A Pilot's Life", I highly recommend the A Pilot's Life, by SimBitWorld add-on for Prepar3D, FSX and X-Plane. You can learn more about the A Pilot's Life by visiting the SimBitWorld website and/or purchase APL at SimMarket. Also, please read my full review of A Pilot's LIfe here.
Flight Simulator: Prepar3D v4.5 (hotfix 1)
Aircraft: PMDG 737-800
Airline: Alaska Airlines (ASA)
ATC: VATSIM
Airport Scenery: KSEA Drzewiecki Design, Orbx Ketchikan
Terrain Scenery: Orbx Global Base, Orbx Vector, Orbx openLC North America, Orbx NA Pacific Northwest, NA Pacific Fjords
Sky/Cloud Textures: REX 5 SkyForce and REX 5 Environment Force
Weather Generation: ActiveSky (ASP4)
Flight Planning: SimBrief, Navigraph, FlightAware, FlightRadar24
Note: If you are interested in any of the above mentioned add-ons. Visit my P3D Add-ons directory for links.
---