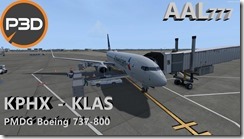 Hello and thank you for stopping by. For several years I have wanted to produce more cinematic flight sim productions. However, the amount of time required hasn't always been something I've had a lot of. But times are different now. Of course I love flying and this video was a lot of fun to put together. There will be more soon….
Welcome Aboard to American Airlines flight 777 with non-stop service between Phoenix Sky Harbor International
Airport and Las Vegas McCarran International Airport. Your captain for this flight is JT. Please sit back,
relax and enjoy the flight.
Addons used:
Aircraft:
PMDG Boeing 737-800 (NGXu)
American Airlines Livery
Simulator:
Lockheed Martin Prepar3D v5
Scenery:
(1) ORBX FTX GLOBAL
(2) ORBX OpenLC North America
(3) Flightbeam Studios KPHX
(4) FlyTampa KLAS
(5) FSDreamTeam GSX Lvl 2

Camera Effect:
Chaseplane
Weather:
ActiveSky
I hope you enjoy watching my videos. If you do, please hit that "Like" button! Also, if you are new to the channel, please SUBSCRIBE. It really does help!
Please visit my blog site https://grizzlybearsims.com You'll find my complete mod list and various articles and reviews on many of the simulation based games I enjoy playing.
Thank you for watching!
J
MUSIC CREDITS
________________
Inflight Music
Dreaming in 432Hz by Unicorn Heads (YouTube Music Library)