WorldFlight 2018 GBS Tour – Leg 9
Moving right along with our WorldFlight 2018 tour, as mentioned in the leg 8 update, our wealthy (and very lucky) tourists were only able to spend a few hours exploring the island of Diego Garcia.  The tour was conducted by US DOD (Dept. of Defense) officials and unfortunately no photographs were permitted during the tour.  But once again we were provided photos of our aircraft for the purpose of this update.  But as you can see from the updated tour map below, we are just a few hops away from reaching the shores of the African Continent and I believe we're making great progress.  I would just like to remind all of my readers why I'm doing this tour.  If you refer back to the article I wrote back in early June, I explained who was behind the WorldFlight organization and the purpose of that annual event.  It truly is a great cause and the event is fun to watch.  Stay tuned for future news and updates regarding the event for 2018 which is scheduled to take place in November.
Also, just to note.  Between leg #8 and this leg #9, an update to Prepar3D v4 was released.  I'm now running Prepar3d v4.3.  The upgrade was very smooth and the benefits are slightly better performance.  If you haven't updated your P3D to v4.3 and would like to do so, I wrote a step-by-step guide which should help you complete the update with as little headaches as possible.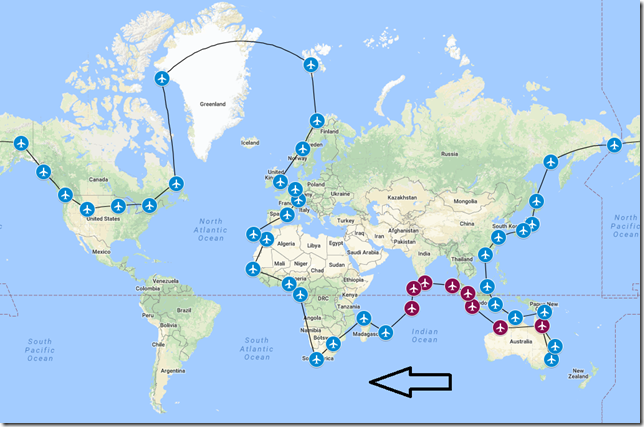 History of City
Plaine Magnien is a village in southeast Mauritius located in the Grand Port District. According to the 2011 census, the population is just under 10,500. The village is the location of the only airport on the island.
History of Country
Mauritius is an island nation in the Indian Ocean located approx. 1,200 miles off the southeast coast of Africa. Formerly founded by the Dutch in 1638, then the French maintained a colony between 1715 – 1810, Mauritius became a British colonial possession in 1810 and remained so until 1968. Mauritius is a major tourist destination and ranks 3rd in the region and 56th in the world. The tropical climate, clear warm sea waters, beaches flora and fauna make it a favorite destination for some. And if you've ever heard of the Dodo bird, this now extinct bird called Mauritius home until the last one was killed in 1681.
History of Airport
Sir Seewoosagur Ramgoolam International Airport, FIMP is the main international airport in Mauritius. The airport is located 26 nm from the capital city of Port Louis. The airport has direct flights to several destinations in Africa, Asia, Europe and is home to the country's national airline Air Mauritius. The airport has one runway (14/32) measuring 11,056 ft in length and the airport terminal can handle aircraft as large as the Airbus A380.
History of Airline
Air Mauritius is the flag carrier airline of Mauritius. The airline is the 4th largest carrier in Sub-Saharan Africa and has an important standing in the European, African and Indian Ocean regional markets.
Flight Briefing
SEY1066
FJDG – FIMP
Planned Fuel – 24,800 lbs
Planned Altitude – 38,000
Distance – 1162nm
Flight Time – 2hrs, 50mins
Route: NKW R329 DUDIP GBY1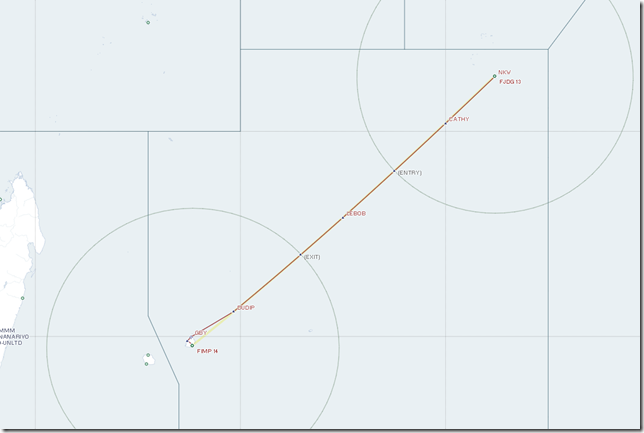 Flight Journal
What a wonderful and very lucky experience our travelers had on the island of Diego Garcia.  While this entire trip could be summed up as "Once in a Lifetime", the opportunity to visit a place almost a secure as Area 51 can only be described as "Once in a Lifetime".  We only had a few hours to visit and as previously stated, we were under the watchful eye of the US DOD the entire time.  Our JANET airlines B737-600 departed out of FJDG shortly after we arrived headed to points unknown.  Fortunately all our bags and other supplies were loaded onto another Boeing 737-700 which was an older, retired Air Seychelles aircraft which had arrived a few days ago under "mysterious" circumstances.   I asked one of our handlers what happened to the passengers and crew, he politely said…"DON'T ASK"!  So I just zipped my lips and went on about my business.
Once all our passengers were safely on board the Air Seychelles B737, we were immediately given our clearance and instructed to depart without haste.  I really don't think this means we out stayed our welcome, just perhaps we had too many eyes which could witness something they didn't want us to witness.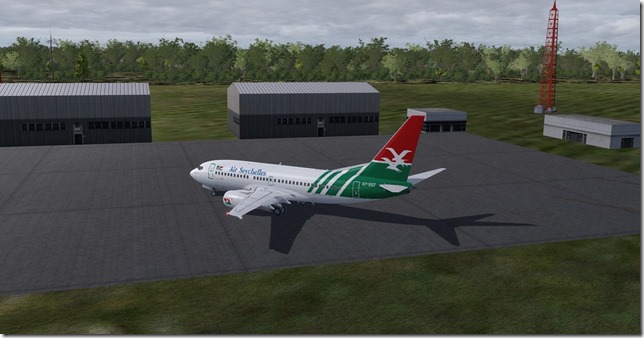 A very quick taxi to runway 13 (how fitting) and it was time to kick the tires and light the fires once again and get this bird in the air.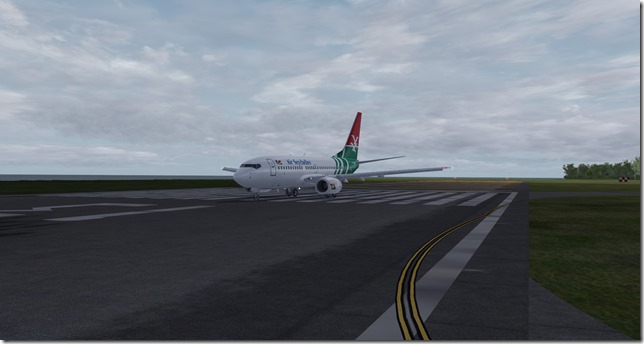 The runway on the island of Diego Garcia as we climb out.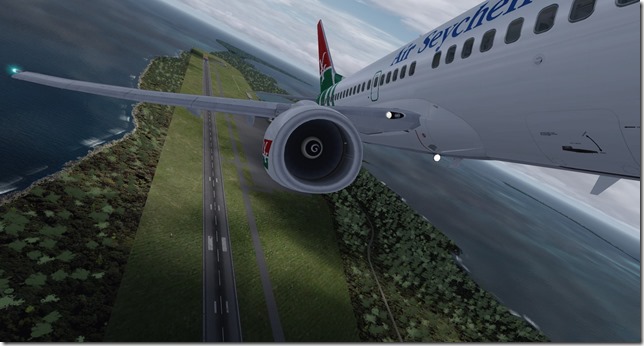 Our departure couldn't have come at a better time as weather was starting to move in.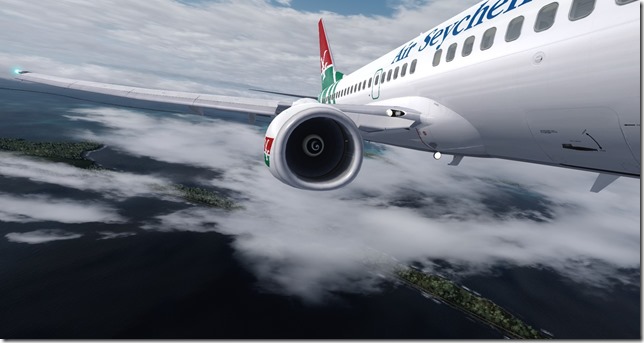 Clouds have somewhat been a theme for this adventure.  But then again we are in the tropical regions of the world.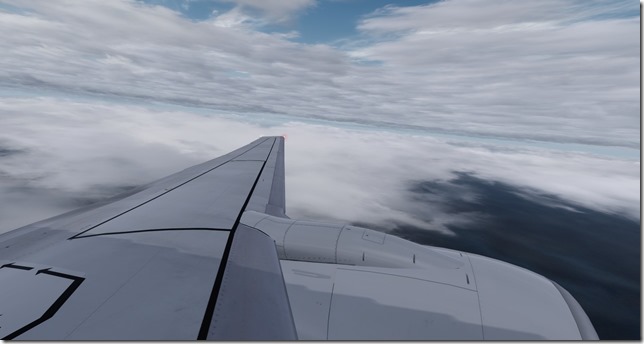 Nice views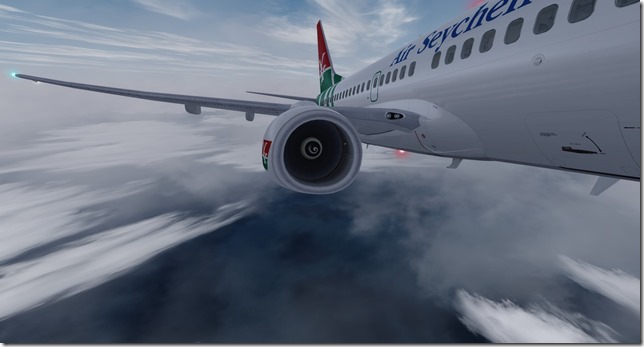 The Air Seychelles Boeing 737-700 (retired).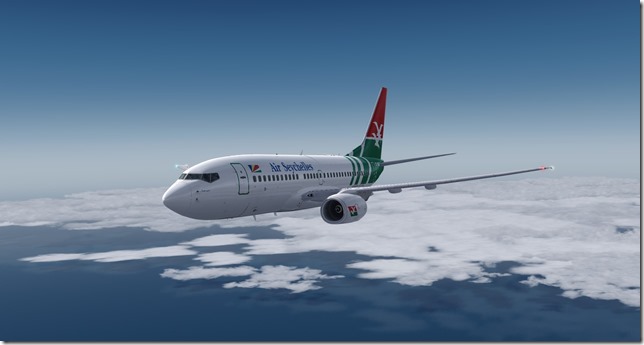 We've managed to leave the clouds behind (for now)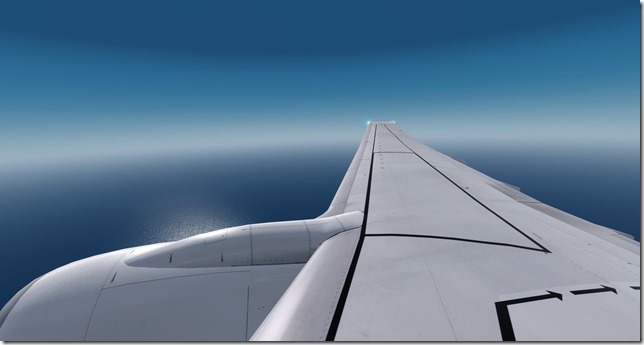 As I said, for now.  LOL  The clouds have returned just in time for our arrival into Mauritius.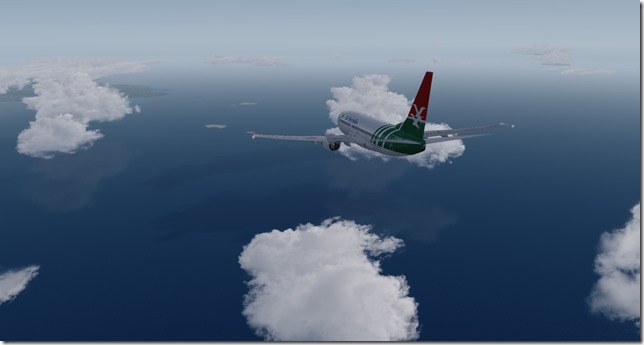 Speed brakes deployed to help slow our descent.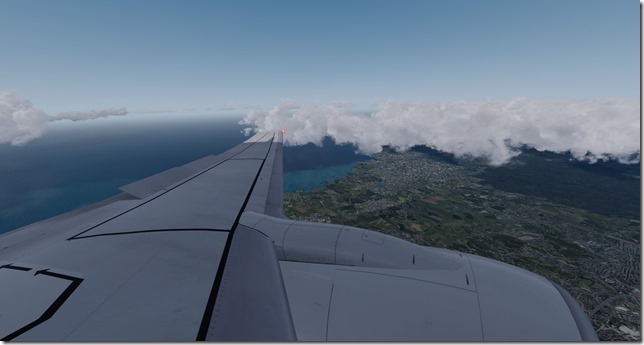 You may have noted the lack of winglets on this aircraft.  Nice views as we get closer to our destination.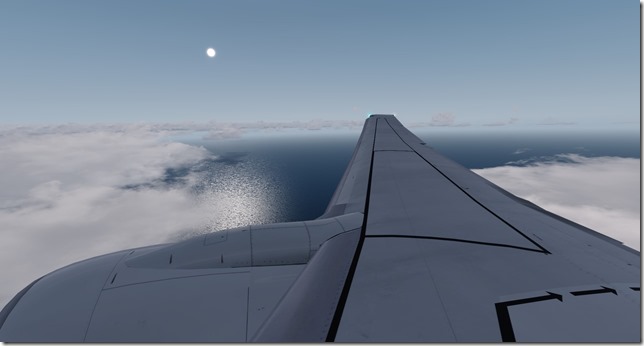 A few afternoon storms are expected and we've asked ATC to vector us around a few strong cells.  But we're still on-time for our arrival.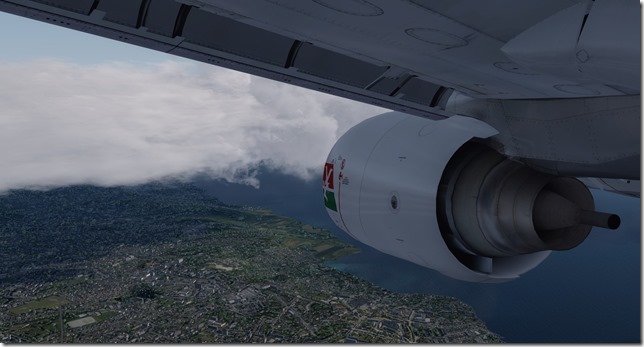 Looks to be a thriving place down there.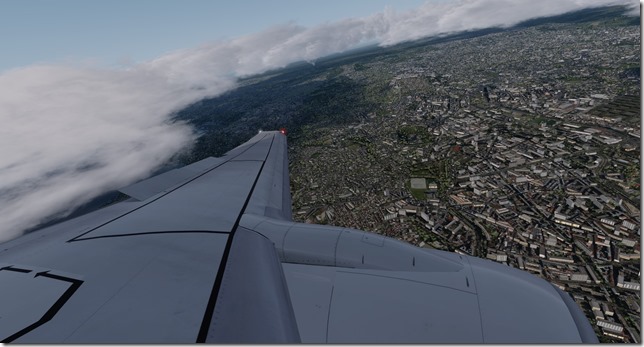 On final approach.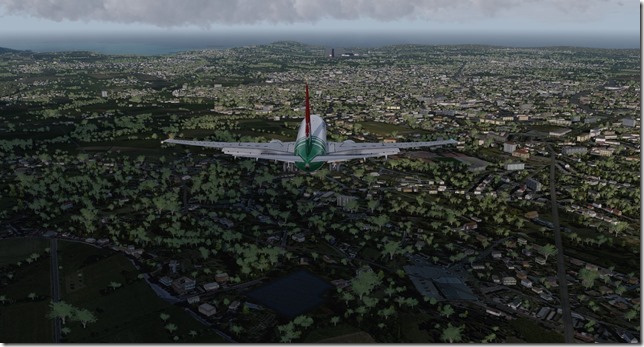 It's been a bit of a long day for everyone.  We'll be glad to spend a few days exploring this area.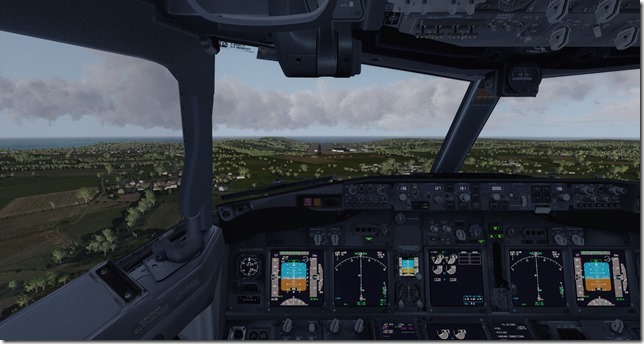 Our Boeing 737 parked up.  Not sure what this old girl has in store for her.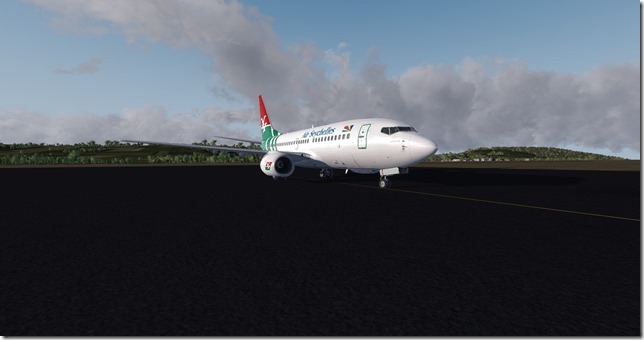 Simulator Specifics
Prepar3d v4.3
ActiveSky Weather Engine
ActiveSky Cloud Art
Envtex & Envshade
PMDG 737-700 Expansion (Air Seychelles livery)
Orbx Global Texture
VATSIM
Route Planning Tools
AivlaSoft PFPX
Navigraph Charts Desktop
FlightAware
FlightRadar24
SkyVector
Google Maps
We're due to stay here for a few days before departing to our next destination of Dzaoudzi, Mayotte, France.
Until next time…Happy Flying!
Jerry
---