WorldFlight 2018 – GBS Tour
The organizers of WorldFlight, have prepared the 2018 version of their world tour to raise money for various charities around the world.  Each November, teams from around the globe participate in this annual week long event.  Many of these same teams, stream their flights on Twitch & YouTube from one of many full-sized flight simulators around the world which have been setup.
Over my 35+ year history with computer based flight simulation, I've circumnavigated the globe many times and in many different aircraft.  In 2010, I embarked on an "Around the World" journey in a single engine Mooney Bravo which consisted of 75 individual flight legs, spread out over approx. 45 days.  The total trip mileage was 35,816 nm and consisted of 201.5 flight hours.  If you are interested, you can view my trip log here.
I've flown the Worldflight tour (on my own) many times.  Last year (2017) I completed it in the PMDG Boeing 737-800.  As it was just a "for fun" flight, I didn't keep a flight log but it was a lot of fun just the same.  For 2018, I'm going to attempt to do a better job with keeping a flight log, showcasing on my blog site.   Just like the old days!
As it would be impossible for a single pilot to fly the complete route, during the actual even timeline…I'm planning to start my journey in early to mid June.  The general purpose of doing this is to help raise awareness for the official event in November and expose as many of my viewers to this awesome charity event.
Unlike last year where I used the same aircraft type to complete the tour, this year I'll use a variety of aircraft from my virtual hangar including both Boeing and Airbus aircraft.  The Boeing types will include 737, 747, 777 and 787.  Airbus will be a A319, A320 and A321 variants.  In addition, you can expect to see a variety of airline liveries throughout the journey.  As the tour begins in Sydney, Australia…I'll kick the tour off with Qantas, Jetstar and Virgin Australia.
In some (perhaps most) instances, the two airports which make up each leg may not have real-world flights connecting them to each other.  In cases like this, I'll use my own imagination to determine what airline would make the most sense to operate and which aircraft type.  A lot of the decisions driving this will be the availability of aircraft liveries.  But I'll strive to do my best to keep a variety throughout the journey.
The same applies for airport scenery.  While I own a lot of different airport sceneries, I don't own all the airports we'll be visiting during this tour.  If I can find quality freeware airports that won't break my sim or cause issues, I'll consider using them.  But in some cases, default scenery will just have to be used.
The 2018 WorldFlight Tour begins in Sydney, Australia and travels a westerly direction (see map below). This tour will consist of 46 legs, covering an approx. 36,153 nm while visiting over 25 different countries.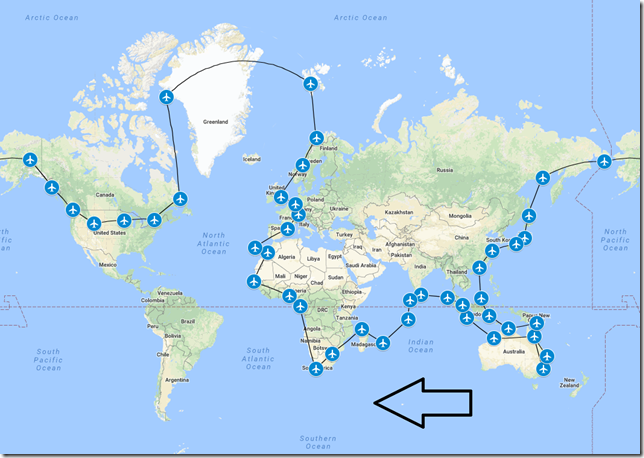 I'm really not sure how long it will take me to complete this tour.  Perhaps I'll try to wrap the last few flight legs around the same time as the actual event is taking place.  It might be fun to fly the last leg or two on VATSIM at the same time the actual event is taking place.  But only time will tell if this will be possible.   You can follow along with my progress visiting my blog site and the 2018 WorldFlight Page I've setup.
Thanks for reading and bon voyage.
Jerry
---