WorldFlight 2018 GBS Tour – Leg 20
Before I get going with this tour update, I just wanted to give a brief shout-out to my fellow virtual pilots from virtual United Airlines.  I recently joined this fine virtual airline and one of the members posted a friendly note in the forums about my blog site.  Thank you!  If you're looking for a friendly, relaxed virtual airline…visit vUAL and fill out an application.  When I'm back from vacation in mid September, I'll do a proper write up on this wonderful VA.  I'm having a lot of fun flying the friendly skies for vUAL and so can you.
As I've been keeping you informed on my honey-do list progress the past few tour updates, I'm pleased to let you know that as we're less than six days from leaving on our real world European vacation, the list is almost 100% done.  This blog posting is releasing on Saturday, 18 August and hopefully by the time the sun sets on Sunday…the list will be done.  I'm fairly confident the list will be completed, but to be honest the few remaining tasks are not critical to our leaving and if they get done, they get done…otherwise I'm not going to stress over it.  As my father often says, "Life is just too short to stress over the little things".  I agree….Let's go flying!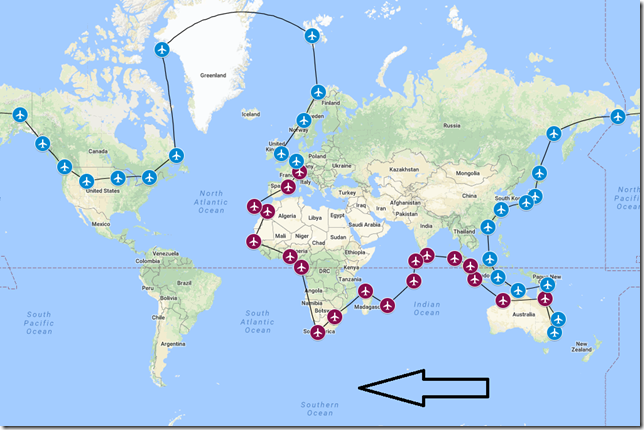 History of City
Dusseldorf is the capital city of the German state of North Rhine-Westphalia and the 7th most populous city in Germany. Dusseldorf is known for its academy of fine arts, its pioneering influence on electronic/experimental music and its Japanese community. Located on the river Rhine, Dusseldorf is ranked 6th in the most livable city in the world.
History of Country
Germany is a sovereign state in central-western Europe. It includes 16 states covering an area of over 137,000 square miles. Germany is the most populous member state of the European Union with an approx. 83 million inhabitants.
History of Airport
The Dusseldorf airport is located approx. 4.3 miles north of downtown Dusseldorf. The airport is the 3rd largest airport in Germany after Frankfurt and Munich handling 24.5 million passengers in 2017. It is a hub for Eurowings and serves as a focus city for many other airlines.
History of Airline
Eurowings is a German low-cost airline based in Dusseldorf and a fully owned subsidiary of the Lufthansa Group. Founded in 1996, it serves a network of domestic and European destinations and some long-haul routes.
Flight Briefing
EWG1066
LSZH – EDDL
Planned Fuel – 11,000 lbs
Planned Altitude – 28,000
Distance – 240nm
Flight Time – 1hr, 15min
Route: DEGE2S DEGES Z1 ETAGO DCT HAREM/N0462F340 UN851 LOHRE Z850 ADEMI T854 DOMUX DOMU2G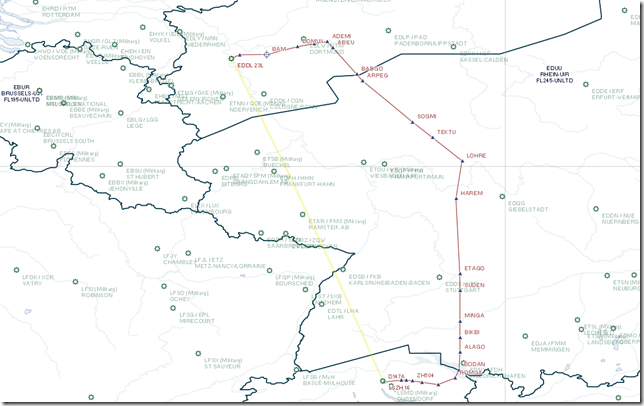 Flight Journal
You might remember back a few legs (Leg 13), this was the longest leg of the tour with a flight distance of 2,130 miles.  This leg, leg #20 will be our shortest leg of the entire tour measuring only 240 miles.  But regardless of the distance, the same amount of planning is required.  As we're a bit rushed to get out of Zurich, we'll start with push-back and engine start up.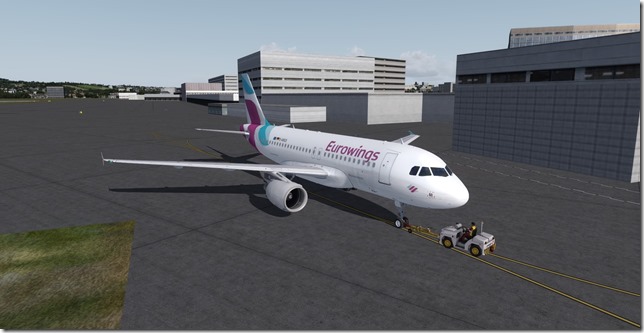 Climbing out via our departure.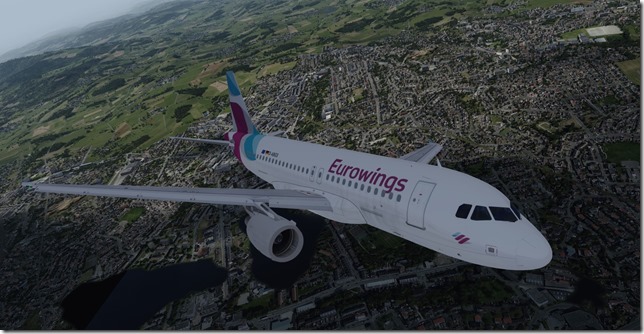 One last look at Zurich Airport as we circle around to join our departure route.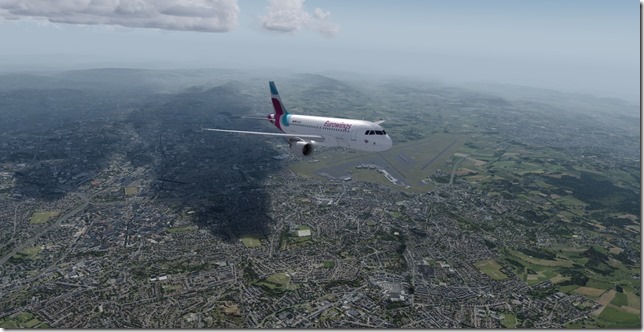 A quick climb to flight level 280 (28,000 feet) and head towards Dusseldorf.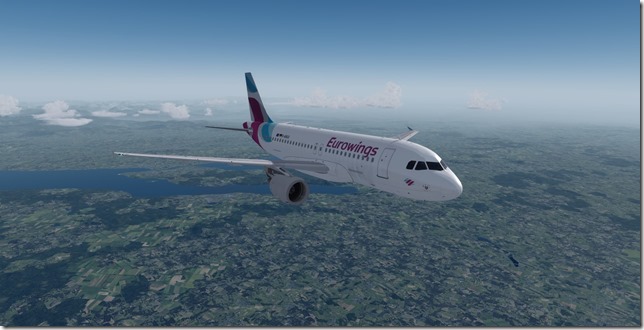 Our Eurowings Airbus A319 cruising over Germany.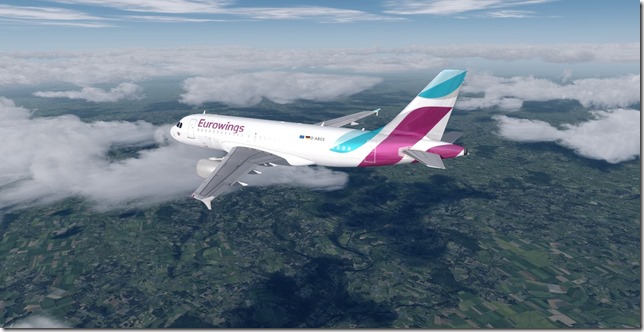 Beginning our descent.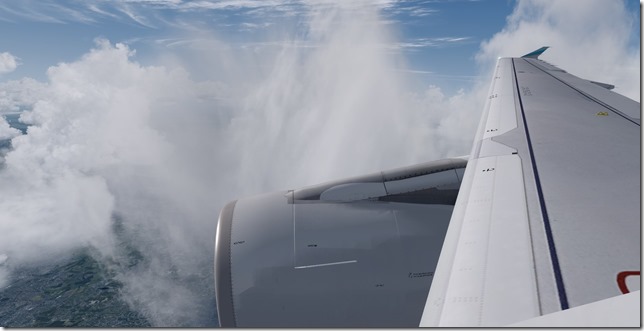 The Rhine River is visible below.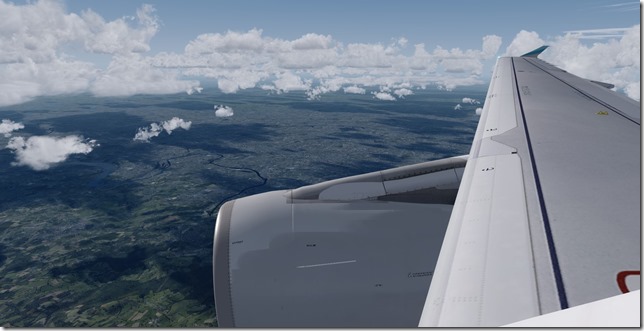 Making our turn to join the visual approach.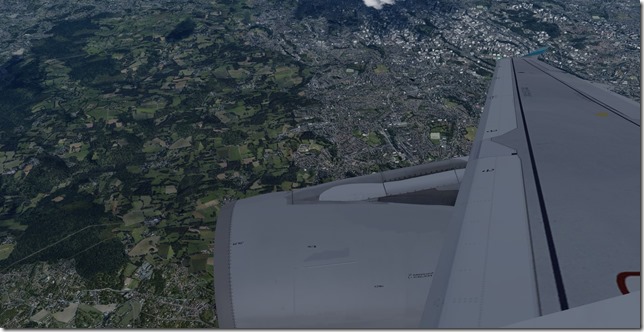 The Dusseldorf airport ahead.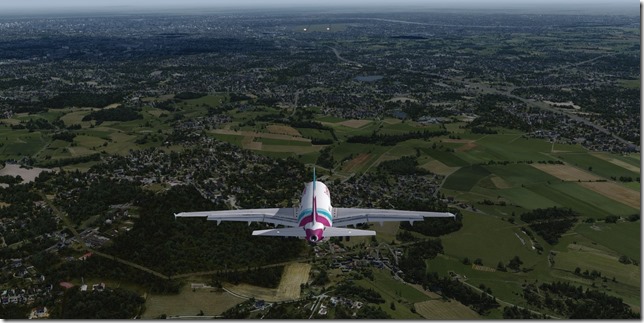 Bugs on the windshield?  Yep, this is an immersion feature of the FSLabs A319 (soon to be coming to the A320).  The windshield will become a bit dirty with bug splats which can only be cleaned while on the ground.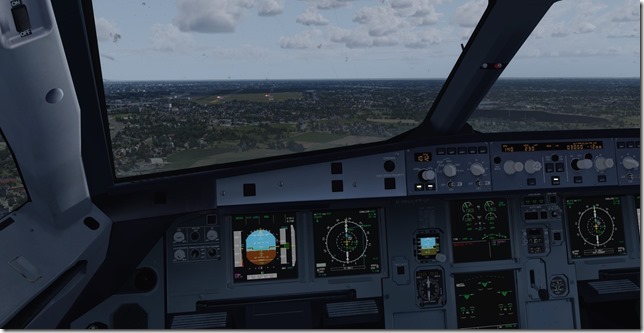 Parked at the gate and deboarding our passengers.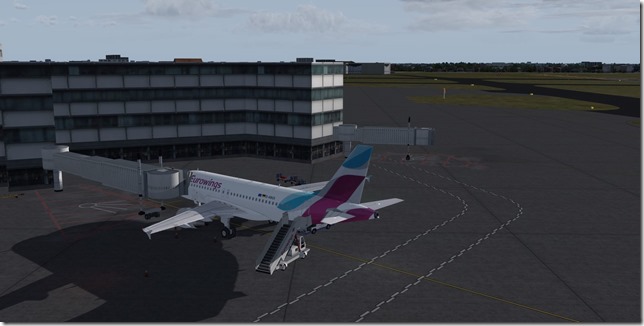 Unloading the bags from another successful flight.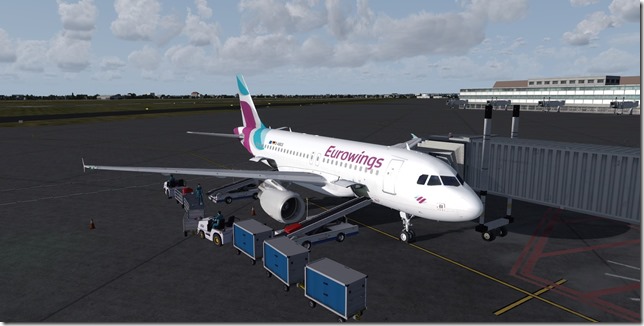 That bag looks heavy.  I'm sure that bag belongs to my wife.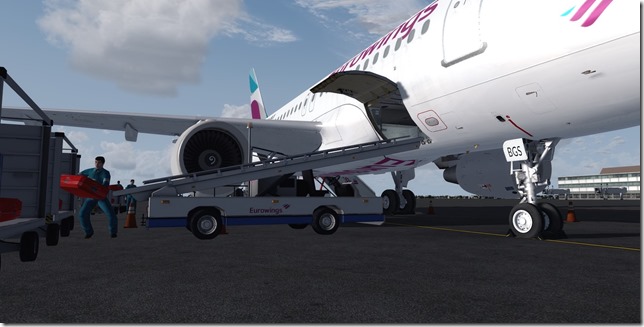 Simulator Specifics
Prepar3d v4.3
ActiveSky Weather Engine
ActiveSky Cloud Art
Envtex & Envshade
FlightSim Labs Airbus A319 (Eurowings livery)
Orbx Global Texture
VATSIM
Route Planning Tools
AivlaSoft PFPX
Navigraph Charts Desktop
FlightAware
FlightRadar24
SkyVector
Google Maps
Once again our stay in Dusseldorf will be rather short as we'll be departing for Leeds in just under 80 hours.  But that will give our travelers enough time to explore the area and enjoy their stay here.
Until next time…
Happy Flying!
Jerry
---