WorldFlight 2018 GBS Tour – Leg 13
Of the twelve previous flight segments or legs, the longest flight has been just over 1,300 nm.  This leg from Capetown, South Africa up to Libreville, Gabon is the longest of the entire tour at 2,122 nm.  We'll head from the southern tip of Africa all the way to the equator during this one flight with a flying time of 5 hours.
As I've pointed out before, most of the flights between our departure and arrival airports don't have real world flights operating between them.  This segment is no different and I've tried to ensure a variety of both aircraft type and also airline livery.  On all segments prior to this one (with exception to the JANET flight) I've been using aircraft and airlines which do fly in and out of the airport pairs.  This flight is no different.  Ethiopian does in fact fly into Cape Town and they do fly into Libreville (just not between the two).  But hey…that's all OK.
Ethiopian Airlines had a Boeing 787 Dreamliner in Cape Town and it needed to be positioned in Libreville for a flight back to Addis Ababa, Ethiopia.  So we offered to provide the ferry service in exchange of allowing our travelers passage.  Of course, we're also transporting additional cargo which also needed to be taken from Cape Town to Libreville.  It's a win-win situation and our passengers get to once again fly in a Dreamliner and they'll certain appreciate the added comfort for this long journey.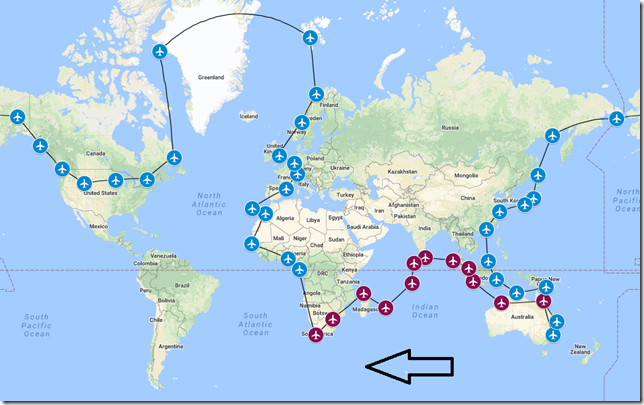 History of City
Libreville is the capital and largest city of Gabon, in western central Africa. The city is a port on the Komo River, near the Gulf of Guinea and a major trade center for the timber industry. The city's economy mainly focuses on the shipbuilding, brewing and sawmill industries. As of the 2013 census, the population of Libreville was 703,904.
History of Country
Gabon is a sovereign state on the west coast of Central Africa. Located on the equator, Gabon is bordered by Equatorial Guinea to the northwest, Cameroon to the north, the Republic of the Congo on the east and south and the Gulf of Guinea to the west. The area of Gabon is over 100,000 sq. miles and its population is estimated at 2 million people.
History of Airport
The Libreville International Airport, (FOOL) is the largest airport in Gabon and is located approx. 11 km north of the city. Built in the 1950's, the airport is home to Nationale Regionale Transport and Sky Gabon. Flights depart daily throughout the EMEA region.
History of Airline
Ethiopian Airlines is Ethiopia's flag carrier and is wholly owned by the country's government. EAL was founded in December 1945 and commenced operations in April 1946, expanding to international flights in 1951. Ethiopian Airlines is headquartered at the Bole International Airport in Addis Ababa. The airline flies to more destinations in Africa than any other carrier. It is one of the fastest growing airlines in the industry and is the largest on the African continent.
Flight Briefing
ETH1066
FACT – FOOL
Planned Fuel – 70,000
Planned Altitude – 40,000
Distance – 2130
Flight Time: 5hr
Route: KODE1C KODES/N0489F390 UN186 ATUPI/N0489F400 UM436 ANVAG UN187 VNA UR526 IWONA EBRA1V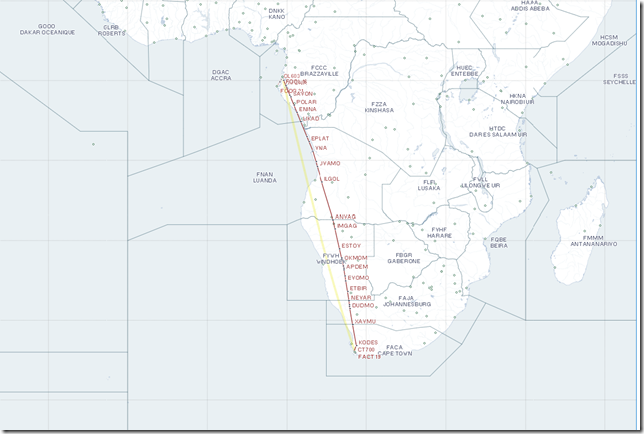 Flight Journal
Our "Around the World" journey has taken our tourists to some pretty exotic and fun places with a whole lot more to explore in the coming weeks/months.  But Cape Town seems to have been a hit with most of the crowd.  I believe the breaching great white sharks they witnessed was most likely the hit amongst the crowd and who can blame them.  But we must stick to our schedule and once again it's time to move on.
As previously mentioned, this next flight leg will be the longest of the entire tour at a whopping 2,122 miles.  We're busy readying the Boeing 787 Dreamliner for an early morning departure out of Cape Town in the hopes of arriving into Gabon just after lunch.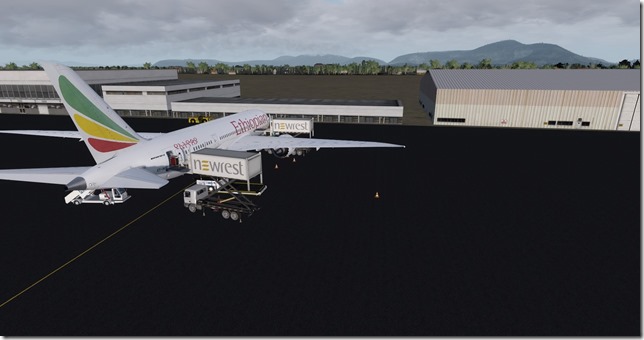 Just as catering is completing their task of stocking our aircraft with food and beverage, our tourists all arrive by bus from the hotel.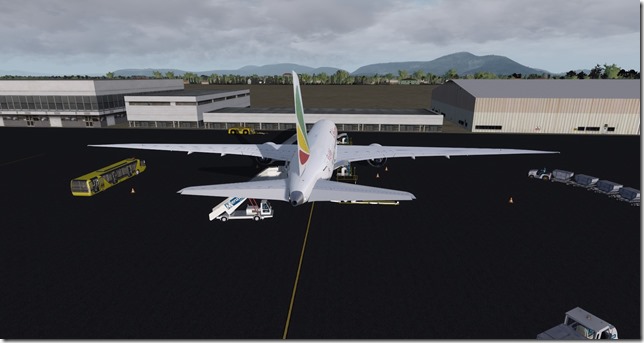 The last of the ULD containers are being loaded into the belly of the B788.  A few of these contain all of our travelers luggage and others are freight we're transporting on behalf of Ethiopian Airlines.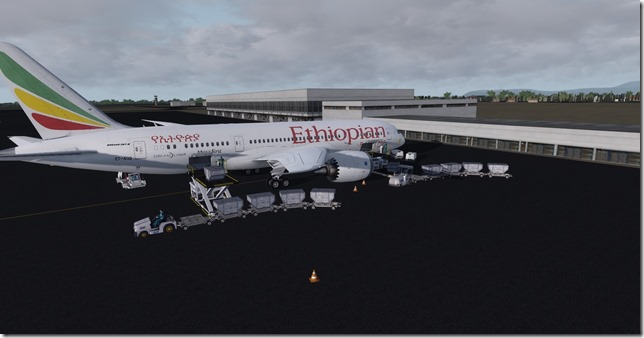 With everything loaded, all doors closed…it's time for pushback and engine start.  We have a long way to go and a short time to get there.
Lined up and ready to go.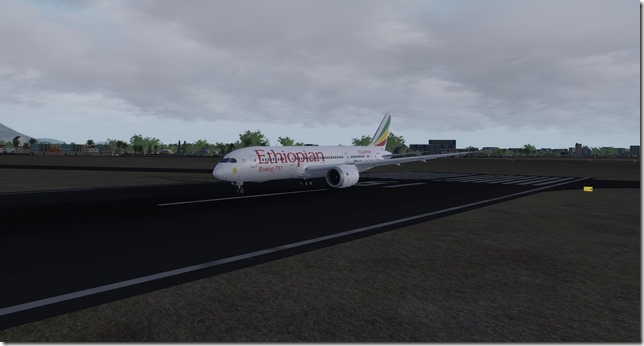 The massive GE turbofan engines make light work of getting our heavy aircraft off the ground and into the skies.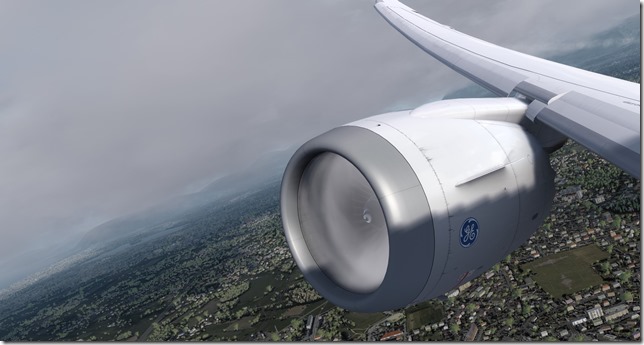 Our Boeing 787 Dreamliner turning to join the departure out of Cape Town.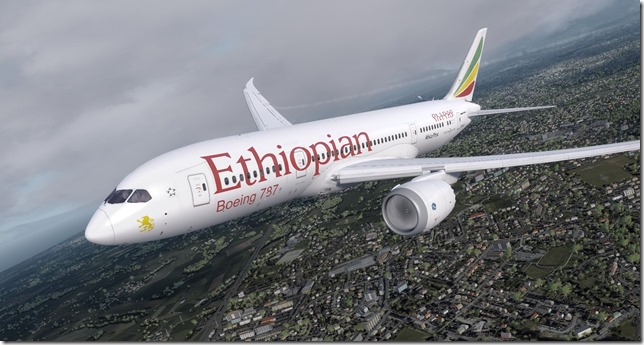 Love the wing shots.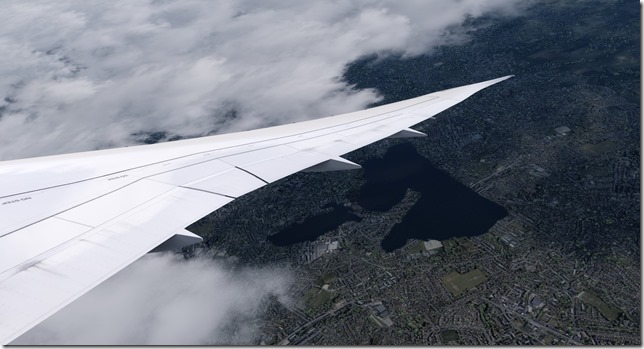 Climbing to 40,000 feet.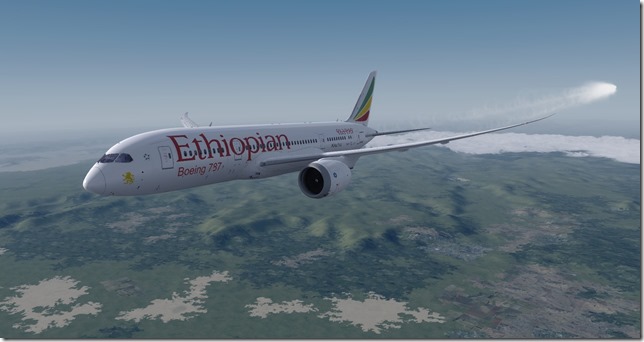 Goodbye to the lush green of South Africa and hello to the desert sands.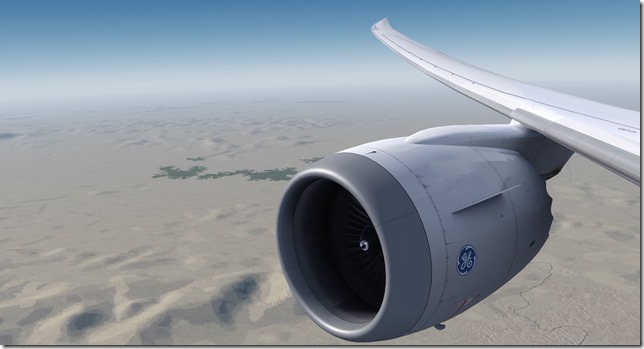 Look at that wing flex.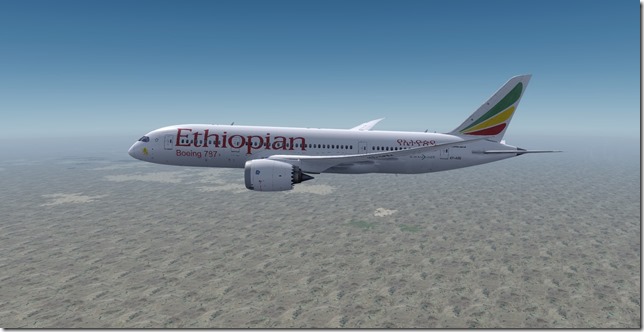 As per our usual luck, the thick carpet of clouds blocks our view as we begin our descent.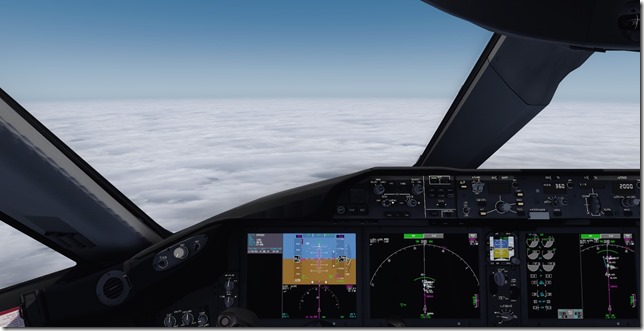 Making a turn along the arrival STAR into Gabon.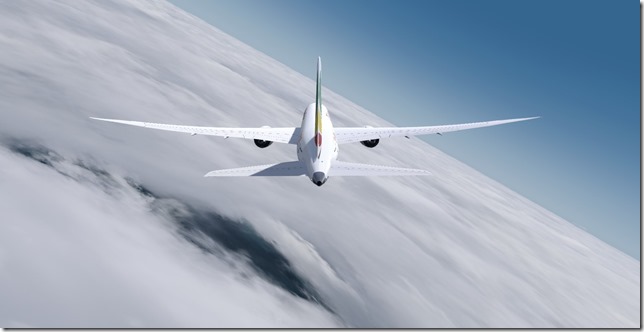 On final approach into Libreville, Gabon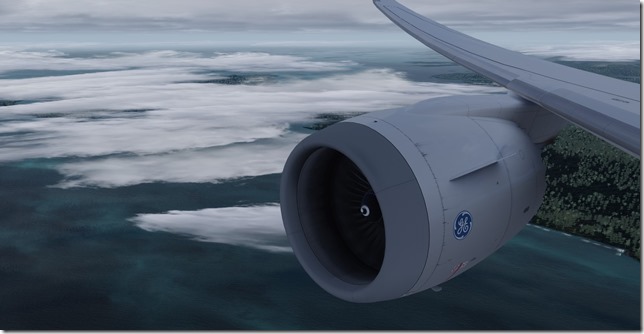 Flaps Full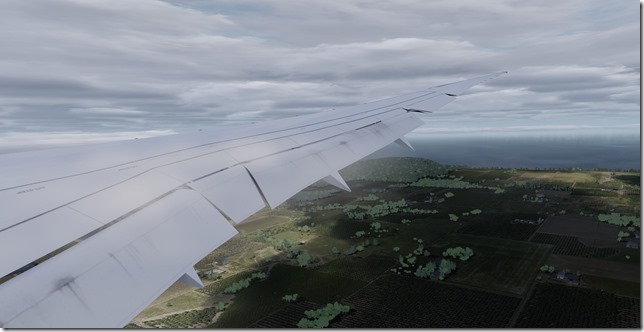 Cleared to land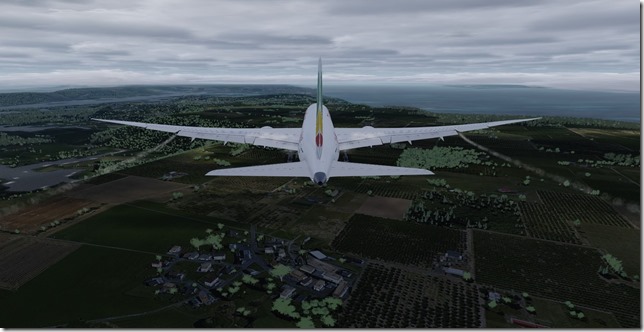 Parked and waiting for the bus.
Simulator Specifics
Prepar3d v4.3
ActiveSky Weather Engine
ActiveSky Cloud Art
Envtex & Envshade
QualityWings Boeing 787 Dreamliner (Ethiopian Airlines Livery)
Orbx Global Texture
VATSIM
Route Planning Tools
AivlaSoft PFPX
Navigraph Charts Desktop
FlightAware
FlightRadar24
SkyVector
Google Maps
After a few days of exploring the area, our group will travel 500 miles to Nigeria then on to Senegal, Morocco and then into Europe.  While we're making great progress, we're still not yet a third of the way through the trip.
Until next time…
Happy Flying!
Jerry
---