WorldFlight 2018 GBS Tour – Leg 12
As mentioned in the last tour update, our travelers since leaving Australia, have been bouncing from one island to the next.  Most of their activities have been focused on various island style activities.   One might think our group has had enough ocean fun…but that's just not true.  Our next destination is Cape Town, South Africa.  What's so interesting about Cape Town (especially when it comes to the ocean)?  Well…it just so happens this blog posting (completely by luck) will drop on the day before the 30th installment of the Discovery Channel's popular Shark Week.  And just off the shore of Cape Town, you'll find something very special.  The Great White sharks off the coast are some of the largest sharks on the planet and they do something a little different down here.  They breach and leap out of the water.  It's truly an amazing sight…but you'll really need a bigger boat with these guys.  If you've never heard of the breaching Great White Sharks, then check out this YouTube video.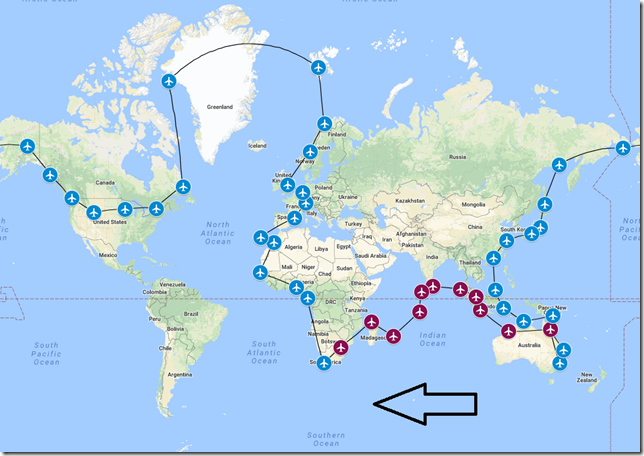 History of City
Cape Town is a coastal city in South Africa. It is the second-most populous urban area in South Africa after Johannesburg. Cape Town is the capital and primate city of the Western Cape province. Located on the short of Table Bay, Cape Town is the oldest urban area in South Africa and was developed in 1652 by the Dutch East India Company as a supply station for ships sailing to East Africa, India and the Far East.
History of Country
South Africa, known officially as the Republic of South Africa (RSA), is the southernmost country in Africa and includes over 1,700 miles of coastline stretching along the South Atlantic and Indian Oceans. South Africa is the largest country in southern Africa and the 25th largest country in the world by land area. The population of South Africa is estimated to be near 56 million and is the world's 24th most populous nation.
History of Airport
Cape Town International Airport (FACT) is the primary airport serving the city of Cape Town and is the second-busiest airport in South Africa and the third busiest in Africa. Opened in 1954 to replace the previous airport, FACT provides direct flights to South Africa's other two main urban areas of Joburg and Durban as well as to smaller airports with South Africa. The air route between Cape Town and Johannesburg was the world's 9th busiest air route in 2011 with an estimated 4.5 million passengers.
History of Airline
South African Airways is the flag carrier of South Africa. Founded in 1934, South African Airways flies to 38 destinations in 26 countries in Africa, Europe, North America, South America, Asia and Australasia. The airline has a strong presence in Southern Africa. Their current fleet consists of an all Airbus passenger fleet including the Airbus A319, A320, A330 and A340. They do own three older Boeing 737-300 freighters which are leased from Star Air Cargo.
Flight Briefing
SAA1066
FAOR – FACT
Planned Fuel – 22,000 lbs
Planned Altitude – 36,000
Distance – 686nm
Flight Time – 2hrs
Route: RAGU3A RAGUL UQ10 CSV UZ26 ERDAS ERDA1A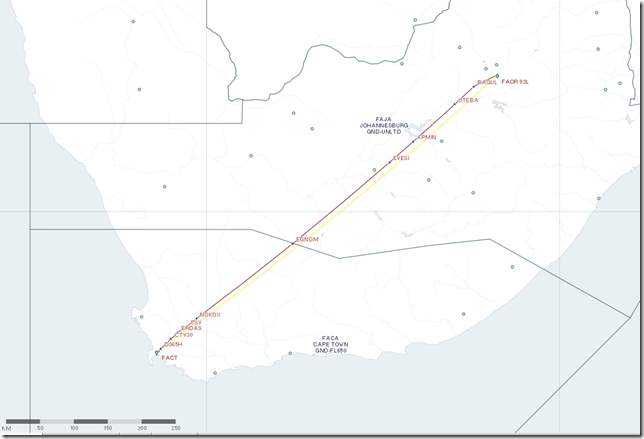 Flight Journal
Our travelers have spent the past several days exploring the Johannesburg area, including a safari tour and overnight stay in Kruger Park.  I believe all had an enjoyable stay, but it's time to once again move on.  Up to this point in our tour, our routing has taken us northwest as we traveled through Singapore and Indonesia, then we turned southwest towards Maldives and have been traveling mostly a southwesterly direction.  This will be the last leg (for a while) that we head in a southerly direction.  Once we depart Cape Town, out progress will be northwest and northeast until we reach Norway.  But for now, our direction remain southwest so let's get started.
We're back in the Airbus A320 and shuttling a South African Airways aircraft down to Cape Town.  This happens to be a real-world flight.  Meaning, South African Airways operate an Airbus A320 between Joburg and Cape Town in real life.  It's a late afternoon departure with a flight time of 2 hours, we should arrive in Cape Town just before dinner.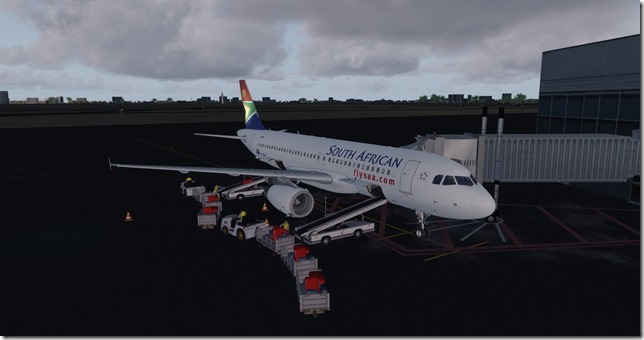 Lined up and waiting for our take off clearance from ATC.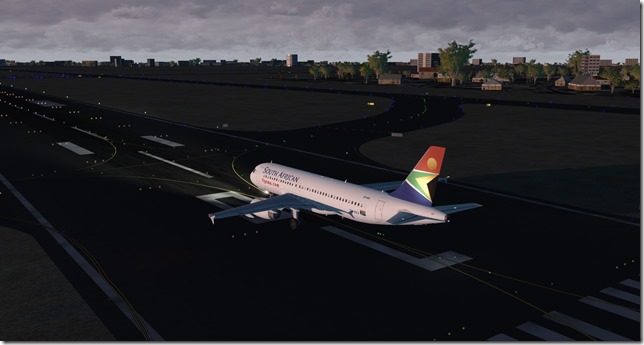 Up, up and away and goodbye Johannesburg.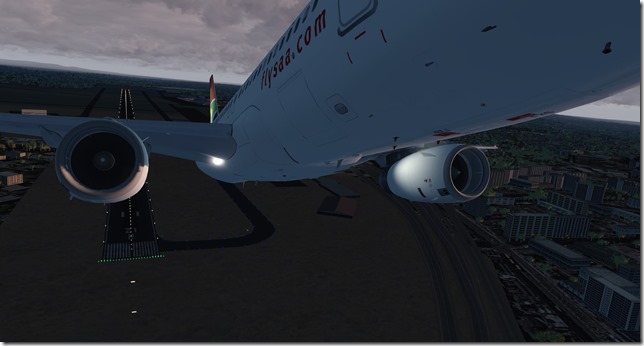 Making our turn to the southwest to join the departure out of FAOR.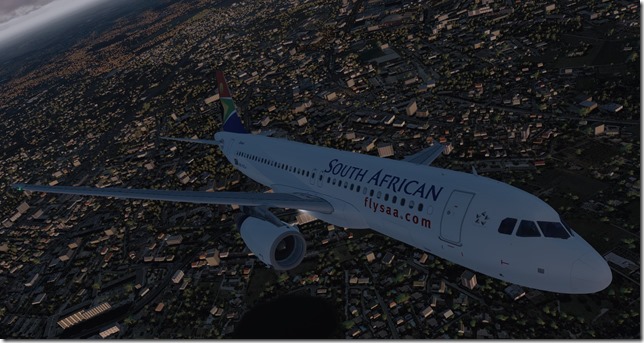 Could be a stormy night for the residents of Joburg.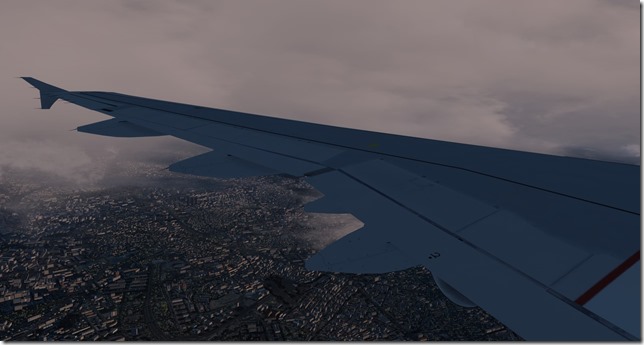 A bit of a bumpy climb, but ATC were accommodating and vectored us around the strongest of the storm cells.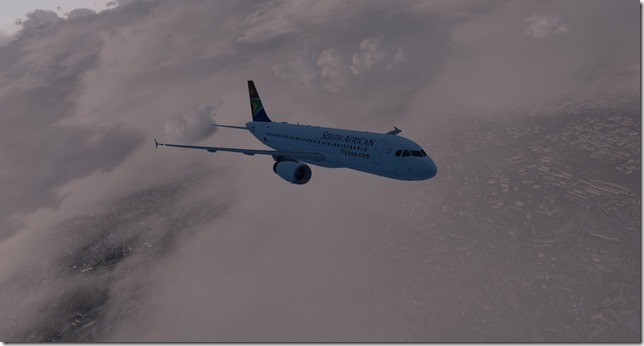 Our livery shot as we're just about above the storm and clouds.  The sun is setting fast.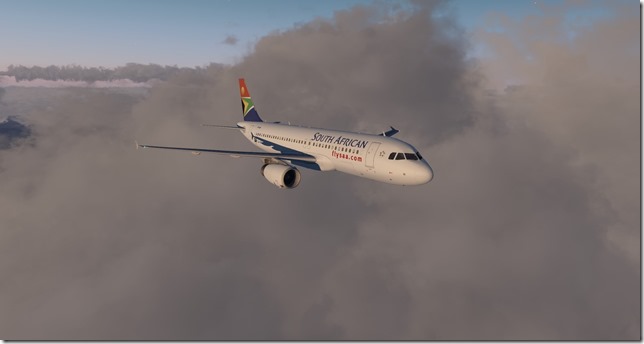 The sun has set.
High above South Africa with the warm glow of the setting sun just visible along the horizon.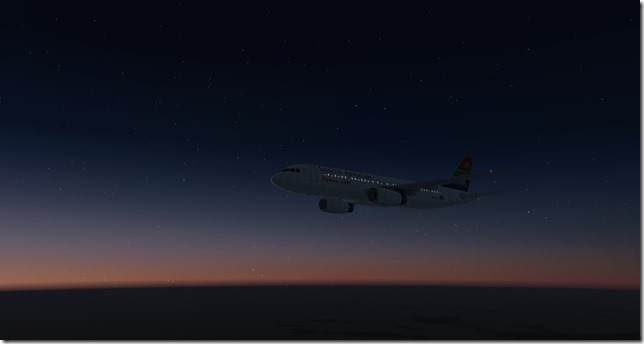 The view from the office at FL360.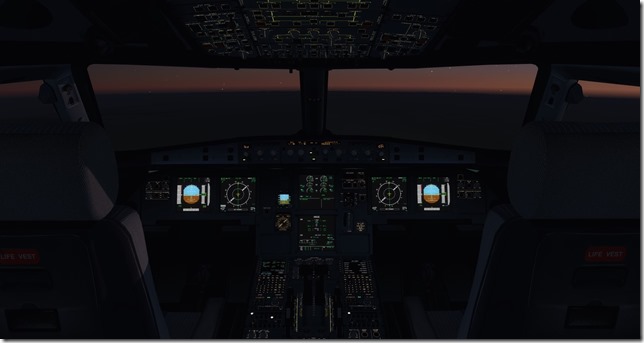 The city lights of Cape Town, South Africa.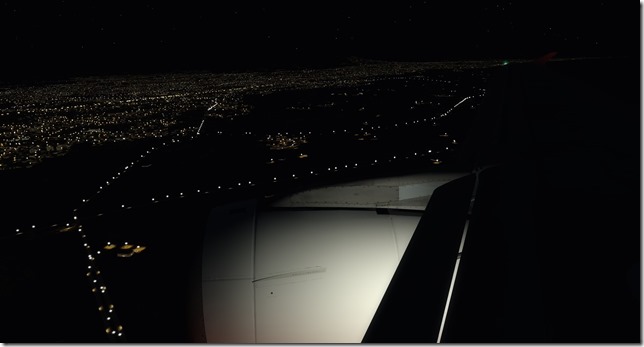 On short final into FACT.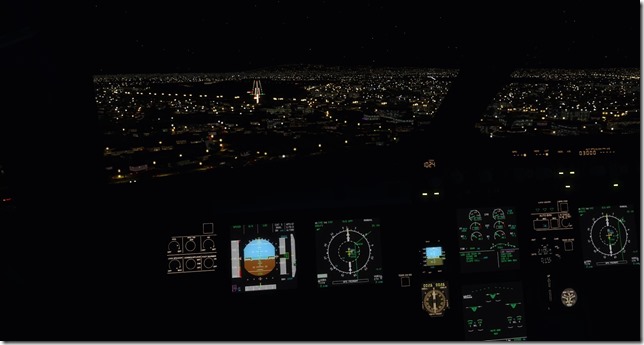 Simulator Specifics
Prepar3d v4.3
ActiveSky Weather Engine
ActiveSky Cloud Art
Envtex & Envshade
FlightSim Labs Airbus A320 (South African Airways livery)
Orbx Global Texture
VATSIM
Route Planning Tools
AivlaSoft PFPX
Navigraph Charts Desktop
FlightAware
FlightRadar24
SkyVector
Google Maps
Our travelers have a busy few days exploring Cape Town.  Soon we'll depart and begin our northerly trek.  The next leg will be the longest leg of the entire tour as we travel from Cape Town, South Africa to Libreville, Gabon which is 2,122 miles away.  For this next leg, we'll be in the Boeing 787 Dreamliner which should help make the almost 5 hour, 20 minute flight breeze bye.
Until next time…Watch out for those jumping sharks!
Jerry
---