Last week I reviewed the AutoCombine mod.  I'm quite pleased with how the AutoCombine mod performs.  Especially on non-square/rectangle fields surrounded with fences, trees, shrubs etc.  In recent weeks I've been playing the Coldborough Park Farm map and AutoCombine has truly been a blessing.  I installed the AutoTractor mod hoping it might do equally well.  Unfortunately, AutoTractor just doesn't work well enough for me to use it.
Here's the deal with mods like AutoCombine, AutoTractor, CoursePlay etc. or even the default "Hire A Worker" feature.  These mods or functions are not perfect.  You just simply can't drive a tractor, combine etc. to a field and expect it to perform a perfect job each and every time.  If anything, these mods do often emulate the difficulties a farmer would have with his/her hired workers.  In real life, some employees work very hard and do everything just as one would expect, but some do not.  This is more or less what we can expect when we use these types of mods that emulate a hired worker performing the task or seeding, fertilizing or harvesting.
Again, much like AutoCombine…the AutoTractor mod simply adds a few more features to the default "Hire a Worker" function in FS15.  But unlike AutoCombine…it just do as good of a job.  As a matter of fact, I really couldn't get it to do much at all.
The HUD for AutoTractor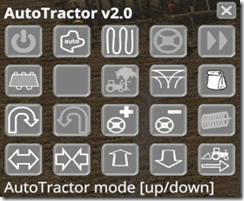 How can I get this mod?
The AutoTractor mod is available here.  I have personally downloaded, installed and tested this mod.  Unfortunately, I've found this mod is just not for me.  While AutoCombine handles odd shaped fields slightly better than CoursePlay, the same can't be said for AutoTractor.  While CoursePlay does struggle in the tractor dept. with odd shaped fields, I find it is still better to use CP than AutoTractor.  I will keep an eye on this mod and when/if an update is made available, I'll download it, test it and review it again if necessary.
How do I install this mod?
Please see my blog post "How to Install Mods in Farming Simulator 15" for complete instructions.
Until next time…
Happy Baling!!!
Jerry