FS Mod Review–Bale Counter
While baling hay or straw, do you wonder just how many bales you've made?  Wonder no more with the Bale Counter mod.  This mod is super simple in both its approach and function.  It's so simple, this will likely be one of the shortest blog postings I've written.
Once the mod has been installed you'll notice a small change to the HUD in the lower right corner of the screen.  The addition of two new icons which resemble bales of hay will appear and a count.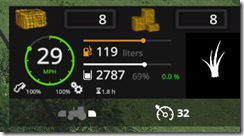 In the example above, I had been baling and accumulated a total of 8 bales from the field.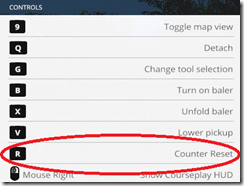 If you want to reset the count, just click the "R" key and that will reset the count on the left side.  The count on the right will remain to indicate the total number of bales created.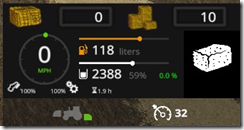 How can I get this mod?
The bale counter mod is available here.  I have personally downloaded, installed and tested this mod.  The mod works and I use it on all my maps.
How do I install this mod?
Please see my blog post "How to Install Mods in Farming Simulator 15" for complete instructions.
Until next time…
Happy Baling!!!
Jerry
---