Installing Mods in American Truck Simulator
Installing Mods in American Truck Simulator is super simple.  If you are familiar with Euro Truck Simulator (ETS2), then you probably already know how to do this.  However, I feel American Truck Simulator (ATS) has the potential to bring many new players to this game.  Of course, you may ask yourself why install a mod?   Out of the box, American Truck Simulator is pretty darn fun.  I invite you to read My First Look into American Truck Simulator.  At the time I wrote and published that blog post, I had about 8 hours in the game.  As of today, I'm approaching 24 hours.  Again the base game without any mods installed is certainly fun.  However, the vast selection of available mods will enhance game play even more.  An example of these enhancements might be a wider selection of trucks, trailers or AI traffic.  Mods may also be available to enhance the game sound, weather and many other features.
Are mods safe?  Pending you download from a reputable mod hosting website, I say yes…they are safe!  But do keep in mind that there really is no vetting process to determine if a mod is 100% safe and just as importantly compatible.  Mods are developed by fellow game enthusiasts to support the hobby.
And with all that, here's how you do it!
Step 1
Locate and download the mod you desire.  For the sake of this post, I'm using a replacement sound mod for the Paccar 579 and 680 Diesel Engine for the default Peterbilt and Kenworth trucks available in the game.  I highly recommend this mod to enhance the engine sounds of these two engines/trucks.  You can download it here.  This particular mod has been packaged up as a WinRAR .rar archive file.  You'll need an application like 7-Zip or WinRAR to extract these archived files.  I recommend and use 7-Zip.
Step 2
Locate the downloaded mod file and open with your chosen archive utility.  In the example of the Paccar Sound Mod, you'll have two files in the archive.  The first being named ATS Paccar Sound.scs and WIND SOUND.scs.  Extract these two files to your American Truck Simulator mod folder.  This will normally be located under Documents\American Truck Simulator\Mods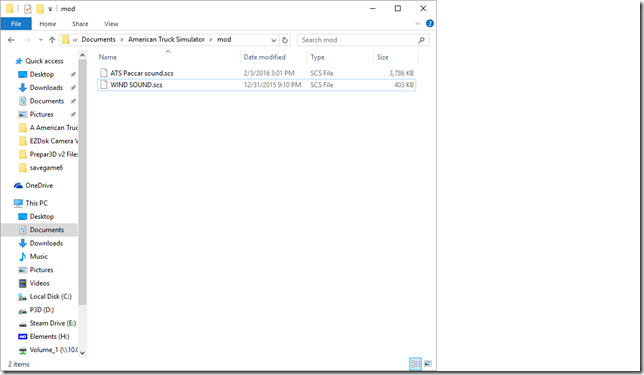 Step 3
Launch ATS and click on Mod Manager on the opening screen.  When the Mod Manager opens, you'll see listed all the mods you have placed in the mod folder.  In the example below, I have the Paccar sound file activated and the wind noises deactivated.  Once you activate (or deactivate) the mod(s) then click Confirm Changes.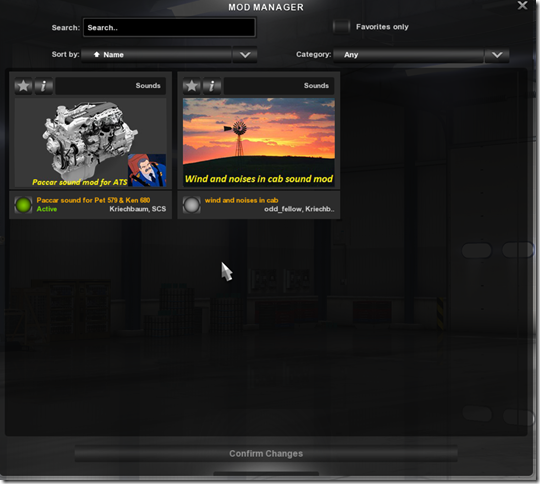 That's really all there is to it.  Now just go out and have fun!
Until next time…
Happy Trucking!!!
J
---