American Truck Simulator – My First Look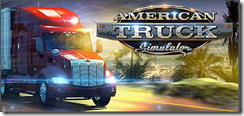 American Truck Simulator – My First Look
Yes, the very much anticipated American Truck Simulator hit the Steam Store on Tuesday, 2 February.  This was an entire day earlier than expected and it certainly looks like American Truck Simulator (ATS) will be everything that Euro Truck Simulator 2 (ETS2) is and in my opinion, a whole lot more.  Here in the US of A, American Truck Simulator can be purchased from the Steam Store for a whopping $19.99.  I'm not sure if this is a limited "introductory price" or if this will be the price going forward.  But in my opinion, this game is worth every red cent.  Like ETS2, ATS is developed by SCS Software, based in Prague, Czech Republic.
I must admit, I'm relatively new on the scene of these types of games.  Oh I've been flying computer sims for over 30 years (got my start on the Commodore 64) and you can find a lot more about my involvement in the Flight Simulation Community by reading my Flight Sim Blog.  However, while I've certainly known about "other" simulation type games…I really didn't get the point.  I mean, who wants to just drive a truck around or plow some fields?  Holy Moly have I been wrong.
My foray into these "other" type of simulation games came at a time in my life where I was doing an intense amount of traveling.  I spent the better part of 2014 and half of 2015 in hotel rooms.  To better pass the time, I brought along a high-end gaming laptop but playing Flight Simulator just wasn't appealing without all my external hardware.  Plus, FSX (and even P3D) just requires a lot more horsepower for me to be satisfied with the experience.  So I was in a hotel room back in the fall of 2014 watching Twitch.  I noticed one of the usual flight sim streamers was playing Farming Simulator 2015.  Again, my first reaction was….Gosh this must be a boring game.  But honestly, the longer I watched….the more interesting it became.  So I decided to give it a go.  I was hooked on FS2015.  Plus it was a game that performed really well on my gaming laptop and I could play it while traveling.  It saved me from boring "hotel television".
Some time later, I saw that same Twitch streamer playing Euro Truck Simulator 2.  Again, spending so much time away from home…this looked like something that could help pass the time.  It did!  I became hooked on ETS2, then soon after I began hearing about and seeing preview videos regarding American Truck Simulator.  Oh…I wanted ATS.  As a matter of fact, just learning about ATS sort of caused me to lose interest in ETS2.  Perhaps being an American, living in America and truly understanding just how important trucking is to this country…well, I just wanted ATS.  Oh…I actually used to drive a truck (tractor/trailer).  Back in the early 1990's I worked for the Dr. Pepper Bottling Company.  I drove a tractor/trailer rig and delivered Dr. Pepper products.   Anyway, ATS just couldn't come soon enough for me.
While the new year is only one month in, it's been a busy time for me and my wife.  One, we have both been sick and it seems like we've been sick most of 2016.  I guess this fact is true as we are both still not 100%.  But every day is a new day.  Anyway, I had almost forgotten about the release of ATS until I received the email from the Steam Store letting me know a product on my wish list had just been released.  I was at work, but I logged into Steam and made the purchase right then and there.  The hours were dragging by until I could get home and install on my gaming PC.   Between Tuesday afternoon/evening and today (written on Thursday morning 4 February) I've accumulated 8 hours playing ATS.  I know this is certainly no record, but I feel I have enough hours logged in game to provide a few initial thoughts (or opinions).  These won't all be 100% positive, but give it a read and let me know what you think.

Initial Thoughts
WOW….As Tim McGraw would sing, "I like it, I love it…I want some more of it".   Basically it is ETS2, but with American Trucks (Kenworth and Peterbilt) with trucking routes currently in California and Nevada.   The state of Arizona will be released as a free expansion pack in the very near future.  Again, the current price in US Dollars is $19.99 via the Steam Store.  Like ETS2, ATS (at this time) is only available for the PC.  No console versions (to my knowledge) are planned.
Thoughts about Console Games
I just want to quickly throw this out there.  I don't own a game console.  So the only games I'm really experienced with are PC based programs.  While I have friends who rave about various console game titles, a game title like American Truck Simulator, Euro Truck Simulator 2 (and even Farming Simulator 2015) would be extremely limited on a console game.  Of course, I'm aware Farming Simulator 2015 is available for the console platform, but it is EXTREMELY limited in game play from the experience one gets on the PC game platform.  Games like ATS, ETS2 and FS2015 are enhanced by all the various game mods (game modifications) made available.  While I've played almost the full 8 hours on ATS without adding any Mods, in the coming days, weeks and months….so many great mods will be made available that (in my opinion) will just make the experience better.  For those familiar with Flight Sim (FSX or P3D).  Just think of only flying the default aircraft, default textures, default weather etc.  BORING!!!!
Things I like about ATS
#1 is the fact that ATS is about AMERICAN TRUCKS.  Trucks and Trucking, is who we are as Americans.  Truck drivers (and the trucks they drive) are as important as the Cowboy was back in the 1800's.  You can't drive down any US Highway without seeing a tractor/trailer rig hauling the goods that make our country so awesome.  As ATS continues its eastern expansion, the game and game play will continue to offer hours and hours and even more hours of fun and excitement.
In the short 8 hours I've had with ATS, I've explored Los Angeles, San Francisco, Oakland and Las Vegas (plus a lot in between).  SCS Software has done an outstanding job modeling these American cities.  Of course, unlike the Flight Sim world where a city like LA is full size and flying from LAX to SFO (without acceleration) takes the same amount of time it does in real life…the world in American Truck Simulator is condensed.   Driving a semi from Los Angeles to San Francisco in real life would probably take 8-9 hours (perhaps longer with California traffic).  But in ATS, this can be done in about 30 minutes.  So keeping this in mind, (and back to my thoughts on the cities I've explored) SCS Software have done a great job in adding in the major landmarks you expect to see while driving through these great US cities.
I play in career mode, which just simply means that I start out with nothing and work my way up to a point where I can purchase my first truck, then slowly save and grow my trucking company by adding more trucks and hire drivers to drive those trucks.  I don't use mods which add any extra $$$ or XP (Experience Points).  While I'm not going to climb up on my ivory tower and say it is evil to use these types of mods, I'll just say that with many things in life, the personal satisfaction gained by hard work will make you appreciate each and every dollar you earn.  But it is your game…you can play it any way you like.
I also like the weigh station concept which has been added into ATS.  This is very true to life and is something that American Truckers must put up with.  It's done nicely in ATS.  While driving, you may receive an alert to pull into the next weigh/inspection station.  Failure to do so will result in a fine.  Just exit at the next station and drive onto the scales and stop.  It only takes a few seconds.
Finally, perhaps some may be wishing more of the US of A was represented in ATS.   I think the current setup of California and Nevada (and the soon to be free expansion of Arizona) will be enough to keep this game interesting for some time.  Of course, I truly hope in time we will see new states added.  While I'm sure the expansion states will come with an extra cost…it will serve to help keep the game fresh and new.  Driving a truck in California, Nevada and Arizona will be completely different from Colorado, Texas and beyond.
Things I dislike about ATS
As I stated earlier, this blog post is not going to be 100% positive.  I believe there are some serious issues with how they set a few things up in ATS which I didn't really notice in ETS2.
Police
The police in ATS are truly a pain in the backside.   Unlike the lack of police cars in ETS2, (handled via speed cameras) police cars are part of the AI in American Truck Simulator.  You'll spot police cars cruising the streets, highways and even parked on the side of the road.  The police cars don't actually pull you over, but instead will hit you with a speeding ticket of $1000.00.  Now in ETS2, I believe the variance was about 5 mph.  Meaning if the speed limit was 55, you could safely set your cruise control to 60 and be OK.  Plus the red light cameras in ETS2 only seem to be near the city areas.  But in ATS, the police are everywhere.
Now, I realize just a few minutes ago I said I didn't use any mods to cheat the natural play of the game.  But I seriously believe there is a programming issue with the behavior of the police and because of this, I've installed a mod to remove the fines.  Now this doesn't mean that I am speeding everywhere I go.
Speed Limits
As you traverse between California and Nevada, you'll notice a big difference with speed limits on the highways.  In California, on all highways and interstates I've driven on, this speed limit in the game is 55.  You'll notice as you drive in Nevada the speed limit increases up to 65, 70 and I think even 80 in some areas.  But the issue I have with the speed limits in the game is two-fold.
First, the speed limit signs just aren't very visible in the game.  Perhaps this is just me, but I've heard a few Twitch streamers mention the same thing.  Before I installed the mod which disabled the police fines, the speed limit would be 55, then change to 30 and almost always there would be a cop and if you didn't immediately slow from 55 to 30, he would ding you $1000.  In the real world, it is easier to spot the speed limit signs and in many cases you'll see a sign informing you that a slower speed limit is approaching.
Second, most city speed limits in the game is 30 mph.  This is fine.  But what I've noticed several times is as you are driving through the city at 30 mph, you'll see the speed limit increase to 55 mph then less than a minute later it drops down to 45 or 30 mph.  Then a few moments later it is back up to 55.  I don't feel this is realistic.   YES, most US cities will have a reduced speed limit, but as you near the city limits they speed limits will begin to increase to say 45 mph, then to 55 mph etc.   Unless it is a construction zone, you won't really see the speed limit increase and then be almost immediately reduced as you are still leaving the city limits.
AI Traffic
The AI Traffic is absolutely nuts in both ATS and ETS2.  Of course, I've also noted really odd behavior with the AI in Farming Simulator 2015 and for years the AI in Flight Sim has also been symptomatic.  I fully understand this is just how it is.  But if you play ATS (or ETS2 for that matter) long enough you'll learn to hate the AI traffic.  I've yet to take the measures to turn it off.  But here are my top pet peeves with the AI traffic
First, while I know in real life someone may pass you then immediately slow down…but in ATS (and ETS2) it seems to happen more and more.  Second, here in the US…trucks (and cars too) will often merge to the left when vehicles are merging onto the interstate.  This doesn't really happen in the game.  Third, most highways (especially interstates) will have a much longer acceleration lane while merging onto the highway.  This allows the vehicles to gain speed before merging left.  This might also help with the crazy behavior of the AI drivers.
Finally, with regards to AI traffic behavior.  There are a few situations where you must cross or turn onto a highway with no ramp or stop light.  The AI traffic just keeps coming and coming and coming.  Really the only thing that you can do is to slowly start driving into the intersection and eventually the traffic will stop.  But this is not very realistic in real life.
Trains
Ugh…while I realize this is American TRUCK Simulator and not a Train Simulation game, the trains depicted in the game are weak sauce.  In America, what isn't transported via truck is done so via rail.  LOOOOOOOOONNNNNNNGGGGGGG freight trains hauling tanker cars, box cars, intermodal etc. etc. need to be added to give us more eye candy.
My Wish List for ATS
While I realize there will always be some limitations of what can be done in a game application versus real life, I feel (and certainly hope) some of these wish list items can be incorporated into American Truck Simulator to better match up with real life experience.
Police
Hopefully the points I made above (in the Things I dislike about ATS) section can be addressed.
AI Traffic
Hopefully the AI engine technology can be further developed to ease some of the headaches.
Real World Brands
I know this is a licensing issue.  But hopefully mod developers will soon release real world branding to the game.  I'm ready to see Fed Ex instead of Post Ed trucks.
Double/Triple Trailers
Would love to see ATS incorporate the opportunity to haul double and triple trailers.  Man, that would be cool!
Livestock
This is really self explanatory.  I'd love the opportunity to haul some beef.
Rest Areas/Truck Stops/More Places to Sleep
Again, I fully understand the fact that the world inside of ATS is downsized.  I'm not sure ATS would have the same appeal if it took 50+ hours to drive coast to coast.  But just as trucking is such a big part of the American culture…so are the truck stops and rest areas.  I'd like to see larger fuel stops (truck stops) along the interstate highway.  In addition to fuel, these big truck stops offer plenty of parking for rest breaks.   Along the US Interstate Highway System you'll find large rest areas designed for both the trucks and passenger vehicles.  I'd like to see these incorporated into the game.
Thoughts about Mods
Remember what I stated near the beginning of this posting about console gaming and the lack of mod functionality.  There are some really terrific mods available for Euro Truck Simulator 2 and in time I have no doubt that the mods for ATS will be just as amazing.  Everything from mods to enhance the game play to different types of trucks, trailers and cargo types will be made available via mods.  I have a feeling that many (if not most) of the wish list items will eventually be addressed via mods.  If you search "American Truck Simulator Mods" in Google, you'll likely find several different websites listing available mods.  The site I've used before (and the one I downloaded the police mod) is ATSMOD.net  Less than 48 hours into the release of ATS, this site already has many pages of available mods.  Some useful and some not so much.  In time, more and more (and higher quality mods) will be made available via these mod download sites.
Final Thoughts
I'll repeat what I said earlier regarding my initial thoughts, again as Tim McGraw sings, "I like it, I love it…I want some more of it".  While I have listed some negative experiences I've had with the game in my 8 hours of play, the game itself is stable and I've experienced no bugs.  It performs beautifully on my system (follow that link to see my system specs) and I run ATS at max settings.  Actually, this is really what I enjoy about ATS, ETS2 and Farming Simulator 2015…you don't have to spend hours and hours and hours tweaking to get max enjoyment like you need to do with FSX or P3D.  As an example, if I rebuild my system, it will take me many hours to install all the add-on scenery, textures, aircraft etc.  Not the case with these other titles.
I think I'll close and upload this blog post then head downstairs and fire up my Peterbilt in American Truck Simulator.
Until next time…
Happy Trucking!!!
JT
---