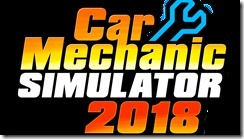 The wait is over my friends, Car Mechanic Simulator 2018 (CMS18) has been released to the masses in almost all it's glory.  I say "almost" only because there are still a few bugs (some small and some large) which have yet to be squashed.  But the devs behind CMS18 are hard at work and making every effort to fix bugs and bring about all the new features promised in this version of their popular simulation based game.   I quite enjoyed CMS15 and I'm looking forward to the newest version.
Beginning Tuesday, 8 August…I'm bringing Car Mechanic Simulator 2018 to the GrizzlyBearSims YouTube Channel in a new feature segment I'm calling "The Grind".  Episodes of "The Grind" will feature my CMS18 game play as I progress through the various levels on my career profile.  Essentially starting at the very beginning and working my way through the various levels by earning $$$ (hopefully lots of $$$$$$) and XP points (experience points).   No Cheating!!!
The first episode will find me about 3 hours or so into my game play.  Yes, I'm doing my best to save you from watching me fumble around with the new controls and features of the CMS18 game play.  Yes, there are some major differences between both the look and feel, but also functionality with the updated game.  But I'll discuss some of these, point out a few tips I've learned along the way and hopefully deliver episodes in the 30-45 minute range once or twice per week.
As I progress through the game play and open up the auction and the brand new features of barn finds and junk yard, I will create a new playlist for these complete restoration projects.  I must admit that I really enjoy stripping an auction purchase all the way down, rebuilding with 100% new or rebuilt parts and selling for profit.  These special projects videos will include all the steps from initial purchase all the way through the rebuild process.
Now as I stated at the top of the article, there are some bugs in the game.  From what I understand, the dev teams are working hard to eliminate these bugs and also bring about some of the promised functionality.  In addition, the devs are also hard at work on optimizing the game for performance reasons.  I've owned the game for approx. a week and in this span of time much progress has been made in correcting bugs and improving the overall performance of the game.  More still needs to be done, but the devs are committed and making excellent progress.
Thank you to all my loyal readers and viewers.
Until next time…
Happy Simming!!!
Jerry