Air Hauler 2–Growing the Business
A few weeks ago I posted about my progress of running Air Hauler 2 in a standalone environment where I was just acting as CEO and directing my AI Pilots here and there hauling cargo from our two Colorado hubs. Since that time, I've managed to both grow and also somewhat consolidate the business into a more revenue generating and efficient operating machine.
Size Matters
In the early stages of getting the business off the ground (pun intended), the need for smaller, single pilot aircraft was very much needed and heavily utilized. As the business grew, I began to realize that these smaller aircraft were actually holding me back from the higher paying jobs. While it's possible to just schedule a King Air and one pilot to fly back and forth between airports until they've managed to move all the cargo. This method is also not efficient. So I decided to make a few adjustments to the fleet.
No Layoffs
After having experienced my own layoff earlier this summer from a company I had spent the past 22 years fully dedicated to, I didn't want this change of business model to impact any of my hired AI. So I set about a plan to train pilots up to the next level of aircraft. But this isn't as straightforward as one might think. In the perfect world I had hoped I could simply train two of my King Air pilots up to the Boeing 737 and eliminate two King Air aircraft and keep one. But I found one was qualified and one was not. So I took a step back and re-evaluated my staff and operations.
After this re-evaluation effort, I decided I would sell off all three King Air aircraft from the fleet. Of the three pilots impacted by this decision, one would be trained up to the 737 and the other two would be trained up to the Connie. Two of the existing Connie pilots would then undergo training for the 737. Once their training was complete, I would hire a brand new pilot already qualified on the 737. So in reality, this plan is growing our cargo hauling capacity, but also eliminating three aircraft from the fleet. I then leased two Boeing 737-800 aircraft configured for cargo operations.
Even More Growth Opportunities
The shuffling efforts mentioned above, still left me with over $28 million in the bank and only a monthly overhead of $16.9 million. The decision was made to further expand the fleet with another Boeing 757 and the hiring of two additional qualified pilots for that aircraft type. As it stands today, my fleet of cargo aircraft consists of three Connie's, four 737-800's and two 757-200's.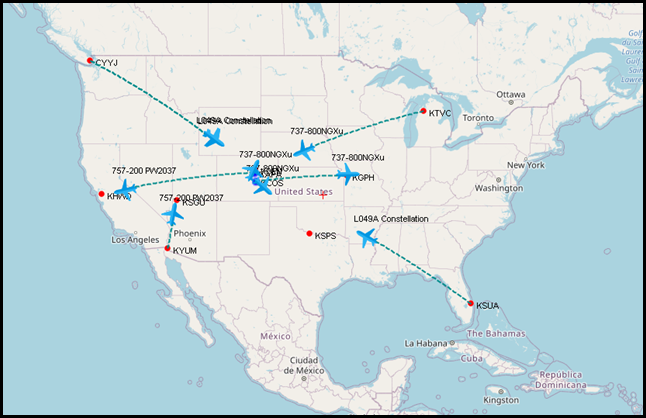 Future Outlook
Looking ahead, the future is bright for GrizzlyBear Cargo. It will be necessary to operate in the current setup for sometime. However, the next logical step will be to introduce an even larger aircraft to the fleet which will greatly extend both the range as well as the cargo hauling capabilities for us. Most likely this will be a Boeing 747. But with that plan in mind, it will probably be necessary to also look to a bigger home base airport. KAPA (Centennial Airport) is my current main base. The runways at KAPA can accommodate our existing fleet, but not a 747. While the secondary base at KCOS (Colorado Springs) can accommodate the 744, most likely we will move our main base (HQ) to KDEN and decide on either keeping KAPA or KCOS as secondary. Time will tell….
I'll check back in and provide an update in a few weeks. By then I should have made the decision on the new HQ and other operations.
Until next time…
Happy Cargo Hauling!
Jerry
---