Running Air Hauler 2–Standalone
I purchased Air Hauler 2 a year or two ago when it was in early beta for P3D. I played around with it, but during those early days the application wouldn't function in a networked environment. So the only time I really could use it was when I was physically in my man-cave and using my main gaming PC. Really at that time my main interest in Air Hauler 2 was in running my own cargo airline empire using AI pilots to do all the work.
At some point between the early release and the present time, the developers of Air Hauler 2 made the application capable of running in a network environment. Meaning, I can run Air Hauler 2 and no longer need to have my main gaming PC running, or at least running all the time. This also means that while I don't have a lot of time to game at the present moment, I can schedule out the flights in the morning over my first coffee and check their progress throughout the day and afternoon.
The Setup
As previously mentioned, I installed Air Hauler 2 on my laptop. I needed to connect it the first time via across my network just to sync P3D. This is required so you can import the aircraft options you have installed. But this step really is only needed to be done once or in the future if you install additional aircraft into the sim.
The Initial Strategy
As previously stated, I have no desire to use Air Hauler 2 to track my flights and in my cargo airline I'm fulfilling the role of CEO and not a pilot. I started out in "Medium" mode. This gave me $500,000, 50% reputation and a Cessna Caravan which I immediately sold. I took out a bank loan which allowed me to purchase two aircraft with one being a King Air 350 and the second the larger L049A Constellation. I hired three pilots and established my cargo base of operations at Centennial Airport KAPA. I chose KAPA over the larger Denver International as KAPA offered cheaper landing fees and after all, I'm a small cargo airline.
The initial grind was challenging, but fun. I managed to keep the two planes and three pilots busy enough to accumulate a little extra cash. I then leased another King Air and a second Constellation. I set a goal of paying back the bank loan before adding anything additional to the fleet.
Another few days of the grind, I managed to pay back the bank loan and lease a Boeing 737-800 setup for cargo and hired another two pilots with certifications capable of flying the B738. The money was now rolling in hand over fist.
Factories
I setup my first factory at KAPA so I could manufacture cell phones, memory sticks and televisions. I didn't realize at the time I would also need to manufacture plastics and battery packs. So I had a bit of a delay and had to save enough money to open a second base (Colorado Springs KCOS) where I could take chemicals and produce plastics and batteries to produce battery packs. Once this was setup, I was set to get rolling in my factory operations.
Initially I was moving the completed plastics and battery packs via my own aircraft. But soon started paying for ground transportation between KAPA and KCOS. The cost is minimal and allows my aircraft to do what they do best and that is haul cargo for paying customers.
As It Stands Today
Today, I've grown my little operation to a total of 15 pilots and 9 aircraft with a total of 3 King Air 350's, 3 L049A Constellation's, 2 Boeing 737-800's and 1 Boeing 757-200 with two bases and two factories. The total cost for aircraft leases, insurances and base costs approx. $10.7 million and I currently have just over $15.0 million in the bank with no outstanding loans. My next payment for aircraft leases, insurance etc. is due in about two weeks. So the goal for now is to grind out more cargo runs, keep the factories running and producing approx. $1 million every 24 hours. Depending on how hard I work my pilots, the cargo operation brings in approx. $1.5 – $2 million per day. Again, it really just depends on how much I play.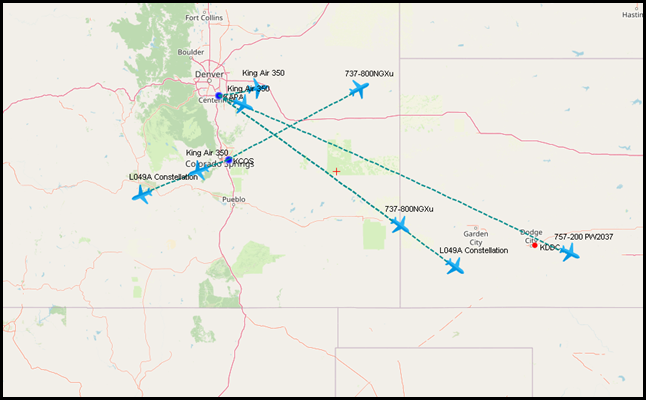 Future Goals
Once this next $10.7 million payment is made, will see about leasing another 757-200. This may or may not replace one of the existing "Connie" aircraft in the fleet or perhaps be yet another addition. I do plan to continue to grow the small cargo airline into something much larger with the addition of a Boeing 777 Freighter and the Queen of the Skies the Boeing 747-800. But we first need to continue crawling before we can run the marathon.
I'll check back in with you sometime after the new year and provide a progress update. At the present time, I'm finding that leasing aircraft is far better than purchasing. After all, most real world airlines lease versus buy for much the same reason.
Air Hauler 2 is available for Prepar3d, XPlane and now MSFS2020.
Until next time…
Happy Cargo Hauling….
Jerry
---