A Pilot's Life Storyteller Series–S1, E11
As a beta tester for A Pilot's Life, I needed to change airlines to test new features which debuted with version 1.33 which was released in late June. These new features (including multi-hub and multi-leg routes is a very nice addition to an already wonderful add-on application. If you're not a user of A Pilot's Life, I encourage you to check it out. You won't be disappointed. Links can be found below.
Present Day
I hit the breaking point with Alaska Airlines. While I truly enjoyed my time both in Seattle and San Francisco, I just wasn't getting enough flight hours. I'm hoping to eventually make Captain and of course I still need to earn a living. After arriving back to SFO from Palm Springs, I was told my next flight wouldn't be for another week. So I went home and called the recruiter which had contacted me with an offer from Southwest Airlines.
At this point I was getting pretty desperate. While each of my career moves have been working my way up both the career ladder as well as the salary scale. I just wanted to work and fly. Southwest Airlines wanted to meet with me and they flew me down to Dallas. Things just clicked and soon I was offered a position as Sr. First Officer and they even bumped by pay rate up to over $40.00 per hour. WOW.
While I still hope to land a job with American Airlines (at some point), I'm willing to wait until I reach Captain if necessary. Southwest has assured me that if I'm willing to work, they'll certainly keep me busy. The other exciting them I'm looking forward to with SWA is their multi-leg route structure. I'll be honest, after a while of flying hub/spoke flights, one gets a little bored. While some SWA flights are hub/spoke, the majority are multi-leg routes and I'm really looking forward to this. So for now, I'm going to keep my apartment in San Fran and see how things unfold over the coming weeks.
Flight Details
Today we're operating the first of three flights out of Hotlanta (Atlanta). Yes, it is HOT, HOT, HOT today. Our first leg will have us flying down to the Big Easy (KMSY) then over to Fort Lauderdale (KFLL) then back to Atlanta. I guess when Southwest said they could keep me busy, they actually meant it.
For the first leg, we're operating Southwest Airlines flight 5716 with service to New Orleans, Louisiana in the Boeing 737-700. Our block time today is 1 hour, 45 minutes with a flight time of 1 hour, 10 minutes at a cruising altitude of 38,000 feet. Our block fuel is 12,736 lbs with take-off weight of 126,715 lbs.
Route: ATL5 POUNC DCT GRGIA DCT SJI SLIDD2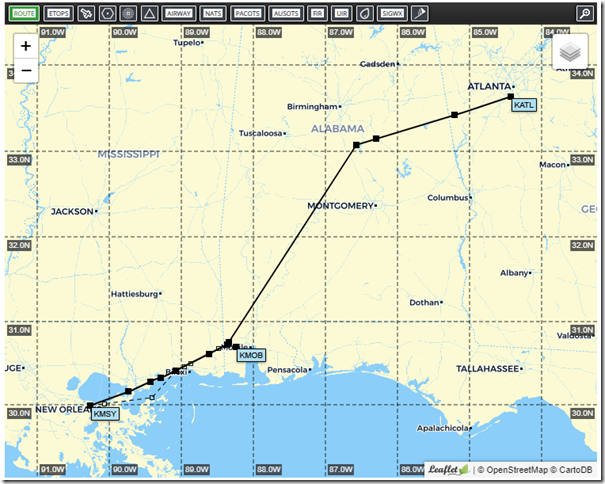 It's Time to Feel the Love
I've gotta say, I enjoyed my time with Sun Country (gosh that feels like ages ago) and I did enjoy most of my time with Alaska. But I must admit that the folks at Southwest are some of the friendliest I've met.
After a quick walk-around inspection, we're all buttoned up and ready to roll out of here. I think the captain knows what might happen with these storm clouds and he's not wanting to waste anytime.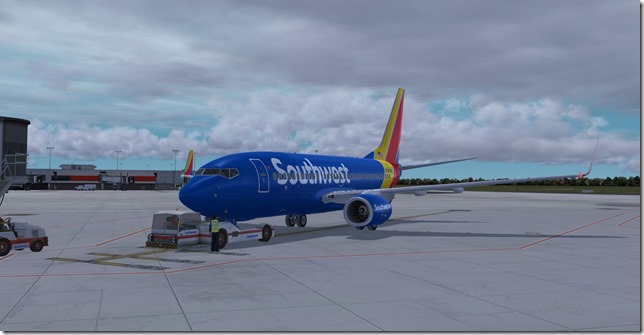 The Atlanta airport is HUGE and a very busy place. Usually….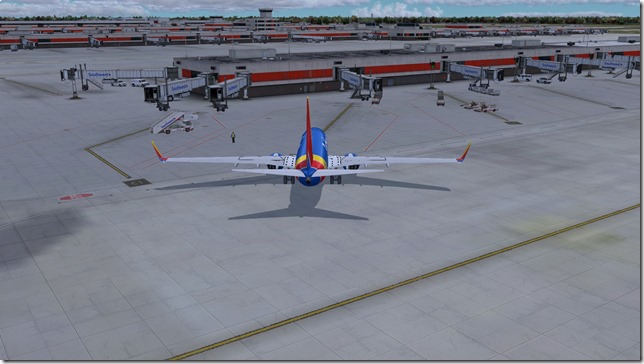 Taxing out to our active runway 27R.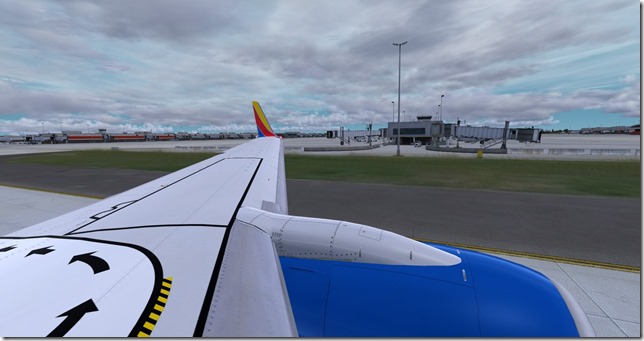 Cleared for take-off, 27R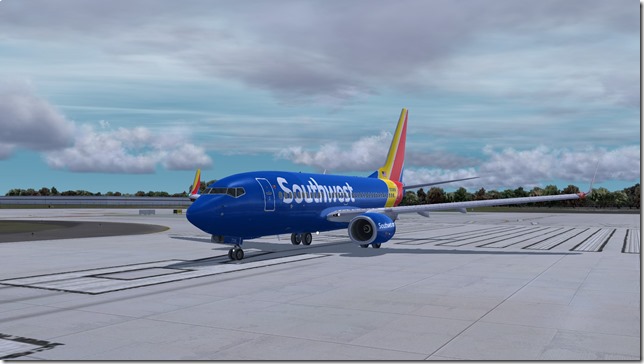 Wheels up, my inaugural flight with Southwest Airlines is underway.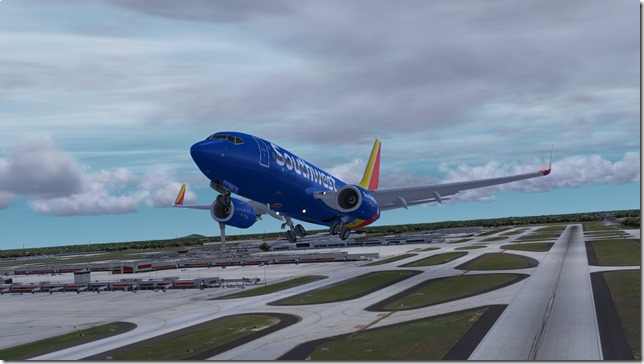 Making our left turn direct POUNC and climbing up to 10,000.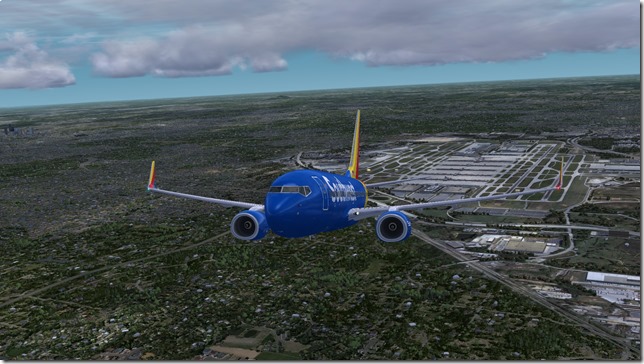 Cleared up to FL380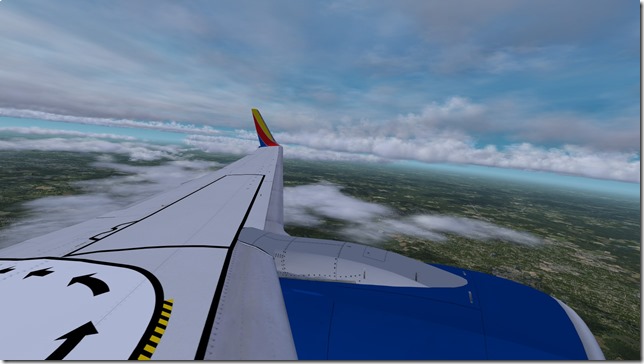 After a relatively short cruise, we've started our descent. The Gulf of Mexico is just in the distance.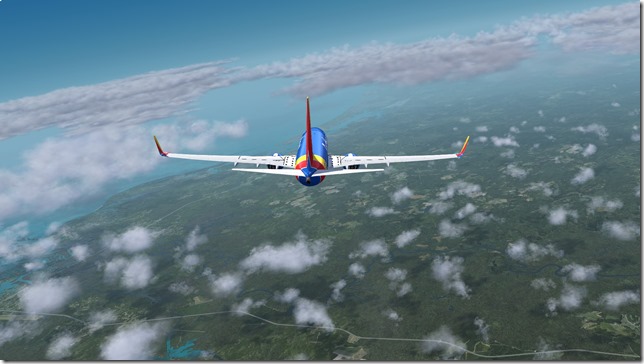 The Gulf of Mexico is normally not this blue.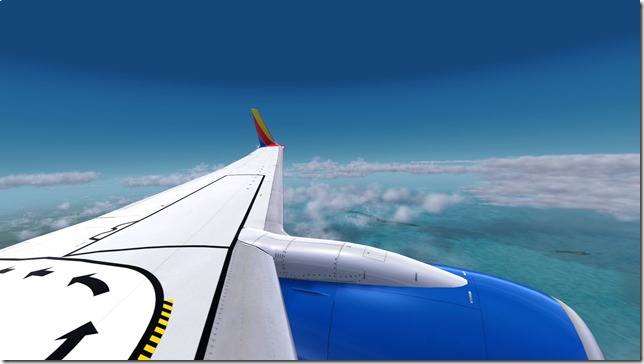 Nice clouds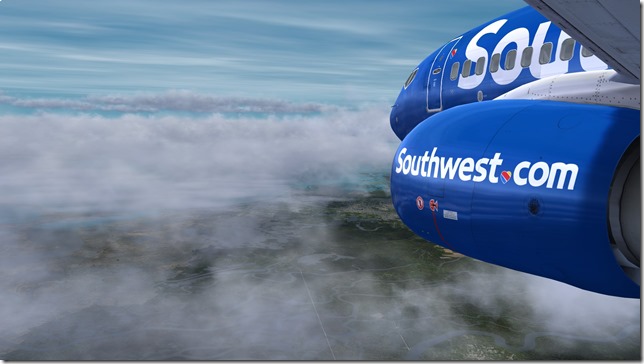 The Huey P. Long Bridge which spans the Mississippi River and the New Orleans skyline.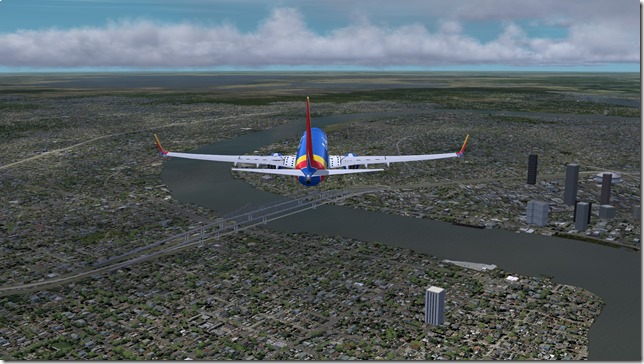 Lake Pontchartrain just off the right wing.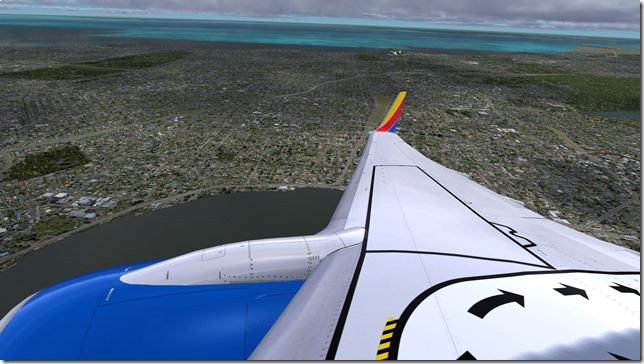 Clear the visual for runway 29.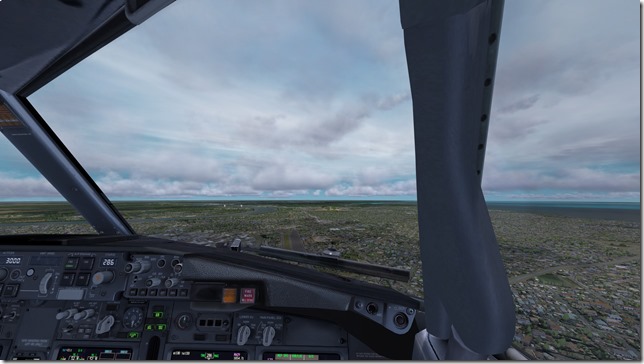 Seconds from touchdown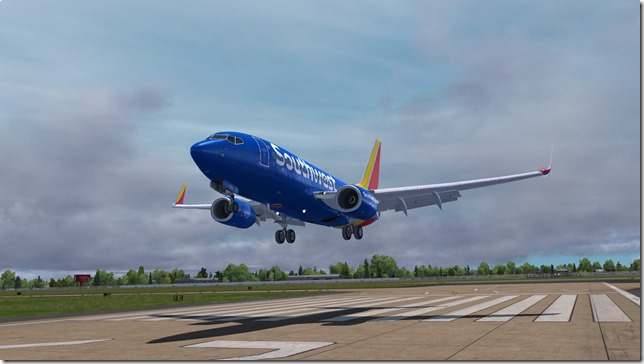 The ground crew and baggage handlers working hard to get us turned around quickly.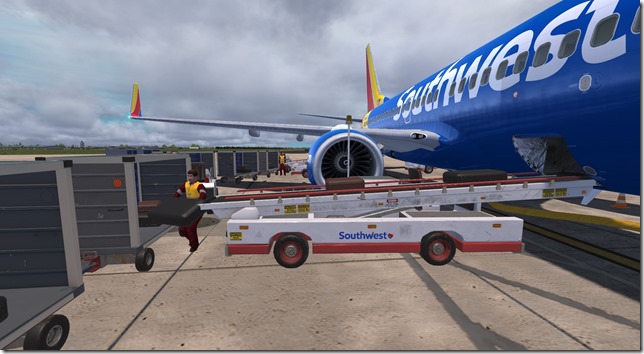 This was a wonderful first leg of what I'm sure will be a fantastic trip. I'm really excited about the opportunity fly for Southwest and build my career.
Credits
If you are interested in experiencing your own "A Pilot's Life", I highly recommend the A Pilot's Life, by SimBitWorld add-on for Prepar3D, FSX and X-Plane. You can learn more about the A Pilot's Life by visiting the SimBitWorld website and/or purchase APL at SimMarket. Also, please read my full review of A Pilot's LIfe here.
Flight Simulator: Prepar3D v4.5 (hotfix 1)
Aircraft: PMDG 737-700
Airline: Southwest Airlines (SWA)
ATC: VATSIM
Airport Scenery: KATL Imaginsim, KMSY LatinVFR
Terrain Scenery: Orbx Global Base, Orbx Vector, Orbx openLC North America
Sky/Cloud Textures: REX 5 SkyForce and REX 5 Environment Force
Weather Generation: ActiveSky (ASP4)
Flight Planning: SimBrief, Navigraph, FlightAware, FlightRadar24
Note: If you are interested in any of the above mentioned add-ons. Visit my P3D Add-ons directory for links.
---