WorldFlight 2018 GBS Tour – Leg 7
As I had mentioned in the tour introduction posting I wrote before starting the 2018 version of the WorldFlight tour, I've circumnavigated around the world many times.  I've done it in big and fast aircraft and I've done it in small and slow aircraft.  I've done it with many legs (much like this tour) and I've done it in as few as 3-4 legs utilizing aircraft like the Boeing 747 and Boeing 777.  Back in the FS9 days (when FS9 had the default Concorde) I went around the world (northern hemisphere) in 3-4 legs (can't remember exactly) but did it at supersonic speed.  That was cool.  While the flights I conducted in only 3-4 legs were fun, I certainly learn a lot more when visiting more locations and especially taking the time to research some of the destinations.
In thinking back to some of my earlier "round the world" adventures, it got me thinking about just how much time it would take to go around the world if there was no need to stop to fuel (or mid-air refueling could be performed).  So I asked Dr. Google and this is what I found out…
Cessna 172 – 132.7 hours.
Boeing 747-400 – 41.96 hours
General Dynamics F-16 Fighting Falcon – 18.9 hours
Lockheed SR-71 Blackbird – 11.3 hours
Richard Branson's Virgin Galactic SpaceShipTwo – 10 hours
International Space Station – 2.27 hours
Interesting stuff and hopefully you also find these sort of facts interesting as well.  Enough of this, let's get on with the tour. As you can see from the updated tour map (below), the first six legs have primarily been making our way northwest.  We're now turning and headed southwest and will soon dip back below the equator.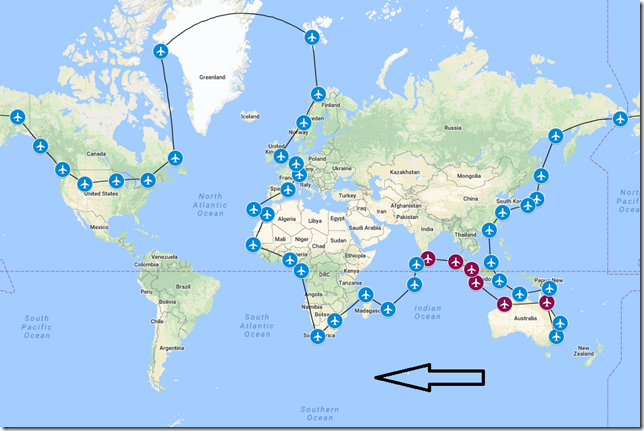 History of City
Male is the capital and most populous city in the Republic of Maldives and has a population of approx.. 133,000 and an area of 2.2 sq. miles making it one of the most densely populated cities in the world. The city is geographically located at the southern edge of North Male Atoll and consists of a central island, an airport island and two other islands under control by the Male City Council.
History of Country
The Maldives, officially known as the Republic of Maldives, is a South Asian sovereign state, located in the Indian Ocean and lies southwest of Sri Lanka and India. The Maldives is one of the worlds most geographically dispersed countries consisting of a chain of 26 atolls spanning approx. 115 sq. miles.
History of Airport
Velana International Airport, also known as Male International Airport is the main international airport in the Maldives. It is located on Hulhule Island in the North Male Atoll and nearby the capital city/island of Male. The airport first began operations in 1960 with the first runway being constructed of slotted steel sheets measuring a length of just 3,000 ft. As tourism increased in the early 70's, the airport was further upgraded to handle the volume. Today, the main asphalt runway measures 10,499 feet and routinely handles aircraft up to the Boeing 777.
History of Airline
China Eastern Airlines is a major Chinese airline operating international, domestic and regional routes and is the second largest carrier by passenger numbers in China. The airline was established in 1988 and currently operates 496 aircraft. China Eastern typically operates a Boeing 737 between VCBI and VRMM.
Flight Briefing
CES1066
VCBI – VRMM
Planned Fuel – 13,500
Planned Altitude – 38,000
Distance – 420
Flight Time: 1hr, 35min
Route: BASU2D BASUR P570 TVM R457 MUGBA M3B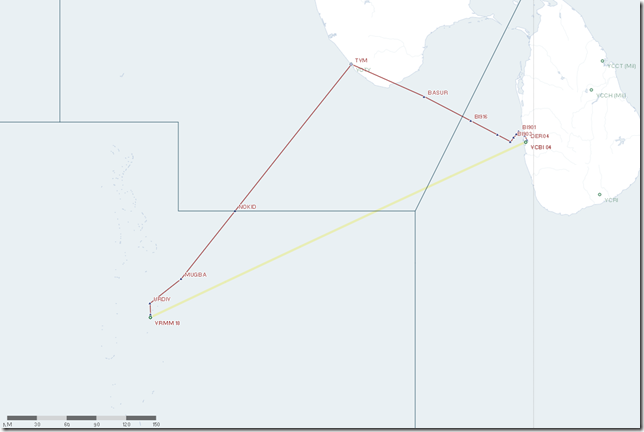 Flight Journal
The visit to Sri Lanka, while enjoyable….most days consisted of rain, more rain with short breaks from the rain where the sun would come out and the humidity would soar, then it would rain again.  I believe our travelers are weary from the heat and humidity and ready for a break.   But as I've shared with them, the next few legs will mostly be much of the same.  Perhaps a brief break from the damp, sticky climate will come once we reach South Africa.  But even that will only be brief.
For this leg of our journey, we will be flying a China Eastern Boeing 737-700.  China Eastern operates flights between these two airports in the real world, so I felt it only right to do the same in our virtual tour.  Our passengers have arrived for a very wet, late afternoon departure.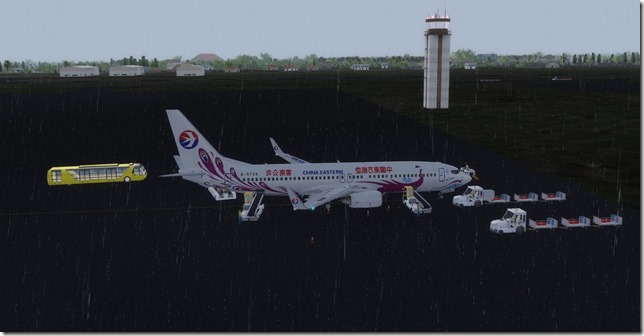 We can't depart until all the luggage has been loaded and the ground crew is working extra hard on this wet day to ensure an on-time departure.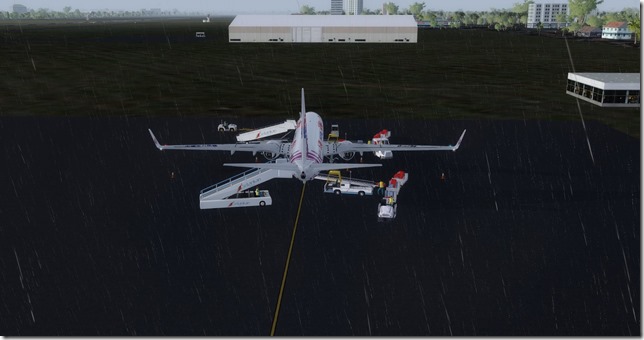 With the doors securely closed and locked, it's time to pushback this Boeing 737-700 for the trip.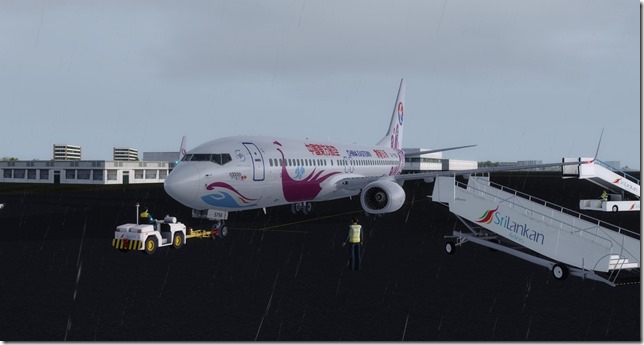 Position and Hold on runway 04.  We're ready to go…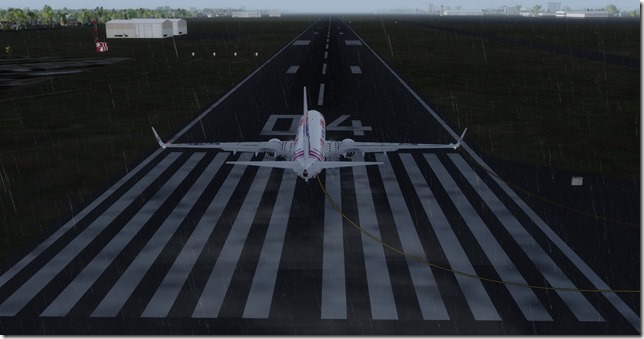 Up and away.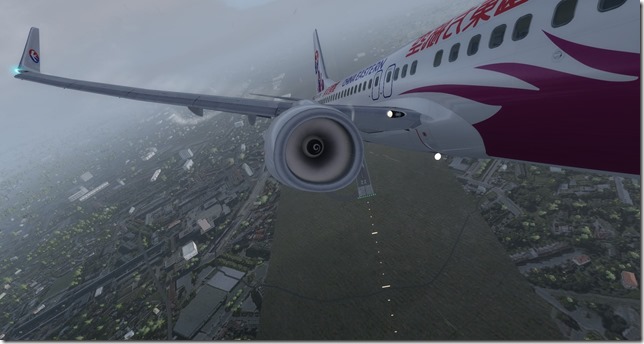 We may eventually find some sunshine…somewhere.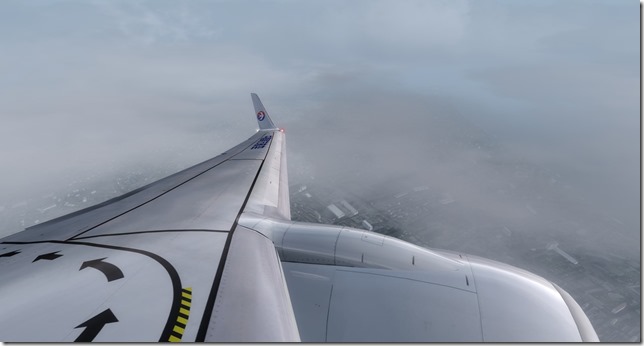 Ahhhh, there we go.  Clear skies and sunshine as we cruise at 38,000 feet.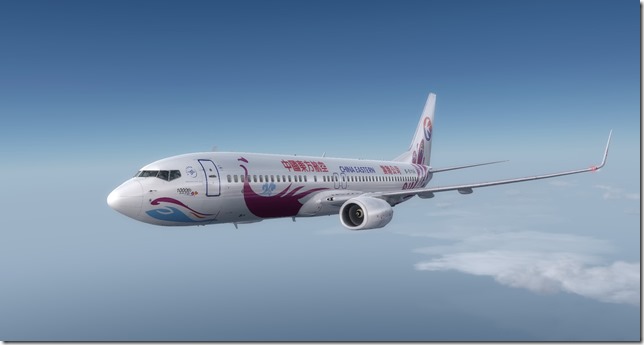 As previously mentioned, our departure out of Sri Lanka was in the late afternoon and the sun is beginning to sink into the Indian Ocean.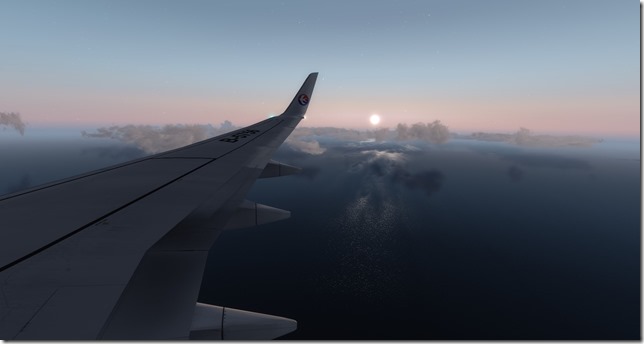 A beautiful view as we descend into our destination.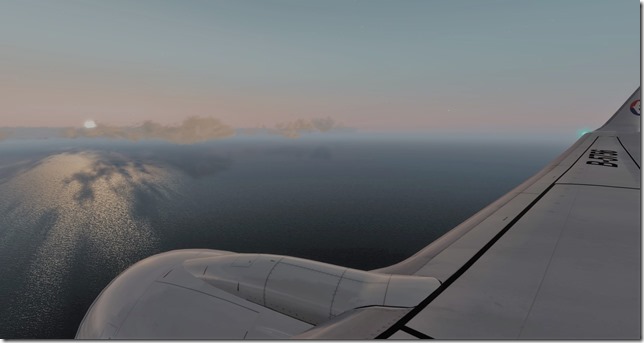 The view from the flight deck.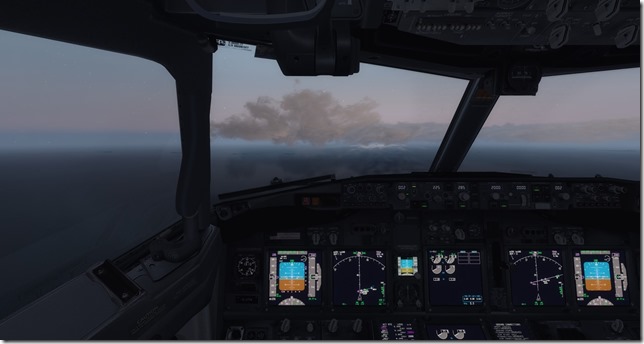 One more wing view as the sun has just about disappeared.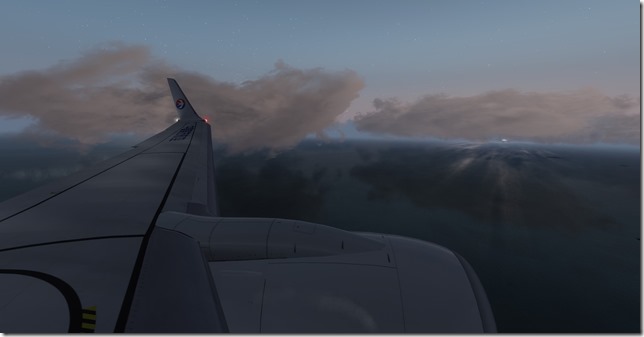 We quite a strong cross-wind for our approach into Male.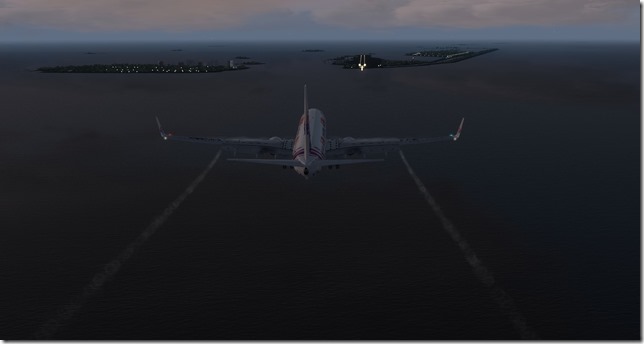 On short final, we'll be on the ground shortly.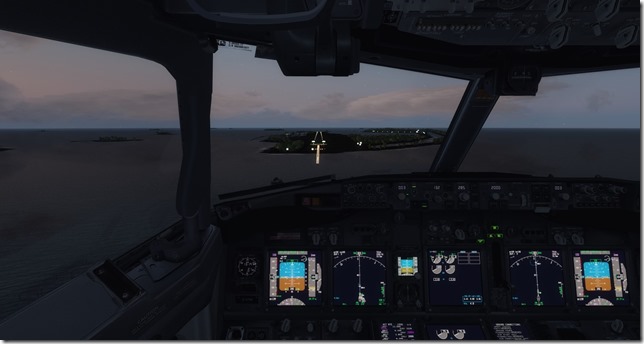 On the ground at Male International Airport just before darkness sets in.
Simulator Specifics
Prepar3d v4.2
ActiveSky Weather Engine
ActiveSky Cloud Art
Envtex & Envshade
PMDG 737-700 (China Eastern livery)
Orbx Global Texture
VATSIM
Route Planning Tools
AivlaSoft PFPX
Navigraph Charts Desktop
FlightAware
FlightRadar24
SkyVector
Google Maps
Our travelers will spend two days in Male before our next flight.  I certainly hope you're enjoying following along with the journey and learning a few things along the way.  I'll see you right back here for the next leg.
Until next time…
Jerry
---