WorldFlight 2018 GBS Tour – Leg 29
While you're reading this posting in mid to late September, I performed this flight just a few days prior to leaving on my European vacation.  Hopefully, we've arrived safely back home and I've been back at work for almost two weeks and also hopefully have had some time to resume flying the tour legs.  I promise I'll provide you some of the details of our trip in the posting for leg 30 which you can read about in just a few days time.
While I can't quite see the light at the end of the tunnel, we are halfway through the North America portion of the tour and upon resuming the flights will be down to the final 16 legs.  During these final 16 legs we'll visit Vancouver, two stops in Alaska, three stops in Russia before heading to Japan (two stops), Shanghai, Hong Kong, Brunei, Indonesia, Papua New Guinea and finally the final legs of our 46 leg journey back in Australia.  Or said in another way, we still have over 13,000 more miles to travel before we find ourselves back in Sydney sometime around early to mid November.
To be honest, when I began planning this tour and planning the articles…I wasn't sure how popular they would be.  In other words, I really wasn't sure anyone would be interested in reading them.  While I was committed to seeing the tour all the way to the end, I'm actually surprised they have become quite popular and it has me thinking and planning for the future.
A few weeks ago, during the blog update for leg 20 I mentioned a virtual airline which I had recently joined.  I've been flying for various VA's for over 20 years, but this is the first United Airlines VA I've been a member of.  I've been having a lot of fun flying for virtual United Airlines.  Anyway, vUAL has various awards which members can achieve.  One of the awards I'm interested in is the 50 State Capital Tour.  Of course this tour consists of flying to each of the United States capital cities.   I've begun mapping out how I might do this and I'm considering doing a similar blog style to report progress of the route segments.  Most likely I won't start this until after the WorldFlight tour has been completed.  I guess what I need to say next is, time will tell.  Let's get on with this update.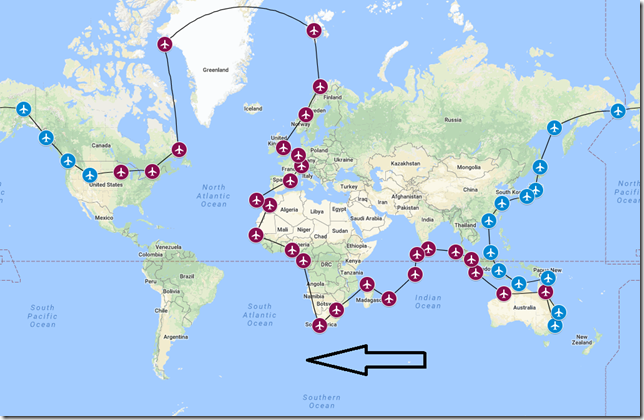 History of City
Jackson is a town in the Jackson Hole valley of Teton County, Wyoming. The population of Jackson is approx. 10,000. The area surrounding the town was originally populated by Native American tribes including the Shoshoni, Crow, Blackfeet, Bannock and Gros Ventre. John Colter entered Jackson Hole during the winter of 1807/1808 during the return journey of the Lewis & Clark expedition. Various points of interest make the Jackson area a popular year-round tourist destination.
History of Country
The United States of America, is a federal republic composed of 50 states, a federal district, five major self-governing territories and various possessions. At 3.8 million square miles, the US is the world's third largest country by total area and just fractionally smaller than the entire continent of Europe. With a population of over 325 million, the US is the third most populous country.
History of Airport
The Jackson Hole Airport is located seven miles north of Jackson, Wyoming. In 2015, it was the busiest airport in Wyoming by passenger traffic with 313,151 passengers. Jackson Hole is the only commercial airport in the US located inside a national park, in this case Grand Teton.
History of Airline
Delta Airlines, is a major United States airline with its headquarters and largest hub at Hartsfield-Jackson Atlanta International Airport. The airline, along with its subsidiaries and regional affiliates, operates over 5,400 flights daily and serves an extensive domestic and international network that includes 319 destinations in 54 countries on six continents. Delta is one of the five remaining legacy carriers and is the 6th oldest operating airline by foundation date and the oldest airline to still be operating in the United States.
Flight Briefing
DAL1066
KMSP – KJAC
Planned Fuel – 17,000 lbs
Planned Altitude – 36,000
Distance – 755nm
Flight Time – 2hr, 15min
Route:  DWN7 ABR J32 CZI DCT DNW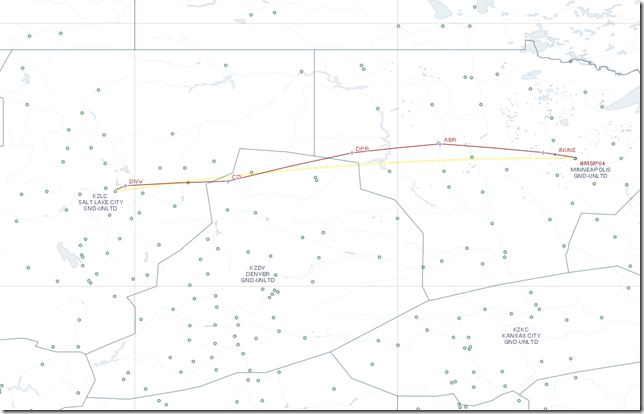 Flight Journal
Another semi-early flight out of Minneapolis should have us arriving into Jackson Hole, Wyoming just about lunch time.  Our travelers are anxious to arrive in Wyoming as that will once again mean a slightly longer break (much like we had in Madeira) and the hope of some cooler weather.  The high temperature forecasted for Minneapolis today is in the low 90's compared to Jackson Hole where the temp will struggle to break into the low 70's.
Our flight today will be flown in a Delta Airlines Airbus A319.  We're loaded, the doors are closed and we're just waiting for pushback.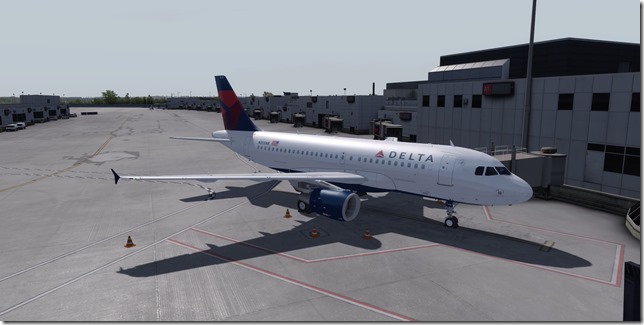 We're ready to blast out of KMSP.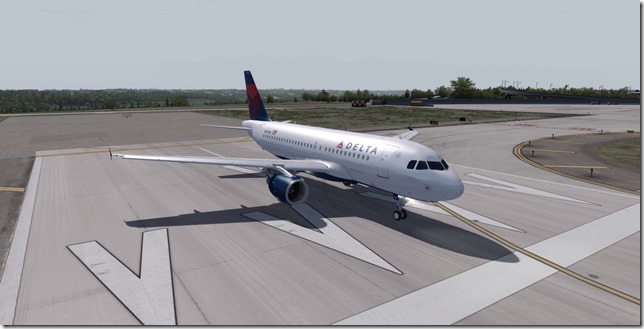 Up, up and away and goodbye to the Twin Cities.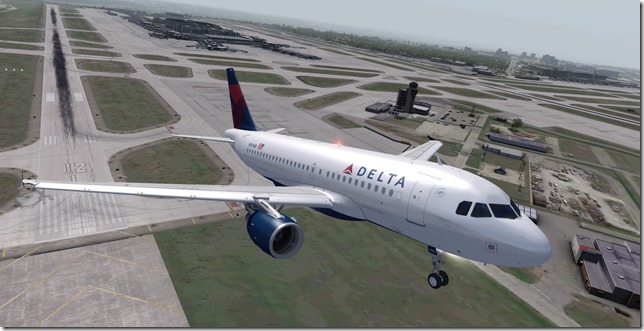 Our little Airbus quickly climbs to our cruising altitude of 36,000' and we're headed pretty much due west across Minnesota, South Dakota and Wyoming.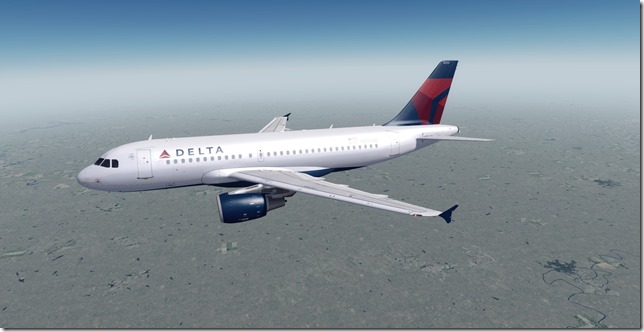 As we fly further west, the clouds are starting to build.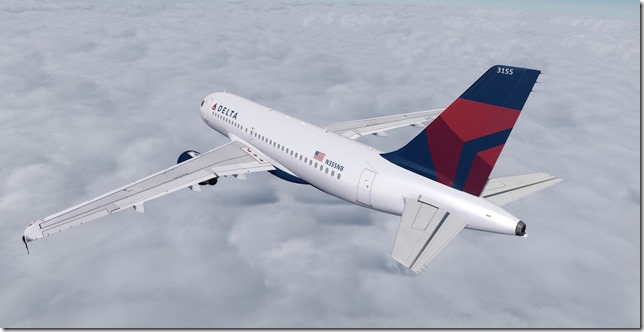 Beginning our descent.  Hoping we'll have a clear view of the approach into Jackson Hole as it's really spectacular.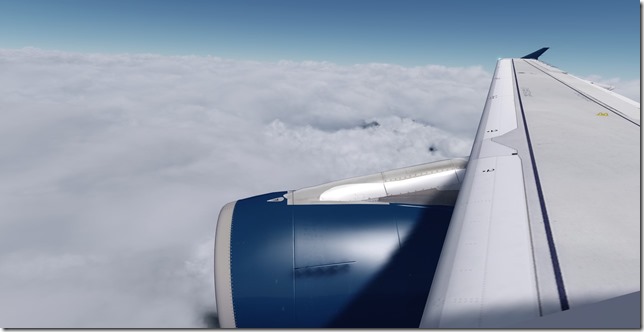 Ahhh…beautiful as we descend through the cloud layer.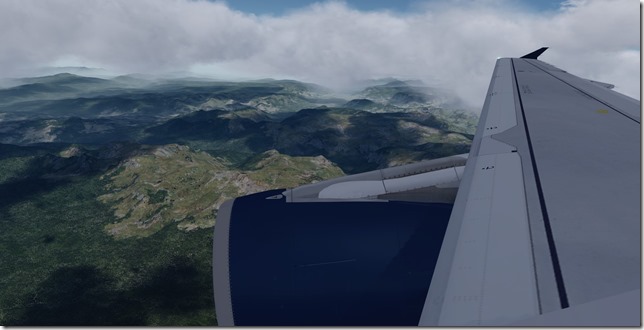 See what I mean?  The beautiful Grand Teton's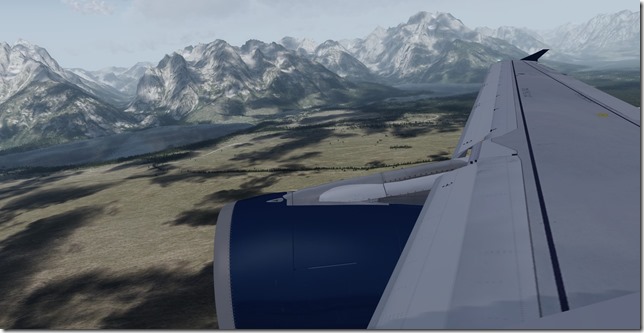 Gear down with the Snake River in the background.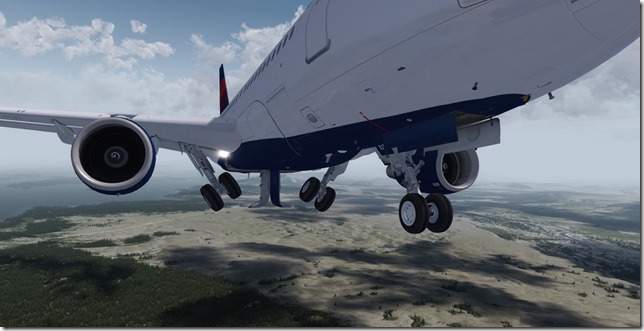 While our tourists are a bit early for the ski season, there's plenty to do in the Jackson Hole area during the summer months.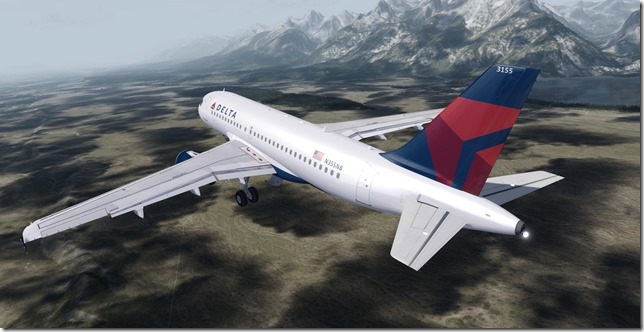 On final approach into KJAC.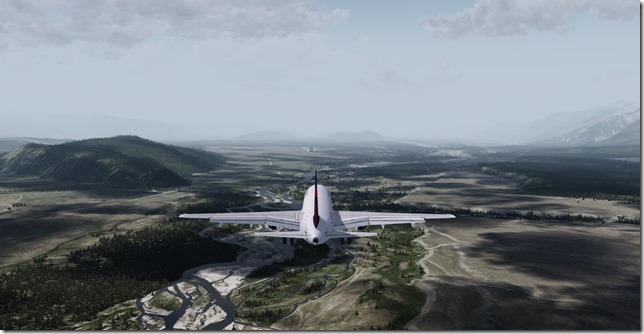 Short final view.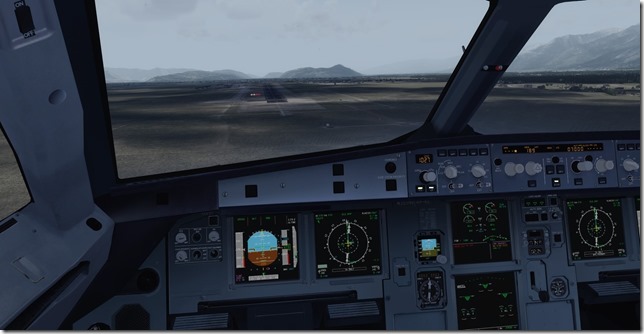 Quite a busy day today at the Jackson Hole airport. A company 757 along with an American and United Airlines flight are getting ready to push back and head to their destinations while a few small Cessna aircraft are doing some pattern work.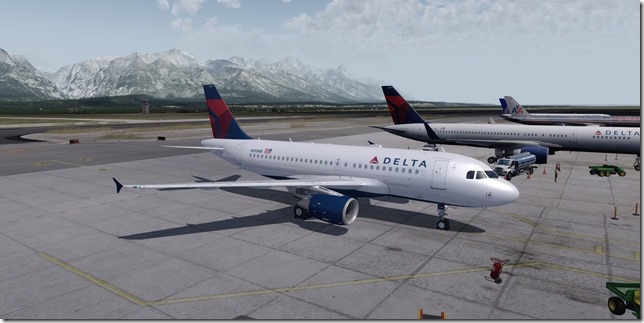 Simulator Specifics
Prepar3d v4.3
ActiveSky Weather Engine
ActiveSky Cloud Art
Envtex & Envshade
FSLabs Airbus A319 (Delta Airlines livery)
Flightbeam KMSP Scenery
Orbx Jackson Hole Airport (KJAC)
Orbx Global Texture
Orbx FTX Global openLC North America
VATSIM
Route Planning Tools
AivlaSoft, PFPX & Simbrief
Navigraph Charts Desktop
FlightAware
FlightRadar24
SkyVector
Google Maps
As mentioned in the last update, our travelers will spend the next week exploring the Jackson Hole area of Wyoming including both Yellowstone and Grand Teton National Parks, the Shoshone National Forest and will take a trip over to Idaho to explore the Craters of the Moon National Monument.  The weather forecast over the next several days will be a nice change and I'm sure will be enjoyed by all.  We'll soon depart Jackson Hole for Vancouver (or also known as Raincouver), British Columbia Canada.
Until then….
Happy Flying!
JT
---