WorldFlight 2018 GBS Tour – Leg 24
Before we get started with this tour update, I would like to remind everyone why I'm doing this.  When you have a moment, (or right now) please visit the WorldFlight website.  This is the official site for the 2018 event and from that webpage you can find links to other sites such as Simfest UK, CB-Worldflight Team USA and others.  Each team of participant groups from around the world are raising money for various charities.  The official WorldFlight Event for 2018 will begin on 3 November at 2200z with teams departing Sydney, Australia and conclude a week later on 10 November around 0845z back in Sydney.  These teams will stream their flights on Twitch and YouTube for the world to watch and hopefully donate towards the charities these teams are sponsoring.
This particular tour update has many special meanings for us and our long journey around the world.  First, it somewhat marks the downhill segment of our tour.  However, we're still flying somewhat uphill on the globe.  Second, today is the 1st of September and for those of us in the northern hemisphere it means fall is just around the corner and third…it marks the start of the 3rd month of our long tour.  Finally, upon landing we'll reach the furthest in latitude we'll achieve on this tour.  With our starting location of Sydney, Australia being the furthest south.
Now in the real-world, my wife and I should be enjoying the English Countryside down in Kent (Tunbridge Wells).  We would have departed Antwerp yesterday for the short 1 hour hop over the North Sea, then traveled by train from London City Airport out to the southeast of England.  Pretty much our favorite place on earth.  Of course I'm writing and posting this in advance of leaving for our vacation.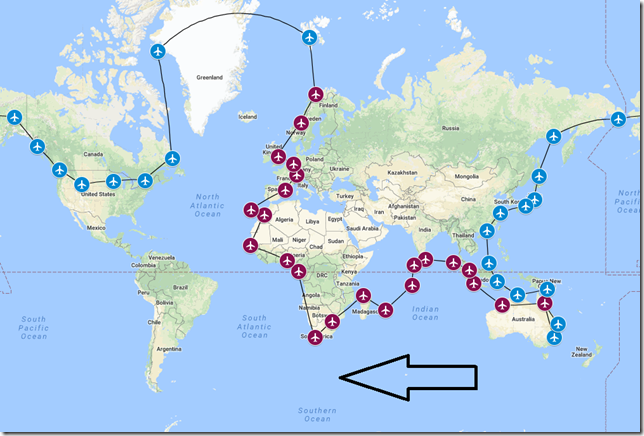 History of City
Svalbard is a Norwegian archipelago in the Arctic Ocean. Situated north of mainland Europe, it is about midway between continental Norway and the North Pole. The islands were first used as a whaling base in the 17th and 18th centuries. Coal mining came to the area in the early 20th century with the establishment of several permanent communities. Svalbard is a breeding ground for many seabirds, and also features polar bears, reindeer and the arctic fox just to name a few.
History of Country
Norway is a unitary sovereign state in Northwestern Europe whose core territory comprises the western and northernmost portion of the Scandinavian Peninsula. Norway has a total area of 148,747 square miles and a population of 5,258,317.
History of Airport
Svalbard Airport, located in Longyear is the main airport serving Svalbard, Norway. It handles approx. 150,000 passengers annually.
History of Airline
Scandinavian Airlines, usually known as SAS is the flag carrier of Sweden, Norway and Denmark and operates out of its main hub at Copenhagen-Kastrup Airport with connections to over 50 cities in Europe.
Flight Briefing
SAS1066
ENTC – ENSB
Planned Fuel – 12,000 lbs
Planned Altitude – 38,000
Distance – 517nm
Flight Time – 1hr, 40min
Route:  TC603 LOMVI P853 UVSAS BJO PITOL ATSOT ISD LALAD LOLVO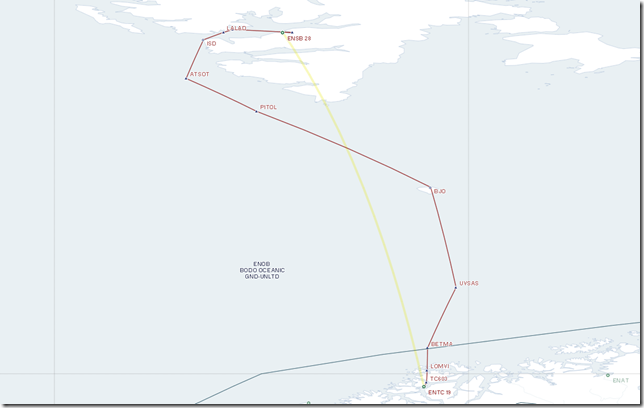 Flight Journal
The theme of today's (or actually, should I say tonight's) flight is "Chasing the Midnight Sun".  To somewhat maximize our travelers time while visiting Norway, we've been departing during the late evening hours.  The flight tonight is no different as we have a scheduled departure time of 11:00 PM.  My flight crew and I have arrived at the airport and in the process of getting our Boeing 737-800 ready to go.  We're shuttling another SAS aircraft and this happens to be a real world flight as well which is operated by SAS and also in the B738.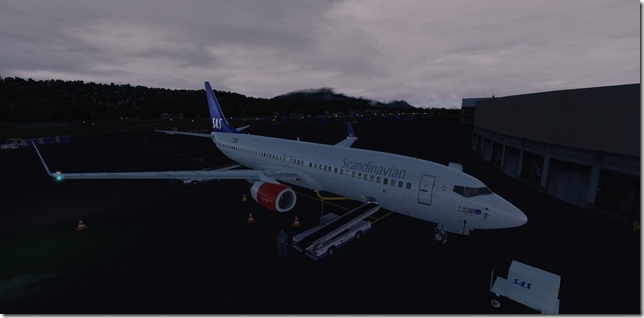 Pushing back with the help of the SAS ground crew. It's just before 11, we should be airborne in the next 10 minutes.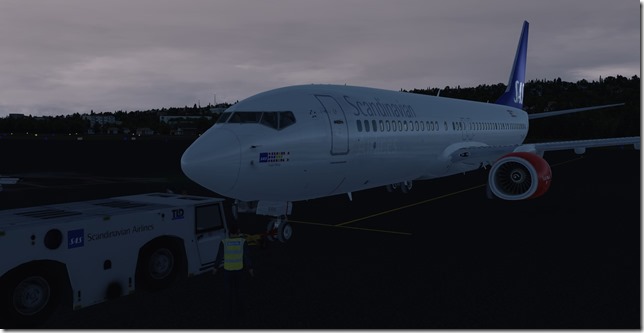 Lined up and ready to go.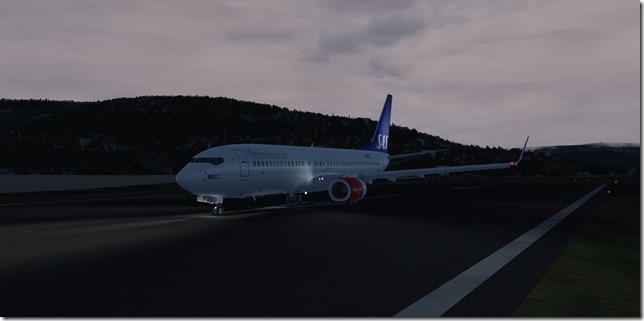 Off we go into the clear cloudy somewhat blue yonder.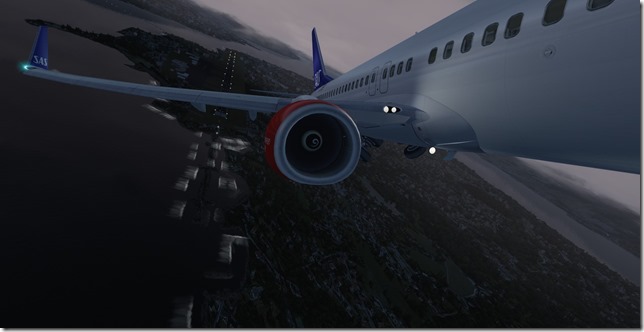 Making our right-turn to join the departure route.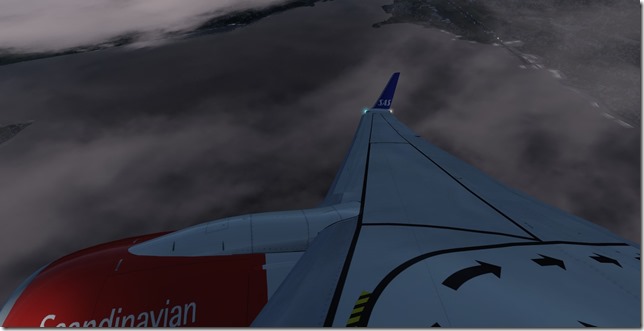 We've passed through one layer of clouds only to find another.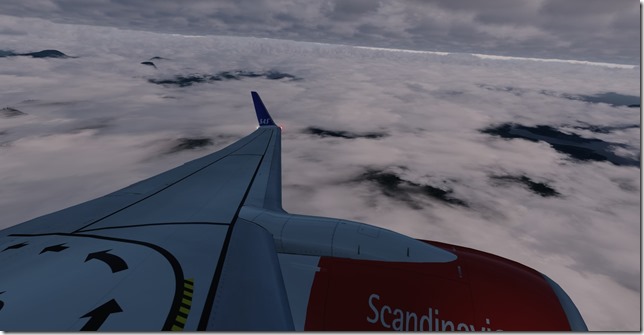 I'm sure we'll find some clear skies soon.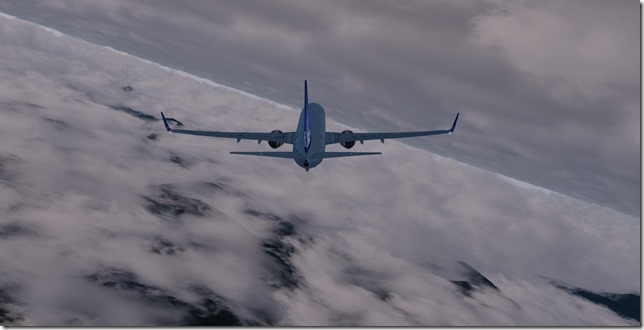 Finally we've climbed above the clouds and are on our way of chasing the midnight sun.  This time of year the sun at this latitude never sets fully.  During our flight the sun will begin to rise again before we land.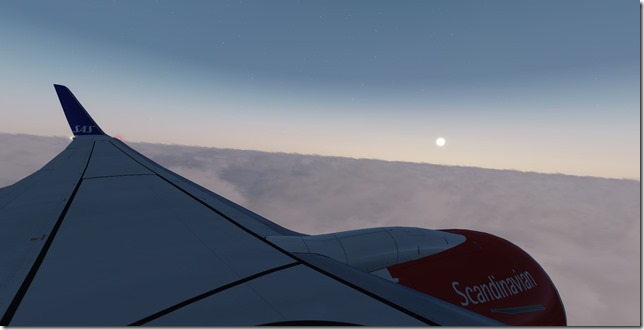 Just before top of descent, our B738 is bathed in the light of the rising sun.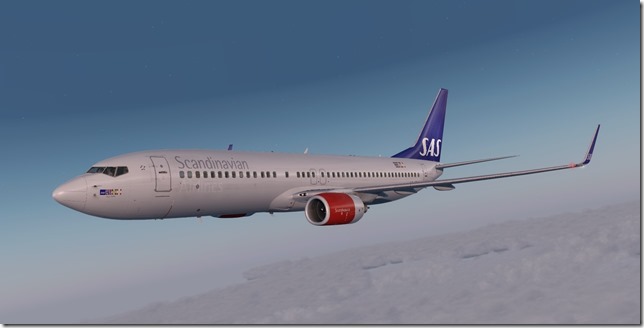 It's midnight.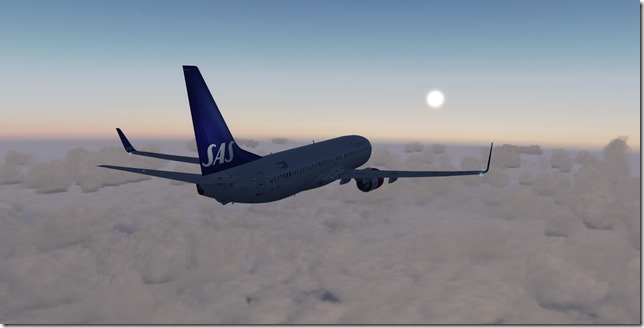 The moon is visible off the right wing.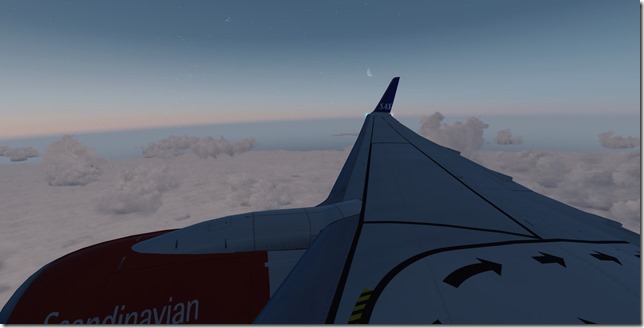 The arrival into Svalbard is quite challenging and made even more so under this level of visibility.  But in our instruments, we trust.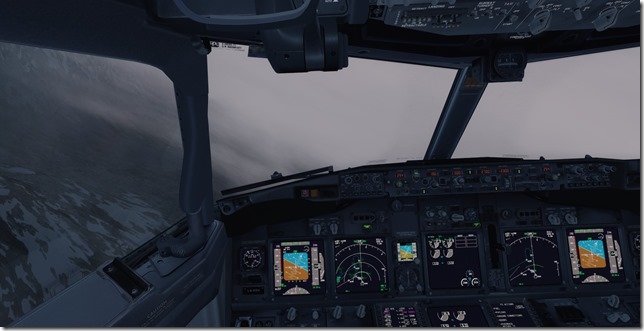 On final, the PAPI lights are visible.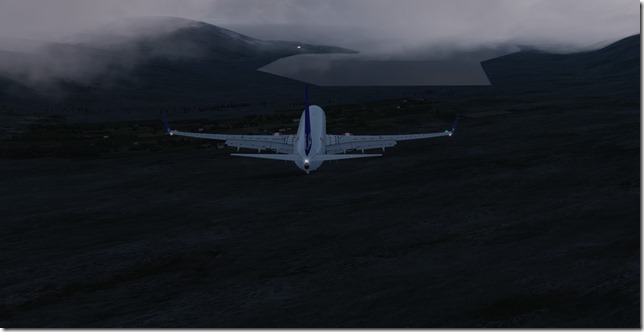 Such a nice approach.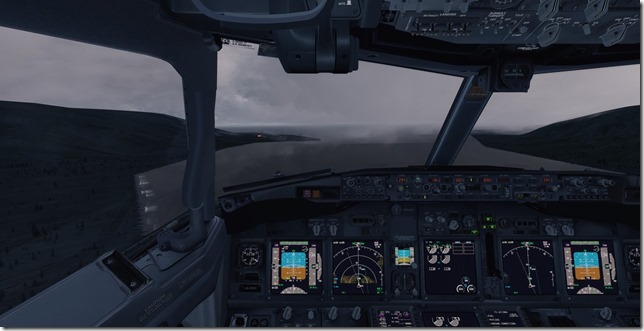 Cleared to land, runway 28.  I'll most certainly want to try this approach under clear conditions as I'm sure the views are simply amazing.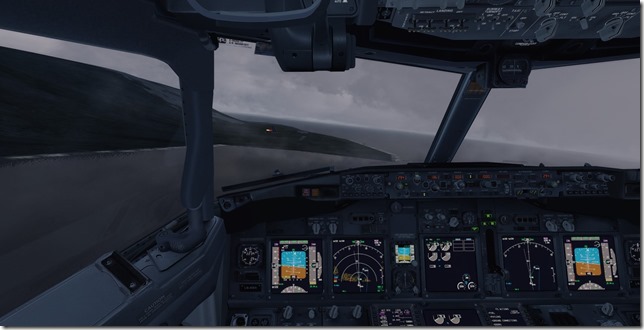 Parked at our gate and ready to deboard our passengers.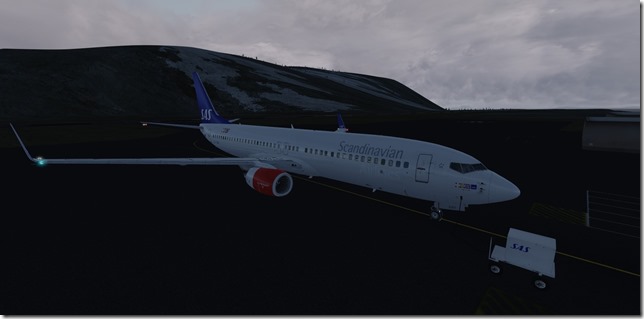 Simulator Specifics
Prepar3d v4.3
ActiveSky Weather Engine
ActiveSky Cloud Art
Envtex & Envshade
PMDG Boeing 737-800 (Scandinavian livery)
Orbx Global Texture
VATSIM
Route Planning Tools
AivlaSoft & PFPX
Navigraph Charts Desktop
FlightAware
FlightRadar24
SkyVector
Google Maps
While it's late, our travelers will spend the next two days exploring this area of Norway and do so mostly in the late afternoon and evenings.  Tomorrow evening they'll take a special tour (weather permitting) to once again enjoy the midnight sun and dinner in a beautiful Norway.  As previously mentioned, this is as far North we'll travel on our tour.  Once we depart Norway, we'll fly west to Greenland and being our North American tour segment.  I hope you'll join us.
Until next time…
Happy Flying!!!
Jerry
---