WorldFlight 2018 GBS Tour – Leg 22
As you are reading this tour update entry, my wife and I have hopefully (I wrote this obviously in advance) safely arrived in Antwerp Belgium and are enjoying ourselves visiting family and seeing a few sights in the area.  I believe this is my 7th or 8th time to visit Belgium and we always find new things to do and revisit a few places again.  We'll stay in Belgium for a week, then return back to England where we will stay a week out in the English Countryside of Kent.  But don't worry…while I'm traveling around Belgium and England, you'll still have regular/scheduled tour updates over the next two weeks.  Plus if you are somewhat new to study level aircraft, I'll be releasing an article on 3 September with tips on how I learn these complex aircraft.
It's been a whirlwind of travel and touring the past couple of weeks for our jetsetters.  The week of relaxation experienced by all back on the island of Madeira is all but a distant memory.  But not to worry, once we reach Svalbard, Norway…we'll once again pause travel for a week before heading west across to Greenland and North America.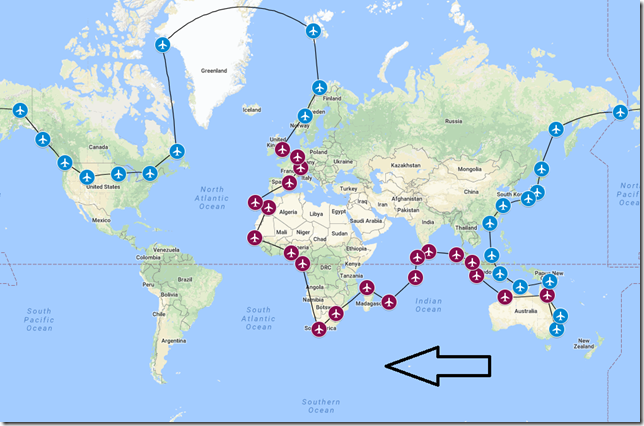 History of City
Trondheim, founded in 997 as a trading post and served as the capital of Norway during the Viking Age until 1217. Today, Trondheim has a population of 193,501 and is the third most populous municipality in Norway.
History of Country
Norway is a unitary sovereign state in Northwestern Europe whose core territory comprises the western and northernmost portion of the Scandinavian Peninsula. Norway has a total area of 148,747 square miles and a population of 5,258,317.
History of Airport
Trondheim Airport, is an international airport serving Trondheim, a city and municipality in Trondelag County, Norway. The main airlines at the airport are Scandinavian Airlines, Norwegian Air Shuttle and Wilderoe.
History of Airline
Norwegian Air Shuttle, is a Norwegian low-cost airline. It is the third largest low-cost carrier in Europe behind EasyJet and Ryanair and the ninth-largest low-cost airline in the world and the largest airline in Scandinavia.
Flight Briefing
NAX1066
EGNM – ENVA
Planned Fuel – 15,000 lbs
Planned Altitude – 37,000
Distance – 694nm
Flight Time – 1hr, 55min
Route:  POL UP17 TIPTA UM82 RIVOT UM89 ALOTI T400 ZOL P5 TOTKO Z86 NELSU NELS1L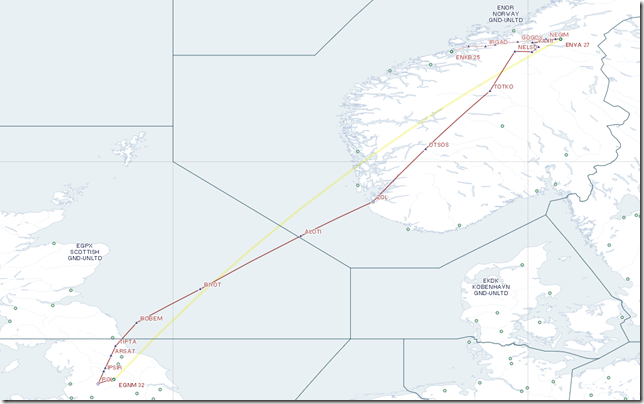 Flight Journal
While our stay in Leeds may have been short, our travelers packed a whole lot of touristy things into the time they had available.  Visits to the Royal Armouries Museum, Harewood House and Kirkstall Abbey.  I think some of our travelers were a bit confused when they learned Leeds Castle is not located in Leeds, England.  Well that's down in Kent and is one of the spots my wife and I plan to visit on our European holiday.  But I digress….
Our chariot (A Norwegian Boeing 737-800) awaits us at the Leeds Airport.  The ground crew here has been spectacular at helping us keep to our schedule.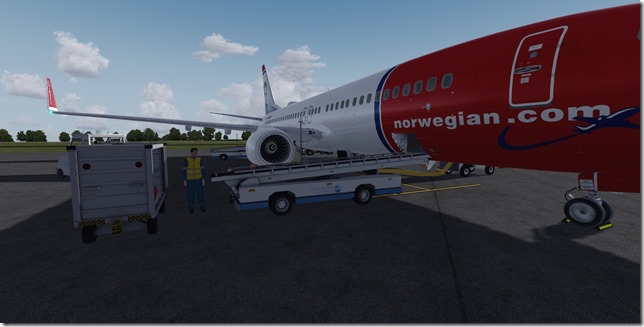 Pushing back from the stand and getting our engines started.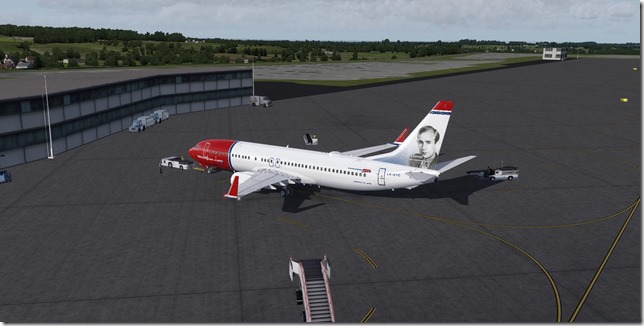 It's actually late evening, but being this far north the sun doesn't set until fairly late.  We'll arrive into Norway well after 10 PM and it should still be daylight.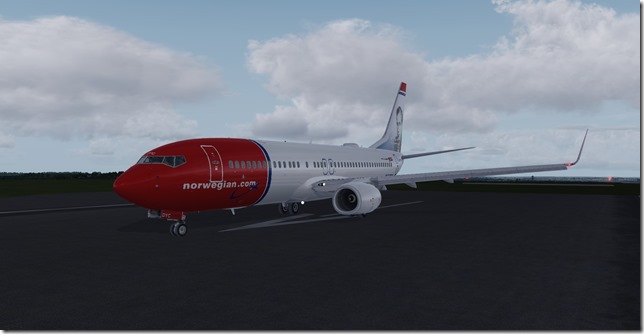 Up, up and away….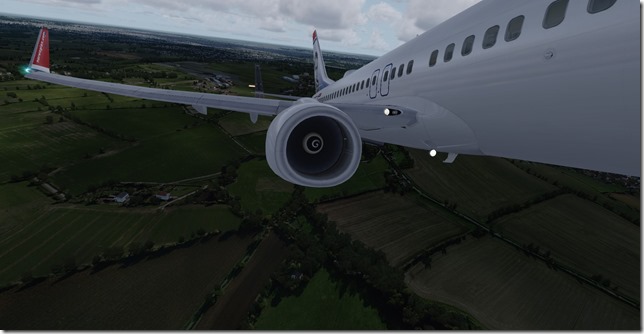 Our Orbx EU England ground textures are really providing the nice eye candy for our departure across northern England.  Looks like some really nice farm land down there.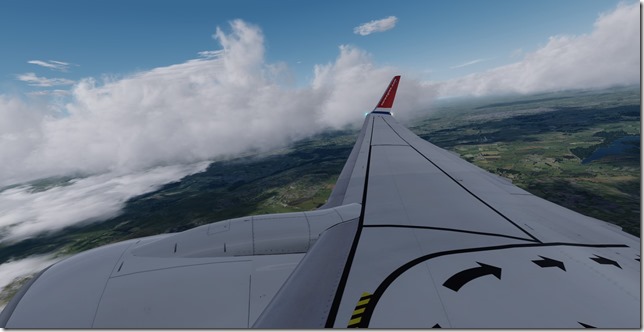 Naturally all the other add-ons I'm running to enhance the weather, sky textures, colors etc. are all doing a fantastic job here.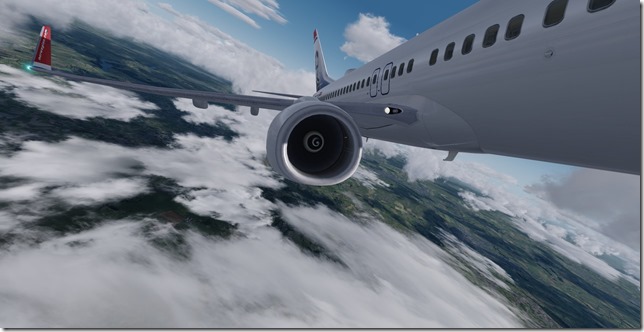 As a child, my wife believed if she had a plastic bag and a tall enough ladder that she could scoop up the puffy clouds and place them in the plastic bag.  Who can really argue against that possibility?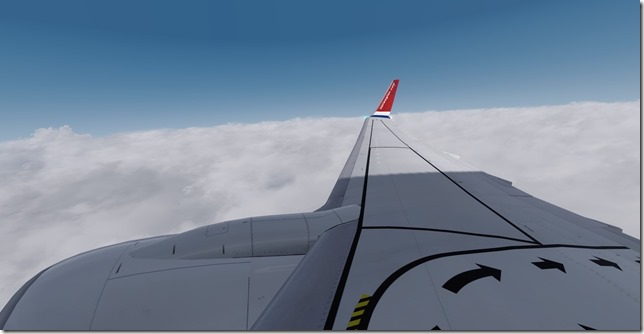 Norwegian honors various individuals by incorporating their likeness into their liveries.  The individual featured here is Max Manus who was a Norwegian resistance fighter during WWII.  You can read more about Max here.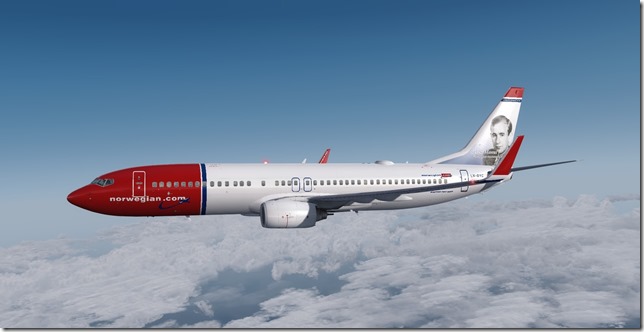 The Fjords of Norway are visible as we are flying over Norway.  Orbx Global Texture does a fantastic job keeping the visual senses filled with immersion.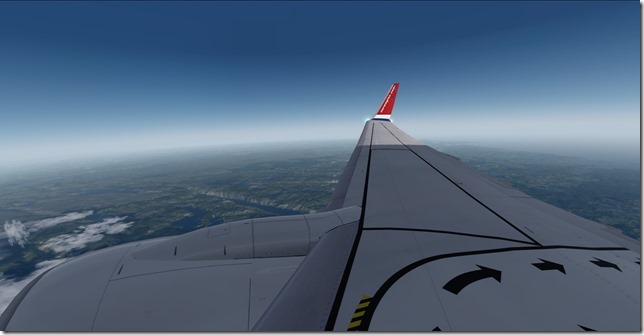 We'll soon reach our top of descent.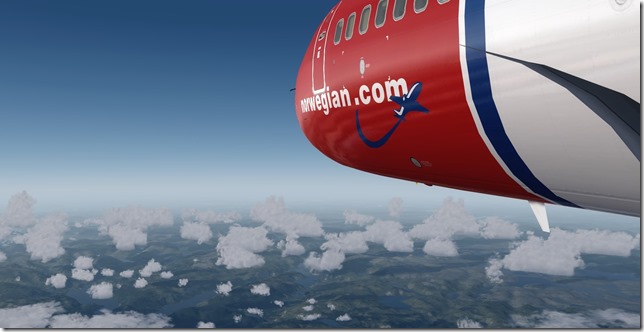 I really like the Norwegian livery.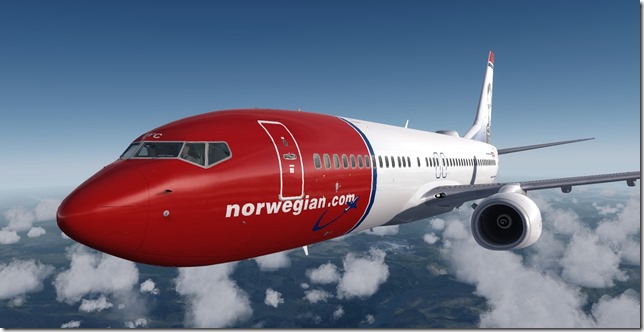 The view from the "left seat".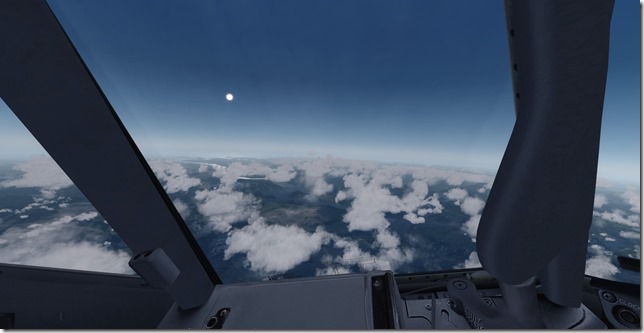 I realize I may have gone a bit overboard with the images for this posting.  But the views and ground textures are simply amazing.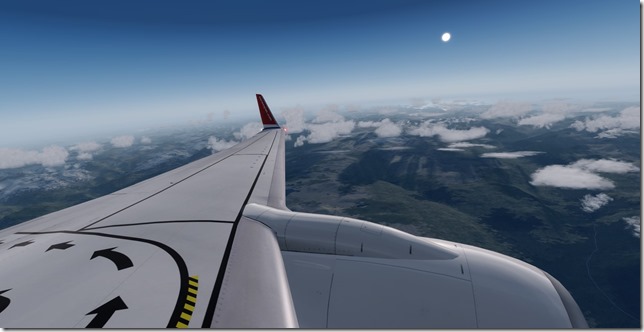 Making our turn along the arrival into Trondheim.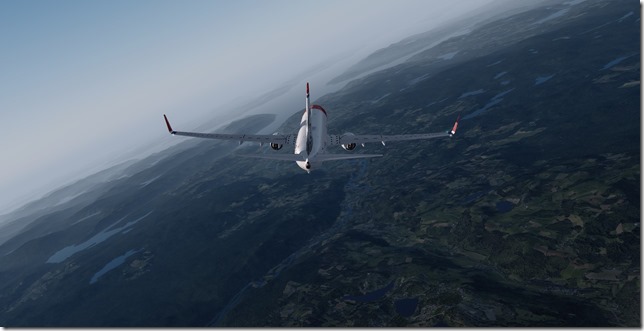 The shadows are getting long, but still very much light at almost 10 PM.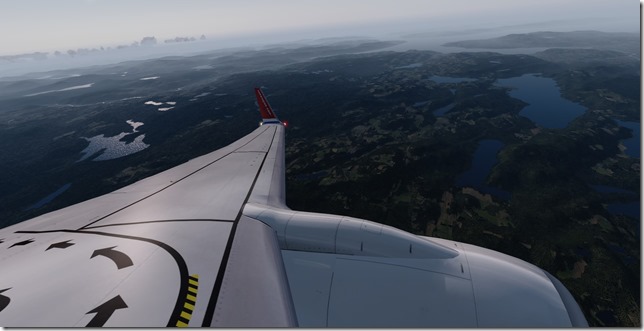 Making our turn on final approach with the city of Trondheim just off the right wing.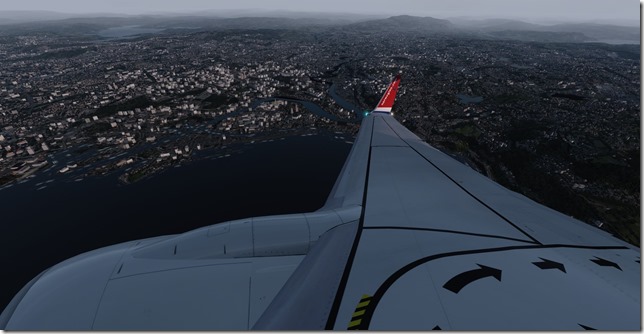 Gear down.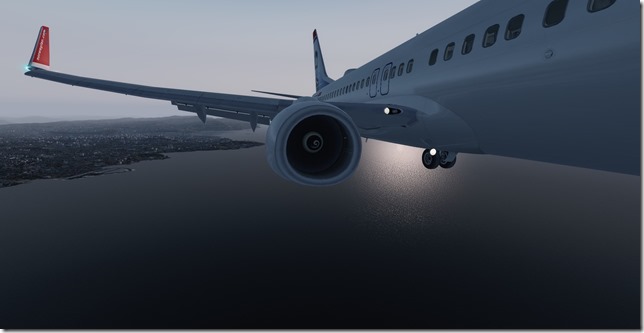 Another view from the right wing on final approach.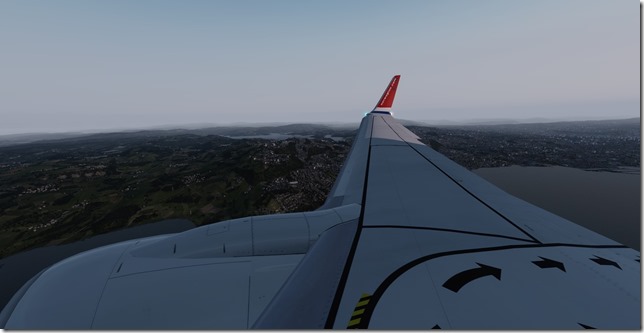 Can't have the left wing get jealous….What a view across the Trondheim Fjord.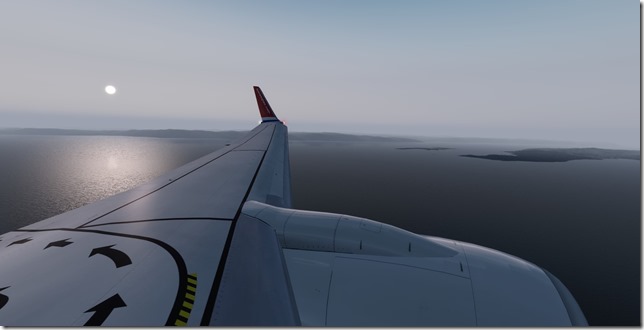 Norwegian Flight 1066 cleared to land.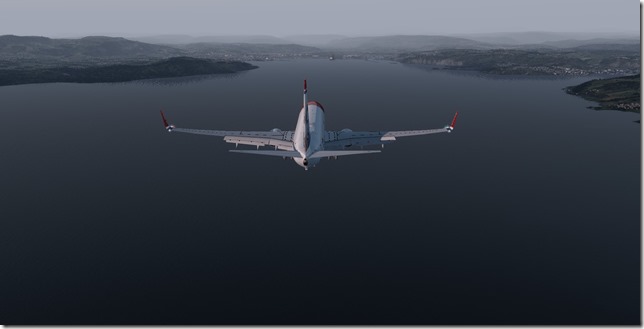 This approach over the water somewhat reminded me of landing at SFO.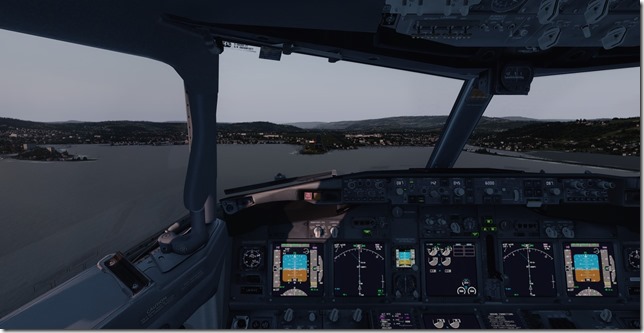 At the gate and shutting down.  We'll soon depart for Tromso, Norway (our second of three Norwegian destinations).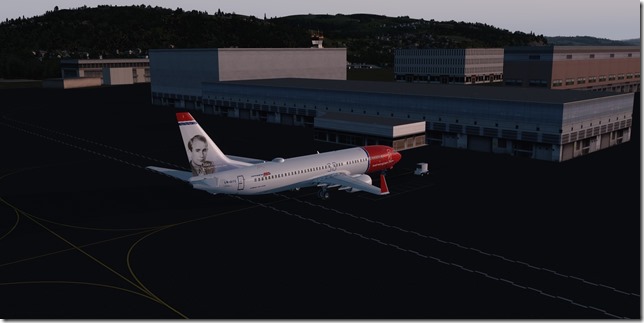 Simulator Specifics
Prepar3d v4.3
ActiveSky Weather Engine
ActiveSky Cloud Art
Envtex & Envshade
PMDG Boeing 737-800 (Norwegian livery)
Orbx Global Texture
Orbx EU England
VATSIM
Route Planning Tools
AivlaSoft PFPX
Navigraph Charts Desktop
FlightAware
FlightRadar24
SkyVector
Google Maps
Of the twenty-two flights of this years tour, this was one of my favorite as the views of this part of the world are extraordinary.  This is certainly a place I hope to visit someday in real life.  Until then…I'll certainly do more flying in this part of the world.  As Real As It Gets Right?
Until next time…
Happy Flying!!!
Jerry
---