WorldFlight 2018 GBS Tour – Leg 18
As the weeks of summer quickly tick by, so do our flight legs.  With a third of the tour safely in the books, we're closing in on the half-way mark.  Life of course is busy, busy, busy for me right now.  With less than two full weeks before my wife and I fly to Belgium, I'm struggling to keep up with the honey-do list.  It seems for every item I manage to check off, there are a couple more items added.  At this rate, I'm really not sure when it all will get done.  But the good news for me is I did manage to convince her that we don't start anything new until after we return, so for now the tasks more or less all involve finishing up a few small projects and then just focusing on things that MUST be done prior to leaving.  But of course, this brings up the dreaded "S" word….yes….shopping!  Wish me luck!
I hope you enjoyed the write up from tour leg #17.  I can't wait to find another reason to fly into Madeira.  I think (for now) this has been one of my favorite legs.  As I had never flown into the island before, the visual approach was slightly stressful.  Now of course if you are not a flight simmer, perhaps you can't understand how a flight made in a simulator can be stressful.  I guess that's just the immersion and perhaps the closest thing I can compare this to with other simulation based games might be the stress we feel when we're running late on an ETS2 or ATS delivery job or perhaps the final days of fall in Farming Simulator and the weather forecast shows rain, but you still have over half of your crops still on the field.  It's a good level of stress and again it just further adds to the immersion.  After all, I think that's one of the reasons we all enjoy our simulation based games so much.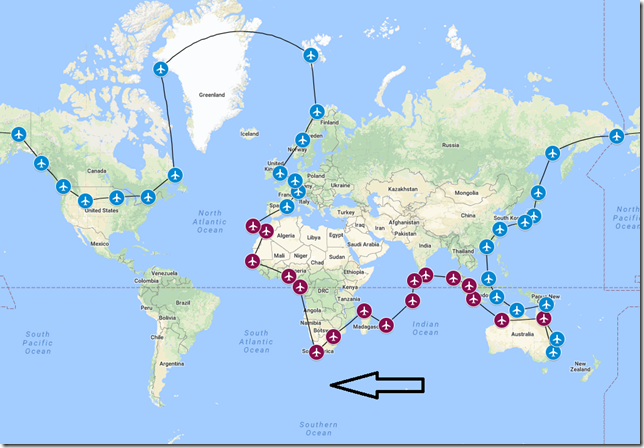 History of City
Barcelona is the capital and largest city of Catalonia, as well as the second most populous municipality of Spain. Founded as a Roman City in approx. 15 BC, in the middle ages Barcelona became the capital of the County of Barcelona and later merged with the Kingdom of Aragon. Today Barcelona is the home to around 4.8 million people, making it the sixth most populous urban area in the European Union after Paris, London and Madrid.
History of Country
Spain is a sovereign state mostly located on the Iberian Peninsula in Europe. With an area of 195, 360 square miles, Spain is the largest country in Southern Europe, the second largest country in Western Europe and the European Union and the fourth largest country in the European continent.
History of Airport
The Barcelona-El Prat International Airport is located 7.5 miles southwest of the center of Barcelona. It is the second largest and second busiest airport in Spain behind Madrid-Barajas Airport and the 7th busiest in all of Europe.
History of Airline
Vueling Airlines is a Spanish low-cost airline based in Barcelona with hubs in Barcelona-El Prat and Leonardo da Vinci-Fiumicino Airport in Rome. Its name comes from the Spanish word vuelo, which means flight. It is the largest airline in Spain by fleet size and the number of destinations it serves. Vueling serves over 100 destinations in Africa, Asia, Europe and the Middle East.
Flight Briefing
VLG1066
LPMA – LEBL
Planned Fuel – 21,000 lbs
Planned Altitude – 36,000
Distance – 1037nm
Flight Time – 2hr, 45min
Route: DEGU3N DEGUN DCT NARTA/N0410F180 B18 ESP G52 MAGUM/N0452F240 UN870 PORLI/N0457F370 DCT UREDI/N0455F380 UN870 RBO/N0451F240 R870 PONEN/N0454F380 UT600 CASPE DCT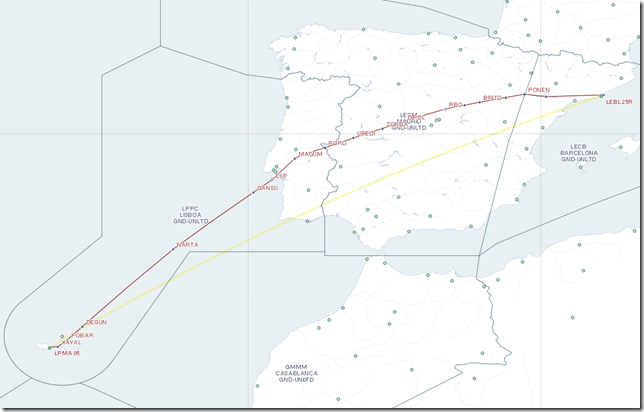 Flight Journal
The extra few days we've stayed on the beautiful island of Madeira have made a huge difference with the morale and attitudes for all.  Our travelers and crew have enjoyed time on the beach, a few diving excursions and just the relaxation of not being under a tight schedule.  But it's time we resume the tour and head into the continent of Europe.  Next stop…Spain!
We're shuttling this Vueling Airbus A320 over to Barcelona.  But before we can depart, we need fuel.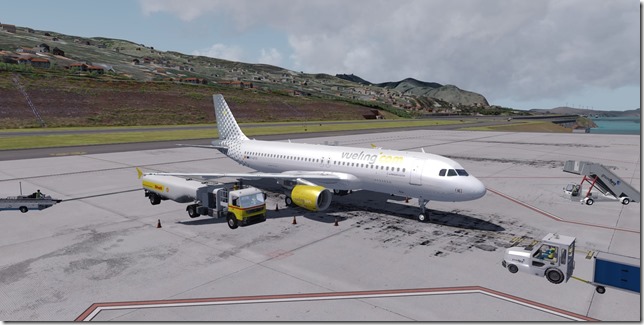 Myself, my first officer and cabin crew typically arrive about an hour before our flight to get the aircraft ready for departure.  Our travelers have now made their way to the airport and are in the process of boarding.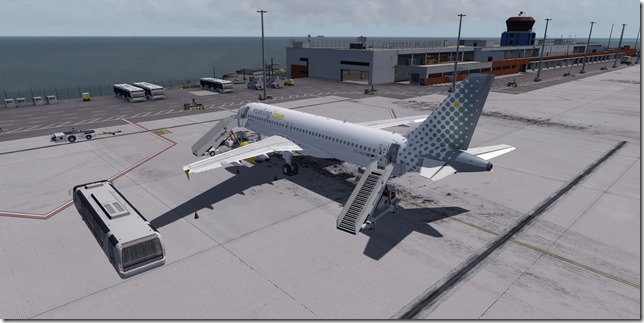 But of course, we can't leave until all bags have been loaded and the ground crew here are doing a great job helping us stick to our scheduled departure.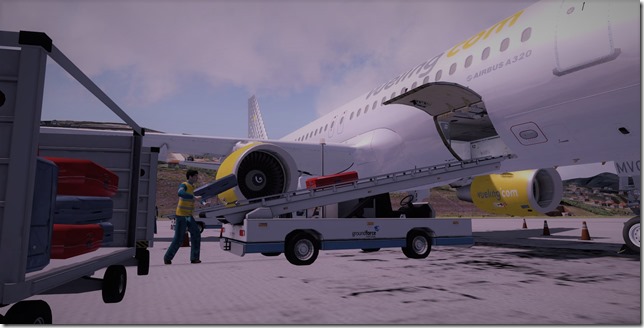 The ground crew attaching the tow bar and push truck to our A320.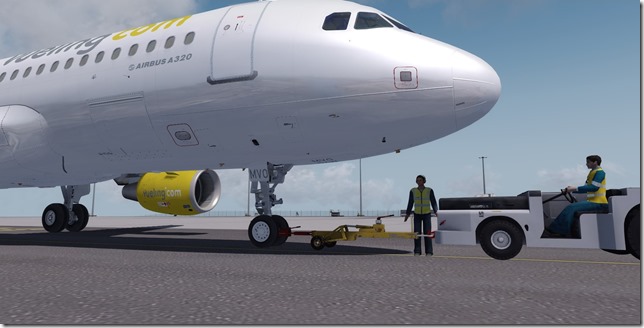 Gear going up and off we go headed towards Spain.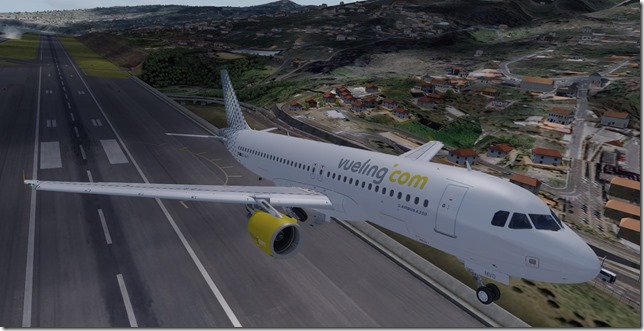 One last look at the island of Madeira.  I'll be back…..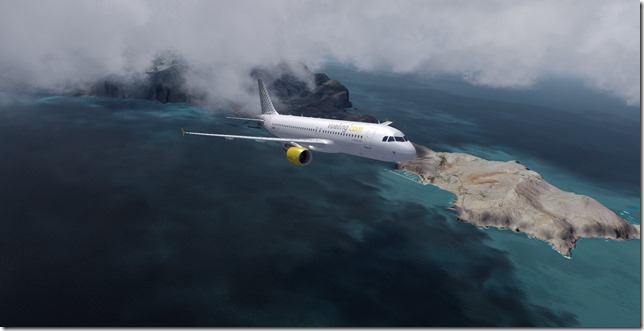 High above the clouds at a cruising altitude of 36,000 feet.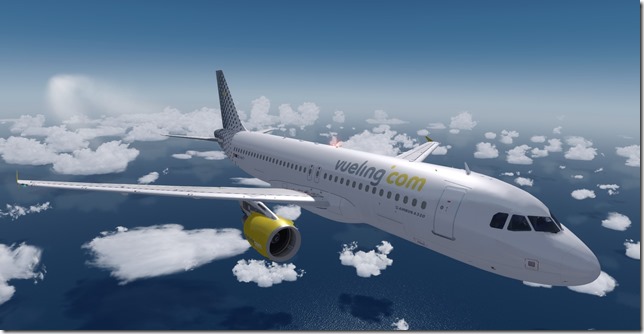 The west coast of Portugal.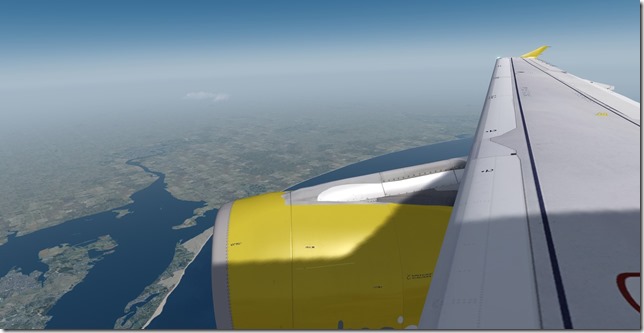 Beginning our descent into Barcelona, Spain.  Our arrival will bring us out over the Balearic Sea.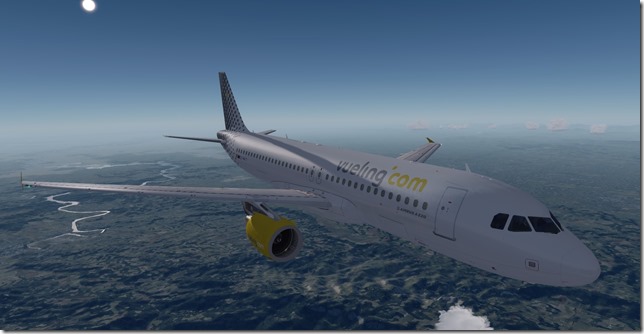 Final approach into Barcelona.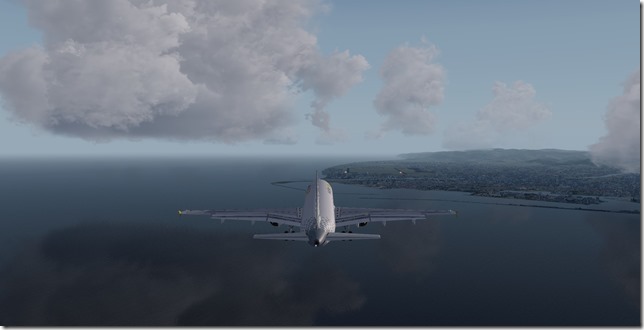 The Spanish coast looks nice.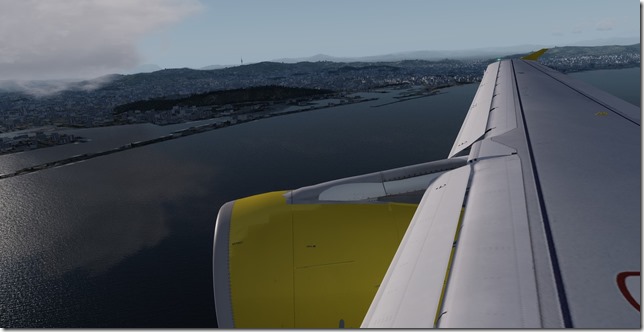 Cleared to land.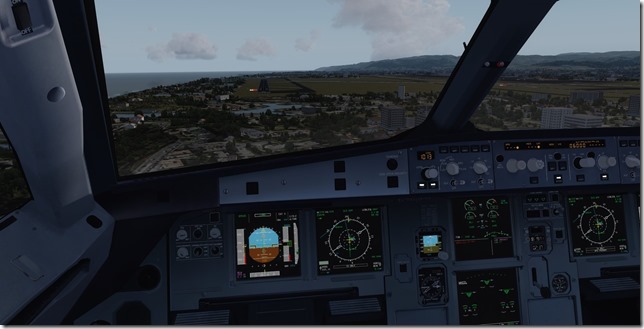 On the ground in Barcelona, Spain.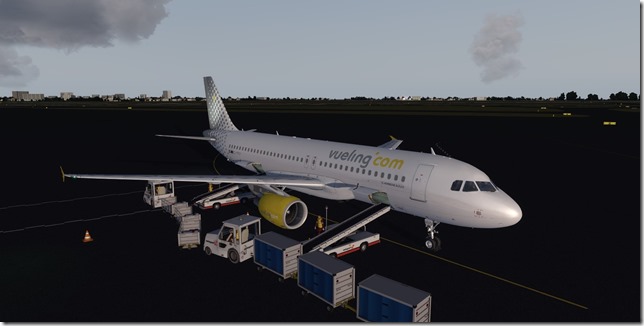 Simulator Specifics
Prepar3d v4.3
ActiveSky Weather Engine
ActiveSky Cloud Art
Envtex & Envshade
FlightSim Labs Airbus A320 (Vueling livery)
Orbx Global Texture
Aerosoft Madeira X Evolution (LMPA)
VATSIM
Route Planning Tools
AivlaSoft PFPX
Navigraph Charts Desktop
FlightAware
FlightRadar24
SkyVector
Google Maps
Another spectacular flight in the books.  Once again we'll resume our faster paced touring schedule and will be departing Barcelona in just three short days and we'll knock out the European portion of the tour in just a few weeks (hopefully).  We'll slow things back down again once we reach Norway.  As always, thank you so much for reading the tour progress articles.
Until next time…
Happy Flying!!!
Jerry
---