WorldFlight 2018 GBS Tour – Leg 15
As we begin our flight for the 15th leg of our 46 leg journey, we'll be achieving something we've yet to do in the over 13,000 miles we've traveled since leaving Sydney just over two months ago. This leg will place us further north (in the northern hemisphere) than we've previously traveled and the next ten legs will all have us traveling in a northerly direction as we continue to explore northwestern Africa, Europe, United Kingdom and Scandinavia.
That's right! We started our little journey (little, who am I kidding?) back on 2 June when we departed a rainy/cloudy Sydney, Australia. Rain and clouds have pretty much been the general theme of this tour. But this is just the luck of the draw really. I'm using a flight sim add-on called ActiveSky which adds real-world weather into the sim and as it happens, each location where I've been flying (at the time I'm completing the flights) has been mostly rain and cloudy conditions. This may improve as very soon we'll be entering Europe which has been experiencing unseasonably hot and dry conditions the past few weeks. But enough about all this….let's get started with this leg of the journey.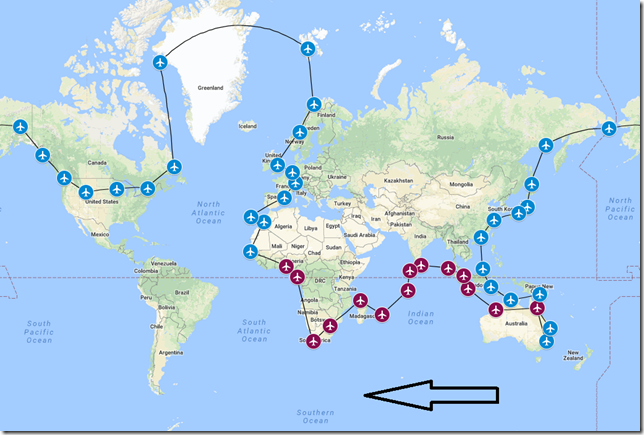 History of City
Ndiass (or Diass) is a village and rural community in the M'bour Department in the Thies Region of Senegal. It is located 40 km southeast of Dakar. Diass has a population of 4,794.
History of Country
Senegal is a country in West Africa and is bordered with Mauritania in the north, Mali to the east and Guinea to the Southeast. The name Senegal means "Our Boat". Senegal covers a land area of almost 76,000 square miles and has an estimated population of about 15 million.
History of Airport
The Blaise Diagne International Airport near the town of Diass, Senegal. It's the primary airport serving the capital city of Dakar. The airport was originally scheduled to open towards the end of 2011, but didn't open for service until December 7, 2017.
History of Airline
Arik Air is a Nigerian airline which began operations in 2006. They have a small, but growing fleet of 14 aircraft. Arik Air has built up a domestic network covering mainly Nigerian and several other Western African destinations.
Flight Briefing
ARA1066
DNMM – GOBD
Planned Fuel – 24,000 lbs
Planned Altitude – 36,000
Distance – 1319nm
Flight Time: 3hr, 30min
Route: POLT1Q POLTO UL433 TYE UA601 YF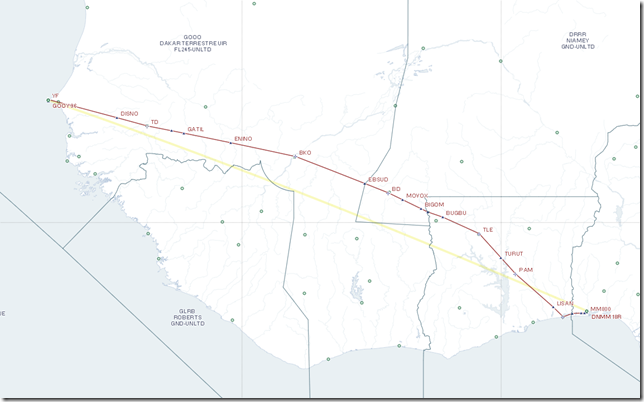 Flight Journal
Our travelers are still talking about the awesome experience they had down in Cape Town with the breaching Great White Sharks, but are equally excited about what all else lies in store for them as our journey continues around the world. Due to the weather conditions, we didn't have a lot of time for photos on the ground so we loaded up in our Arik Air Boeing 737-800 and taxied out to the active runway for departure.
Positive Rate, Gear Up!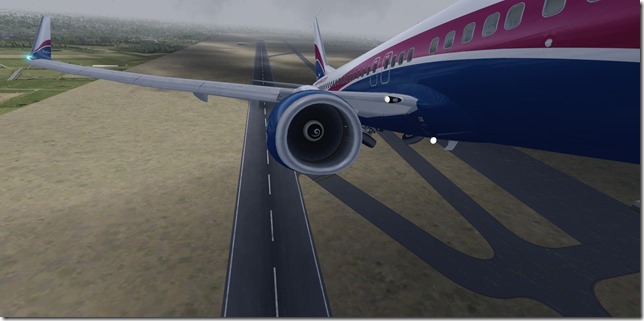 A bit of light chop as we climb out.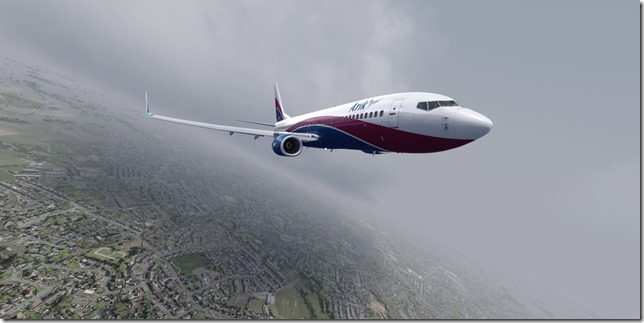 We'll soon be above the clouds.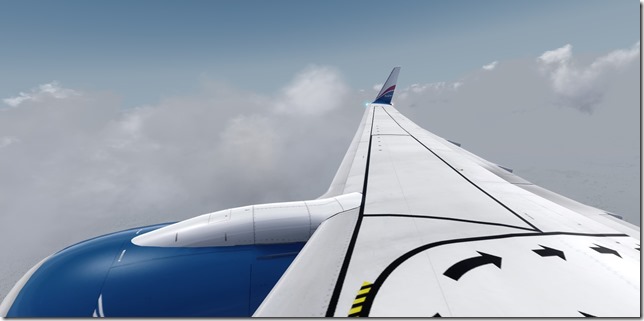 The African coastline is beautiful.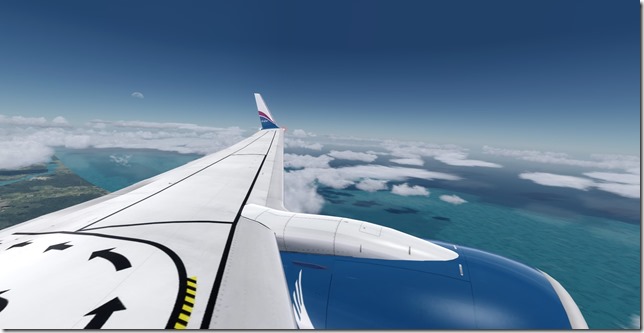 Last look at the coastline for a few hours.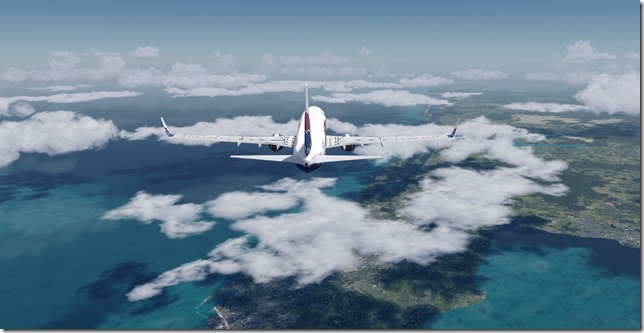 The Moon as we cruise at flight level 360.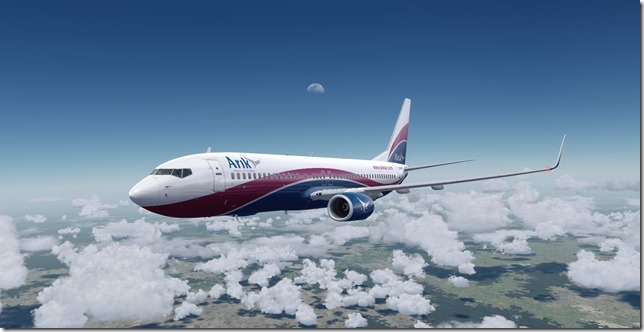 The terrain is slowly changing.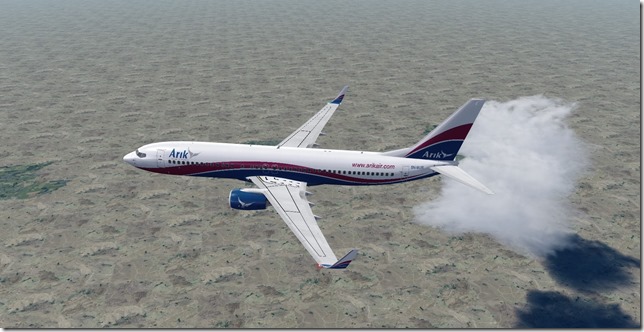 And then changing back as we near the coastline again.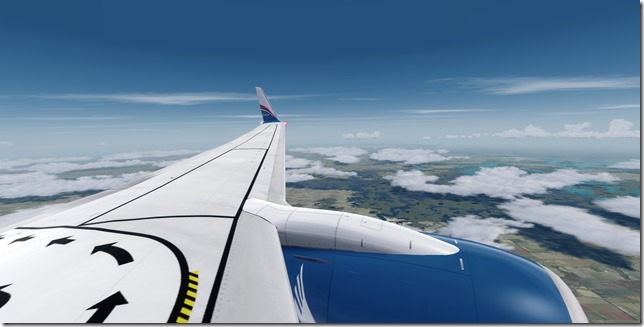 The beautiful lush farm land as we descend below 10,000 feet.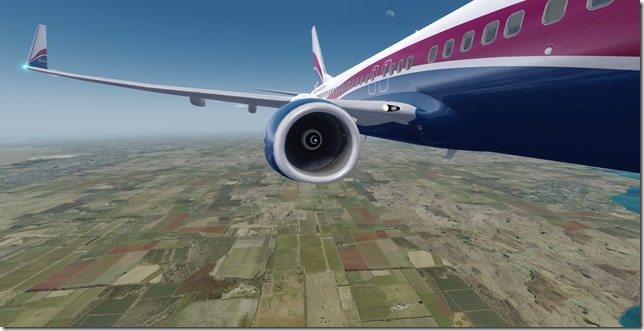 Another strong cross-wind landing.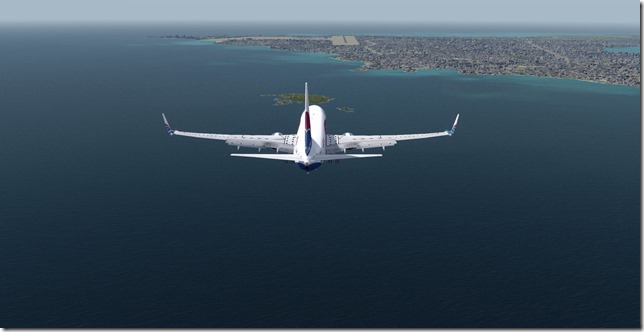 Our fully configured Boeing 738, cleared to land.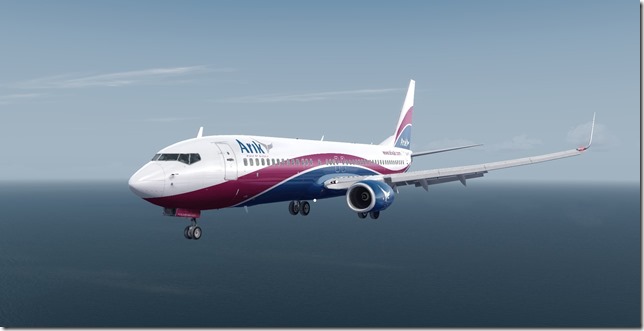 The wing view on final approach.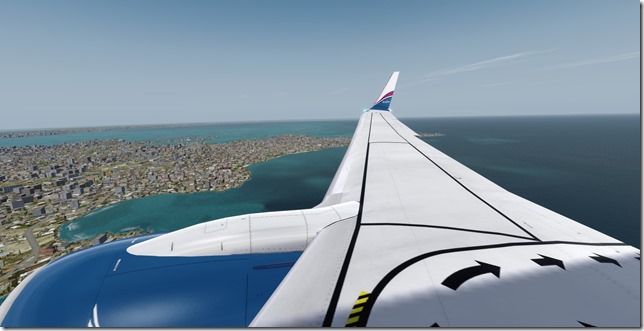 Fighting the strong crosswind. But we have no choice as there are no other runway options.
Safely on the ground, parked and unloading.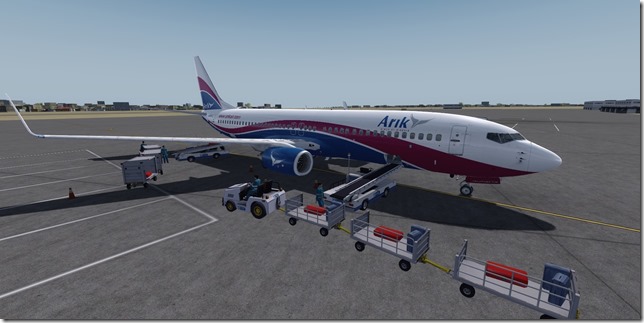 Simulator Specifics
Prepar3d v4.3
ActiveSky Weather Engine
ActiveSky Cloud Art
Envtex & Envshade
PMDG 737-800 (Arik Air livery)
Orbx Global Texture
VATSIM
Route Planning Tools
AivlaSoft PFPX
Navigraph Charts Desktop
FlightAware
FlightRadar24
SkyVector
Google Maps
Our travelers will only stay two days in Senegal before departing for Morocco. Our next flight will once again be in the Boeing 737-800 as we ferry a Royal Air Maroc B738 to Morocco.
Until next time…Happy Flying!
Jerry
---