WorldFlight 2018 GBS Tour – Leg 1
Back in the day, long before the GBS YouTube channel…I would blog about my flight sim adventures.  It's really why I started this blog site over 10 years ago.  As I began planning the WorldFlight 2018 GBS Tour, I spent a few days kicking around whether I would record any of these flights for YouTube, stream on YT and/or Twitch or just blog about them.  I decided to return to my roots of just simply blogging about these adventures.  I know as a civilization we've somewhat moved away from reading about things.  But I figure there may still be a few folks who frequent my blog from years ago that might enjoy this.  So with out further adieu, let's begin.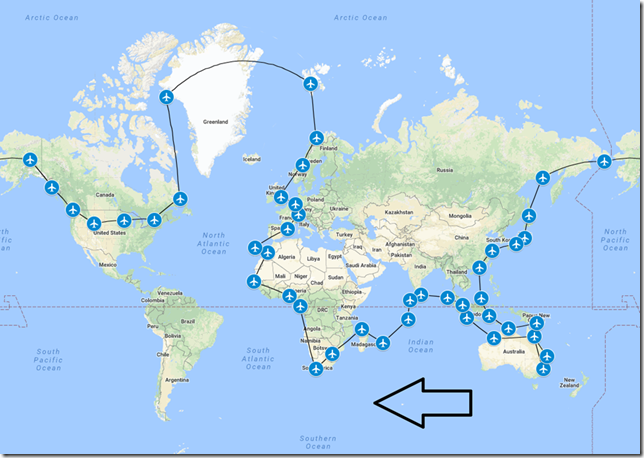 Just to familiarize yourself with our tour map. I'll be posting an updated image of this map as we complete the legs of the tour.
I made my way from Denver, Colorado to Sydney, Australia and allowed myself some time to rest from the jetlag of a long, cross the pacific flight.  I've been hired to operate a world tour, shuttling lucky passengers who have all gathered in Sydney on a luxurious 46 leg, 25+ country world tour.  Money appears to be absolutely no object to these people as they certainly seem to have no cares in the world.  For the sake of sheer adventure, we will be changing aircraft frequently as we make our way around the globe.  Thankfully, as their captain…I'm qualified to operate a variety of Boeing and Airbus aircraft.  I've partnered with many global airlines to utilize their aircraft for the tour.  Funnily enough, they welcome this as we'll be moving aircraft from one airport to the other on their behalf.
Leg 1 of our world tour kicks off on an early, rainy fall morning in Sydney.  Our tour group is a mishmash of all nationalities which is all part of the plan.  Think of it as a self-guided tour group.  Meaning we have passengers who are familiar with our tour stops and they will spend time sharing information with each other along the tour.  Pretty cool concept if you ask me.  Plus what better way to check out all the wonderful aspects of these cities, the food, the nightlife etc.
History of City
Cairns was founded in 1876 and named after William Wellington Cairns, Governor of Queensland from 1875 to 1877. It was formed to serve miners heading for the Hodgkinson River Goldfield. Cairns is located on the east coast of far north Queensland. The city is the 5th most populous in Queensland and ranks 14th overall in Australia. Cairns is a popular tourist destination because of its tropical climate and access to the Great Barrier Reef, which is one of the seven natural wonders of the world.
History of Country
As for Australia, officially named the "Commonwealth of Australia" which is a sovereign country comprising the mainland of the Australian continent, the island of Tasmania and numerous smaller islands. It is the largest country in Oceania and the world's sixth-largest country by total area. Neighboring countries include Papua New Guinea, Indonesia and East Timor. Our tour will actually visit both Indonesia in just a few legs and PNG towards the end as we make our way back to Sydney.
History of Airport
The Cairns airport is an international classification airport. Its early history goes back to 1928 when a pilot named Tom McDonald started flying his de Havilland Gipsy Moth off a sand ridge near the present airport. He could only land and take off between high tides. During one emergency, Tom was forced to take off from beer barrels.
Today, the airport has direct flights to 18 international and 30 domestic destinations and many general aviation flights including a number of helicopter operators. Flights are operated to all major Australian cities and tourist destinations, regional communities in Far North Queensland and a number of international destinations in the Asia-Pac region with connections all over the world.
The Cairns airport has one runway measuring 10,354 feet (3,156 meters) in length. The airport you'll see is a payware add-on airport by Orbx.
History of Airline
Today we are flying for Qantas. Qantas is the flag carrier of Australia and its largest airline by fleet size, international flights and international destinations. It is the third oldest airline in the world, after KLM and Avianca. Qantas was founded in November 1920, it began international passenger flights in May 1935. The name Qantas is actually an acronym for its original name of "Queensland and Northern Territory Aerial Services. Qantas is nicknamed "The Flying Kangaroo".
The aircraft we're flying today is the Boeing 737-800. Qantas currently has 70 of these aircraft in service today which clearly makes it their workhorse aircraft.
The flight today is an actual real-world flight which Qantas operates between Sydney and Cairns in the Boeing 737-800.
Flight Briefing
QFA1066
YSSY – YBCS
Planned Fuel – 11110kg
Planned Altitude – 36,000
Distance – 1062
Flight Time – 2 hrs 55 mins
Route: DEENA7 RIC H76 NBR H105 HACHI Q165 VOMPA Q499 FISHY TOTY4W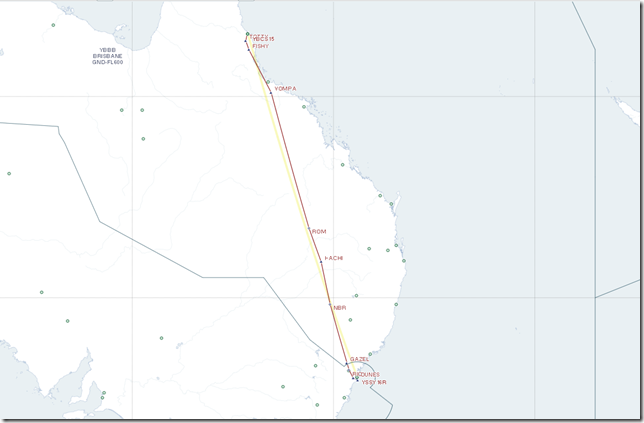 Flight Journal
It's June 2nd, it's early, it's wet and it's cool in Sydney this morning.  The ground crew is busy getting our Boeing 737-800 ready to go.  Our tour group will soon be arriving by bus.  The Sydney airport have granted us permission to board from the tarmac.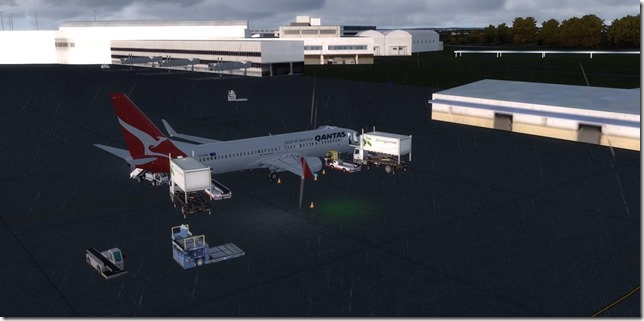 Our excited travelers have arrived and boarded the aircraft.   Along with luggage and extra cargo, we've been granted permission to push, start and taxi to the active runway.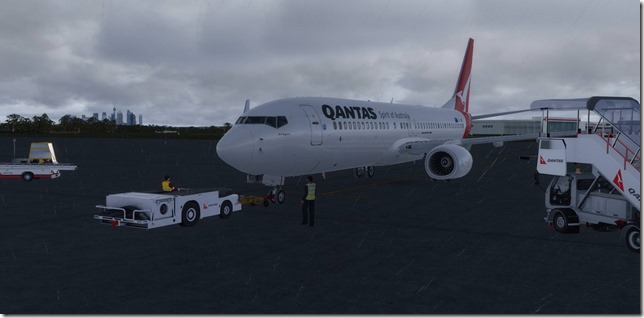 Line up and wait for 16R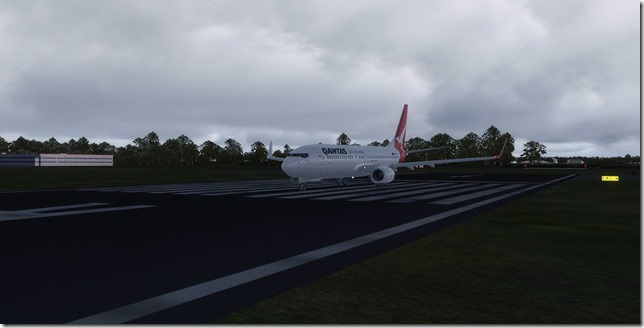 Rotate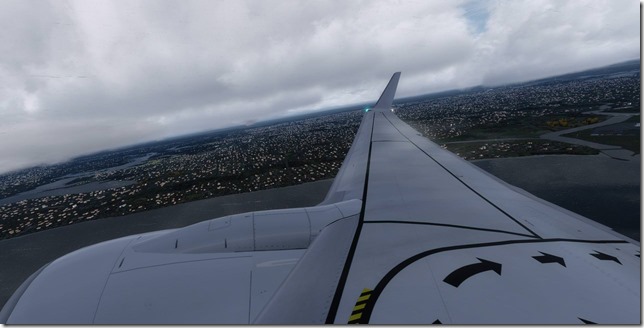 Note the visual immersion effects around the fan and across the wing as we climb out via the DEENA7 STAR.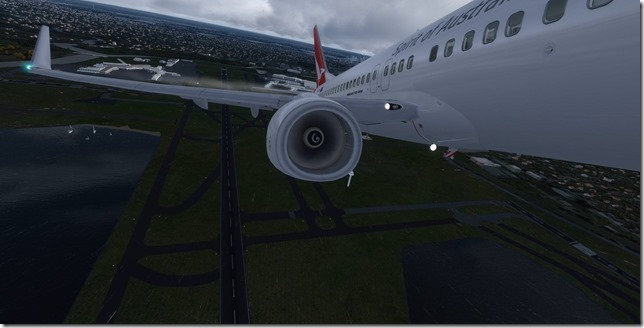 Above the clouds as we climb to FL360 (36,000 feet).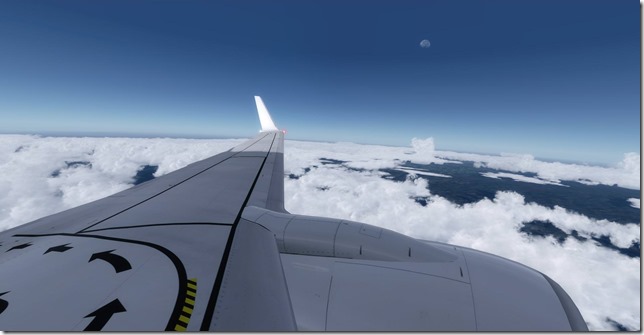 Simply beautiful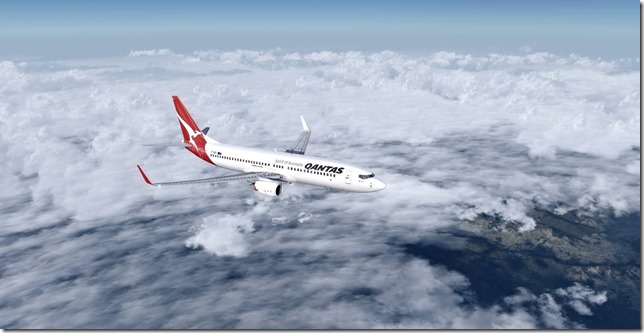 Time to descend via the TOTY4W arrival.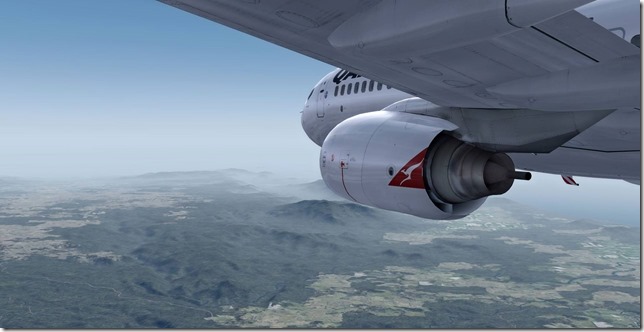 Making our right turn to join the runway 15 approach.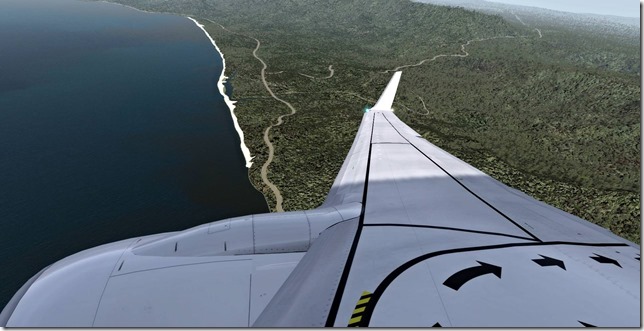 Gear down, flaps 40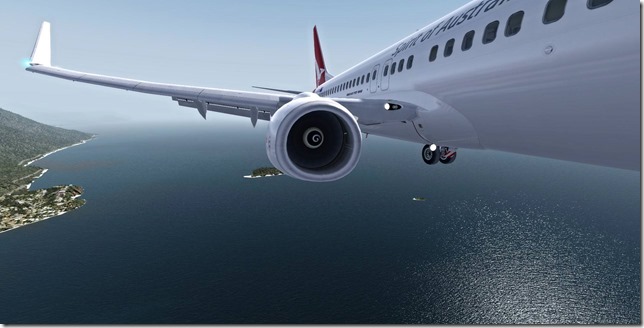 Runway in sight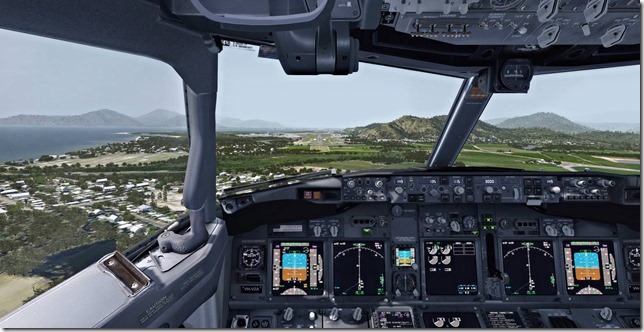 First leg is in the books.  Our tour passengers and their baggage are being offloaded to enjoy their brief say in Cairns, Australia.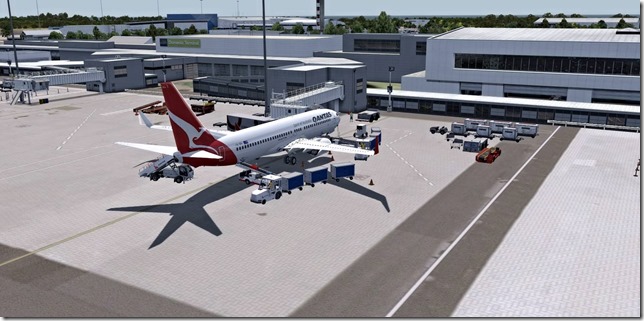 Simulator Specifics
Prepar3d v4.2
ActiveSky Weather Engine
ActiveSky Cloud Art
Envtex & Envshade
PMDG 737-800 (Qantas livery)
Orbx Global Texture
Orbx Australia
Orbx Cairns Airport
VATSIM
Route Planning Tools
AivlaSoft PFPX
Navigraph Charts Desktop
FlightAware
FlightRadar24
SkyVector
Google Maps
Thank you for taking the time to read this report.  Our tourists will spend a little time visiting the sites around Cairns and we'll be departing soon for Broome.
Until next time…
Happy Flying!
Jerry
---