World of Trucks–Part Two
On Friday, I wrote about the World of Trucks (WoT) website and shared some basic background information about the site and provided some details on how you sign up and link EuroTruck Simulator 2 (ETS2) and/or American Truck Simulator (ATS) to your WoT account.  This all needs to take place before you can proceed into the Job Market function of World of Trucks.
At the present time, the Job Market function is only available for ETS2.  However, I read in the SCS Forums that there are plans to introduce the Job Market function for ATS at a later stage in 2016.  So for now, the WoT Job Market is exclusive to ETS2.
When you first click on the Job Market link on the World of Trucks website, you'll see a drop down menu listing a few dozen European cities.  I don't have a screen shot available to show you, but you'll only see the drop down menu one time.  Select the city you wish to operate your first job from.  The city you choose can be the same city where your truck currently resides in ETS2 or it can be any other city.  If your truck is not presently in the city you select, your truck will automagically be transported to that location at a later stage.
Once you select the city, you'll see a listing of job offers available from that city.  You can sort this list by several variables including distance, destination, time etc.  I usually use either distance or destination.  In the example below I'm using distance.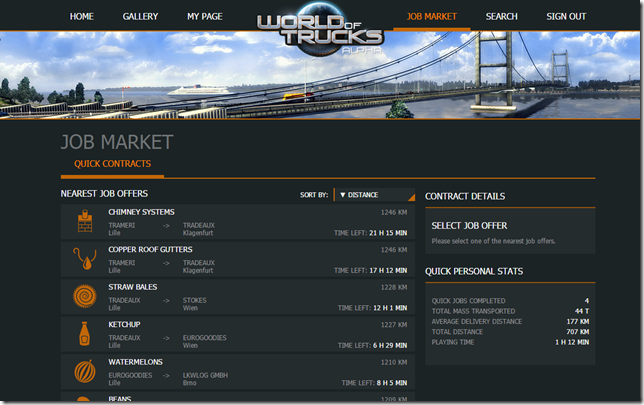 When you find a job that interests you, you click that job (example below is a job transporting chimney systems from Lille, France to Klagenfurt, Austria).  A few things to note.  The "Time Left" indicates the amount of real world time you will have to complete this job.  Meaning, at the time I was browsing for job offers it was approx. 5 AM MST (in real life).  The WoT Job Market is based on real world time and not ETS2 in-game time.  As you know there is a big difference.  Another point of interest is the "Est. Delivery Time".  Again, back to the image below…the Est. Delivery Time showing ~1 H 19 MIN is the approx. amount of time (real world time) it should take me to complete the job.  Once you are ready to accept this job, click the "Sign Contract" button.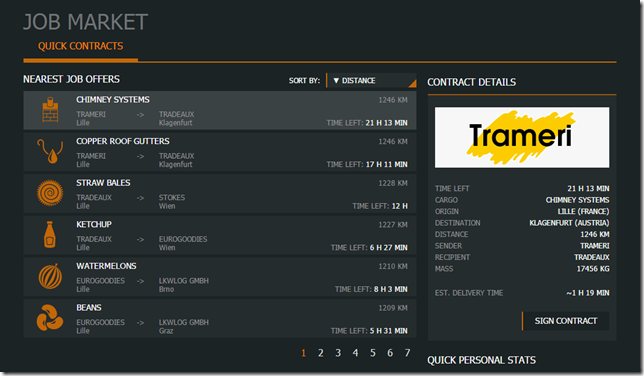 The next screen displayed will be the "Contract Signed" screen and will just provide you the basic information about the load.  Click OK and return to the ETS2 Game application.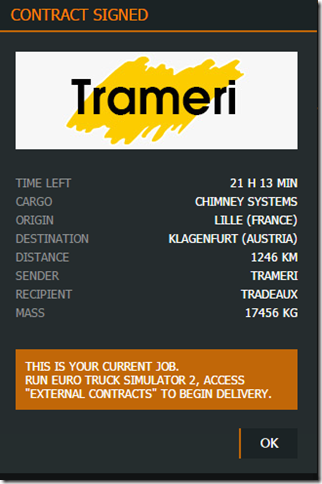 Back inside the game, click on "Job Market".  You'll notice you now have a third option in the "Job Type Selection" screen titled "External Contracts".  Click the External Contracts button.
You'll now be presented with the screen below showing your delivery job.  Once again, take note of the remaining time.  In the example below we have 21 hours and 11 minutes to complete this job.  This is real world time and not in-game time.  Click on "Begin Delivery".  Once you've done this, regardless of the location where your truck was last, it will be automagically teleported to the starting point and already connected to the trailer.
All you now need to do is drive….just remember, these external contract jobs work off of real world time.  In the screenshot below, we've arrived in Klagenfurt and dropped off our trailer.
The deliver was successful (as shown below) and we're close to earning our level 27 promotion.  Want to do another job?  Sure……
So we return to the World of Trucks website and click on Job Market.  WoT now knows our truck is located in Klagenfurt and provides a listing of all jobs from this location.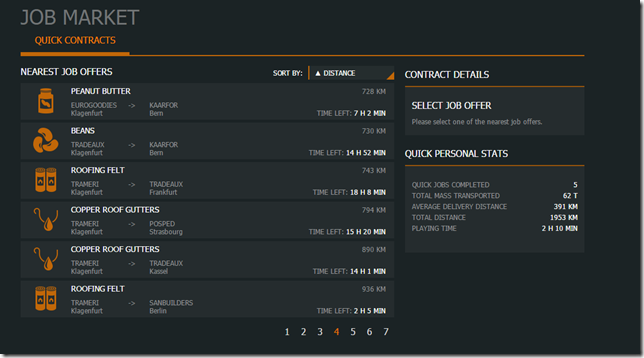 Find a job which interests you, and sign the contract.  This next job we are taking is a load of Copper Roof Gutters to Kassel Germany.  We have 14 hours (real world hours) to complete this job and the estimated time required is one hour.  Click Sign Contract.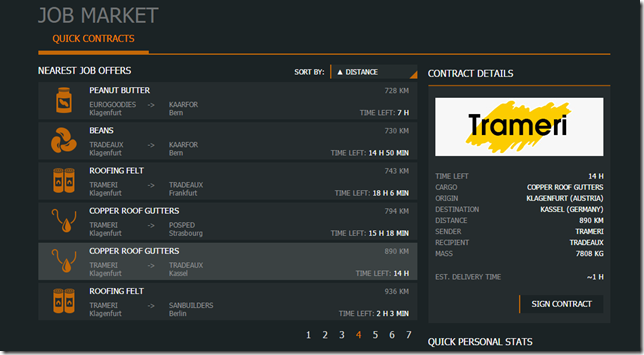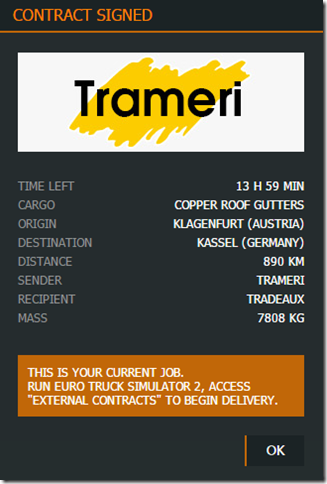 Now return back to the ETS2 game and click on Job Market and once again select External Contracts.  Then click "Begin Delivery".  Assuming your truck was still at the previous drop off location, it will once again be teleported to the next pickup location.  So, if you need to discover the current city you are in, or if you need to repair your truck etc. and want to do this driving around with a trailer attached…then you'll want to do that before you click "Begin Delivery".
Not that you require proof, but I thought I would show you a before and after screen shot to illustrate how the time works with WoT Job Market.  In the screenshot below, we have pulled into a rest area.  We've parked and shut off our engine.  Our in-game time is Thursday 11:03 and we have 13 hours and 41 minutes to complete this job.
We have now completed our rest.  The time is now Thursday, 20:03.  We've rested for our required 9 hours and we still have 13 hours and 40 minutes to complete this job.
We made it to our destination and completed another "Excellent" delivery and earned our level 27 promotion.  This marks the 6th WoT Contact job we've successfully completed.
So, what happens if we decide to perform jobs from the ETS2 Freight Market?  So in our example above, we completed our delivery to Kassel, Germany.  Let's say we opt to just use the ETS2 Freight Market and we select a job to Antwerp, Belgium.  We complete that delivery and we go look at the WoT website.  It will still show our location as Kassel, Germany.  If you want to perform another job from WoT, you can either pickup an ETS2 delivery back to Kassel or just allow WoT to teleport you.
A few questions you might be asking yourself….
Why use the WoT Job Market?  I think as it stands today, this is a valid question.  As you can tell I also don't exclusively use the WoT Job Market.  While the extra step in logging into the WoT website to select a job is minimal effort and I'm personally not that bothered with it making me start in the last city I visited.  I really would rather drive from previous drop point to new pickup point versus being teleported to that location.  But I think the WoT Job Market has some wonderful potential down the road and I suppose having access to it now and using it as frequently (or infrequently) is really up to you.
Are the WoT Job Market offers similar to ETS2 Freight Market?  I haven't done a side-by-side comparison on each and every delivery.  But I have spot checked a few and found the price per mile to be similar.  If you are just starting out and every Euro counts, then you may have some concerns.  But as I presently have over a million Euro in the bank…I'm more about the overall experience than I am on making sure I can pay my bills.
What do I see for the future of the WoT Job Market?  Of course, I am in no way affiliated with SCS Software and I am not in communication with them.  Any knowledge I have is completely public knowledge that I've obtained from public sources.  But I think the potential for the WoT Job Market is HUGE!
Basically, if you are familiar with the concept of a virtual airline in the flight simulation hobby, then the WoT website and specifically the WoT Job Market can be just this.  Yes there are VTC's or Virtual Truck Companies.  But without direct integration into the ETS2 or ATS games, (in my opinion) there is just too much manual work required.  I don't want to have to visit a website and fill out a manual job completion form to track my deliveries.  This would be like the virtual airlines of 15+ years ago with their manual PIREP process.
Because WoT is owned and managed by SCS software, they have the integration into both the ETS2 and ATS game platforms.  So further enhancement will only make this a better experience.  As I mentioned in part 1, some of these future enhancements may allow for setting up VTC's within the WoT environment.  So that would be cool….
But here's an idea I came up with in the shower this morning.  Yes, I do some of my best brainstorming and thinking in the shower.  But let's say you start out in Europe with ETS2.  You pick a job from Bucharest, Romania to Los Angeles, California.  The job is a shipping container.  You select that job through the WoT Job Market and you drive that container from Bucharest to Southampton.  It's delivered at the port of Southampton.  Through the magic of web databases, the shipping container is virtually moved via container ship from Southampton to New York (or Miami or wherever).  Then you start up ATS, pickup the container and drive it to its destination.  This concept could be done via single player or even handled by multiple individuals as part of a VTC.  Sound fun?  I think so too…
In closing, while I'll admit that the WoT Job Market may not be appealing in the current stage, I do encourage you to use it (even just occasionally).  We need to use it so we can show there is an interest.  To quote that famous line from Field of Dreams, "If you build it, He (WE) will come".
Well that is just about all the time I have for today's update.  I think I'll head down to my basement office and do a little trucking now.  But make sure you subscribe to my RSS feed to get all the latest blog postings sent direct to your favorite RSS Reader.  Or just bookmark the website and return often.  You can also follow me on Twitter.  I have also started streaming some of my gaming activities on Twitch.  Drop by if you see I'm streaming.
Until next time…
Happy Trucking!!!
J
---