Way to go Orbx
If you have been involved in the hobby of flight simulation longer than 5 minutes, you know what a grueling process it can be to get all your payware add-ons downloaded and installed into the sim.  Especially in the past 5+ years when Lockheed Martin has released several different versions of their wonderful Prepar3D.  With each version (v1, v2, v3 and now v4) required new installers due to minor or even major updates and changes at the sim level.
I own a lot of payware add-ons for my flight sim addiction.  Yea….it's an addiction and I suppose recognizing it as such is half the battle in dealing with it.  But I have perhaps several thousand dollars (shhh, don't tell the wife) invested in payware add-ons which help to scratch this itch I have for all things flight sim.  But each time a new version of P3D was released, it takes many, many hours to round up all the updated installers, patches etc. etc. etc.  The other dilemma is when a new version of P3D is released, it takes developers some time to work through their suite of add-ons and publish these updates.
Thankfully, much of my flight sim investment portfolio is from Orbx.  These are the wonderful and talented developers who have helped to transform old, out-dated (and often inaccurate) ground base textures, land-class textures and some of the most amazing airport sceneries you will ever see.  If you are a GA or General Aviation enthusiast (flying low and slow) then you probably already know all about the Orbx magic.
Some months ago, Orbx released an update to their FTX Central application which simplifies the process of obtaining both updates of the products you are licensed to use, as well as simplifies the overall install process of these items. Since FTX Central knows who I am (via secure login), it checks the inventory of items I'm licensed to use along with the inventory of titles already installed and in one central location I can select what needs to be installed and what needs to be updated and the process is both quick and painless.  I think we all agree that the less time it takes to tinker with getting software installed, means the more time we have for flying.
The image below shows the Orbx FTX Central application.  Within the FTX Global Range of products the items listed have been updated for P3D v4 and ready to be installed.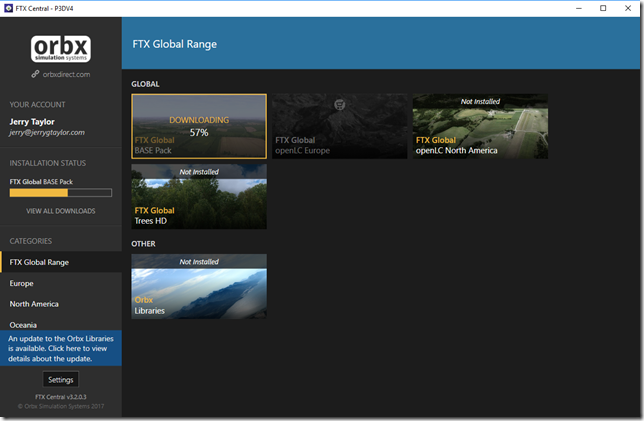 Installing couldn't be easier, just click the "Install Product" button and voila…..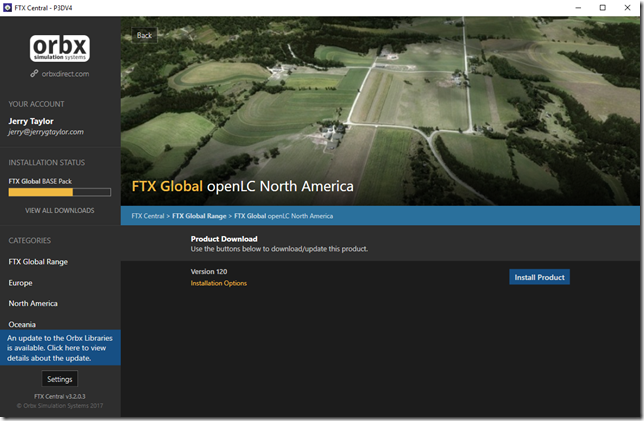 I'm really looking forward to experiencing Prepar3D version 4.0 with the Orbx FTX add-ons.  We finally have a sim which is capable of running all the wonderful eye-candy from so many wonderful and talented developers.  Best of all, from the perspective of Orbx….much of what I own has been purchased many years ago and even though the sim (P3D) has evolved, Orbx has not charged for their updates and this is a truly amazing decision on their part.  But of course, Orbx isn't alone.  But this is a topic for another day!
If you would like to learn more about the add-ons available from Orbx, please visit their website.
Until next time…
Happy Flying
Jerry
---