I want to share with you a solution I found to help with low FPS rates in the X-Plane 11 beta software.  First, remember that X-Plane 11 is still very much in beta.  It will likely be considered beta for some time.  When a software product is considered to be in beta, it means there will be bugs.  There will be issues and most importantly…what you see is NOT what the final product will resemble.  I've spent approx. 2-3 hours in X-Plane 11 beta and initially I was a bit disappointed when I fired up Fraps to check my frame rates or FPS.  Now keep in mind that I've learned a long time ago that FPS is not the end all, be all.  In my P3D setup when flying PMDG 737 NGX my max FPS is about 30 FPS on average.  As you can see from my hardware setup, that I have a fairly beefy machine.  Well…at least it was considered beefy a few years ago.  But as you might can imagine, when I initially launched XP11 and noticed I was getting less than 30 FPS in the default Cessna, I was sort of disappointed.  But then I remembered what beta meant and I also remembered my thoughts on FPS.
However, all was not OK.  I was experiencing some serious lag when flying around KSEA and in the various preview videos I had watched on YouTube I didn't see this same behavior and also worth nothing I didn't hear these YouTubers mention this behavior.  So I started to do a little research to see if others had experienced this and what (if anything) they have done to work around it.  Again, while X-Plane 11 is very much beta…the stuttering I experienced really was a game changer.  I couldn't play like that.  Period!
Thankfully, there is a very active community within the X-Plane world and everyone is very helpful.  A quick search and read through gave me something to try, and once I applied this little fix my FPS increased just slightly…but more importantly the stuttering was gone.  As I've said before, I really don't care what FPS number is displayed…as long as I have a smooth visual experience….I'm happy.
Here's the info regarding the fix.  From what I can tell this only applies to Nvidia GPU's.  But basically the fix is to turn off "Threaded Optimization" in the Nvidia control panel.  When I first launched my Nvidia Control Panel my setting was set to "Auto".  I switched it to "Off" as recommended in this Avsim thread.   See image below….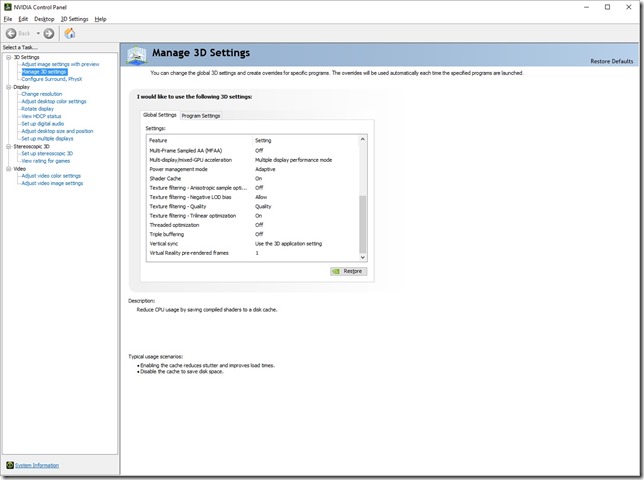 Again, just to reiterate.  X-Plane 11 is in beta.  There are bugs, there will be many more bugs found and perhaps most important to remember is X-Plane 11 hasn't been fully optimized.  Additionally, this low FPS Fix is not going to give you double your FPS.  I was getting (on average) of 25-30 FPS (but with bad stuttering) before I applied the fix and afterwards my FPS has increased to 30-35 FPS with NO STUTTERING!  I'm a happy camper.
I hope this helps you.  Until next time….
Happy Flying!!!
Jerry