It's sometimes funny how articles are born here on my blog site. I began the framework to a "My Top 10 Payware Airport Scenery" article which more or less started off with a question as to why we purchase payware airport scenery and showing examples. I realized this would become a seriously long article, so I decided to split them into two different writings. So let's get the why out of the way first, then in a few days I'll release my top 10 list.
Why purchase payware airport scenery?
If you are new to the hobby of flight simulation or perhaps a complete stranger to it, you might wonder why we spend additional money on airport scenery. After all, this is both a valid question and a very good question.
Unlike other simulation based games in my library (FS19, ATS, ETS2) Flight Sim (and this includes FSX, FSX: Steam Edition, All versions of Prepar3D and even XPlane) does include the entire map of the world. As is the case with American Truck Simulator where we either have to wait for SCS to release a new US state DLC or rely on a mod developer, Flight Sim includes an open world to explore. This means that out-of-the-box, you can start up at just about any default airport in the world and fly to just about any other default airport in the world. Most default airports will include all runways, taxiways and buildings which exist in real life. Some of the buildings may even very closely resemble their real-life counterparts. However, as is the case with FSX/P3D…these airports (including runways, taxiways and terminal buildings) are seriously outdated. Let me give you an example of just how outdated some are.
Example – Chicago O Hare International Airport – KORD
As you can see from the chart below which is dated 2006 versus the second image which is more recent, a lot has changed. By default, even in Prepar3D v4, KORD is outdated by over 10 years.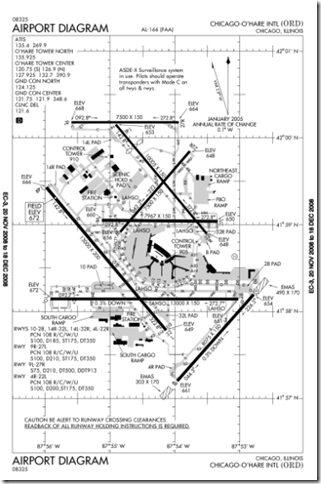 As you can see, Chicago O Hare looks much, much different with some runways removed and others added.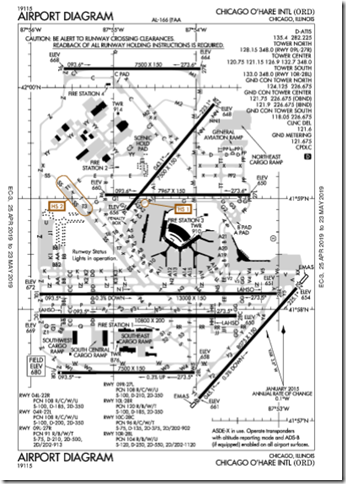 But by default, if you fly into KORD you'll be landing on runways which may not exist today and this truly confuses things when you are flying online with other pilots and ATC.
To overcome these obstacles, many of us will purchase add-on airport scenery which will update the airport based on what it looked like at the time the add-on was developed. Of course, even these add-on airports can become outdated rather quickly as KORD is once again due to make changes in 2020. So as you can see, it's almost a never ending struggle to stay 100% current.
Unfortunately, as is the case with Chicago O Hare…the FSX/P3D community finds itself in a holding pattern awaiting an updated version of this awesome airport. The best current add-on version available today for KORD is based on what the airport looked like in 2011 timeframe.
Maximum Immersion and Eye-Candy
While the main reason to update might be to ensure airport accuracy, another reason is what I refer to as maximum immersion and eye-candy. Denver International Airport (KDEN) by default is modeled based on what the airport looked like around 2006. It's recognizable in FSX/P3D by its iconic tent looking main terminal. But DIA has undergone some radical changes since it first opened in 1995, replacing the old Stapleton Airport.
Is the image below real or a screenshot from P3D? Hard to tell the difference huh? It's a screenshot compliments of FlightBeam who developed the most recent version of my home airport. This image is from the vantage point of just north of terminal A. Overlooking the international arrival/departure gates used by Lufthansa and British Airways. You can see the iconic tent roof structure over the main Jeppesen Terminal building and directly in front of that the newly opened Westin Denver International Airport Hotel. Maximum immersion – CHECK! Eye-Candy – CHECK!
Photo Credit: FlightBeam KDEN
More than just the airport
Sometimes payware airports come with a little and some with a lot of additional features other than just a detailed airport. As is the case with the brand new Las Vegas McCarran Airport (KLAS) which was recently released by FlyTampa. In this example, not only do we get a highly detailed representation of the Las Vegas airport, but we also get bonus bling of the Vegas Strip. I personally can't wait to do a nighttime approach into KLAS with this beautiful scenery. Can you say "Viva Las Vegas"?
Photo Credit: FlyTampa KLAS
Photo Credit: FlyTampa KLAS
Photo Credit: FlyTampa KLAS
In Summary
I recently read a Facebook comment from someone who said something along the lines of "This isn't airport scenery simulator" when commenting on a post regarding payware scenery. The great thing about this hobby is there's literally something for everyone. One can simply purchase the flight simulator platform of their choosing and have a ton of fun flying around in the vanilla or default state. Or you can enhance the immersion and take it to a completely different level. The flight sim world is big enough and welcoming enough for all types of individuals. Enjoy the hobby on your terms.
Until next time…
Thank you….Thank you very much (read this in an Elvis accent).
Jerry