RusMap–My First Impressions
I realize the RusMap map mod for Euro Truck Simulator 2 is far from new.  As you probably know, this map mod includes 30 cities in Russia and 12 cities in Belarus.  The most current version of RusMap is version 1.6.1 which was released on or about 21 February 2016.  As the blog title suggests, this is my first experience with this map mod.
My overall experience with ETS2 really only dates back to early 2015.  I picked up both expansion DLC packs including Going North and Going East, then sometime after I tried the Promods map mod which opened up a huge chunk of Europe to me and really felt that was enough.  With Promods I've explored as far North as Iceland and down towards Romania, then east into Poland.  But I've also kept my eye on the RusMap project and after updating Promods to the latest version I decided it was a good time to look at RusMap.
With regards to map mods available for ETS2, there are several.  The ones I keep hearing the most about are Promods, RusMap and TruckSim Map.  From very early research, I kept hearing that Promods was the best, had the best support base and was the most actively developed.  So that was what I chose as my first map mod.  From further research I've learned that Promods and TruckSim Map will not work together. But RusMap will work with either Promods or TruckSim Map.  So just remember, RusMap will work with either…but PM and TSM don't work together.
Moving along and getting us back on track…
The RusMap mod for ETS2 connects the Belarus and Russian cities with the Going East DLC at the town of Brest.  There are 30 cities in Russia and 12 cities in Belarus to explore.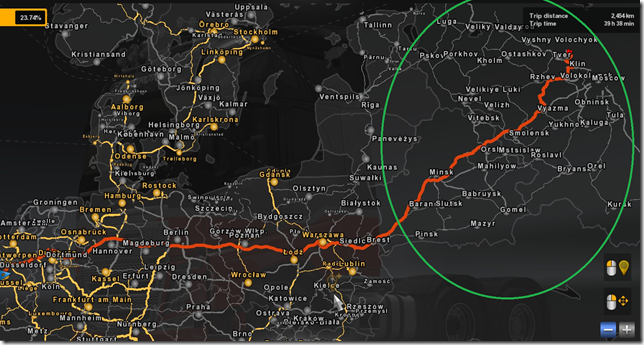 The following images were captured during a recent drive through Belarus and Russia.  I've found no technical issues or glitches.  I've personally never visited this part of the world, but I'm certainly pleased with the quality and level of detail I'm seeing with the RusMap mod.
Besides trees, fields, houses and other buildings…the RusMap mod appears to have more "people" activity than I've noticed with the base ETS2 game or with Promods.  I like this.  It gives more eye candy to look at while we drive.
Active construction zones with working equipment and working crews.
The developers even included beautiful Russian architecture to marvel at while we drive by.
All in all I'm really pleased with the RusMap mod and I highly recommend it to anyone wanting to expand their ETS2 experience.  As I've pointed out, RusMap also works well alongside the Promods ETS2 map system.  I hope you enjoy it as much as I do.
Until next time…
Happy Trucking!!!
Jerry
---