QualityWings Boeing 787 Dreamliner
Ladies, Gentlemen and Children of all ages who absolutely love everything avgeek, the wait is over.  Yes, QualityWings released their Prepar3d v4 version of the Boeing 787 Dreamliner on Wednesday.  Earlier in the week, news broke that QW had lifted the NDA (non-disclosure agreement) with their beta test team and images, videos and discussions began appearing all over the interwebz.  The assumption was the QW787 release was imminent.
It's been a long and winding road
According to my blog site search engine, the first mention of the QW 787 Dreamliner in any of my writings was back on 22 June 2017.   Later in 2017 from a hotel room in Orlando, I followed up with my comments regarding the fact QW opted to release the 787 for FSX (boxed) and FSX: Steam Edition before any version of Prepar3D.  This was somewhat of a head scratcher for me especially since P3D v4 had been out for about 5 months at this point and other aircraft developers (PMDG, A2A and others) had managed to release their aircraft which were originally developed for FSX and older versions of P3D with P3D v4 installers.  But oh well…we would just have to be patient.
The Un-official Race
I'll admit that over the years I've been slightly critical of QualityWings.  I'm not the only one that has wondered "what the heck are these guys thinking" when it comes to the decisions they've made.  I often speculated just how long it would take them to release their 787 for P3D v4 and even felt it would be well after Aerosoft released their Airbus A318/A319 & A320/A321 product for v4.  I guess it's a good thing that I didn't actually wager any money against this bet, as I would have lost.  The guys at QualityWings have beat Aerosoft by country mile.  As I recently discussed, the Aerosoft busses won't be released until 26 June.  So congratulations QW.
Not a First Impressions Article
I'm going to wait a few days before I write my official "first impressions" piece.  I feel I need some more time in the aircraft before I'm able to write a fair and balanced piece.  But I'll certainly share two screenshots and a bit of commentary from my inaugural flight last evening.  I plan to spend some of this upcoming long, holiday weekend in the Dreamliner and will have a much better sense of just how good (or bad) this aircraft is.  But I can tell you this much.  My initial impression of this is QualityWings have lived up to using the word "Quality" in their brand.  I'm impressed.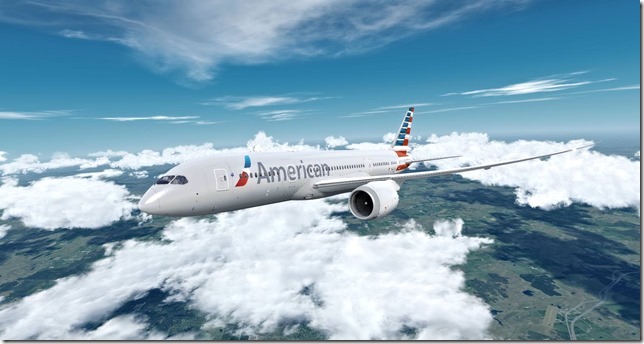 Cruising at FL360 enroute from KDFW to KDEN.  As I've discussed before, I really don't have the time to fly a lot of long-haul flights.  So while the Dreamliner truly was designed for long-haul and even ultra long-haul flights, most of my use will most likely be fictional flights of no more than 2-3 hours in length.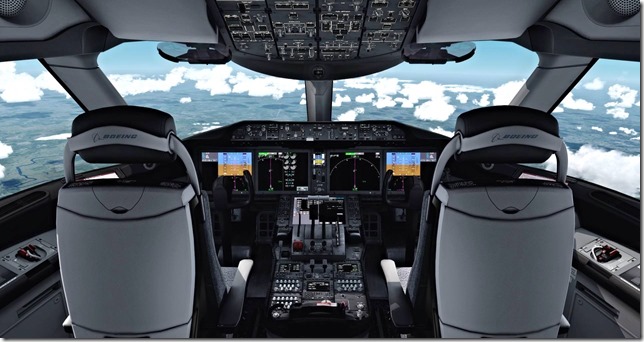 The "Sporty" style of the B787 Flight Deck is impressive.  While this aircraft shouldn't be compared to a study level PMDG aircraft, it truly isn't bad.  There's still enough work that needs to be done to ready this aircraft for flight to keep me 100% interested.  I'm fairly confident, the QW 787 Dreamliner will get used often.
One Small Issue
Ok…well, perhaps it really isn't that small.  Especially considering I did experience a CTD (crash to desktop) on my inaugural flight.  One flight, one CTD…I guess one could say it might be a bigger issue.  But after reaching cruise altitude, I was messing about with the weather radar features and while doing so experienced the CTD.  This was the first CTD I've ever experienced in P3D v4 and certainly the first CTD on the new Beast v5 gaming machine.  But I see absolutely no reason to panic.  I'm fairly certain this product will be like most others….there will be a few quirks that will get resolved in an update patch/fix soon.
The good news, I run auto-save via FSUIPC.  FSUIPC performs an auto-save of my flight, complete with all aircraft configuration settings every 15 minutes.  I was able to re-launch P3D and resume my flight (just like nothing ever happened) from the latest save.
OK…well I must get to work now.  I quickly wrote this piece while easing into my Thursday morning in the office.  The coffee is gone and I must go find more or today will be a long and difficult day.
Until next time….I'll be dreaming of my next Dreamliner flight.
Jerry
---