FS15 Mod Review–Oklahoma Map
As discussed just a few days ago, I started a new map (new to me) called Oklahoma.  I have been looking for some time for a map which would fit a farm based in Eastern Colorado and my search results have never been fruitful.  While the Oklahoma map is based in Oklahoma, the map (including soil textures) could also be located in far eastern Colorado in what is known as the Five State Region.  This region is one of the largest producers of feed grains and livestock in the United States.  In addition to the typical crops of corn, barley and wheat, this area also produces large amounts of alfalfa and sorghum.  This is exactly how I plan to run this map.
Please note:  All photographs are credit to the mod author and obtained directly from the American Eagles Modding website.
The Map
Again, this is a 4x map with large fields (51 fields in total) with the largest field at 500+ acres and the smallest about 7 acres.  For those of you who are not fans of forestry, trains, missions and don't want to earn fast money with a BGA, then this map may appeal to you.  The Oklahoma map is about farming and ranching, as a result you'll really need some massive equipment to keep (and help) to stay on top of it all.  While this map would be a great map for multiplayer, it can also be farmed solo with the aid of CoursePlay.   I plan to farm it solo and will rely (not heavily) on CoursePlay to assist me.  After all, a farm this size would employ many employees.
It appears the Oklahoma map was released several months ago and has been updated to version 2.  I typically try to stay away from newly released version 1.x maps as these will frequently have bugs and when new versions are released to address these bugs it may require a full restart of the map play.  While I've done this in the past, it certainly isn't the desired action.
Starting Equipment
I've played many large 4x maps in the past and some start you out with either a large amount of equipment or as in the case of Graceland, a large sum of money.  The Oklahoma map is slightly different as you take ownership of the main farm and own three fields (Fields 1, 2 and 3) which have already been planted and are ready for harvest.  The starting equipment you'll find waiting for you are two Case IH Axial-Flow 9230 Combines complete with large grain and corn headers.  One MAN TGS 18.440 Truck with the Krampe SB 30/60 Tipper.  Finally you have one white pickup (Piqup) to help you move around the large farm.
No, I didn't leave anything out.  As you are starting out you don't own any tractors, plows, sowing machines, balers, forage wagons etc.  The idea is you'll need to get your crops harvested and sold and then begin adding additional equipment as needed.  The rental mod may prove to be your best asset as you begin building your farming empire.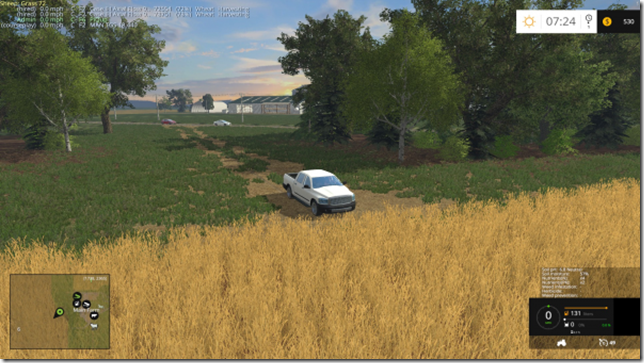 Map Strategy
There are many ways to tackle the initial strategy for making a living on a new map.  In most cases the need to purchase new equipment, upgrade existing equipment and purchase additional fields are high on the priority list.  Maps which include forestry, missions or a BGA can certainly aid in the fast-track process.  However, as previously stated the Oklahoma map offer none of these.  I view this as a positive change from the standard maps.  As I would frequently use the BGA to quickly build up my cash-on-hand, not having the BGA is making me re-think my strategy.
All 51 fields have been planted and are ready to harvest when you start a new game.  As a result, I've turned off plant withering and also I'm not using soilmod with this map at this time.  My initial strategy has been to harvest crops from my three owned fields (wheat, sunflower and corn).    With the wheat crop, I set the harvester to leave the swath and after selling the first few loads of wheat I had enough cash to rent a tractor and large forage wagon.  I picked up enough straw to fill the mixing station and managed to place into storage over 500,000 liters.  The rest I sold to help generate more cash-on-hand for rental purposes.  Next I proceeded to rent a large John Deere 9630, cultivator and Air-Seeder so I could replant the harvested fields.
With regards to the ready to harvest fields which I don't currently own.  Most maps I've played which featured already planted crops in un-owned fields, I've just left alone until such time I could afford them.  With this map, at least in the early stages I'm going to harvest the crops on behalf of the bank with the intention of purchasing afterwards.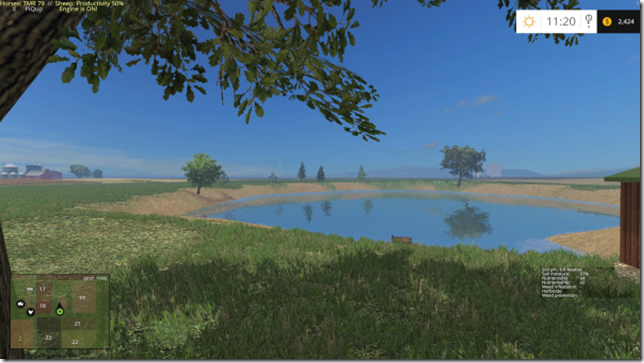 Livestock, Livestock, Livestock
The Oklahoma map is really geared towards raising livestock including cows, sheep, pigs, chickens and horses.  At the start of game play, you already own a few head of each and all animal types have the necessary feed items available to them.  Of course, this won't last long so it will be important to get started quickly stockpiling straw, grass, chaff (for silage) and get the mixing station processing TMR.  To get a jump start, I rented the necessary equipment.  I picked up the straw from the wheat harvest using the large forage wagon.  I rented the Krone Big X and the EasyCollect header and managed to fill both silage bunkers to 100% (still had corn left in the field) and then rented mowing equipment and managed to collect approx. 250,000 liters of grass.  Again, I plan to run a large amount of livestock on this farm and slowly getting everything in place.
Oklahoma also offers fattening of animals including chickens, calves, pigs and horses.  The last map I played which offered fattening of animals seemed to have an issue with the way the fattening and selling process worked.  Basically when you made your initial purchase of animals (example 10 calves), then once these were fattened and ready for slaughter you still had the original 10 animals.  It appears with the Oklahoma map, that once they reach slaughter weight and you sell the animal, then the total animal count is reduced.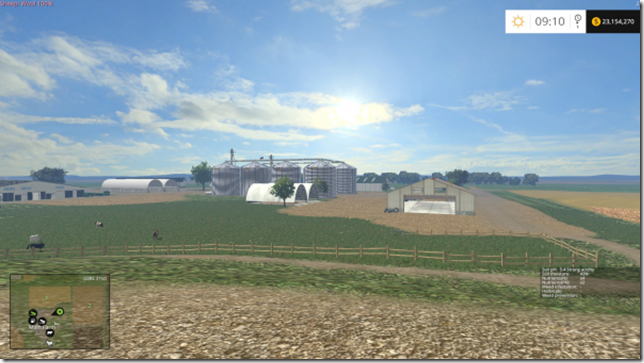 Manual Operations
Most maps I've typically played have offered built in augers for loading stored materials such as grass, straw, silage etc.  Oklahoma offers none of that.  It's all done manually with either a portable auger or front end loader.  I've found a new portable auger which I'll review soon.  I'm sure it will come in handy on this map.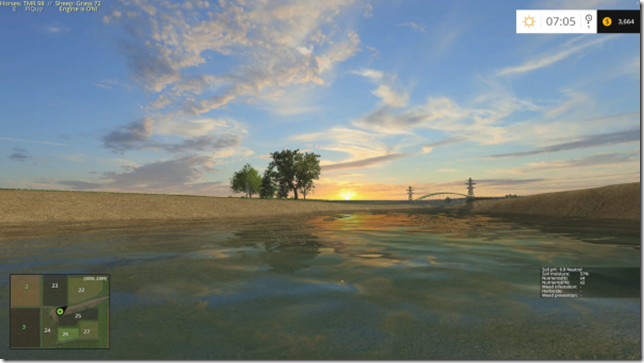 Summary
I've spent about 10-12 hours or so on the Oklahoma map.  I really enjoy it.  I don't tend to farm multiple maps simultaneously, so I figure Oklahoma should keep me busy (and entertained) until Farming Simulator 17 releases.  While I don't plan to document each and every day on Oklahoma, I will occasionally provide updates and details on how I'm playing this map. If you are looking for a challenge, give Oklahoma a look.  Good luck!
Until next time…
Happy Farming!!!
Jerry
---