FS Mod Review–48' Dakota Spread Axle Trailer
It's been a while since I've released a mod review for Farming Simulator 15.  I had just about decided not to release any additional FS15 mod reviews as we are less than two months from the release of FS17.  But I also believe many will continue to use FS15 for some time and may benefit from these reviews.  As a general rule, I really only write mod reviews for mods which I use.  But this works towards your advantage as you can be certain the mod truly works.  As I've started farming another large 4x map, I have several new pieces of equipment queued up to test and review in the coming weeks.  I think you'll like what I have planned.  Finally….YES, I will be reviewing FS17 mods as they become available and as I need them in my farming efforts.  As with all my mods, you can find my complete list here.
There are many reasons why we choose to use mods in our games.  While Giants has done an outstanding job in providing a variety of default equipment in Farming Simulator 15, a lot of this equipment has more of a European look/feel to it.  If you are striving for an "As Real As It Gets" experience and you are also farming on a map set in the USA then this newly discovered 48' Dakota Spread Axle trailer might just be the thing you are looking for.
I've started farming on a brand new (new to me) 4x map called Oklahoma.  I know….I know….for anyone who knows me, you know I'm a native Texan living in Colorado.  As most native Texans will agree…Oklahoma and Texas have a rivalry that goes back many, many years.   Anyway, I was looking for a new map….I wanted a larger map and one that was set in the USA.  While the Oklahoma map is situated in the state of Oklahoma, it could also be just about anywhere else (including eastern Colorado).  I will release an in-depth review of the Oklahoma map for FS15 in the next few days.
As you can see from the screenshot below, the 48' Dakota sells for $45,750 (rental price of $152 per hour) and carries a maintenance charge of $75 per day.  The capacity of the trailer is 47,572 liters.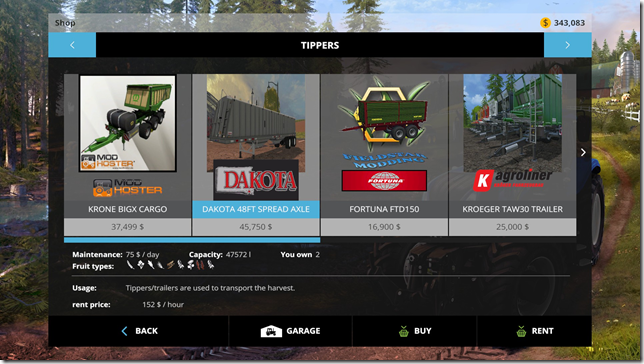 These trailers are CoursePlay friendly and work well when using the auger wagon or hauling grain to market.  They might be a tad long when using to empty a combine directly as the turning radius is quite large.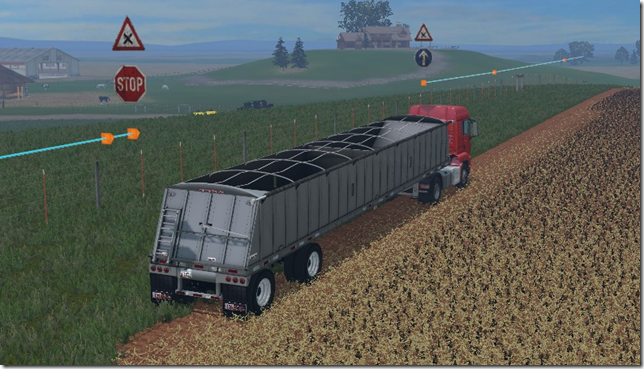 They attach well to the default MAN truck.  However, I noticed an issue when testing with the default Tatra Phoenix.  I've tested with other trucks including the International Transtar II (shown below) which I use in my farming operations on the Oklahoma map..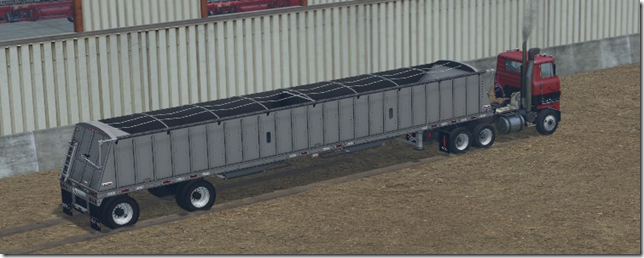 The trailer has a few interesting pieces of eye-candy including a folding ladder, top cover and even Oklahoma license plate.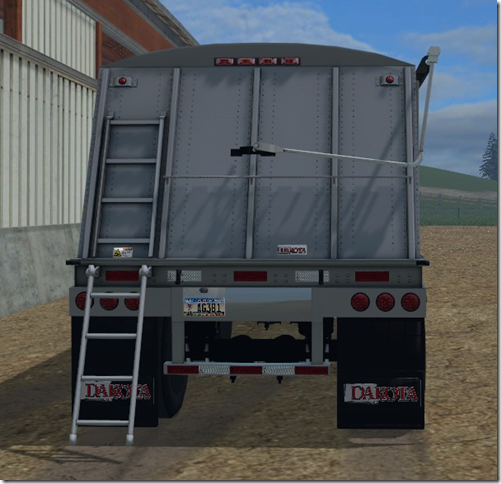 How can I get this mod?
The 48' Dakota Spread Axle Trailer mod is available here.  I have personally downloaded, installed and tested this mod.  The mod works and I use it on all my maps.
How do I install this mod?
Please see my blog post "How to Install Mods in Farming Simulator 15" for complete instructions.
Until next time…
Happy Hauling!!!
Jerry
---