WorldFlight 2018 GBS Tour – Leg 27
Hello to my wonderful and loyal readers.  We're back in the USA…well sort of.  I'm writing this update before we actually left for vacation, but as my dad would say "The Good Lord willing and the creek don't rise", we should be back home, back to work and trying to figure out how to sleep through the night without waking up at 2 AM as you are reading this.  It typically doesn't take me very long to get back on my schedule.  The first couple of days are a bit brutal and coffee, good strong coffee is usually the thing that keeps me going then once home I fight the urge to crash at 7 PM.  After 2-3 days I'm back to my routines and all is once again right with the world.
When I began this tour waaaaaaayyyy back in early June, I really had no idea when it would wrap.  I know I told you all that if I could make it wrap up around the time of the actual WorldFlight event I would.  But with 46 flights, 36,000 miles and no telling how many hours…the target was a moving one at best.  However, now that we're past the half-way mark and now that I've actually managed to build up a queue of almost 5 weeks of flights, I have a pretty good idea when I can say this tour will end.
The actual WorldFlight 2018 begins on 3 November and wraps up a week later on 10 November.  Now if I continue to release two flight updates each week, it means I'll conclude my tour on 17 November (a week after the actual tour finishes).  So my plan is simple.  Once I get back from vacation, get over my jetlag and get caught up…I'll increase my blog update schedule so that the final flight of this tour ends on 10 November (just as the official event).  So basically, as you are reading this update…we'll wrap all this up in just two months.  Now let's get flying….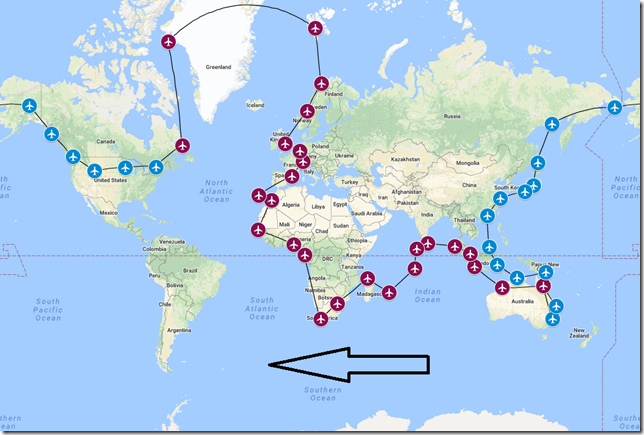 History of City
Ottawa is the capital city of Canada and stands on the south bank of the Ottawa River in the eastern portion of southern Ontario. Founded in 1826 as Bytown and incorporated as Ottawa in 1855, the city has evolved into the political center of Canada with a population of just over 964,000 and a metropolitan population of 1.3 million, Ottawa is the 4th largest city in Canada.
History of Country
Canada is a country located in the northern part of North America. Canada is comprised of ten provinces and three territories which extend from the Atlantic to the Pacific and northward into the Arctic Ocean, covering 3.85 million square miles, making it the world's second-largest country by total area. Canada's southern border with the United States is the world's longest bi-national land border. The capital of Canada is Ottawa.
History of Airport
Ottawa Macdonald-Cartier International Airport is an international airport named after the Canadian statesmen and two of the founding fathers of Canada, Sir John A Macdonald and Sir George-Etienne Cartier. The airport is the 6th busiest airport in Canada. The airport is one of eight Canadian airports that have United States border preclearance facilities.
History of Airline
Air Canada is the flag carrier and largest airline of Canada by both fleet size and passengers carried. Founded in 1937, Air Canada's corporate headquarters are in Montreal, Quebec with its largest hub at Toronto Pearson Airport. Air Canada's total fleet size consists of 415 aircraft including all Air Canada subsidiaries (Air Canada Cargo, Air Canada Express, Air Canada Jetz and Air Canada Rouge). Together with its regional partners, the airline operates on average more than 1,602 scheduled flights daily.
Flight Briefing
ACA1066
CYYR – CYOW
Planned Fuel – 19,500 lbs
Planned Altitude – 36,000
Distance – 762nm
Flight Time – 2hr, 30min
Route:  YYR L600 YZV V316 PESAC T781 AGLUK T731 TAKOL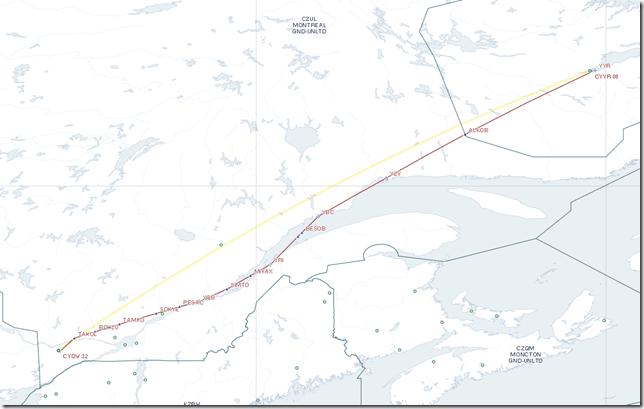 Flight Journal
Our 27th leg has started off much like the 1st, with rain and lots of it.  Rain has pretty much been the theme during our stay in the Goose Bay area.  But considering the extremely hot and dry conditions our group experienced in the Africa and Europe legs, the cooler and even damp conditions have been a welcome change.  The ground crew at Goose Bay have been extremely helpful and we're assisting Air Canada in moving one of their newly painted Airbus A320's down to Ottawa.
Loading on our required fuel for this leg of the journey.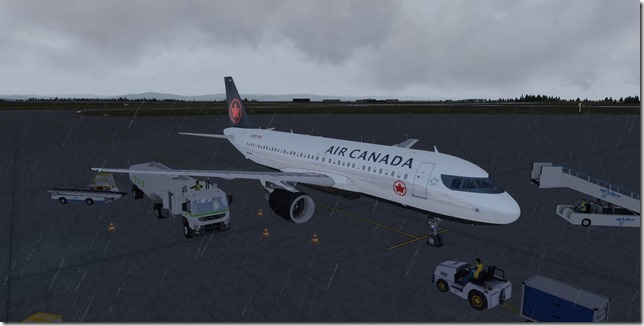 Our passengers have arrived and will soon be boarding.  Their bags are enroute to the aircraft as well.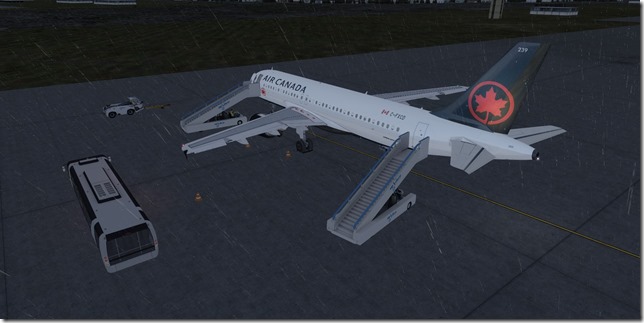 The bags have arrived and are being carefully (yea right) onto the aircraft.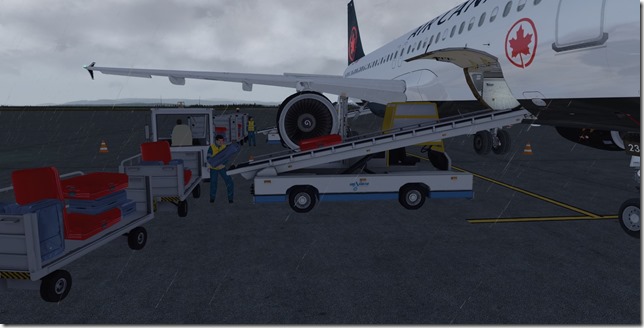 Fuel – check, Baggage – check, Passengers and Crew – check.  Time to pushback and get on our way.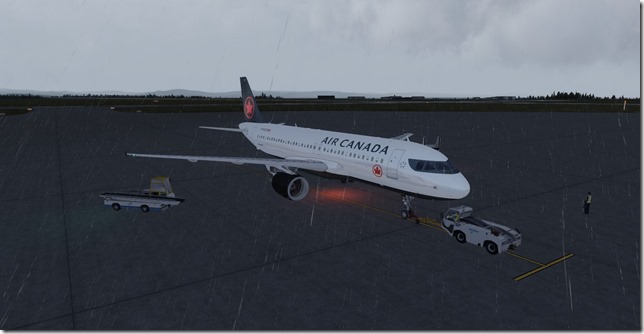 We've had lots of cloudy departures, but not very many wet/rainy ones.  Taxing out to the active runway.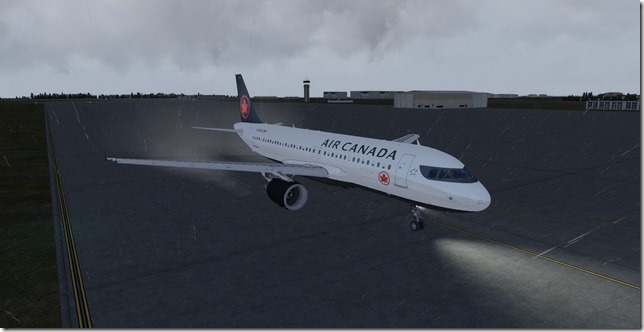 Cleared for take-off.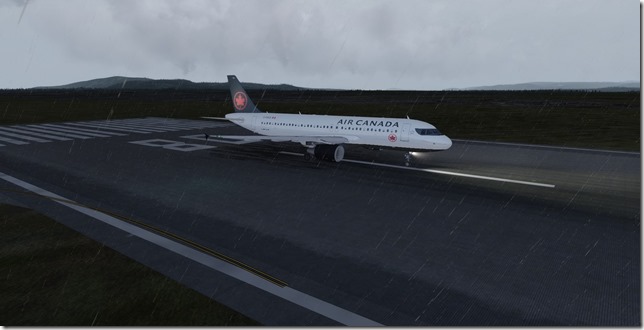 Blasting out of Goose Bay and on our way to Ottawa.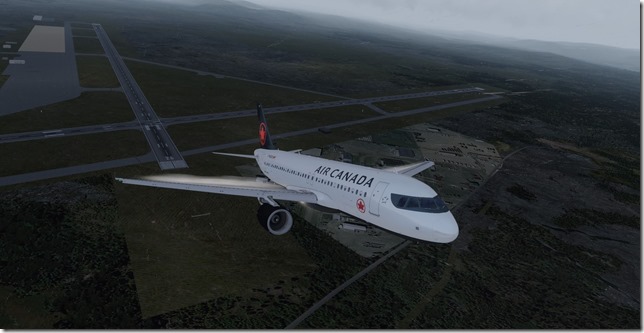 Making our turn to the right to join the SID or Standard Instrument Departure course out of Goose Bay.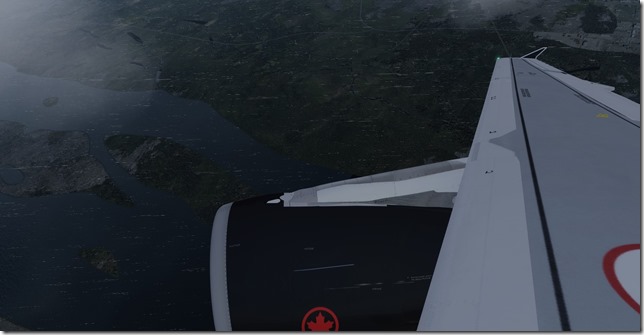 The rain continues to fall as we're climbing out.  We'll soon be above the clouds and clear of this weather.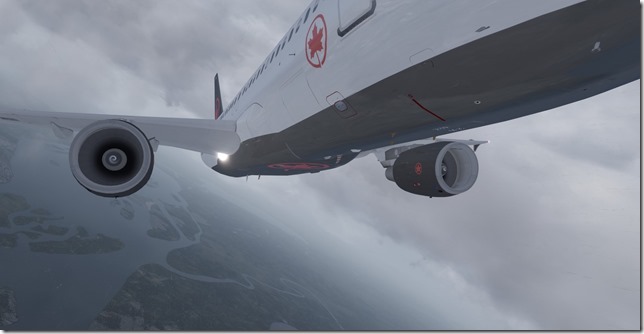 Finding ourselves in another cloud sandwich.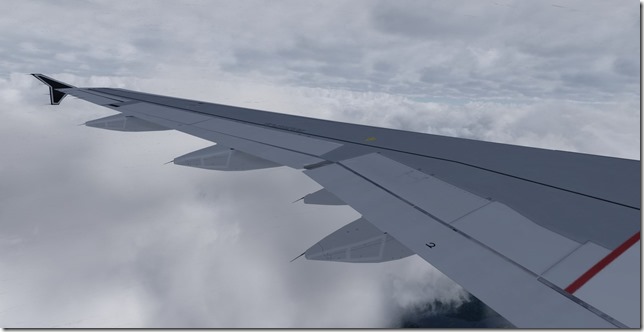 The view from the flight deck.  Keeping an eye on the weather radar.  ATC vectored us around the strongest of the cells and we should be in clear skies shortly.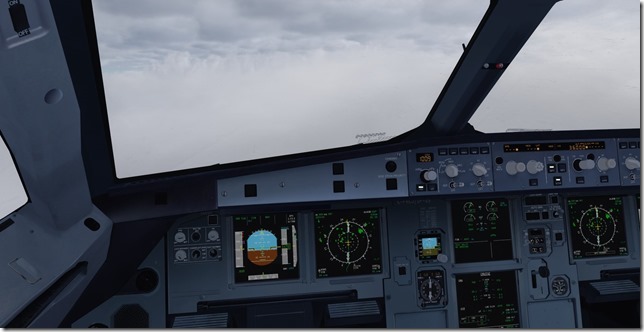 There we go.  Clear skies all around.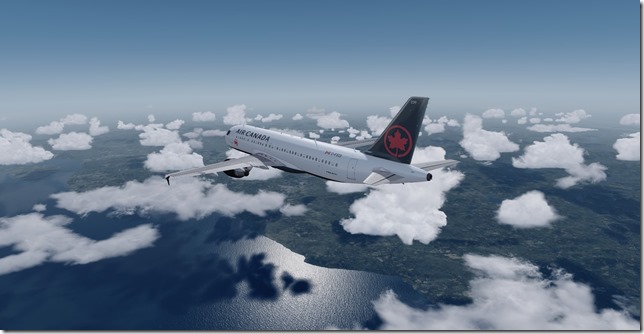 Cruising at flight level 360 as we zoom across Quebec.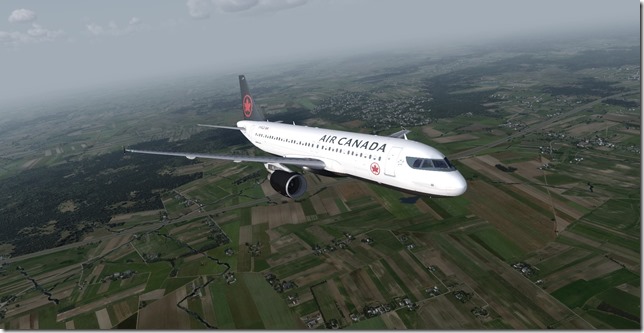 Nice lush landscape as we begin our descent into the Ottawa area.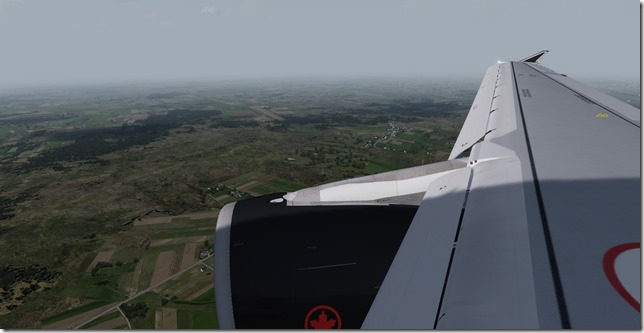 On final approach into the Ottawa Macdonald-Cartier International Airport.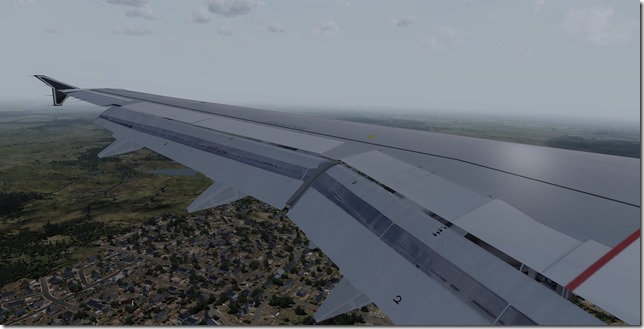 Runway in view.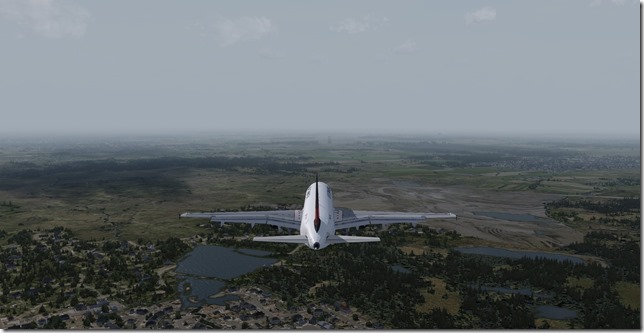 Cleared to land.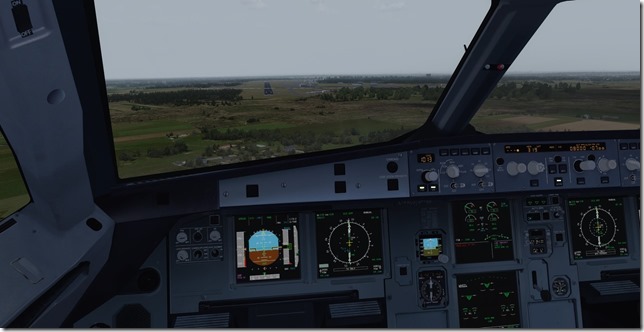 Our passengers are able to deboard via the airport jetbridge and will also be able to clear US customs here in the Ottawa airport.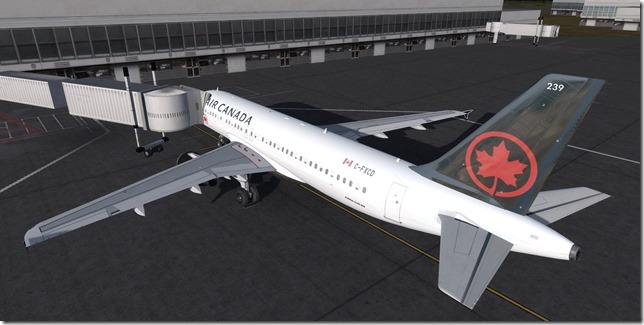 Simulator Specifics
Prepar3d v4.3
ActiveSky Weather Engine
ActiveSky Cloud Art
Envtex & Envshade
FSLabs Airbus A320 (Air Canada livery)
Orbx Global Texture
Orbx FTX Global openLC North America
VATSIM
Route Planning Tools
AivlaSoft, PFPX & Simbrief
Navigraph Charts Desktop
FlightAware
FlightRadar24
SkyVector
Google Maps
My plan is to fly two more legs of the tour before I leave for vacation which should place us in Jackson Hole, Wyoming.  This will mean that while I arrive back home on the 7th of September, I will have a two week buffer.  I most likely will get started flying the tour segments once again within a few days of arriving back home, but in the event I'm just too busy then I'll have the flexibility.  As mentioned at the top of this article, I do plan to double up a few postings either in late September or early October so that we can complete the tour around time of the official tour wrapping up.
Thanks for reading this tour update.  Have a great day!
Until next time….
Happy Flying!!!
JT
---