TFDI Design released their brand new PACX or Passenger and Crew Experience add-on application for FSX, FSX SE Prepar3D (v1-v4) and X-Plane (10/11) on Friday, 31 May. I had been hearing about this add-on for a few months and in recent days (leading up to the release) the drums began beating louder and I must admit that I was intrigued and looking forward to adding this to my flight sim experience.
Before I start this product review. Please allow me to get the fine print out of the way.
The product I am reviewing was purchased by me and for my own personal use. I receive absolutely no compensation of any form (cash, credit, discounts, promises) for reviewing this product. I have not contacted, nor have I been contacted by the vendor to provide this product review. The opinions expressed (good or bad) are my own, your mileage may vary.
Within 15-20 minutes of the initial release of PACX, I had completed my purchase, downloaded the installer and started the installation process. I wish I could say that PACX installed error and trouble-free, but I'd be lying. It was anything but trouble-free.
Living On The Edge
As I discussed before, my greatest fear is having my entire Prepar3d setup literally destroyed by one developers poor application installation technique or design. I must admit that at one point during the PACX installation, I began sweating and I'm sure my wife thought I had hit my thumb with a hammer as my vocabulary dipped into the realm where generally you only find sailors. But in the end it all worked out. Well…mostly.
Lack of Documentation and Early Access
Unfortunately, in the early hours of the PACX release there was absolutely no documentation. Nothing…Zilch, Zero. The TFDI Design team has stated this was by design as they suspected there would be changes made to the application based on initial feedback. Sorry Charlie…this is no excuse!
PACX is super simple in its design and functionality. However, not every flight simmer is at the same level of experience when it comes to these things. The TFDI team should have included at the very least a one page "Quick Start Guide" just to fly over the specifics of the application. But they chose not to do this and I believe this to be very poor judgement on their part.
PACX has been released as an Early Access product. Which typically means it will change and evolve over time. This also means there will be many additional issues/bugs flushed out in the process. When developers release products in an early access release state, they depend on their customers to report and document issues to the best of their ability. Think of it as a partnership between customer and developer.
Installation Issues
This was my very first purchase from TFDI Design. While I've been eyeing their Boeing 717, I've been so busy flying other aircraft that I just didn't feel it would get any use. So as I was noodling around their website searching for my download, I noticed they had something called the TFDI Design Add-On Manager. I'm a HUGE fan of add-on/download managers and have been working on an article which I hope to release at some point in the future. So I downloaded the TFDI Design Add-On Manager only to find that was a waste of my time. The PACX application is stand-alone (WHY???) and not managed via their add-on manager. Again I ask WHY????
Finally I found the PACX download and life was starting to look up. Briefly!
Like any other flight sim add-on, I kicked off the installer as admin. Normally it all goes smoothly. But as the installer began doing its thing, I began to experience issues. The first issue caused a Windows BSOD (blue screen of death) related to C++. Once I rebooted and kicked off the install again, it breezed through the C++ install but then attempted to install FSUIPC 5. Keep in mind I'm an FSUIPC Fan Boy and believe EVERYONE should not only use FSUIPC, but also OWN IT! FSUIPC is one of the oldest and longest supported add-ons for FSX/P3D out there and it does so much.
Anyway, as I already had it installed I would have desired that PACX recognize this fact and just skip attempting to install it. But oh well…can't have everything. But then more drama. PACX then attempted to install FSUIPC 4. FSUIPC 4 is the 32 bit version of FSUIPC for P3D versions 3 (and older) and FSX. I absolutely, positively DO NOT have any of these simulators installed on my system and absolutely, positively DO NOT have a need for FSUIPC 4. But PACX still tried to ram it down my throat. Why???? The workaround is to just cancel out during the FSUIPC 4 install attempt. Otherwise you'll receive errors as FSUIPC 4 will not detect a 32 bit version of any sim installed. Again, just cancel out and all will be fine.
Burning Through Activations and the first HotFix
Gotta love hotfixes! Unfortunately, the TFDI Design team only allows us 3 activations. Between the previous mostly unsuccessful attempts at installing PACX, I had burned though my three allowed activations. So when the TFDI Design team had released their first hotfix update, I was unable to apply it and had to open a ticket through the TFDI website and request my activation count be reset.
While I understand the reasoning behind limiting the number of activations, I'm really not sure why it's necessary to require the license to be re-inserted when applying a patch. Most other add-ons don't require this. So if this is going to be required each time, then TFDI needs to reset our activation account prior to the release of these patches. However, you can easily check the amount of activations you have left in the client area of the TFDI website.
Giving Credit where Credit is Due
The TFDI Design team had reset my activation count within 15 minutes of me submitting the ticket. So good for them as it appeared they were on the ball. In addition, the team was also very responsive in their support forums as well. Unfortunately, many of us all experienced the same issues but not all were able to get past them.
Did someone order a sunroof?
As I began to recover from the unsuccessful installation attempts and get things pointed in the right direction, I loaded up an Alaska Airlines PMDG 737-900 flight from KSEA to KLAS. I loaded up all my accompanying add-ons, started vPilot for VATSIM and then kicked off PACX. Much to my surprise, once the flight attendant began speaking a giant hole opened up in my PMDG 737 flight deck just above the captains seat.
Before – All normal. No Hole.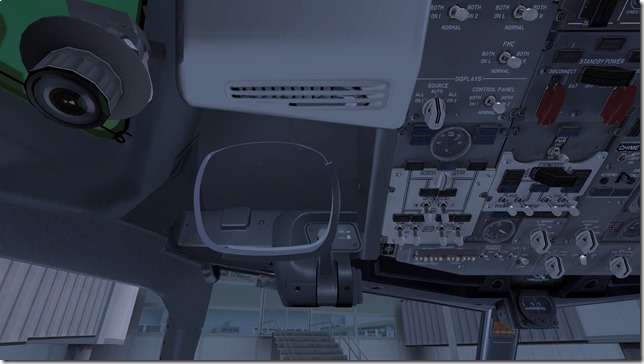 After – Boom! Did someone say sunroof?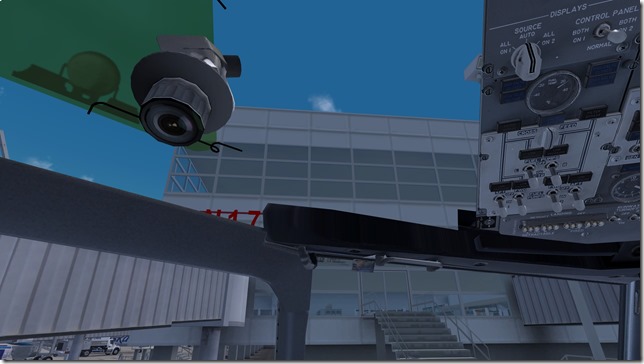 The giant window to God didn't prevent the PMDG 737 from functioning and while I had plenty of oxygen, I just couldn't get over the fact my immersion was 1000% blown from this experience. So I posted this issue on the forums, went to bed. I'll admit….I wasn't very pleased with this purchase (at this time)…but was willing to allow a brand new day the opportunity to restore my faith in TFDI.
Hello Saturday
Managed to get a good nights sleep and woke up fairly early. I headed downstairs, fired up the gaming machine and with coffee in hand, grabbed my laptop and tuned into the TFDI Forums. I was hopeful I might find a solution to my sunroof problem.
While I didn't find a solution (at least one that would permanently address the issue) another simmer had experienced the same and told me what he did to resolve. Basically the hole which appears has something to do with the HUD. After realizing this, it did make sense because the HUD is no longer there.
The workaround is to go into the PMDG 737 FMS, go to PMDG Setup > Aircraft > Equipment > Next Page until you see HGS Installed. Set it to NO, then back to YES. This will magically repair the hole and allow for maximum immersion to return.
Do you have to do this for every flight????? No, as of Sunday 2 June, the TFDI Design Team released another PACX patch (0.9.2.0) which has resolved this issue from occurring.
What the heck is PACX Anyway Jerry?
Yes, I realized I've been rambling on discussing all the struggles I had and really haven't explained what this add-on is all about. PACX is Passenger and Crew Experience. Basically it's an updated version of FSPassengers (if you are familiar with that older add-on). As the name implies, PACX simulates the overall flight experience of both your passengers as well as the crew. In addition, it allows for direct communication with passengers and dynamic, varied announcements. You can read more about all the features of PACX from the TFDI Design website.
General Use
As I stated before, PACX is a fairly simplistic in operation and actually quite rich in functionality. When the application is running, it will look like the image below. There are various settings you can customize by clicking the gear icon. For example, I had to increase the volume and also set it to never auto disappear. As I use multiple monitors in my sim setup, I just have it displayed on my third monitor where I have other applications such as A Pilot's Life, ActiveSky, ProjectFly etc.
To get started with a flight click Start. This will bring up the "Start A Flight" dialog box. Enter in the departure ICAO, Arrival ICAO, Time to Departure, Flight Time, Cruise Altitude and Flight Number. Select the aircraft type from the drop down menu and customize the passenger account via the slider. If your aircraft is equipped with Wi-Fi you can tick that box. Not entirely sure what that does, but I love Wi-Fi access on a flight, so why not! But this would have been where a nice one-page quick start guide would have been handy.
Click OK to begin.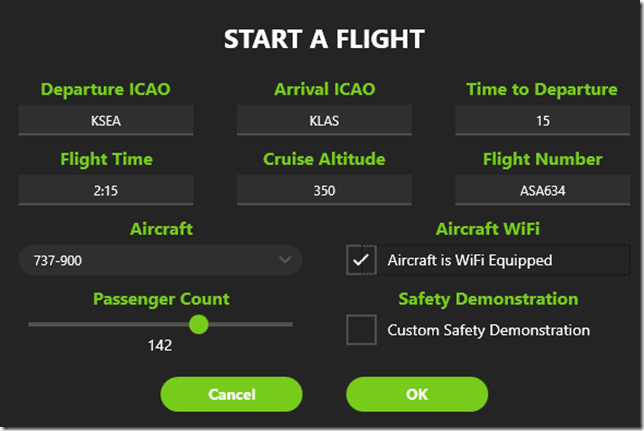 Depending on what other add-ons you might be running (GSX for example) you might need to tweak the time to departure slightly. GSX tends to load passengers and cargo really slow (in my opinion). I'm still trying to figure out the right time to use.
As you are flying along, you can click the Airplane icon for a current status. It will show your expected arrival time and passenger satisfaction. The expected arrival time will be determined by how accurate your time of departure and flight time entries were in the setup screen. I love happy passengers!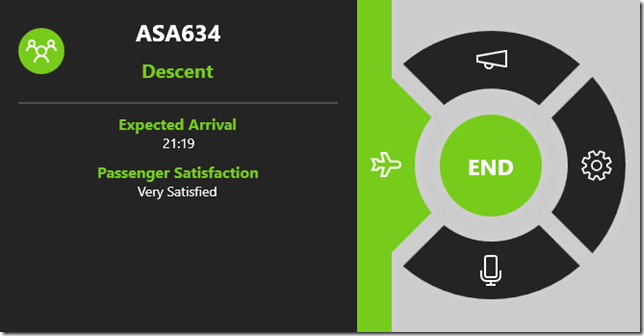 Upon landing at your destination, you'll be presented with this report after you press END on PACX. Looks like one of my passengers was "quite thirsty". You can also upload this report which will be stored on the TFDI Design website.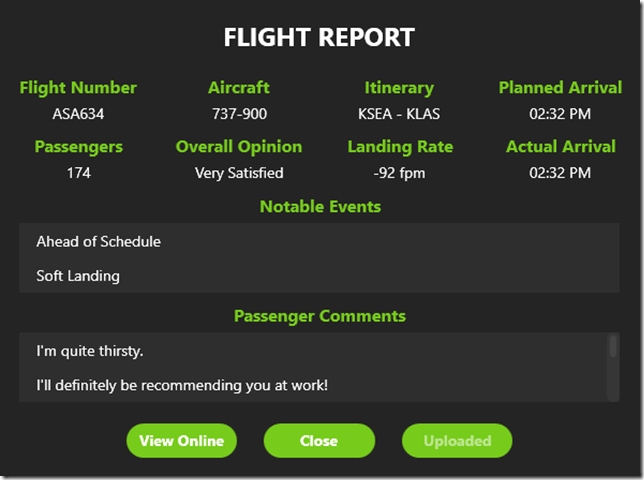 From the TFDI Design website, I can see my total stats and my uploaded flights.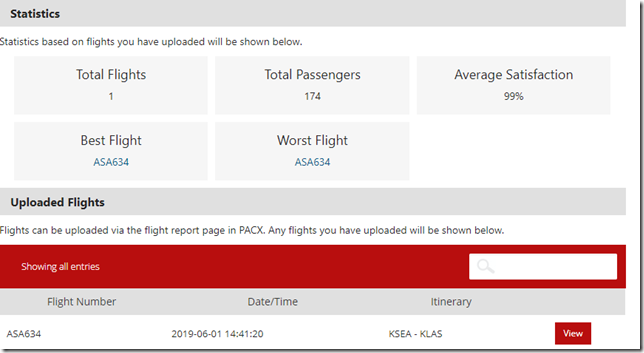 Clicking on View for my first flight I can see all the details.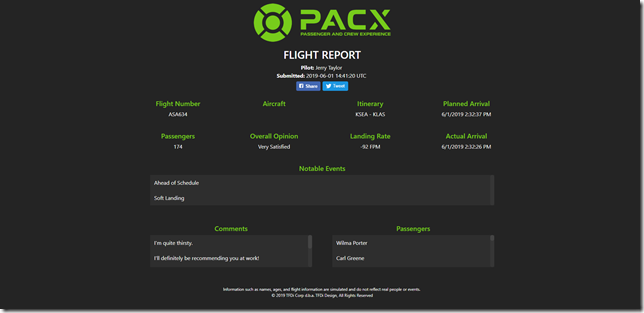 Final Thoughts
Despite the struggles I experienced in installing PACX and the issue with the 737 sunroof (now fully resolved), I'm actually impressed and excited about the future of PACX. I'm hopeful that the TFDI Design team will continue to develop PACX and enhance it beyond what it currently is. I'd love to see tighter integration with the aircraft where PACX will recognize the use of the PMDG seatbelt sign switch versus also having to toggle it from within PACX. Also, as PACX will also allow 3rd party application support, I'd love to see an integration between A Pilot's Life and PACX.
Obviously, I've spent just a small amount of time with PACX and as of this writing, have only completed two flights. But I do see myself using PACX to add extra immersion to my flights. While these types of applications are not for all virtual pilots. I believe PACX to be worth the investment if you would like to add Passenger and Crew Experience to your flights. The TFDI Design team have proven to me they are a serious team of developers doing great things for the flight simulation hobby. I look forward to watching this small company grow and further develop awesome add-ons to further enhance our experiences.
Just a reminder,
The product I am reviewing was purchased by me and for my own personal use. I receive absolutely no compensation of any form (cash, credit, discounts, promises) for reviewing this product. I have not contacted, nor have I been contacted by the vendor to provide this product review. The opinions expressed (good or bad) are my own, your mileage may vary.
Thanks again for reading this review of the Passenger and Crew Experience (PACX) by TFDI Design. If you haven't already, I would love your support in my efforts to grow a new flight simulation community called Flight Sim Helpers. Please visit and join the Flight Sim Helpers Facebook Group and bookmark the FSH website. Thank you!
Until next time….
Please sit down, buckle your seatbelt and enjoy the flight.
Jerry