Once upon a time, a few of us flight sim bloggers were into storytelling through our writings and images. This was really before the YouTube thing took off. A few years in, I took the turn down the path of Twitch and YouTube and mostly used the blog for "how to" type articles. Essentially I sort of shelved the storytelling articles a few years ago. My other blogging friends also seem to have dropped out of the blogosphere. That's sad….as several of them were really good at what they did. But I suppose the trend is more towards watching flight sim livestreams, requesting songs via YouTube and watching someone fly from point A to point B. Nothing wrong with that….at all! I just learned it wasn't my cup of tea to be that type of content creator.
A few days ago I posted a couple of screenshots over on the "A Pilot's Life – SimBitWorld" Discord server regarding my quickly approaching promotion to Sr. First Officer. At the time I was less than one XP point away from the promotion and would certainly secure it on my flight from Oakland, CA back to SeaTac. If you haven't heard about "A Pilot's Life" by SimBitWorld, then please read my review of this add-on application which has been developed for all major flight sim platforms including Prepar3D, FSX and X-Plane. Anyway, one of the other APL pilots commented "Love your stories, maybe you should write a diary flying APL and the adventures you are facing." Actually…I agree! So let's do this!
Is the Blogosphere Dead?
A couple of thoughts come to mind when I ask myself that question. First, my long-term readers will know how I often like to intermix music lyrics or song titles (especially from the 80's) into my writings. Has blogging suffered the same fate as that of the radio star (Video Kill the Radio Star)? My second thought has to do with the decline of the book store. The major shopping mall I visit regularly is one of those massive double-decker types. When I first moved to the area over 20 years ago, this shopping mall had 2-3 book stores. One of which took up both floors. Today…there are none. Not a single one. We have to drive a few miles down the road to find one of the last major brick and mortar book stores. But….the stats on my website still tell me that I receive plenty of visitors each day. The vast majority of these visitors show up for my flight sim content, so I'll give it a whirl.
Return of the Flight Sim Storyteller
Before I get going with the first entry (coming next week), allow me to bring you up to speed on my APL career thus far. I feel this is necessary just to bring things current. I purchased APL back in mid April. So at the time of this writing, I've been logging hours for about 6 weeks. As I explained in my review, everyone starts off with zero hours and the rank of Junior First Officer. I was hired by Sun Country Airlines (SCX) and based in Minneapolis KMSP. I flew mostly the Boeing 737-700 and 737-800 on routes in the eastern portion and Midwest of the US. These routes took me to cities like Chicago, Memphis, Dallas/Ft. Worth, Atlanta, Washington DC, Cincinnati and Denver.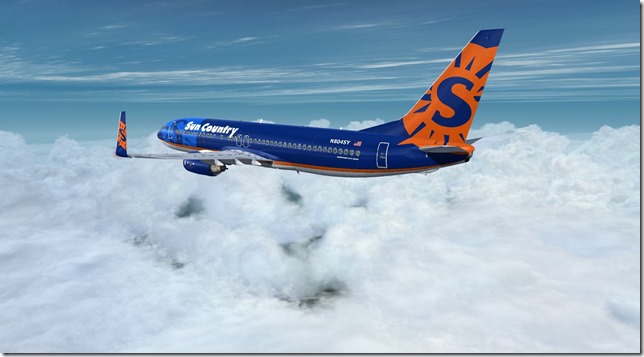 After working my way through two flight schedules, and accumulating 50 XP I was promoted to First Officer and after fulfilling the terms of that new contract, I wanted to make a change in the hopes of gaining a higher hourly wage and different routes. I was offered the current job I have now with Alaska Airlines and moved to Seattle.
I began my work with Alaska Airlines on 10 May and my first flight was from Sea-Tac down to Las Vegas. My flights with Alaska has taken me to Las Vegas, Phoenix, Los Angeles, San Francisco, San Jose, Oakland in the Southwest portion of the US. I've also had flights up to Juneau, Sitka and my favorite Alaskan airport of Ketchikan. I hope to return to Ketchikan very soon.
Upon recently arriving into Oakland, I was less than 1 XP away from my promotion to Sr. First Officer. I had a overnight layover in Oakland and returned back to Sea-Tac the following morning. Upon landing and arriving in the crew office I was presented with my Sr. First Officer certificate and a new contract guaranteeing me a new salary of $39.39 per hour. The terms of the contract state I must continue to work for Alaska Airlines for another 7 days. I didn't have much time to celebrate as I was due to fly back down to California soon after signing my new contract.
What's Next
Initially when I began typing this article, it was going to contain the first installment of my "A Pilot's Life" Storyteller series with a flight from San Francisco back to Seattle. But I realized it might make for a really long first edition, so I will use this post to just bring you up to speed and I'll return with the first edition early next week. As for how frequently these will come out….for now, we'll just have to see.
But until next time…
Happy Flying!
Jerry