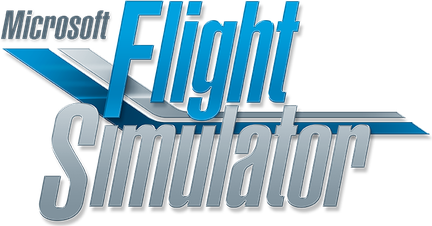 About This Sponsored Review
The product I'm reviewing today was provided to me at no cost in exchange for writing this review. As with all my reviews, it is my intent to provide to you, the reader, a full and un-biased review of this product.
About The Real Wycombe Air Park
Wycombe Air Park (EGTB), also known as Booker Airfield is a general aviation airport located in Booker, Buckinghamshire, 2.4 nm southwest of High Wycombe, England. The airfield celebrated its 55th year of operation on 25 April 2020. Originally opening in '41 as RAF Booker it was primarily involved in training during World War II and remained an active military establishment until '65. Today the airfield operates three runways consisting of one single asphalt runway measuring 2,411 ft (735m) (06/24) and two shorter grass strips (06G/24G & 35).
Much like my real life experience with London City Airport (EGLC), I have also visited Wycombe Air Park on a few occasions back in the 2001-02 timeframe. My wife lived just a little over one mile east of Wycombe Air Park. From her third floor flat we could watch the GA aircraft fly over her flat as they approached the airport. A few times my wife became just a little anxious while watching as she would hear the pilot practicing an engine out scenario as the aircraft was headed directly for her flat.
Why Consider Add-on Airports
Microsoft Flight Simulator utilizes satellite imagery from Bing maps to create much of the airport scenery and surrounding area we see in the simulator, it's far from perfect and generally leaves default airports lacking the same level of detail one would might see if visiting in real life. While default type airports have been significantly improved in MSFS (compared with FSX or P3D), there's still many reasons to consider purchasing/installing payware add-on scenery.
The Wycombe Air Park by Pilot Plus add-on includes full PBR textures of the air park including apron assets, buildings and ground. The scenery also includes local VFR landmarks such as Adams Park Stadium, St. Lawrence's Church Golden Ball in West Wycombe and the BT Tower located in Stokenchurch. Making this a truly wonderful VFR flying experience.
Before & After Images
Default MSFS (left column) and Pilot Plus Wycombe Air Park (right column). For these images, I've set the weather conditions for clear skies and the time is mid-afternoon. Click thumbnail to view full-size image. As you can tell between the before and after images, the Pilot Plus Wycombe Air Park scenery adds extra details which are missing in the default scenery.
Additional Pilot Plus Wycombe Air Park Views.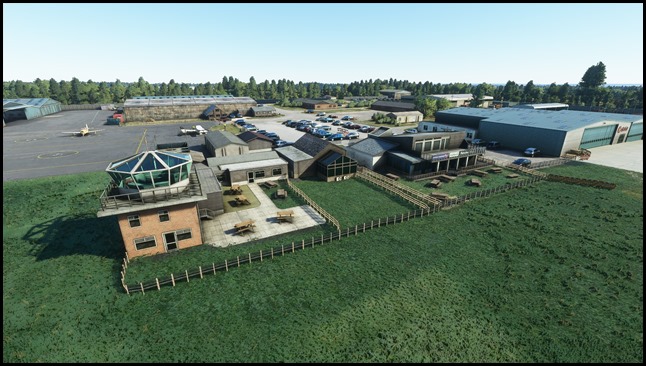 I've enjoyed watching the glider and GA aircraft from those picnic tables in real life back in the 2001-02 timeframe.
Yes, there's an actual hangar which you can taxi through and park your aircraft.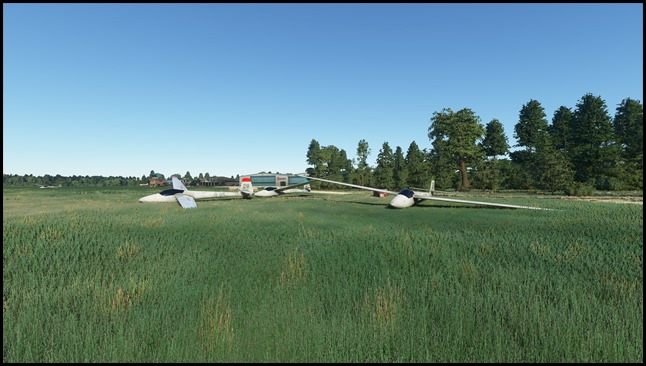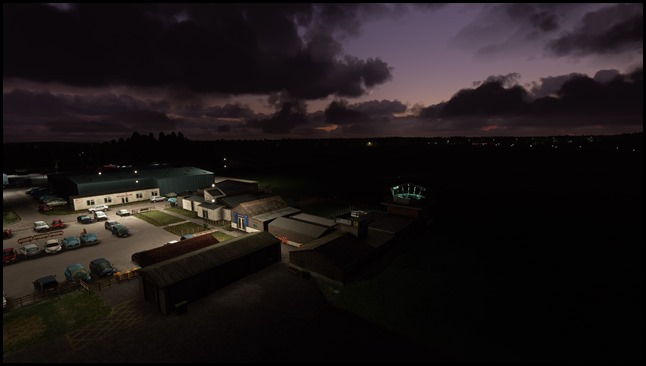 Pilot Plus Wycombe Air Park (EGTB) Review
As with my previously posted reviews, I always spend a bit of time enjoying, or in this case trying to enjoy the default airport. I say trying simply because while it's been 18+ years since I've visited this airport in real life, I still had memories of spending a nice Sunday fall afternoon here with my fiancé (now wife) and the default just didn't provide me the level of immersion I needed to take myself back to that time before. However, the wonderful job the Pilot Plus team did in recreating this beautiful air park allows me to go back in time to those visits.
From a overall system performance perspective, this add-on caused me no issues. No major reduction in FPS and no lag. With the scenery installed, I spent time flying during different times of the day and different weather conditions. My FPS remained in the 60-70+ range. As a point of reference, my hardware specs are as follows: Intel 8700K, GTX1080Ti, 32 GB RAM, 1 TB M.2 SSD and I'm running on Ultra Graphics Settings in MSFS.
I'm very pleased with this add-on scenery and while I don't typically spend a lot of time flying in the UK…I know this will become my favorite place to spend time flying VFR on this side of the pond.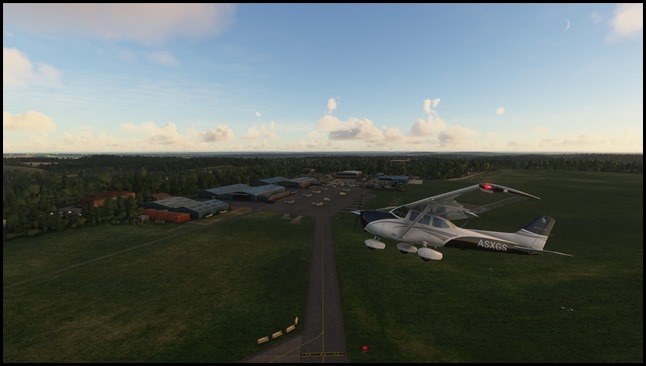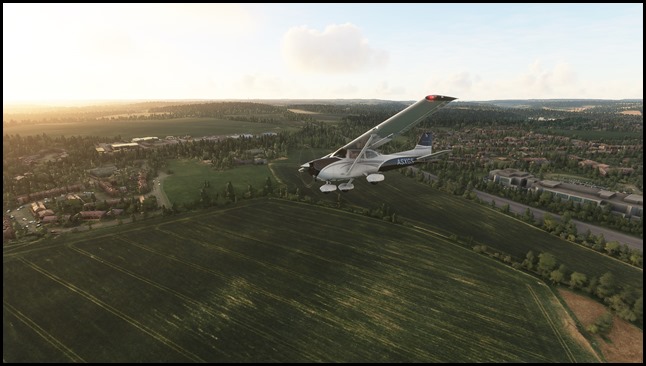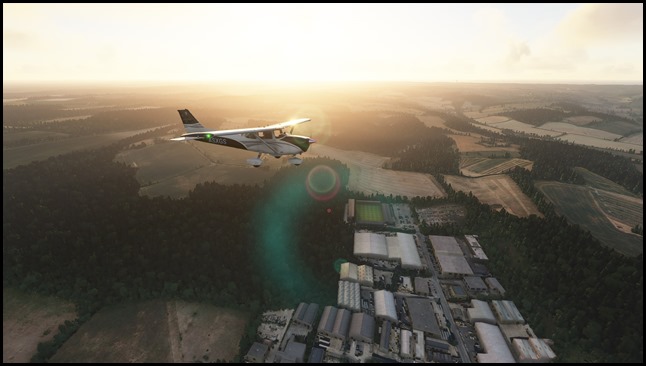 Above: Adams Park Stadium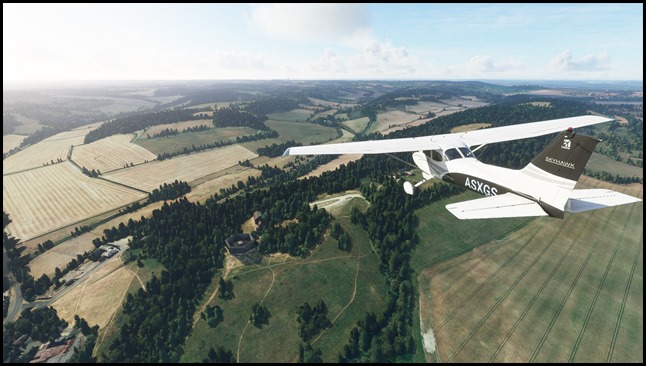 Above: St. Lawrence's Church and the Golden Ball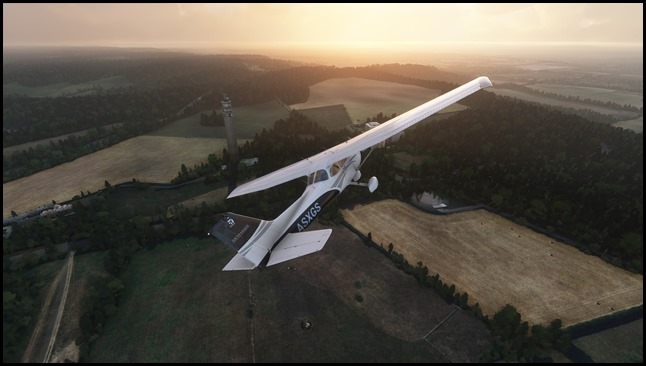 Above: The BT Tower in Stokenchurch
How To Purchase
The Pilot Plus Wycombe Air Park (EGTB) can be purchased from Orbx for $18.99 AUD and installed via Orbx Central.
About Pilot Plus
Pilot Plus is a technology company that builds virtual worlds with a mission to propel accurate digital experiences, creating breathtaking environments for hobbyists and leading software for businesses. Please also visit their Facebook page to learn more about their products and join their community.
About GrizzlyBearSims
Jerry (aka GrizzlyBearSims) is an independent blogger and avid flight simulation enthusiast covering the flight simulation hobby for over 10 years. He began flying computer based flight simulators in the early 80's on the Commodore 64 and today enjoys both Prepar3D and Microsoft Flight Simulator.
I would like to thank Pilot Plus for the opportunity to review Wycombe Air Park and provide this review to the readers of my GrizzlyBearSims.com blog site. If you have questions regarding this scenery, please visit the GrizzlyBearSims Discord server and let's discuss.
Thank you for taking the time to read this sponsored review.
Until next time…
Happy Flying!!!
Jerry