Thank you for returning for another edition of our "A Pilot's Life" Storyteller series. When we were last together (S1, E2) I had just completed a flight from Seattle up to Ketchikan, Alaska. I mentioned I planned to spend a few days of R&R while there. So this edition won't really be so much about the APL application as it's just going to serve as a brief break from flying jets and give me some time to enjoy flying a little lower and slower and taking in all the eye candy that is this region of Alaska and Canada.
Present Day
I've been in Ketchikan the past couple of days and have just one full day before I'm due to return back to Seattle on Alaska flight 9249. This will complete my third schedule set with Alaska and I'll apply for a new set and then see how things look once I'm eligible to apply for other airlines. But this week has all been about having some fun. The weather has been truly amazing with VFR flight conditions each day. So far I've managed to spend some time flying, fishing and just doing a little exploring. Mostly I've been able to relax and enjoy my time off. They say "membership has its privileges" and rightfully so. This is a pretty darn good life if you ask me.
As this is my last full day, I thought I would rent a Cessna 182 and depart Ketchikan and head east to Stewart, British Columbia, Canada. As I'm also trying to make friends where I can, I asked if there was anything which needed to go to or picked up from Stewart. As long as it would safely fit in a 182, I'm happy to take it. I'm really just planning to fly to Stewart, land and have lunch. Perhaps stroll through town and then head back to Ketchikan.
Doug (the guy that works at the rental desk) knows a guy that knows a guy that knows this other guy. Anyway, there is a package on Annette Island which needs to go to Dawson Creek. The timing isn't an issue and they figure someone in Stewart will move it along. So the plan will be to depart Ketchikan, fly the 18nm to Annette Island, load the package and then head 76nm northeast to Stewart, BC. Sounds like a fun day.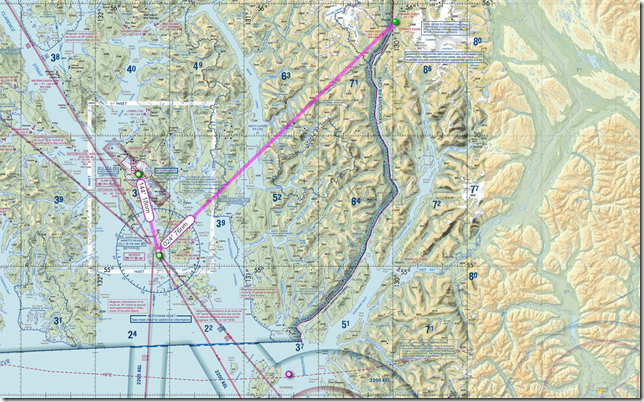 Of course, we're not going to fly as the crow would. Especially not on the second leg. I'll take the safer and longer route and fly along the Portland Canal which makes up the border between the US (Alaska) and British Columbia (Canada).
It's mid-morning and I show up at the Ketchikan rental facility and directed down to the lower level where my Cessna 182 is waiting for me.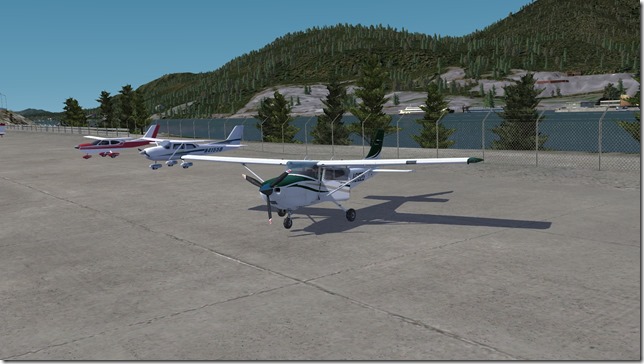 As I'm taxing up the ramp, I see another Alaska 737-800 has just arrived. Most likely from Seattle.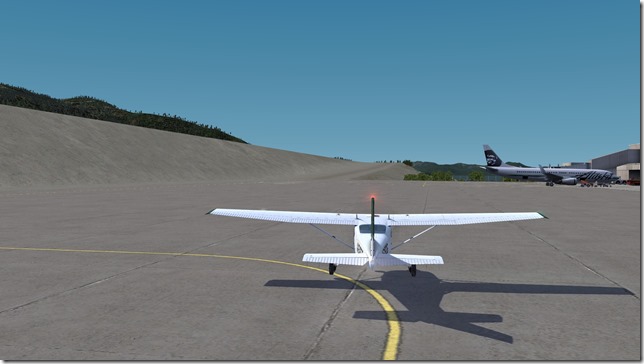 The wind this morning is out of the north, so we'll be departing runway 29.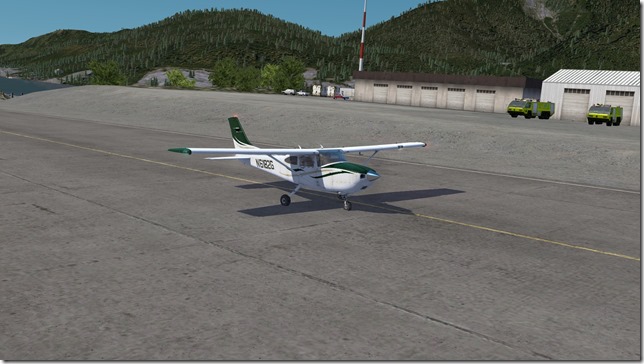 Holding short runway 29 awaiting an approaching DHC-2 Beaver on final.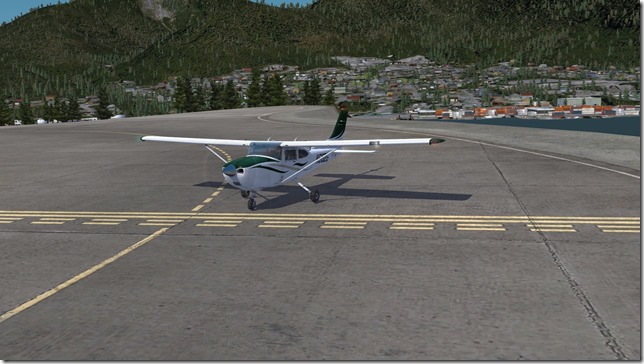 We're issued our take-off clearance and we get moving. We were allowed to do a 180 degree turn and proceed direct to Annette Island.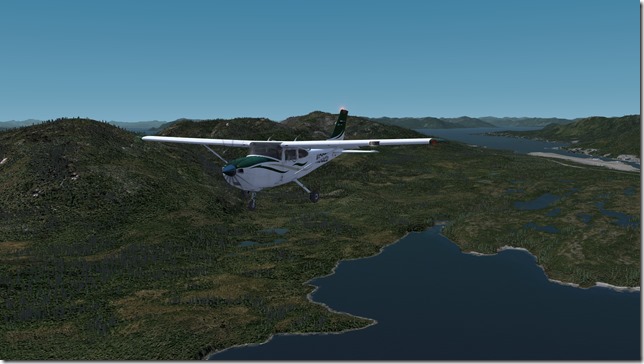 Runway in sight, first leg is almost in the books.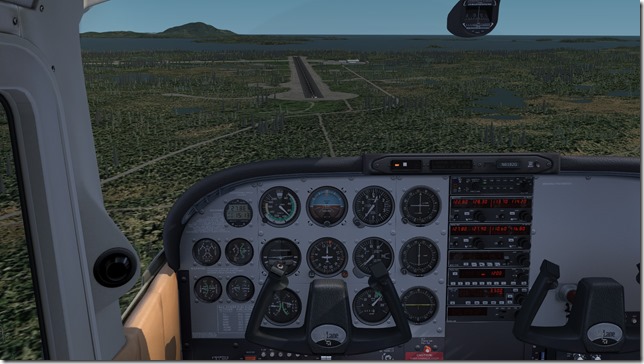 We accept the package and quickly resume our travels. My stomach is already growling. I've heard there is a little cafe that makes a great burger in Stewart.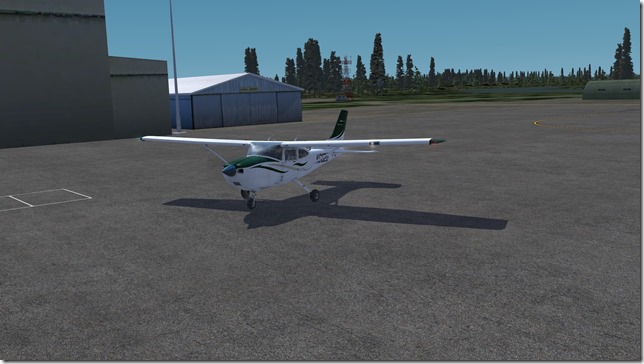 We're back in the air and made our way across Duke Island and the Revilagigedo Channel. We're now entering the canal. At this point in our flight we experienced a bit of turbulence as we crossed the channel. But all seems smooth for now.
Besides my stomach rumbling, we're in no hurry and making great time. This second leg is obviously made longer since we didn't go direct. But hey…I'm on vacation and the weather is amazing. So are the views.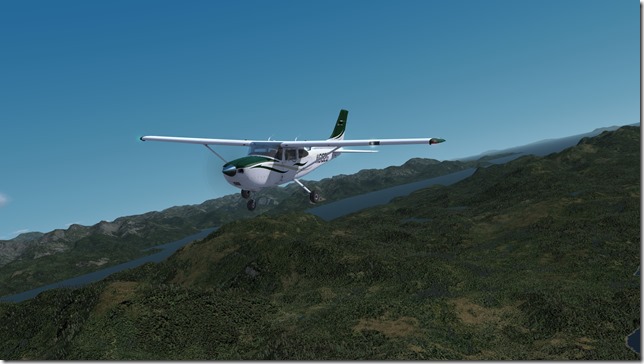 At this point in the flight I've switched the auto-pilot off and just enjoying hand flying the aircraft along the canal. The air is nice and smooth.
I begin the descent into Stewart and the ride gets pretty bumpy and choppy.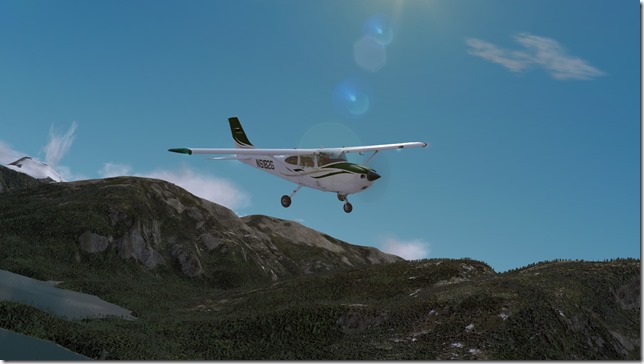 The approach is an easy one. But at this point in the flight I'm feeling some pretty gnarly cross-wind action. Each time I think about taking a screenshot, I'm reminded I need to concentrate.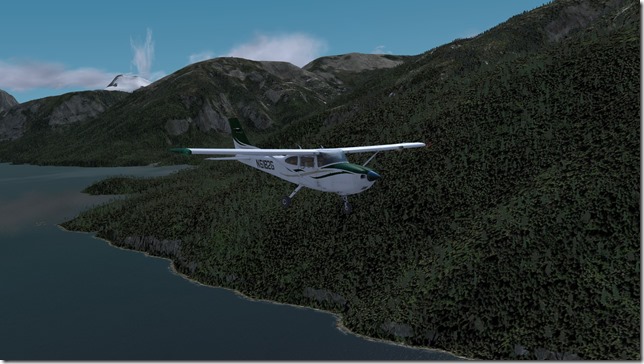 On the ground, safely….not too sure just how hungry I am at this point. But I'm sure once I park up and walk around a bit I'll feel better.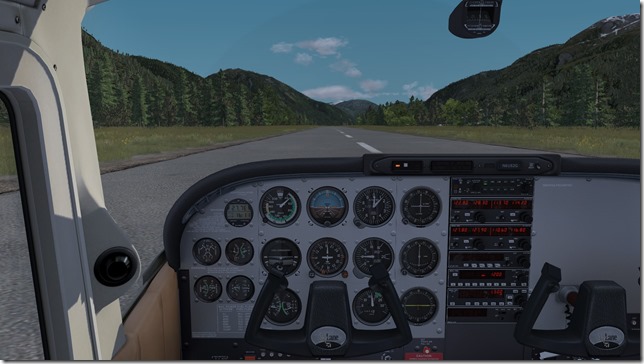 Just spoke to the guy in the yellow shirt. He landed about 10 minutes before I did. I swear I saw him kneel down and kiss the ground just a minute ago. LOL It was a fun approach and landing. I'm thankful for rudder pedals.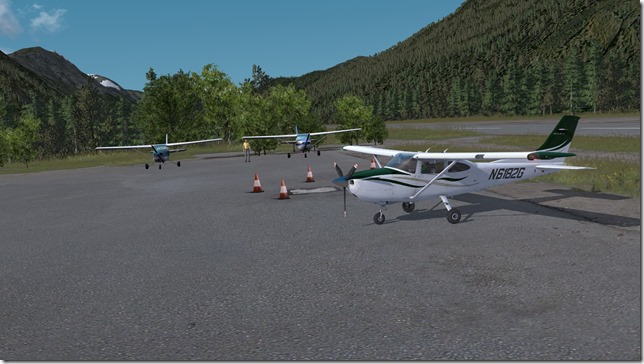 Time to go find that $100 hamburger now. That older gentleman sitting down over there will take the package from me.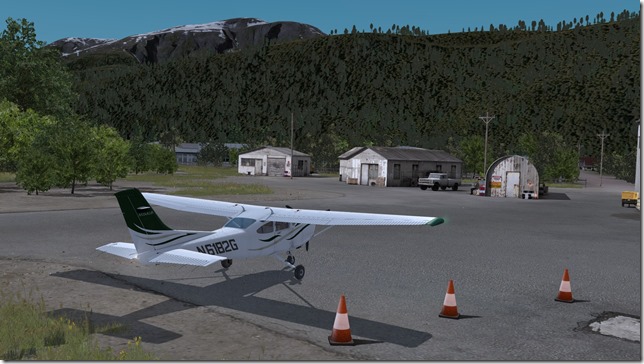 It's been a fun, short and very adventurous flight. Looking forward to the return later this afternoon, then it's back in the Boeing 738 and back to Sea-Tac.
Thanks for reading!
JT
Credits
If you are interested in experiencing your own "A Pilot's Life", I highly recommend the A Pilot's Life, by SimBitWorld add-on for Prepar3D, FSX and X-Plane. You can learn more about the A Pilot's Life by visiting the SimBitWorld website and/or purchase APL at SimMarket. Also, please read my full review of A Pilot's LIfe here.
Flight Simulator: Prepar3D v4.5 (hotfix 1)
Aircraft: A2A Cessna 182
Airline: n/a
ATC: VATSIM
Airport Scenery: Orbx Ketchikan (PAKT), Orbx Stewart (CZST)
Terrain Scenery: Orbx Global Base, Orbx Vector, Orbx openLC North America, Orbx NA Pacific Northwest, NA Pacific Fjords
Sky/Cloud Textures: REX 5 SkyForce and REX 5 Environment Force
Weather Generation: ActiveSky (ASP4)
Flight Planning: SimBrief, Navigraph, FlightAware, FlightRadar24, SkyVector
Note: If you are interested in any of the above mentioned add-ons. Visit my P3D Add-ons directory for links.