I've been a BIG fan of the ProMods development team for many years. Around the time SCS was releasing American Truck Simulator, there was some discussion in the ProMods forums about the possibility of some ATS development work. But that was over three years ago and I personally hadn't heard a peep from them regarding their plans.
Last week when I published the Washington State – I'm Excited blog post, a PC-SG member alerted me to the news of Promods beginning development work on version 1.x of a British Columbia map. As you can see from the map below, it appears that ProMods will tie into Interstate 5 in NW Washington and most likely again with US 97 to the east.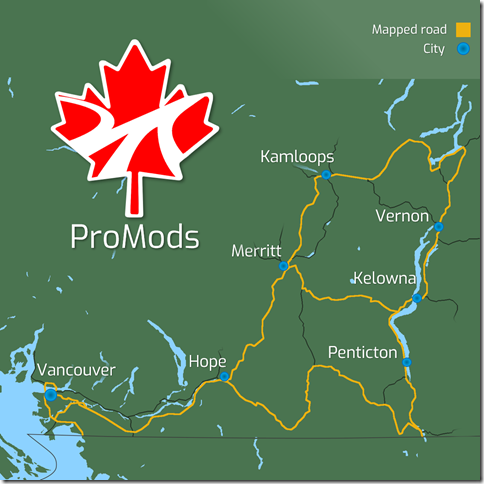 Map courtesy of ProMods
While I salute all modders who have been working to provide modded maps for ATS, none that I've seen will compare with the quality of ProMods. At the time of this writing, there is no release date. But then again, the ProMods team typically doesn't commit themselves to a release date. In other words, ProMods Canada will be ready, when it's ready!
If you want to follow along with the progress of ProMods Canada, please follow this forum posting. On a somewhat related note, I also heard from one of my Twitter followers the next US State after Washington might be Utah.
Until then…
Happy Trucking, Eh!
Jerry