Our tourists are once again on the move.  The time spent in Singapore was certainly not disappointing.  Only time will tell just how historic of an event which also took place while our travelers were visiting Singapore.  Without getting too deep in the political weeds, I'll just say that anything positive will certainly be a great thing for not only the region…but the entire world.  As mentioned during the last trip report, we will be flying this next leg in the beautiful QualityWings Boeing 787 Dreamliner.  For this leg we're flying the Scoot Tigerair Dreamliner.  Scoot Tigerair (not to be confused with Australia's TigerAir) is a low-cost airline from Singapore.  More about that later.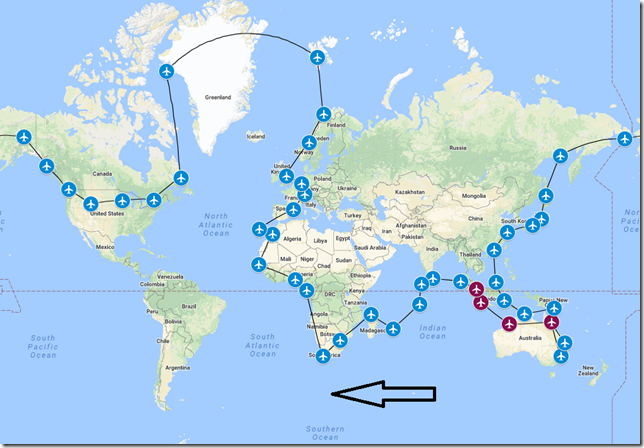 An updated version of our tour map.
History of City
The Sultan Iskandar Muda airport is located 13.5km southeast of the capital of Banda Aceh, in the province of Aceh, Indonesia. Banda Aceh is situated at the tip of Sumatra and has long been a strategic, transportation and trading hub in the eastern Indian Ocean. The first mention in western accounts comes from 1292 when Marco Polo and his expedition visited the city and noted as the logical first port of call for travelers from Arabia and India to Indonesia. On December, 26 2004 the city was hit by a tsunami which was caused by a 9.2 magnitude earthquake in the Indian Ocean. The disaster killed an estimated 167,000 inhabitants and destroyed more than 60% of the city's buildings.
History of Country
The history of Indonesia has been shaped by its geographic location and consists of 17,000 – 18,000 islands of which 8,844 are named and 922 of these are permanently inhabited. Indonesia is positioned along the equator in South East Asia.
History of Airport
Sultan Iskandar Muda International Airport also known as Banda Aceh International Airport, is located 13.5km from the capital of Banda Aceh. It is named after the 12th sultan of Aceh, Iskandar Muda. The airport was built in 1943 by the Japanese Government and is currently the 23rd busiest airport in Indonesia.
History of Airline
Scoot Tigerair is a Singaporean low-cost, long-haul airline owned and operated by Singapore Airlines. It launched flights in 2012 on medium and long-haul routes from Singapore, predominantly to China and India. Initially, Scoot's fleet consisted of Boeing 777 aircraft obtained from Singapore Airlines. The airline began to transition its fleet to Boeing 787 Dreamliner aircraft in 2015.
Flight Briefing
TGW1066
WSSS – WITT
Planned Fuel – 32,377 lbs.
Planned Altitude – 38,000
Distance – 571
Flight Time – 1hr, 50min
Route:  ADMI3F ASUNA L762 MDN W12 JILAT JILA2D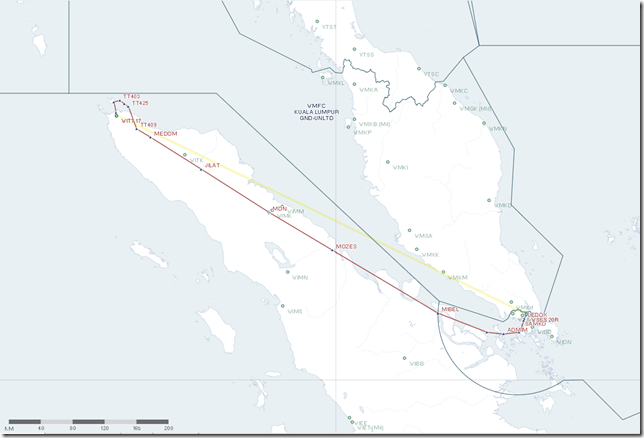 Flight Journal
Once again it's time for our travelers to head towards their next destination.  Our next stop will once again have our travelers back in Indonesia, but this time on the northern side of the equator.  Once again the clouds are building as this is pretty much the pattern in these locations.  The ground crew in Singapore is getting the final cargo items loaded and soon we'll pushback and taxi to the runway.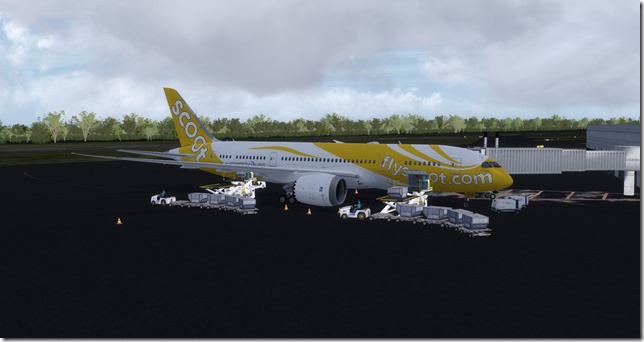 As Scoot is a subsidiary of Singapore Airlines, the Singapore airlines crew is helping with the ramp operations including pushback.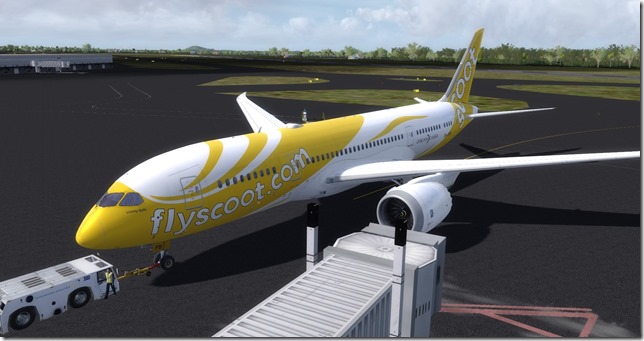 If you follow aviation news, you may know there are some major issues with the Rolls Royce Trent engines.  However, in the virtual world…they work just fine.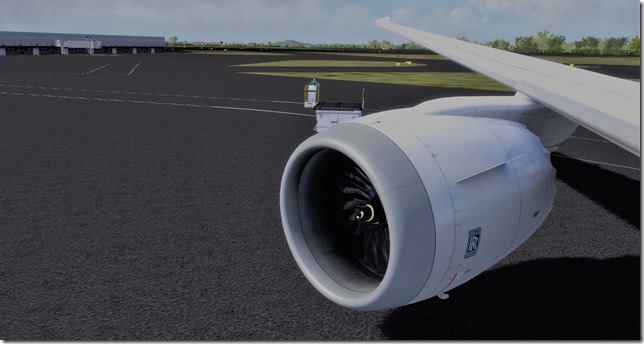 Lined up and waiting on runway 20C.  The tires have been kicked, we're just waiting to light the fires on these RR Trent engines and get the Dreamliner in the sky.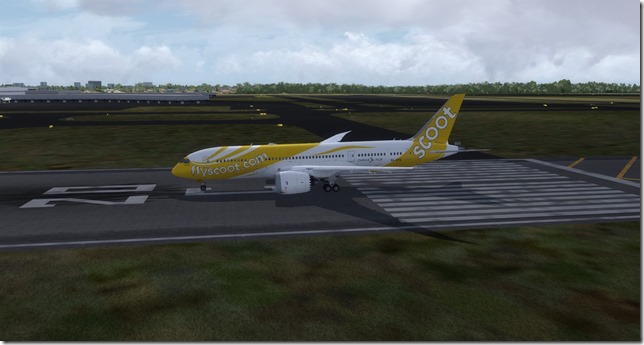 Just as the tag-line reads under the Captains window, it's time to "Lickity Split".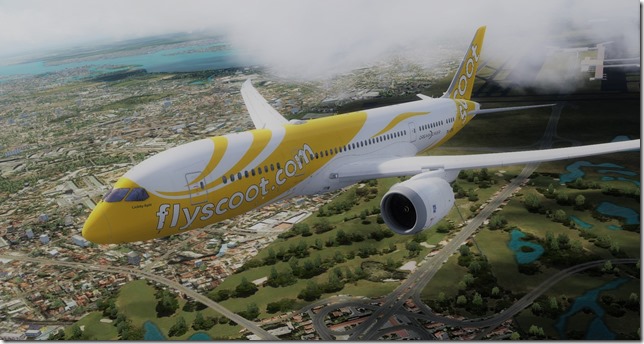 A little artistry "Dream like effect" for the beautiful Dreamliner.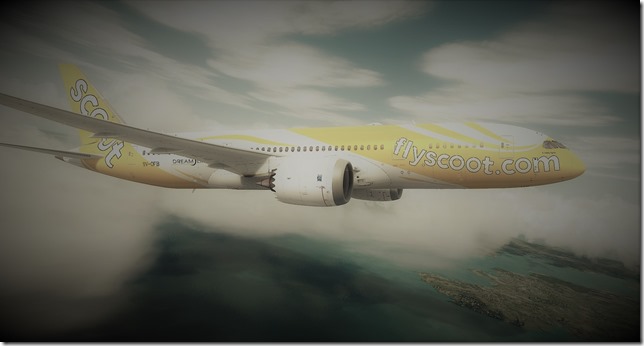 Rolls Royce Trent engines doing their thing…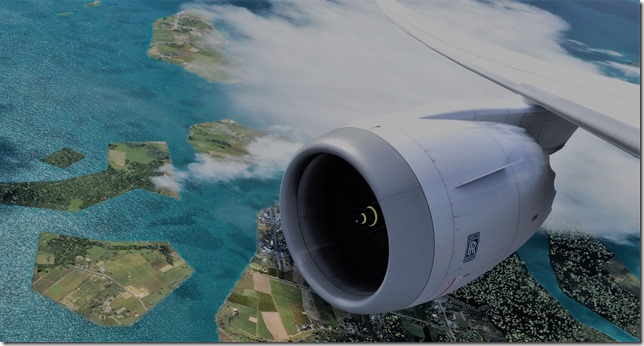 I love wing shots.  The differences between the Boeing 777 and 787 vary little.  The wingspan of the 787 is 197'.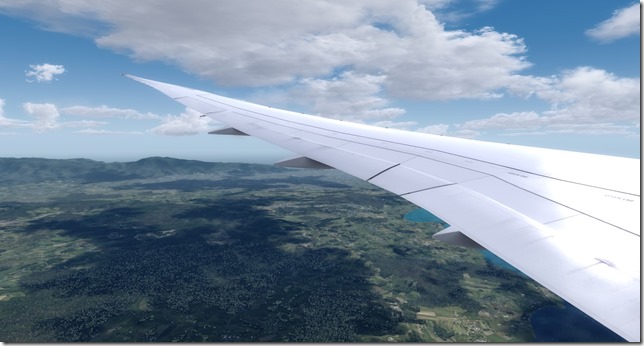 Fully configured for our landing this evening.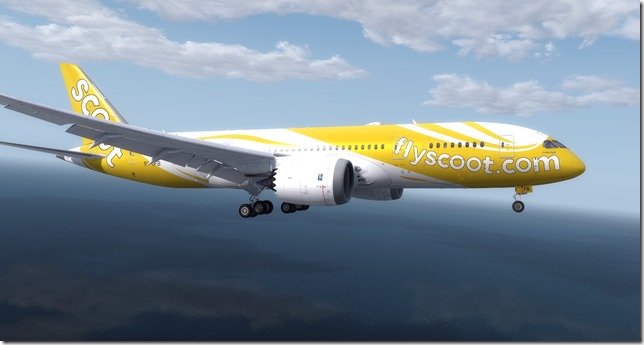 Short final into our very basic default P3D airport.  Not a lot of eye candy.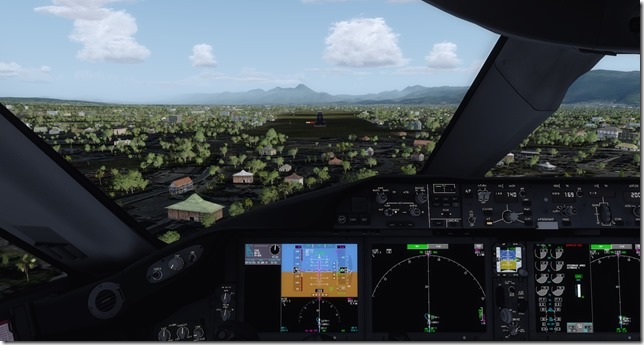 Parked and awaiting the ground crew.  Another leg is safely and successfully in the books.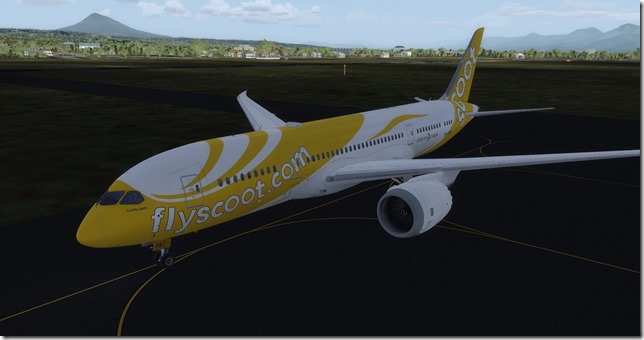 Simulator Specifics
Prepar3d v4.2
ActiveSky Weather Engine
ActiveSky Cloud Art
Envtex & Envshade
QualityWings 787 (Scoot Tigerair livery)
Orbx Global Texture
VATSIM
Route Planning Tools
AivlaSoft PFPX
Navigraph Charts Desktop
FlightAware
FlightRadar24
SkyVector
Google Maps
Yes ladies and gentlemen, another successful and most importantly safe flight in the books.  As I have some real-world travel of my own coming up, it will be a few days before I can sit down and fly the next leg.  But when that time comes, we'll be back in the Boeing 737-800.  While I haven't planned out the equipment for each leg of the tour, my guess is the 737 will end up being the most used aircraft for the tour.  But I'll do my best to keep it interesting.  Thanks for reading.
Until next time…
Happy Travels
Jerry