I've been a HUGE fan of Courseplay and while I had heard about the AutoCombine mod, I really never had a need to use it.  After all, on most of the maps I've played in the past…Courseplay worked mostly well.  I say "mostly well" only because Courseplay is certainly not without issue.  I wrote about some of the struggles we all face with using Courseplay here and here.  One of the reasons for looking more closely at the AutoCombine mod was due to the fact that Courseplay is really challenged with fields which are not mostly square or rectangle shaped.
A few weeks ago I began playing the Coldborough Park Farm map.  This is a wonderful map based on a real world farm in Herefordshire, England.  If you haven't played this map, you can download it here.  This map consists of mostly small irregular shaped fields all bordered with fences and hedges.  As previously stated, Courseplay really and truly works best when the fields are relatively large, square or rectangle and have plenty of room between the fields edge and any obstacles such as trees, hedges or fences.
For the most part, AutoCombine functions similar to the default "Hire a Worker" function of FS15 but is more customizable.  Another way to look at the AutoCombine mod is it includes the features Giants left out of their default "Hire a Worker" function.
The GUI for AutoCombine is shown below.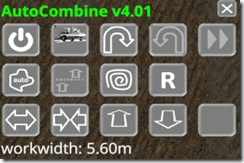 I have found I really only use 6 of the buttons on the GUI.  I'll provide a brief description of each:  1. Start/Stop  2.  Empty while driving or while stopped  3.  Active Side Left  4.  Active Side Right  5.  Auto Combine or Standard Hire a Worker  6.  Harvest mode (circles or up and down)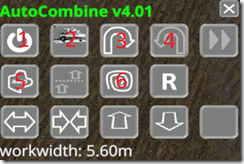 I typically will start my combine manually and get it into the field and headed in the direction I want it to go.  I will then click button number 6 to select the circular option.  The combine will continue to harvest in this method until you stop it.  Keep a watchful eye on the combine during the first headland cut.  If there are nearby obstacles (fences, hedges, trees) these may cause problems.  But once the combine cuts the first headland (completes the first trip around the field), it will generally continue without issue as it will have enough room to turn without crashing into an obstacle.  After the combine cuts 2-3 headlands, I may stop it and use button 6 again to start an up and down cut.
Possible Issues
Obstacles
Much like Courseplay, there are no guarantees that AutoCombine will automatically work without issues.  Obstacles such as trees, fences, gates, other equipment etc. may cause AutoCombine to stop.  Just like the real world, you will want to occasionally check on your hired workers.   But I've found AutoCombine does seem to handle odd shaped fields a little better than Courseplay.
Crop Separation
AutoCombine will likely stop in the scenario below.  In this scenario, we have separated our wheat crop. Once the combine harvests all the wheat in this smaller section, AutoCombine will most think it is done and shut down.  You will then need to manually drive the combine back up to the large portion of un-harvested wheat and start it back up.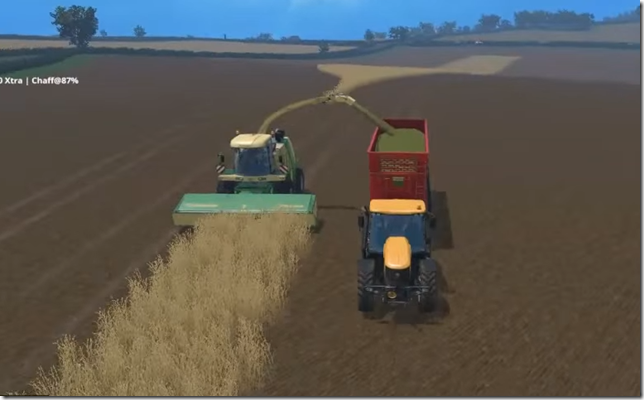 How can I get this mod?
The AutoCombine mod is available here.  I have personally downloaded, installed and tested this mod.  The mod works and I use it on all my maps.
How do I install this mod?
Please see my blog post "How to Install Mods in Farming Simulator 15" for complete instructions.
Until next time…
Happy Harvesting!!!
Jerry