Setting My Own Expectations
Like many of you, this past week I've been watching a few YouTube videos and Twitch Live Streams for the new Microsoft Flight Simulator 2020. I'm truly in awe at the nice visuals (aka eye candy) I'm seeing. As I've said before, stunning visuals are a key element in the immersion factor of any simulation. After all, this is why so many of us have invested a small fortune in add-on scenery for FSX/P3D/X-Plane. I fully expect my jaw to drop once MSFS 2020 has been downloaded, installed and started up for the first time on my system.
Having said this, I'm also preparing myself for the fact that most likely on day one our experience with MSFS2020 will be much different than say on day 100. In other words, in my long history with any version of Flight Simulator (even in the days of the boxed editions) there is a period of time where patches/updates will be required. This has also been true for other types of simulation games I play such as Farming Simulator or American Truck Simulator. Yes, this is also the trend in the large scale business software industry as well. There's only so much testing developers can and will do before it's time to turn it loose to the masses and then begin the arduous task of bug fixing. While many have been helping to test MSFS 2020, it is us the consumer that will ultimately end up shaping what will become the final or near final product.
Other than all the stunning visuals and what we believe will be a much improved flight model, MSFS2020 will not/does not include magic code to allow it to perform with all sliders shoved right with FPS numbers climbing to the moon. Even on some of the preview streams (knowing they are using a preview build), FPS numbers on fairly beefy hardware are not any greater than what they experience in P3D or X-Plane. But again, I'm reminded of what we've known for years about flight sim programs. Unless you sacrifice visuals, you'll struggle to maintain a constant FPS of 60+. But then again, I've also been saying for years that an FPS of 60+ isn't needed in flight sim.
Tuesday, 18 August is the BIG day. We'll all wake up and go check to see if the download is available and then hope the Microsoft hamsters can keep up with demand. Then once the download is complete I plan to fire up MSFS2020 for the first time and see what's what. I'll approach it much like I did with Prepar3d v5 and that is to leave most things default and see what I see. As time progresses, I'll inch the graphics further to the right and adjust for smoothness. Once this is done, I won't care what my FPS is.
Finally, soon after release we'll all know for ourselves if MSFS 2020 has lived up to the hype. If I were a betting man, I'd say it will and perhaps even more. But prepare for just a little (or a lot) of turbulence so keep those seat belts on and have fun. Just remember how far we've come…..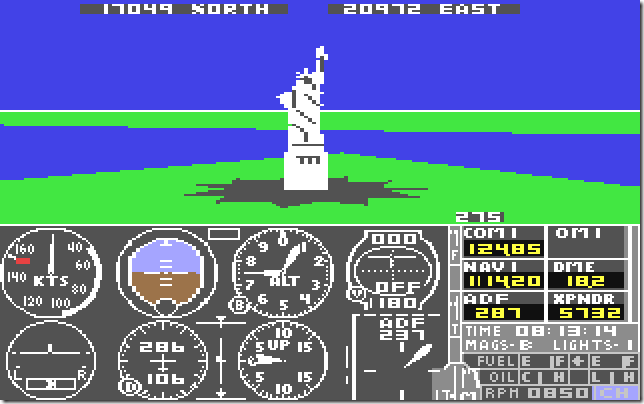 Screenshot from Flight Simulator Commodore 64 circa 1984. Do you remember this? I do!
Until next time…
Happy Flying!
Jerry
---