My P3Dv5 Settings and the Journey So Far
It's been a few weeks since I posted a progress update on my journey to Prepar3D version 5. As I've mentioned previously, I was in no rush as my P3D v4.5 was rock solid and was providing me absolutely everything I needed for my flight simulation hobby. But like many others, I purchased P3D v5 in the hopes that it would be everything P3D 4.5 was and more. I'm happy to report that in my experience this is certainly the case.
The Beginning
In the early days of my P3D v5 experience the road was rocky. Or should I say the skies were turbulent. There were a few times that I believed the purchase of v5 was foolish and that most likely I would just discard it and proceed with 4.5. But I held the course and life with P3D v5 did get better with the release of the second hotfix.
Windows 10 2004
For the past several months or so, I've been running Windows 10 version 1909. I had heard good things about version 2004, but until recently that version of Windows 10 was not available to update to. The news that Microsoft had specifically made changes to version 2004 with regards to VRAM utilization was something many of us running P3Dv5 had been looking forward to. I recently received the update for 2004 and I'm very pleased to report that P3Dv5 (with hotfix 2) is running and looking as good as my P3Dv4.5 instance.
Thank you PMDG
Of course one of the main reasons I had held off on making the move to P3Dv5 was the wait for the PMDG 737NGXu. The Boeing737 is my most frequently used aircraft in the sim and PDMG had been holding off on its release until Lockheed Martin released the second hotfix.
VRAM Utilization
With P3Dv5 HF2 and Windows 1909 my available VRAM with the 1080Ti was capped at 9.1GB. Since updating to the 2004 Windows 10 update, this cap has been increased to 10.1 GB. This is great news as I can finally inch those P3D graphics sliders further to the right without having to worry about running out of VRAM.
Test Flights
Since updating to Windows 10 2004, I've conducted several test flights in the PMDG 737NGXu, Aerosoft Airbus A319, A320 and A321 along with a few test flights in the FSLabs Airbus A319/A320. With comparable settings which I had been running in P3Dv4.5 and the same add-ons in P3Dv5, I'm truly happy to report that P3Dv5 is out performing 4.5 which is what we had all hoped would be the case.
Proof in the Pudding
Here are just a few screenshots produced in P3Dv5 with the settings I've documented below.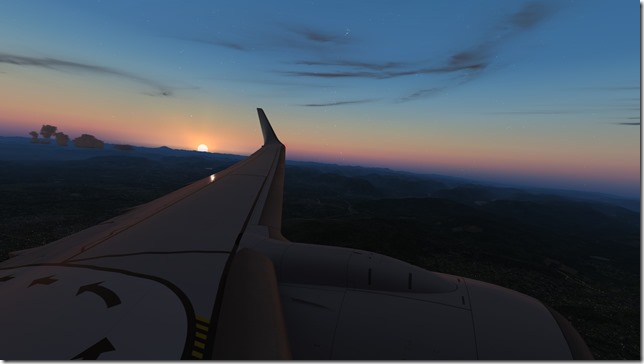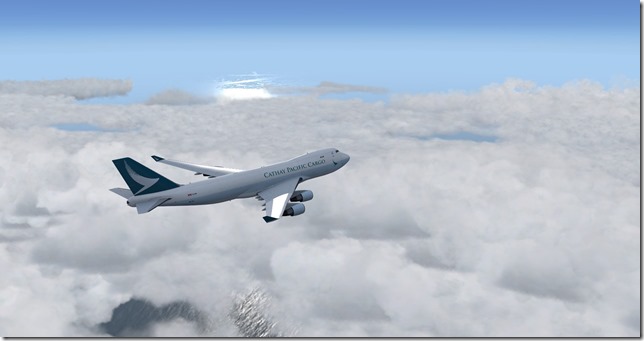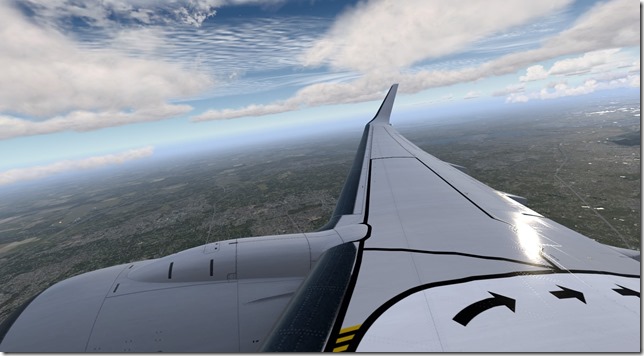 My P3Dv5 Settings
While I'm always a bit reluctant to post/share settings simply because what works for me may not work for you. I still do it in the effort of sharing knowledge. I caution anyone to only use my settings as a guide. I would highly suggest you make small adjustments and test before going full bore. Even if you have the same hardware, no two systems will perform exactly the same. With all that said…here are the settings I'm currently using in Prepar3d v5 with hotfix 2 and Windows 10 update 2004 as of 23 July 2020.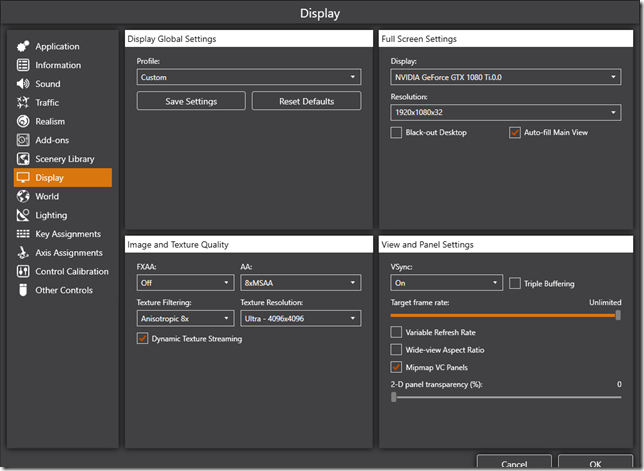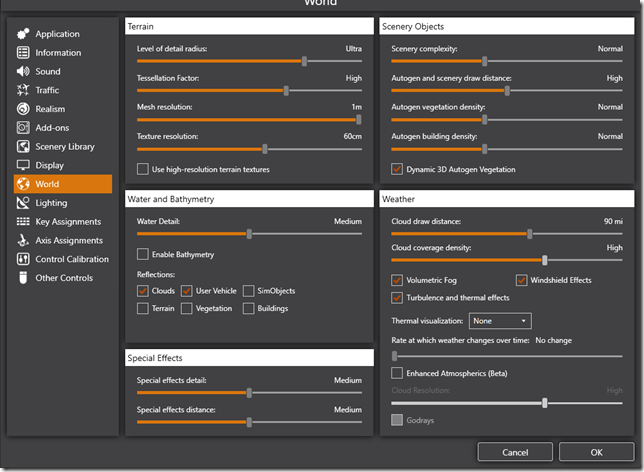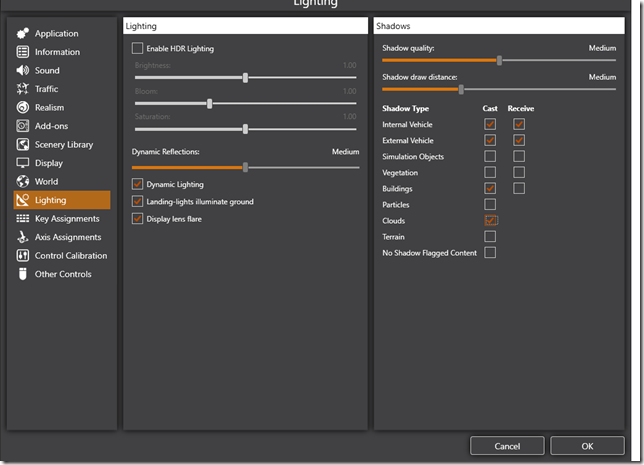 Regarding FPS with these settings, if you've read some of my other writings you will know that I'm not concerned with the actual FPS number. I tune my P3D instance to produce a smooth, stable and visually appealing experience. Once everything is set, I really could care less about how many FPS I'm getting. Having said this, I will tell you that with the above settings I'm generally getting +30 FPS on the ground at most payware airports and 50+ at cruise (in the PMDG 737NGXu). Of course, your mileage will vary.
Oh and now that VRAM utilization is a key element in P3Dv5, my VRAM with these settings on the ground at a payware airport will range from 3.5 – 6.0 and at cruise ~2.5 – 3.0 GB. Not all payware airports and aircraft are created equal and as a result your results will vary.
While we're still awaiting PMDG to release the B777 for P3Dv5, I have enough aircraft available in v5 to keep my busy and enjoying the hobby. I think it is safe to say that from now own I'll be flying in P3Dv5 exclusively. Most likely P3Dv4.5 will be uninstalled to make way for MSFS2020 sometime in the future.
Thanks for reading and I hope this helps you establish a baseline to get the most out of Prepar3D version 5. It truly is a leap forward from earlier versions. Of course, MSFS2020 will most likely blow this away. But that's another subject for another writing.
Until next time…
Happy Flying!!!
Jerry
---