FS Mod Review–Bednar Atlas AM 15M Cultivator
I've recently started playing the wonderful Graceland map by NOR3MSTI (same map developer that created the States map).  You can download version 4.x from American Eagles Modding.  Anyway, much like his States map, Graceland is a large map.  It represents your typical mid-west USA type farm operation.  It's BIG on farming and it's BIG on animals.  The map includes your typical chickens, dairy cows and sheep…but also includes the fattening operation for chickens, cows, sheep, pigs AND lamb.  Graceland also sets itself apart from other maps I've played by including no equipment (other than the in-game pickup).  In easy mode you start out with 10 million dollars, in normal 5 million and in hard mode 2.5 million.  This blog article is starting to sound like a mod review for Graceland, I'll do that at a later time.
In my own personal effort of "Realism through Simulation" I strive to do things as accurately as possible.  Or at the very least as accurately as both FS15 and my limited knowledge of farming will allow.  While I can harvest a field and turn around and direct seed it without taking the necessary time to cultivate it first, my "Realism through Simulation" effort tells me this is a cheap shortcut and not how I play the game.  However, in my quest of "Realism through Simulation" I am not interested in using heavily modded equipment which breaks with realism.  In other words, the 47.4m cultivator some use will not be seen anywhere near my farms.  Finally, my criteria is also not so structured that I'm going to count the number of bolts and/or compare paint swatches.  My mod criteria simply needs to be within a range of what would be seen in the real world and function well within the virtual world of FS15.
So in an effort to find a suitable cultivator to help me manage the large fields on the Graceland map, I searched several of the common FS15 mod sites.  I began comparing what I could find versus real world data.  The cultivator I chose (and the one I'm reviewing for you today) is the Bednar Strom Atlas AM 15m cultivator.  Bednar Farm Machinery is a real world company based in the Czech Republic.  While I could not find this exact cultivator model in the 15.5 meter width on their website (the largest in the AM class is 12 meters), but plenty of real world cultivators including John Deere, Case etc. are made in the 40-50 foot range.
Note:  actually in conducting more research after the purchase and initial use of the Bednar, I have found a nice John Deere 50' cultivator which I'll test and possibly review later.  If the JD model works as well as the Bednar (or better) then I'll likely use the JD.
As you can see below, the Bednar can be purchased for $68,200 and costs $15/Day Maintenance.  The required power is 257 kW/350 HP and has a working width of 15.5 meters.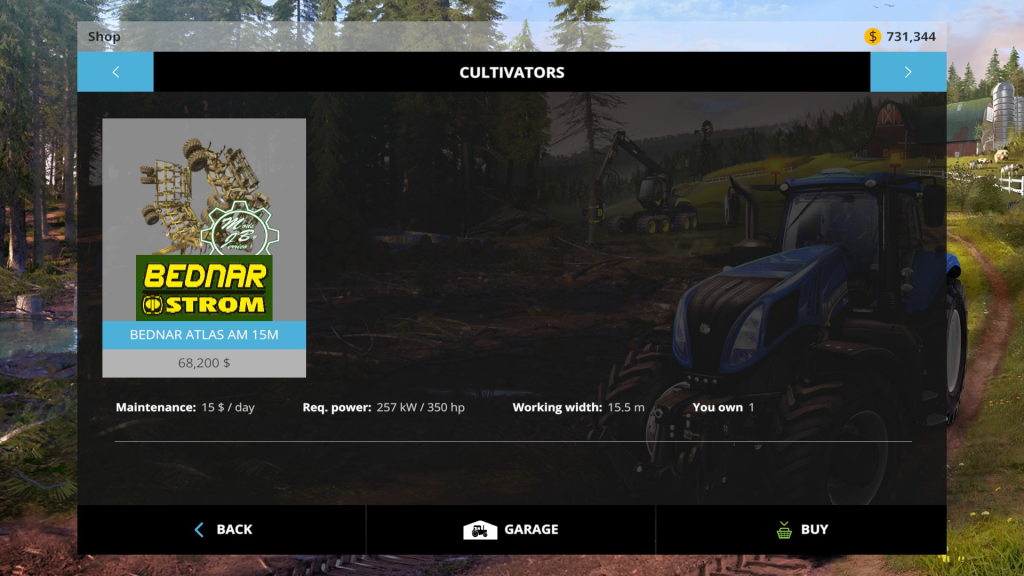 At the time I conducted this review, all of my smaller tractors (NH T8's and Case Magnum's were busy doing other things) I had this massive NH T9 available so I paired it up with the Bednar cultivator.  As you can tell from the image below, the Bednar is brand new and still clean.  But that won't last long.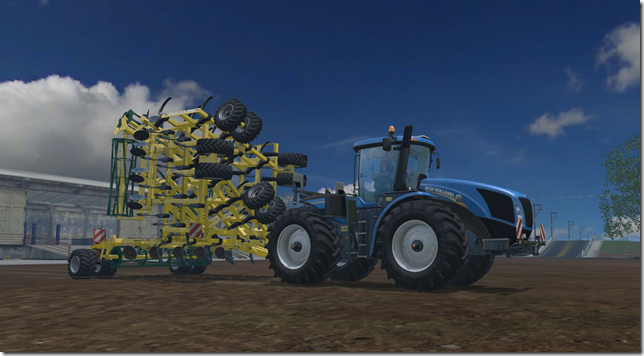 This is field #2 which is typically planted in wheat.  I had finished the harvest and picked up the straw yesterday.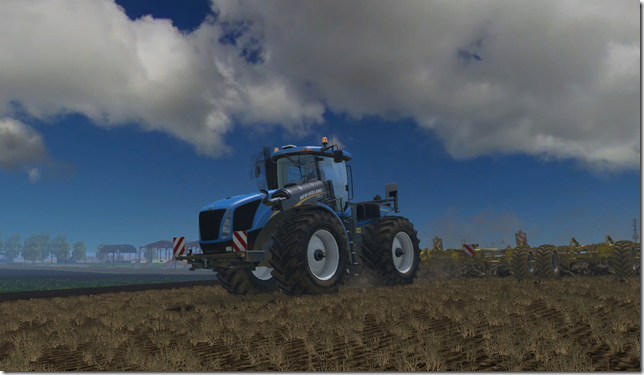 Lots of wonderful dirt and dust animation.  Plus the Bednar cultivator gets nice and dirty just as you would expect.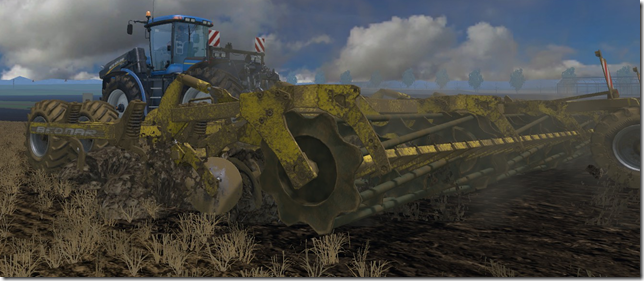 The Bednar cultivator pulls nicely behind the NH T9.  But then again I would expect it.  The cultivator handles nicely when driven in manual mode and also works well with CoursePlay.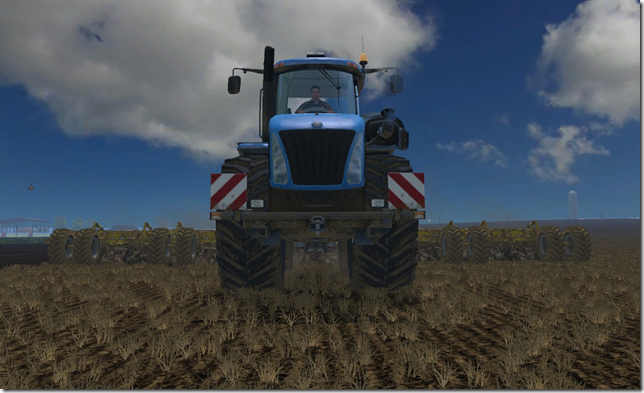 The Bednar cultivator looks great when at work and when in transport back from the fields.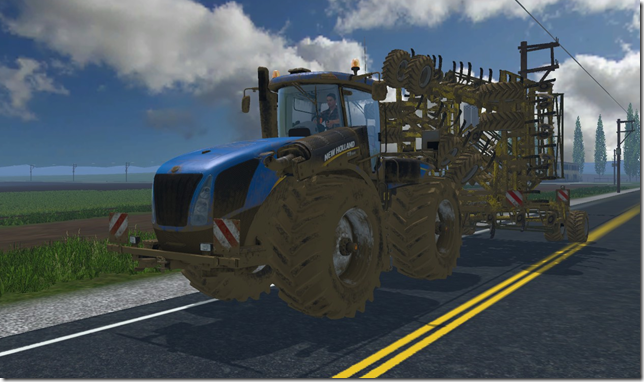 How can I get this mod?
The Bednar Atlas AM 15m cultivator mod is available here.  I have personally downloaded, installed and tested this mod.  The mod works and I use it on all my maps.
How do I install this mod?
Please see my blog post "How to Install Mods in Farming Simulator 15" for complete instructions.
Until next time…
Happy Cultivating!!!
Jerry
---