Flying Online–My Pros and Cons
I've been flying online using the VATSIM network since its beginning. For those in the know, that's about 19 years. My early memories of VATSIM were somewhat stressful. I had spent years flying the Microsoft Flight Simulator style of ATC and really didn't have much knowledge of how VATSIM ATC (or real world ATC for that matter) operated. But I managed to build up my confidence and knowledge and completed a half dozen or so flights and then it all just clicked. Of course, one of the best things I decided to do was to truly learn a study level aircraft from top to bottom, complete with understanding both the initial setup of the FMC but just as importantly how to make changes (if necessary) enroute. However, in addition to the FMC setup, it helps to also understand the workings of SID's and STAR's. But I digress, as this article really isn't going to be about how to fly online. I covered some VATSIM Basics which you can read here.
Flying Online – Pros
As Real As It Gets
At times, flying online is truly an "As Real As It Gets" experience. When you participate in a large scale online event where the entire USA has fully staffed ATC including clearance delivery, ground, tower, departure/approach and center positions (see image below) the absolute level of immersion just can't be beat. However, these types of events only occur a few times a year.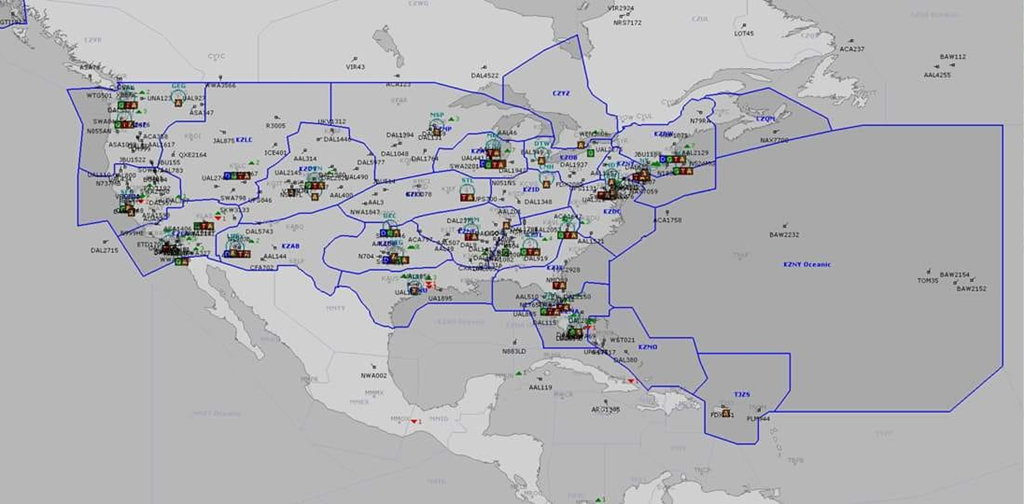 VATSIM Light Up America Event (June 2018)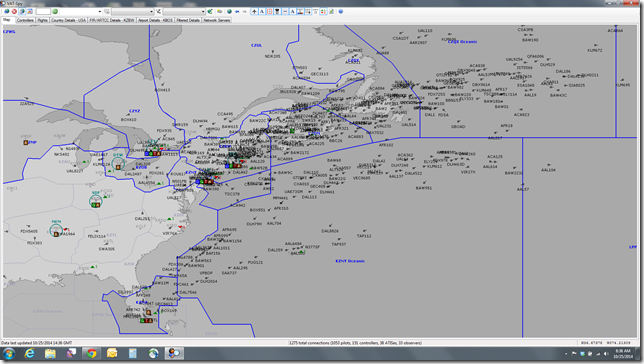 VATSIM Cross The Pond (west bound) Event (October 2014)
When these large scale events aren't taking place, flying online is still much better (in my opinion) than flying offline and using AI generated ATC (or no ATC at all). During the COVID-19 pandemic when most everyone is self-isolating at home, the amount of traffic on the VATSIM network has on most days been very high. ATC positions across the country have been staffed and it's been an enjoyable experience to fly and take my mind off the events impacting the world.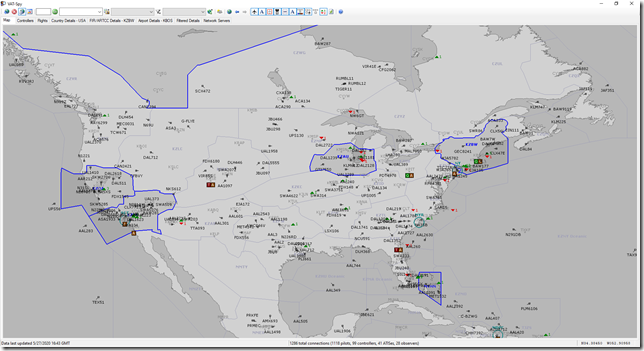 Snapshot of VATSIM Traffic over the USA on Wednesday 27 May 2020 (10:40 AM MT)
Flying Online – Cons
As with anything in life, there's always going to be a few things which fall in the "cons"category. Perhaps one of my biggest pet peeves when flying online are the times when no ATC is controlling the airport I'm flying out of or into. If I'm the only aircraft around, it's no big deal. But 9 times out of 10 in this situation, I won't be the only pilot.
Please check FlightRadar24
There are many times when a METAR alone will not determine the exact direction an airport is operating in. For example, while I'm writing this I'm also flying into KDFW (Dallas/Ft. Worth). The winds are dead calm. So in reality any runway is suitable for landing or departing and DFW has seven runways to choose from. In this situation, I always check the FlightRadar24 site to see how the airport is operating in the real world. After all, I'm using real world weather…so I might as well simulate the exact landing configuration as is currently taking place.
FlightRadar24 is super easy to use. At a busy airport like KDFW, it's fast and easy to determine which runways are in use. As in the example below, AAL172 is landing on runway 35C.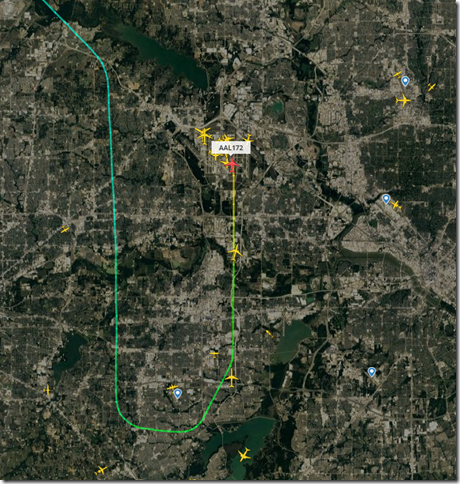 By doing a little homework it helps to ensure that all other pilots around you (who have also done their homework) will not encounter an immersion blowing experience by you departing or landing in the opposite direction.
Final Thoughts
Some might argue all this really doesn't matter. Or some might say, "my weather depiction is different". In my opinion, these arguments are simply weak excuses. The hobby of flight simulation is all about (or should be about) "As Real As It Gets". If you are truly serious about this hobby, then ensure either you are running real world weather or you comply with real world operations if ATC isn't online.
Until next time…Happy Flying!!!
Jerry
---