Dovetail Games Flight School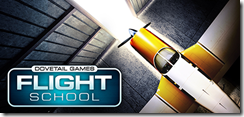 The highly anticipated Dovetail Games Flight School arrived on Tuesday via Steam just in time for summer.  If you are new to the world of flight simulation, during the summer of 2014 Dovetail Games obtained the rights from Microsoft to distribute Microsoft Flight Simulator X and more importantly develop the next flight simulator in the series.  Dovetail Games released Microsoft Flight Simulator X: Steam Edition in December of that same year.
During the lead-up to the release of FSX Steam Edition, we had been hearing about the plans Dovetail Games had for the future of flight simulation.  In a press release Dovetail Games stated they were investigating new concepts in the area of flight simulation and expected to bring a new release to market sometime in 2015.  Well…the ball dropped in Times Square and no "new concept" in the area of flight simulation from Dovetail was produced.  But we all know that software developers often make plans and then delays occur.
Anyway, the Dovetail Games Flight School is actually a good sign (and a good thing for our hobby).  First, it proves that Dovetail Games is capable of developing something of their own related to flight simulation and Second, I'm hopeful the success of this product will further convince them of the popularity of our hobby.
I'm traveling on business at the moment and won't be home until this weekend.  But I have purchased Dovetail Games Flight School and will spend time with it in the coming days/weeks and will further review it.  From what I've seen on various Twitch live streams is the product is good for the price.  Dovetail Games Flight School is available from Steam for $14.99 USD.
During a few of these live streams I saw comments from viewers complaining about the level of detail in the ground textures etc.  Folks, this is a $15 piece of software.  The purpose is to teach you the fundamentals of flight.  You can't expect Dovetail Games Flight School to include Orbx level of detail.  Also, some were complaining that the airports featured in Dovetail Games Flight School were out of date.  Well…most likely the airport textures are a copy/paste from FSX.  Again, this IS NOT A BIG DEAL!  Again, from what I've witnessed in several Twitch streams, Dovetail Games Flight School is value for money.
In closing, what are my expectations of Dovetail Games Flight School?  After all, I've been flying computer based flight simulators since the early 1980's.  Well…I want to learn more.  I want to further polish my skills to further enhance my realism through simulation efforts.  I'll be sure to provide an update, "First Look" type blog posting in due time.
Well…I must turn in now.  I have an early start tomorrow.  Remember, if you enjoy flight simulation and are interested in joining a mature and relaxed virtual airline, please visit virtual Air Logistics.  virtual Air Logistics is a virtual airline I started back in 2013.  virtual Air Logistics, a different kind of virtual airline for a different kind of virtual pilot.
Until next time…
Many Happy Landings!
JT
---