SCS Software recently released the Utah DLC for American Truck Simulator. The price for this DLC is $11.99 USD. As you can see from the image below, the west portion of the lower 48 is beginning to fill in. Albeit fairly slow.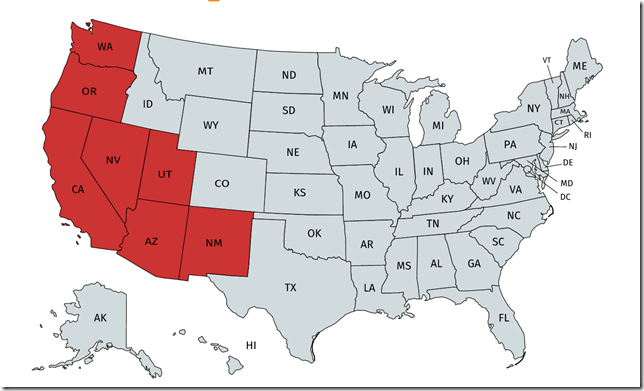 Slow and Steady Wins the Race?
Well….in some cases this might be true. However, for those of us who purchased ATS on release (2 February 2016) the pace at which new states have been added could be compared to pouring molasses on a cold winters day.
To better put things into perspective, allow me to draw your attention to the map below. As mentioned, ATS was released on 2 February 2016. On release day, ATS included the two states of California and Nevada (Green). As Arizona wasn't ready on release, ATS released this as a free DLC on 6 June 2016 (Yellow). It was then another 17 months before we saw the release of the New Mexico DLC (Red) on 9 November 2017. The main reason for the delay of New Mexico was due to the decision SCS made to rescale the map. I believe the map rescale was necessary and taking the necessary time to complete it was also the correct decision.
However, it was another 13 months between the release of New Mexico and the release of Oregon on 4 October 2018 (purple).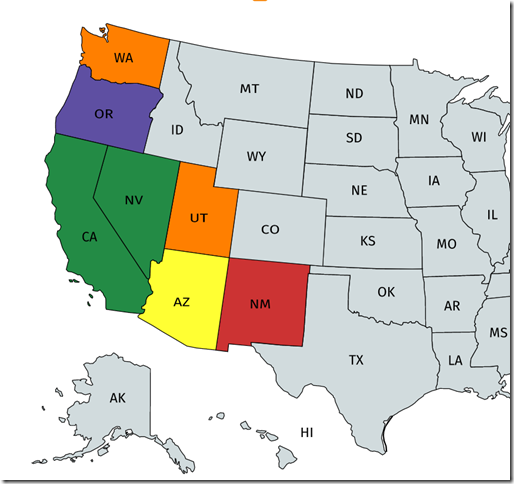 2019 was the first year where SCS released two states in the same year. With Washington dropping on 11 June 2019 and Utah 7 November 2019. Could we see a third state release before the end of the year? I won't be holding my breath.
What's Next and When?
Guessing the "what's next" is certainly easier than the "when". It's safe to say the next state to be released will either be Idaho or Colorado. If I were a betting man, I'd put my money on Idaho. This would tie in to I-90 in Washington and I-84 in Oregon which connects to I-15 headed to Utah. In other words, it would allow better routes out of Washington/Oregon in eastern Nevada, Utah and Arizona/New Mexico.
If Idaho is next, I would then believe we will see Colorado then Wyoming come next. While I have no idea all that goes into the creation of these DLC maps, I would assume the states of Colorado, Wyoming and Montana could each be less work (due to the sparseness of each) especially when compared to California.
Coast-To-Coast
While my opinion matters little to SCS, I would hope we could continually see 3-4 new states released each year. However, if you can't simply wait to drive from one coast to the other, you really should check out the awesome Coast-To-Coast map. I've been a fan of the C2C map since it was first created. The C2C project officially kicked off soon after the initial release of ATS and has evolved into a very nice mod map.
The Coast-to-Coast map began as a personal project of the main developer (Mantrid) and then grew into the large endeavor it currently is. I don't always have the C2C mod active, but when I update it after not driving it for a few months I'm always pleasantly surprised at the level of progress made. While there are other mod maps for ATS, C2C is and always has been my absolute favorite.
Until next time…
Happy Trucking!
Jerry