If you are curious as to what add-ons are currently compatible with the 64 bit version of Prepar3D v4, then look no further than this extensive spreadsheet list which is updated frequently as more add-ons are released for this awesome sim.
The highly anticipated 64 bit version of Prepar3D (P3D v4) was released only one week ago, but already dozens of 3rd party add-ons have been either made compatible or confirmed to already be compatible with P3D v4.  On the very first day of release, many 3rd party developers already had released new installers and the list continues to grow.
Over this past weekend, PMDG released their almost new Boeing 747-400 Queen of the Skies II for P3D v4.  While I own the PMDG 737 NGX and the beautiful Boeing 777, I had yet to pickup the 747.  But I'm excited to say that the Queen now lives in my hangar and here's a recent flight image of this beautiful airplane.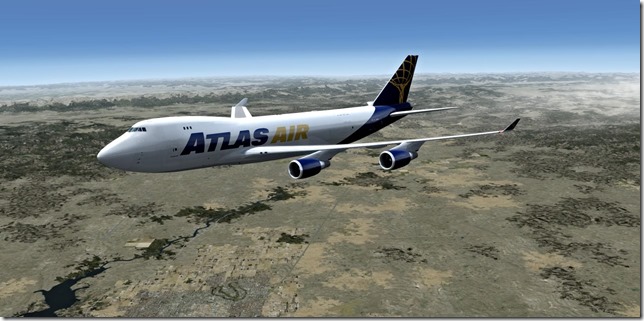 I can also report that on the above mentioned flight using the PMDG 747-400 (flying as Atlas Air Cargo), I departed from Denver KDEN (Flightbeam add-on scenery) and arrived in Dallas/Ft. Worth KDFW (FSDreamTeam add-on scenery) with all graphics settings maxed out and P3D v4 performed like a dream.  I simply could not do that in P3D v3.x without an Out of Memory error crash.
Over the next few weeks, I will continue to get more of my large collection of 3rd party add-ons installed and configured into P3D v4.  At the present time I'm also working on a video review of the new Dovetail Games Flight Sim World and will also begin showcasing some flying action from the new P3D v4 on my GrizzlyBearSims YouTube Channel along with Farming Simulator 17 "Let's Play series".
Thank you for reading my blog and thanks for subscribing to my YouTube Channel.
Until next time…
Happy Flying!!!
Jerry